Toy Story 2 - A Movie Review
'Toy Story 2' is an emotional ride that instills important morals.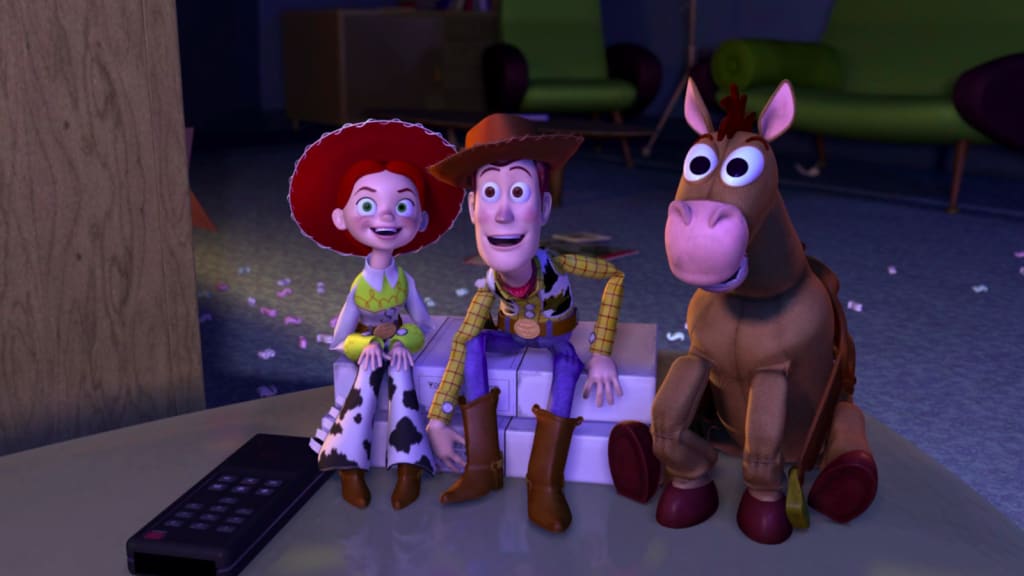 We are saving Woody no matter how hard it is.
Toy Story 2 is a 1999 sequel to the first film. Woody is stolen by a toy collector. Buzz Lightyear leads a mission with the toys from Andy's room to rescue him. Meeting new friends, Woody learns that he is a priceless antique who once had his very own show.
At four years old, I remember excitedly going to the movie theater to see Toy Story 2. Toy Story has always been a big part of my childhood. In this epic adventure, Toy Story 2 is an emotional ride that instills important morals.
Tom Hanks and Tim Allen are wonderful supplying the voices of our favorite cowboy and space ranger. During recording sessions, the duo recorded together in order to make their interactions genuine. Speaking of which, when Woody is checking out all the merchandise, it was actually Hanks improvising while curiously playing with mock-ups.
Buzz's character growth from Toy Story deserves to be recognized. He is fully comfortable with his life as a toy, making strong friendships, even with Woody. His friendship with Woody was such a positive impact that now he is delivering Woody's famous catchphrase. I wish it wasn't wrecked in Toy Story 4, but Buzz's leadership is inspiring.
As most fans have been wondering, why doesn't Woody know about his past? That is a good question indeed which has led to several theories. Woody's battle with his subconscious throughout the film makes him value his life as a toy.
Jessie is one of my favorite characters ever introduced in a Pixar film. She taught us all how to overcome anxiety. Reportedly, her backstory was so moving that it made Hanks and Allen tear up. Joan Cusack did an amazing job recording the character. I will never get tired of Jessie's good old cowgirl cheers.
The Toy Story films are character films. The writers did a great job with the interactions of all the core characters. Comradery and working together is given the greatest example. Toy Story 2 is a strong film.
The voice cast had a fun time working on Toy Story 2. More credits include Kelsey Grammer, John Ratzenberger, Annie Potts, Estelle Harris, and the late Don Rickles and Jim Varney. And I cannot forget about Wayne Knight as Al. Knight is a splendid comedic actor. I liked all his little adlibs.
We may not even have Toy Story 2. One of the animators activated the wrong code which deleted 90% of the film! If you want to thank someone, thank Galyn Susman who had a copy of the film while she was working from home on maternity leave.
Animation has evolved since the first Toy Story film. It's noticeably smoother. Toy Story 2 set a record for the most number of particles in a computer-generated film. That dust you see flying around was not an easy project.
As I mentioned, Jessie's backstory is a signature part of the film. Sarah McLachlan's rendition of 'When She Loved Me' is a moving song. It was almost scrapped, thinking that young children wouldn't understand it. Let me tell you, this sequence had an impact at 4 years old.
Toy Story 2 has several behind-the-scenes stories. John Lasseter and Lee Unkrich took scrapped ideas from Toy Story and put them in this film, like Woody's nightmare. That sequence scared me as a kid. Overall, they did a superb job with character interactions.
Toy Story is the definition of my childhood. If you are looking for a film for your child, binge the Toy Story franchise.
review
pop culture
movie
entertainment
comedy
celebrities
About the author
Writing has been my passion since I was 11 years old. I love creating stories from fiction, poetry, fanfiction. I enjoy writing movie reviews. I would love to become a creative writing teacher and leave the world inspiring minds.
Reader insights
Be the first to share your insights about this piece.
Add your insights