Bullet Train - A Movie Review
It is worth seeing 'Bullet Train' in theaters.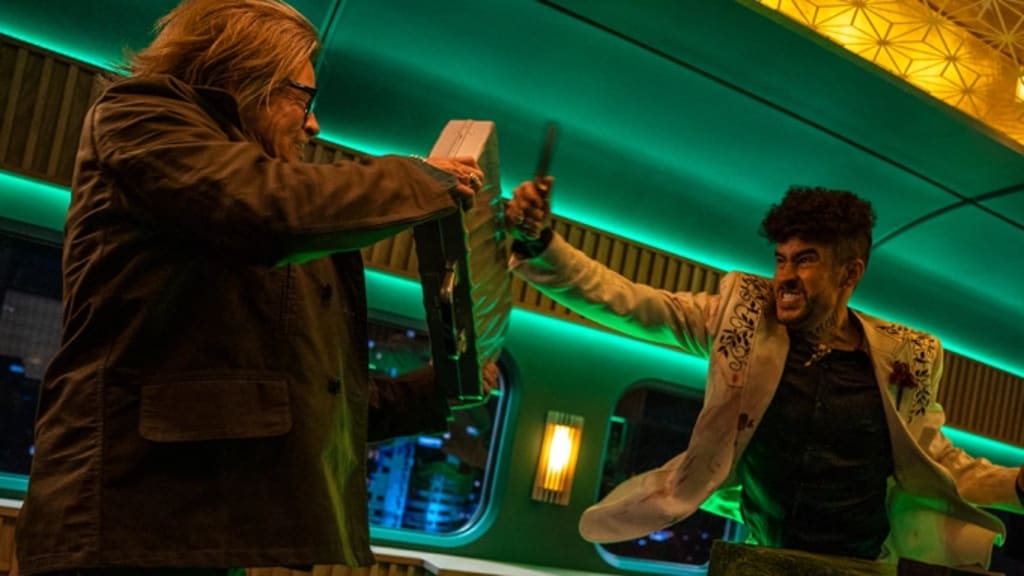 From the way I look at this situation, maybe it's good luck that we missed the train.
Riding into theaters in 2022, Bullet Train centers around five assassins onboard a fast-moving bullet train. They soon learn that their missions have something in common.
Thankfully, my aunt and I were the only ones in the theater because we were laughing hysterically at Bullet Train! Bullet Train is an epic action-comedy. Normally, I'm not fond of these films but I was drawn to Bullet Train because of the actors. Actors lent their comedic talents for fantastic results.
Throwing their best comedic foot and dramatic chops forward, the cast of Bullet Train was excellent. They trained for martial arts and fight sequences. The cast's chemistry was built well. I completely forgot that these are people who we shouldn't be rooting for. Because of the actors, we root for or worry for their safety.
I have come to appreciate Brad Pitt more and more. Pitt was the highlight of the film. As a skilled assassin, Ladybug bases everything on luck. Pitt has a knack for comedy. According to the behind-the-scenes, Pitt did 95% of his own stunts. Several of the film's best deliveries come from him and his hilarious reactions.
Growing up, I adored Joey King. The first movie I saw her in was Ramona and Beezus. King has grown to be a talented actress. Playing a more conniving character than what she is used to, King was excellent. She trained in the English accent for three hours each day to make it authentic.
Aaron Taylor-Johnson and Brian Tyree Henry made the best comedic team. The dialogue was the best feature in Bullet Train. It's short, simple, and the cast, specifically Taylor-Johnson and Henry do an excellent job with fast delivery.
More talents include Andrew Koji, Hiroyuki Sanada, Michael Shannon, Logan Lerman, Zazie Beetz, and some memorable cameos.
Bullet Train is a fun and wild adventure. It's also pretty graphic. That part I was not expecting. Be aware that there is a lot of bloody violence in the film.
A huge shoutout goes to all the stunt coordinators. A plethora of challenging stunts are performed. Taylor-Johnson actually lost a chunk of his hand after performing one stunt!
David Leitch had style in all the edits, camera motions, and landing comedy in Bullet Train. It's outrageous but that's what the film is all about. The lighting, anime style, soundtrack, and camera work are achieved wonderfully.
The design of the train and each compartment plays a character. Each room has something new, like a quiet room, a bar, or a compartment designed as a character in a cartoon. The action is incredible, followed by the funniest moments I have seen in a long time.
As I said, I am glad that we had the theater to ourselves. I laughed out loud during one scene when Pitt exited the bathroom writing a warning message on the toilet. It's all about the setup of a gag and how you deliver dialogue.
There are too many fight scenes that drag out the story. The calamity was also a little much. Five stories are going on at once so it's easy to lose track. Other than that, Bullet Train is an excellent comedy.
Don't take the film seriously. Bullet Train is meant to be a fun time out at the theater, distract you from reality, and make you laugh. Go see Bullet Train in theaters. The theater experience is worth it. This is a movie I would watch over and over.
pop culture
review
movie
entertainment
comedy
celebrities
About the author
Writing has been my passion since I was 11 years old. I love creating stories from fiction, poetry, fanfiction. I enjoy writing movie reviews. I would love to become a creative writing teacher and leave the world inspiring minds.