Top 20: Mirror Mirror
The Best Animated Disney Film that Isn't Animated or Disney
Mirror Mirror is a reinvention of the snow white tale that shows snow white as an escapee of her evil stepmother's clutches and joining the seven dwarves. The reinvention and expansion of the tale is one of the most appealing features, it's endlessly detailed, giving agency humour and skill to every major character.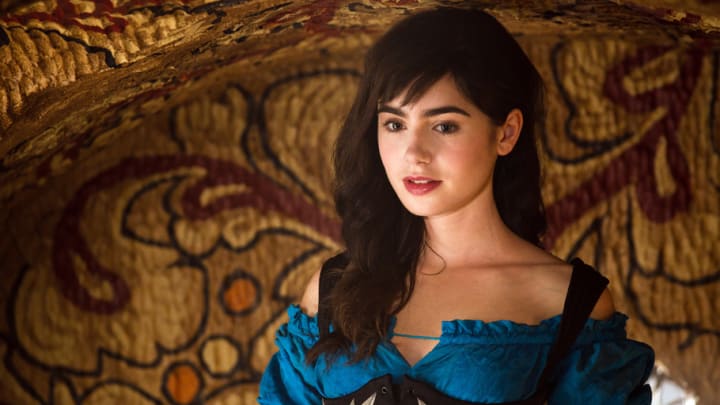 Lily Collins is incredibly well suited to her role of Snow White. Interestingly she's Phill Collins' daughter. I'm both relieved and disappointed that he didn't name her Sue Collins (Short for Sussudio), none the less her captivating performance that'll make that girl be on your mind all the time. Her character growth is meticulously planned and executed with great attention, she's shown to possess purity as well as ruthlessness and guile.
Armie Hammer plays the Prince with a sense of comic timing, endearment and capability that this character has never shown before. Normally, the prince is essentially a prop. Characters from Beauty and the Beast who are literally props have more of a role than the Prince normally has in this tale.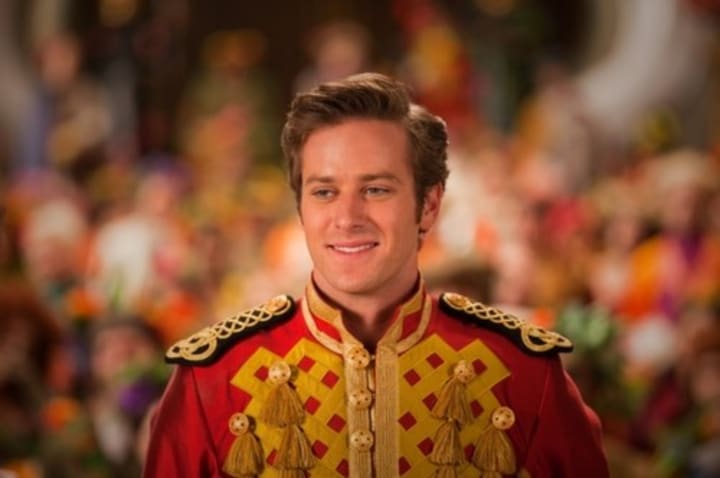 Julia Roberts' queen is both genuinely threatening and humorous and shows others traits so seldom explored with this character. The film cleverly shows the semi realistic negative consequences of a woman like this being in power, without this area of the story being forcefully displayed. Interestingly (well, not really but I'm typing it regardless) Julia Roberts in 'Hook' was the first woman I ever loved (sorry, mother) my mother reminded me I was too young and I'd genuinely say 'I can wait' I can't decide whether I still am or not- but we've never met so I guess I am.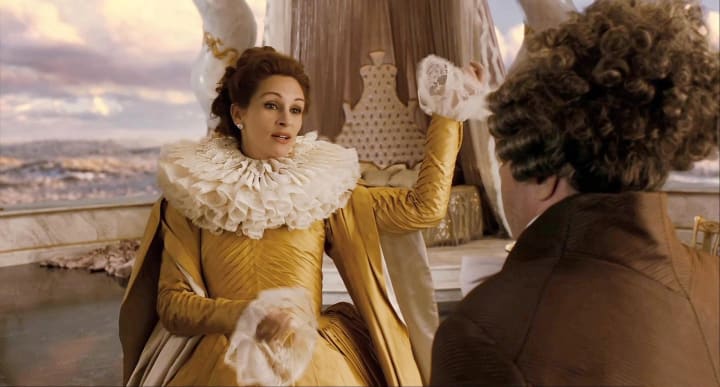 The Seven Dwarves are an incredibly rendered in this story; here they're formidable and ingeniously re invented as well intention rogues. They serve a much more direct purpose, as well as adding well placed humour that is normally associated with them.
The visual splendour of the film couldn't possibly go unmentioned. Every single shot is nothing short of amazing. The colour scheme is so comfortingly rich and vivid, the costumes designs are intricate, and the CG is some of the most enriching and creative committed to a fantasy film, the set designs are meticulous and the entire image the film exudes is endlessly immersive. It's only vaguely surprising that Tarsem Singh also directed 'The Cell' a film that would possibly be better as a slideshow.
The visuals are not the only imaginative features. The story is brilliantly thought out, rife with plausible expectation subversion and creative freedom. Even though the template of the tale is well known, this films additions result in a surprisingly unpredictable, gripping and layered story. Mirror Mirror effortlessly experiments with genre, having elements of fantasy romantic comedy and drama.
It's almost an affectionate fairytale parody with its own incredibly strong identity. The script is perfectly balanced and allows some genuine sense of jeopardy as well developed and charming character interactions. The progression of the scenes is perfectly calculated and the world that the film creates allows full investment and attempts to explain the rules of the fantasy world that's being created never interrupt the narrative. The action scenes are well choreographed and expertly capture excitement without over-reliance on stylisation.
One slight criticism is that sometimes the music is misplaced. While enjoyable, the Bollywood style musical number the film ends in starkly contrasts the general mood of the film- which isn't a musical, nor a Bollywood film. It also arguably bloats the film, since all issues have been resolved by this point. Even with this considered though, the scene is entertaining enough and the quality of the music strong enough that both warrant appreciation when judged separately from the film.
There's another mild issue in the fact that certain characters are underused or thinly characterised, but this is a natural side effect of any Snow White adaptation, most of them have 8 titular characters. If this was resolved the film would probably seem padded, and one of its major achievements is that unnecessary scenes are avoided.
In Conclusion Mirror Mirror is vastly underrated enchantingly creative and immersive with satisfying performances and an astounding sense of style.
comedy
About the author
getting better at this writing thing (aka slowly learning the alphabet, learnt how to use pen). Spanning critical writing, fantasy, parody and sci-fi (ruining all of them in the process).
Reader insights
Be the first to share your insights about this piece.
Add your insights