Top 10 Best Movies of 2019!
I suspect foul play.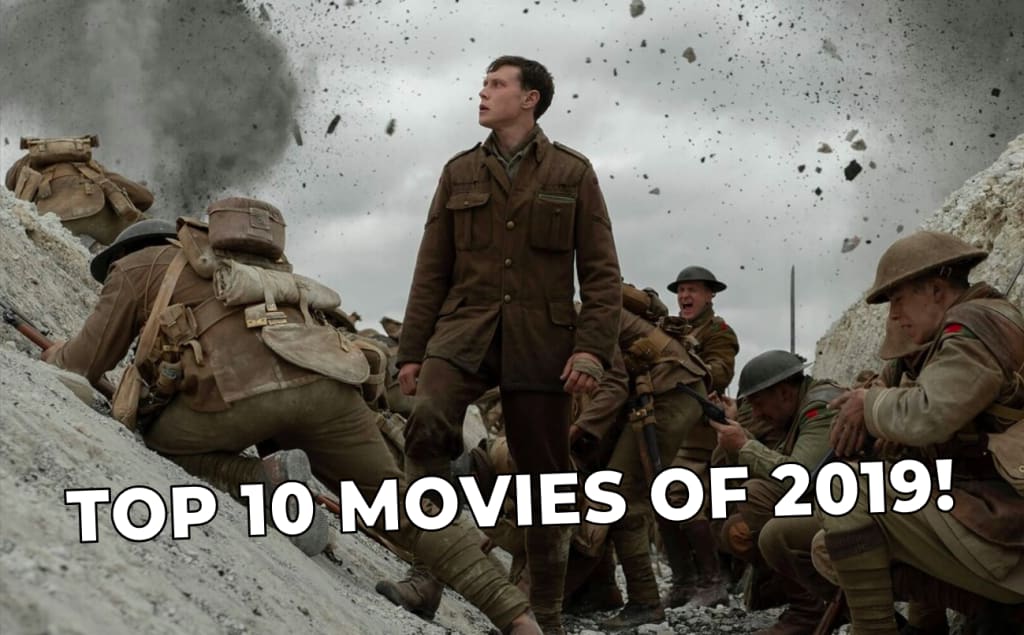 Last year, when I wrote my 10 best movies of 2018 article, I had only seen twenty 2018 movies at that point. This was the year that I started to watch more and more, and I have now watched 101 new releases in 2019.
Wow! It's been an amazing year for movies, and while I didn't get to see Dolemite Is My Name or Portrait of a Lady on Fire, I did see most of what I needed to see, and these were my personal top ten favorites of the year.
But before I begin, I want to give HONORABLE MENTIONS to: The Irishman, Once Upon a Time in Hollywood, Toy Story 4, Little Women, The Farewell, John Wick: Chapter 3 – Parabellum, Uncut Gems, Waves, Midsommar, Booksmart, The Lighthouse, Star Wars: The Rise of Skywalker, Rocketman, Blinded By the Light, Just Mercy, The Peanut Butter Falcon, Luce, Shazam!, and Dark Waters.
All of these films were acclaimed by many, but there were just ten movies I liked more. You may not fully agree with my list, but it's my personal opinion. So here are the ten best movies of 2019.
10. Knives Out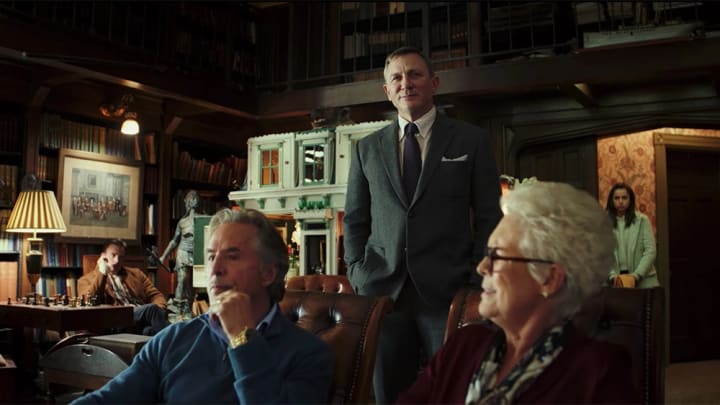 Writer-director Rian Johnson was able to craft a wickedly funny modern-day whodunnit with this incredibly talented ensemble cast and a story with tons of twists and turns that will keep you guessing till the very end.
This film is a blast at the movies from start to finish, with Ana de Armas giving a great dramatic performance while Daniel Craig and Chris Evans get to play against type in extremely entertaining roles. This movie also manages to switch between comedic scenes and scenes of tension seamlessly.
Overall, this is a delightful film with a few political ideas and a well-written story.
9. Jojo Rabbit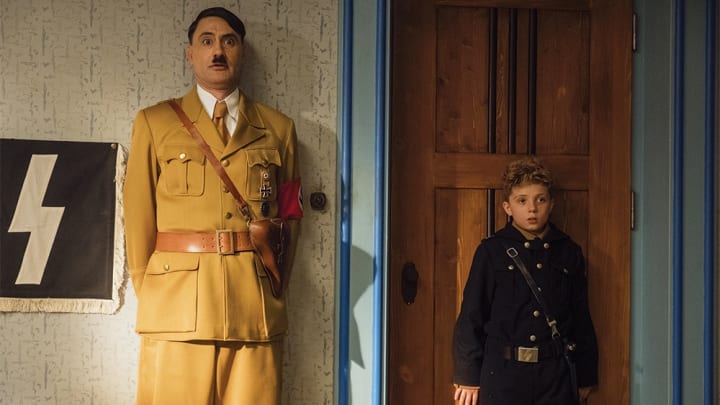 I just don't get it–I have no idea how Taika Waititi was able to make a film that deals with some very dark subject matter while also making it funny in a way that doesn't come across as offensive or "making fun" of the events.
Jojo Rabbit gives us a look at World War II from the perspective of a child. Our main actor, Roman Griffin Davis, gives a fantastic performance and there is a lot of fun to be had in the premise, as our main character is a young aspiring Nazi with Adolf Hitler as an imaginary best friend.
While the film can be gut-bustingly hilarious at times, it knows when to be sad, and the effects of the war aren't always shown in a silly way. It has the best PG-13 F-bomb I've ever seen in a film, and it's a heartwarming story about love and acceptance.
8. Marriage Story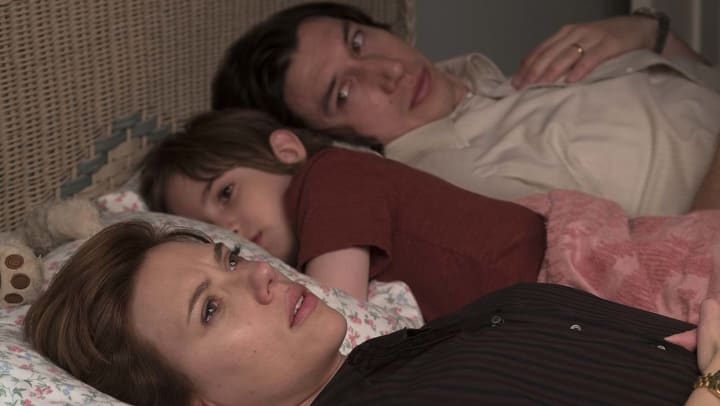 There aren't too many films that feel wholly realistic. Many films provide us with a form of escapism, and even dramas with real people can sometimes be exaggerated for dramatic purposes, but this? This is a down-to-earth, genuine story about a couple going through a divorce.
Everything about this film is so meticulously crafted. The characters are so fleshed out that they feel like real people and every single little hiccup and pause in a dialogue scene adds to the feeling that we're a fly on the wall watching actual events.
Scarlett Johansson and Adam Driver give some of the best performances of their careers in this film. They vanish in their roles and our supporting cast is quite good as well. This film manages to be funny but sad at the same time, and there's an argument scene which is one of my favorite scenes in any movie ever.
7. Ford v Ferrari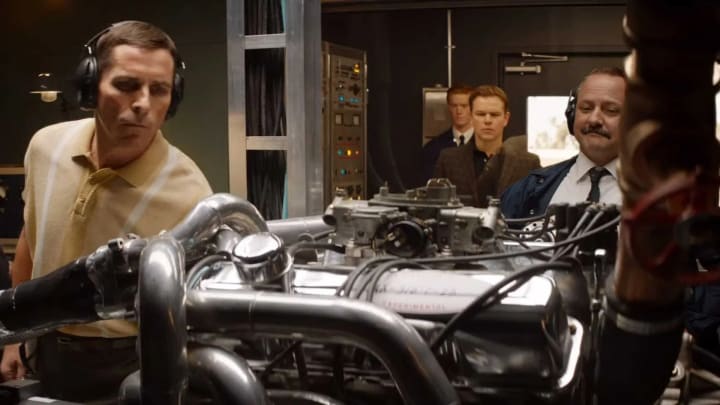 Now, I actually watched this movie about four months before its release, and I was dying to talk about it, but the NDA I signed prevented me from doing so–but when the credits started rolling, I knew that I had gotten the chance to watch something truly special.
This film tells the true story of Ford engineers who have to try to build a racecar that can beat Ferrari at the 1966 24 Hours of Le Mans race, and this is a film that can appeal to virtually anyone, from the average Joe to the passionate cinephiles (me).
Christian Bale and Matt Damon have some fantastic chemistry with each other, and this film remains interesting during the dialogue scenes and during its many thrilling race sequences. It's an adrenaline-packed ride with a lot of human drama and very fleshed-out characters, and it was a great time from "start your engines" to the finish line.
6. Doctor Sleep
My favorite horror film of all time is, like many others, Stanley Kubrick's The Shining. I wasn't too confident about a sequel to the film, but this movie was able to hit all the right notes by giving us a disturbing horror film that manages to give a consistently captivating story.
Ewan McGregor, Kyliegh Curran, and Rebecca Ferguson all give some wonderful performances and Mike Flanagan proves time and time again to be a director who understands how to give us true, unsettling horror without a bunch of false jump scares.
The second half of this movie is where the film picks up in terms of its storytelling, and it manages to pay homage to Kubrick's film in ways that made me pretty happy. I didn't find it to be as good as the original, but this was a very well-written, well-directed story.
5. 1917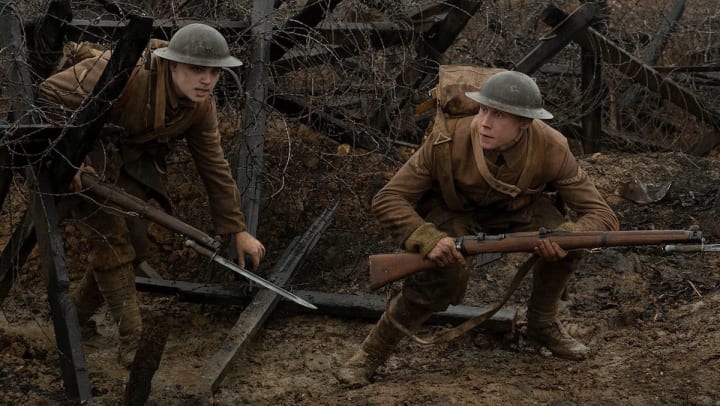 I watched this film just a few days ago as it is currently having its limited release in NYC and when I watched it, I was completely mesmerized with what I watched.
This World War I thriller/drama is directed and edited to look like two continuous shots. There is one time cut in the middle, but besides that, everything appears to be a long, continuous take, and this is one of the most impressive filmmaking techniques I've seen.
Sam Mendes creates a miracle in filmmaking with scenes where you can't wrap your head around how they achieved certain shots. On top of Roger Deakins's stunning cinematography and the masterful work behind the camera, we have a thrilling story and some great performances.
4. Joker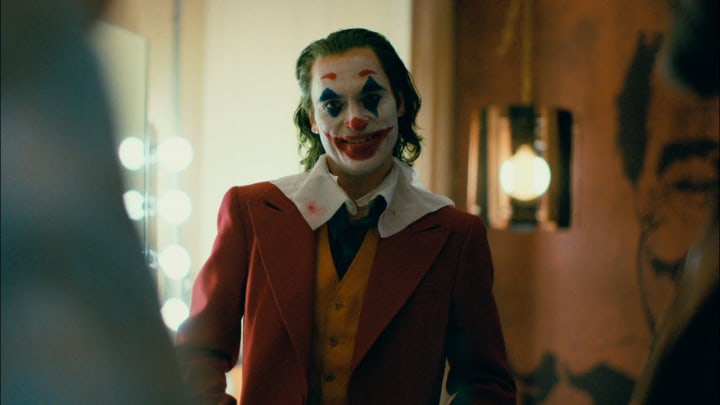 With the abundance of comic book films we've been getting in recent years, this is a film that puts a very unique twist on the genre by taking the most iconic villain from the Batman comics and turning it into a brooding, character-driven drama.
It's a dark, unsettling film led by the best performance I've seen all year–Joaquin Phoenix's take on the Joker is sympathetic but frightening, and he commands the screen with a role that he takes and makes his own.
The cinematography and score of the film are exquisite, and it has a lot of connections to modern-day politics with a message about how we treat certain people, and the role that society plays in creating the monsters we fear, all wrapped up in a psychological thriller of a comic book film.
Now, my top 3 are all movies I gave a 10/10 to, and it wasn't easy to place them, but this is the ranking I went with.
3. Us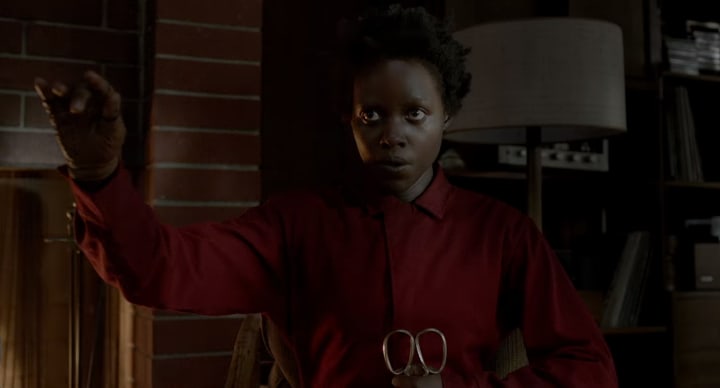 My favorite type of film is a film that gets you to think—films that can get me to have discussions about its deeper meanings and symbolism and films that beg to be rewatched.
This was very much that type of film. Some have been displeased with its "lack of scares" and "plot holes", but I see this film as a political allegory disguised as a horror film. The message of the film is largely about how we treat people we view as different from us, when they are actually just like us.
Aside from these complex ideas, Jordan Peele shows massive talent on the page and behind the camera. It has brilliant foreshadowing, the cinematography is great, and it manages to be funny, scary, and fascinating at the same time.
Oh, and Lupita Nyong'o's performance is off the charts.
2. Parasite (기생충)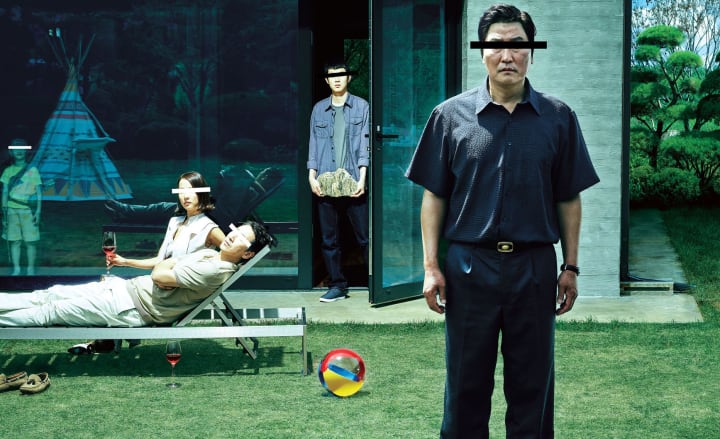 Now, this film has largely been overlooked by mainstream American audiences (I have yet to meet anyone who has heard of it), but make no mistake–this film is mind-blowing. It's in Korean, but don't let that deter you from watching the best screenplay of the year in action.
This film is a satirical look at the differences in class structure; it begins as an entertaining black comedy of sorts, but halfway through, a shift appears in the narrative, and as certain events occur, the film becomes crazier and more suspenseful.
It is without a doubt one of the most impressive films of the year. Many critics have this film as their #1 of the year, and if you watch this film, you will understand why.
And now for our #1. Maybe you'll agree, maybe you won't. Let's see.
1. Cats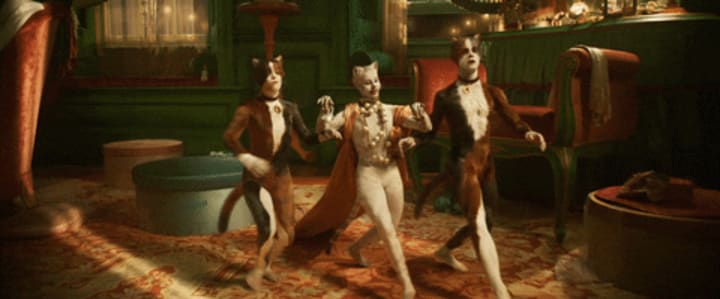 Okay, that was a joke, but come on–look at this movie. This joke will never get old.
1. Avengers: Endgame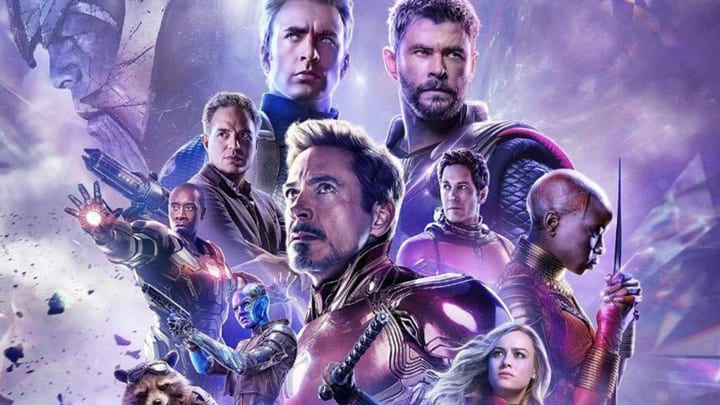 There's a good chance you clicked away right when you saw my #1 pick, because you may agree with Martin Scorsese that these films "are not cinema" and they're just big popcorn flicks with a lot of entertainment value and no substance.
And if I'm honest, I've felt a bit guilty for having a superhero movie as my #1 of the year too, but I will stand by this–Avengers: Endgame gave me the best, most memorable cinematic experience I have ever had. There hasn't been a film that has given me this much pure joy in a while.
Every single bit of fan service works, and this is the culmination of 11 years of setting up in the MCU, and our big finale battle is the pinnacle of superhero cinema. I don't see anything surpassing what I saw in this film, and while the first two hours are light on action, the story and the characters are too captivating for me to care.
It wrapped up everything it needed to wrap up, and there are certain setups and payoffs that couldn't have made me happier. Watching this film with a cheering crowd elevated this regular trip to the movie theater to an unforgettable experience.
And that's it!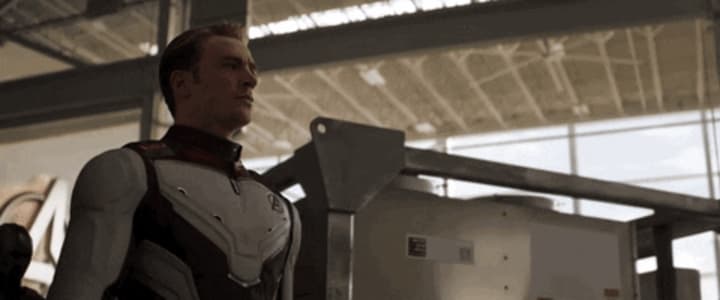 Well, 2019 is coming to a close. It's been a wonderful year for film, and here's to 2020. Hope it's even better. I'm gonna have a best movies of the decade article out soon (I'm actually gonna start on it right after I finish typing this).
Thank you so much for reading.
list
Film critic. Lover of Pixar, Harry Potter, Star Wars, Marvel, DC, Back to the Future, and Lord of the Rings.
For business inquiries: [email protected]