Three Bits of Wisdom I took from 'The Woman King'
Insights from Izogie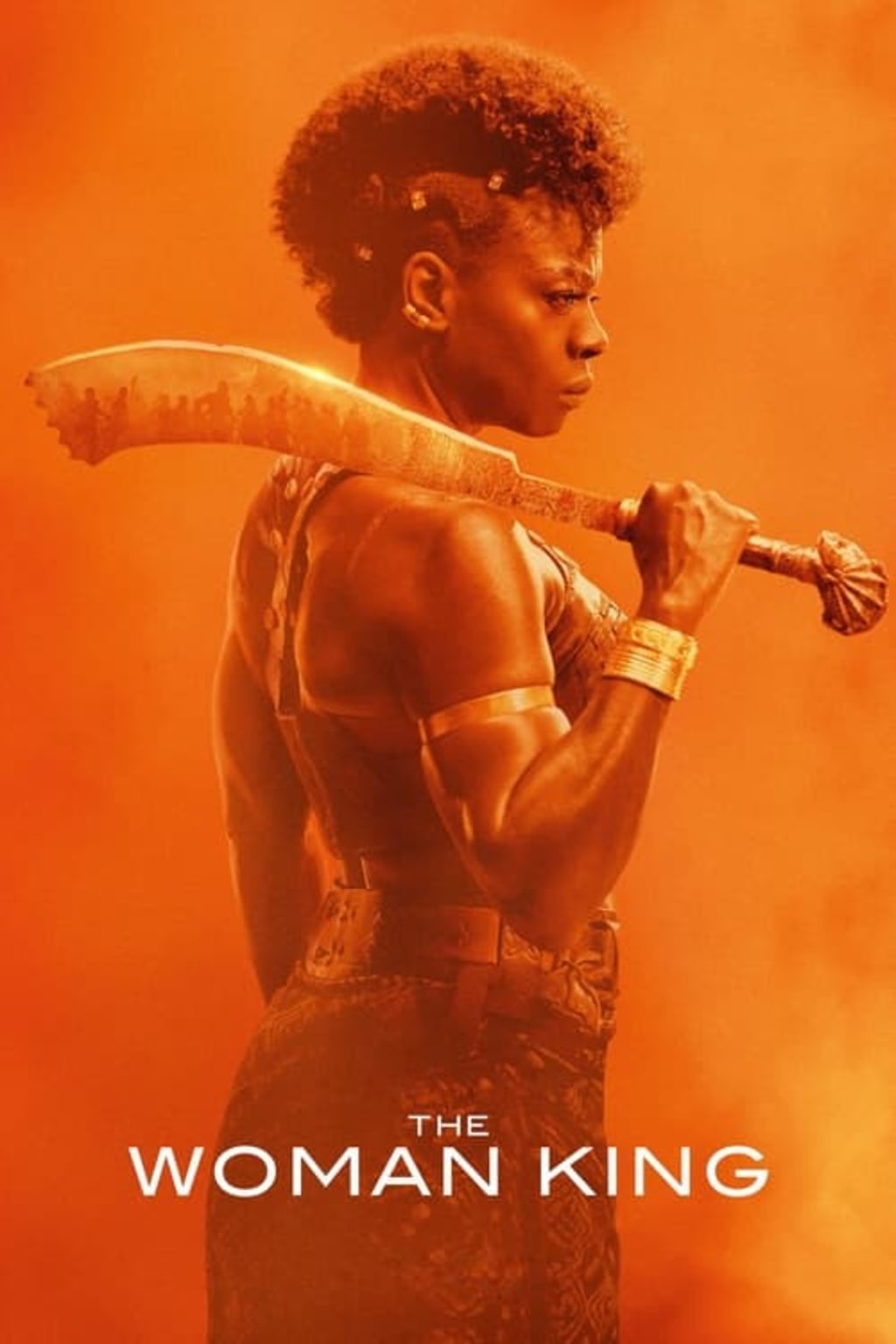 The Woman King (Nanisca)
Recently, I checked out a fantastic film entitled "The Woman King" that dropped in theaters this year (September 16th).
There were so many lessons that I learned from this movie, but I wanted to lay out a few that particularly landed with me.
It was a good thing we saw it on the big screen because, honestly, it's just amazing.
The ferocity and fierceness of these female warriors was wild to witness and behold.
The way they conducted themselves with courage on the battlefield. Their ability to go in and take what they wanted.
They used every tactic at their disposal to devastate their enemies. Able to do damage by taking advantage of other people's lack of ingenuity, creativity and cunning.
It's been a long time since I've seen a movie of this magnitude.
Why did I truly love "The Woman King"? Well, there was one character I especially enjoyed.
Izogie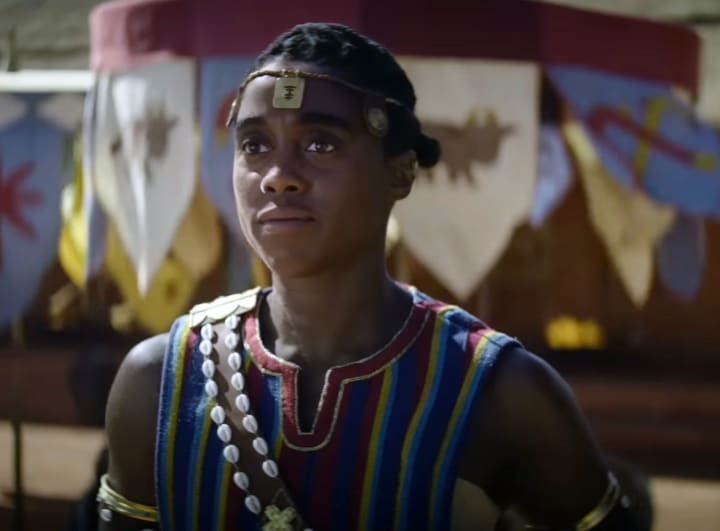 This character was played by none other than the legendary Lashana Lynch, and was absolutely a standout for me in every scene.
I won't spoil what happens with her character in the movie, but I will talk about the gems that I gleaned from having her on the team.
The way she carries herself in the film, and the way that she interacts with one of the main characters (Nawi).
In the film, Lashana Lynch plays "Izogie" who is a female warrior in the "Agojie". The Agojie are an all-female army of Amazons tasked with protecting the Kingdom of Dahomey.
Lashana Lynch's powerful portrayal of this character definitely solidifies her as a woman to watch in Hollywood.
Her level of focus on the screen speaks volumes, and the energy she exudes is impressive.
The way she is able to take up space in each scene, effortlessly, with focus and unwavering attention. These are a few traits that we can discover through her demeanor.
Her personality in this movie also shined through. Able to be humors at times, while being hellishly dangerous during others.
She was mainly a big sister for one of the central characters. This character was "Nawi" played by Thuso Mbedu.
Scars of the Past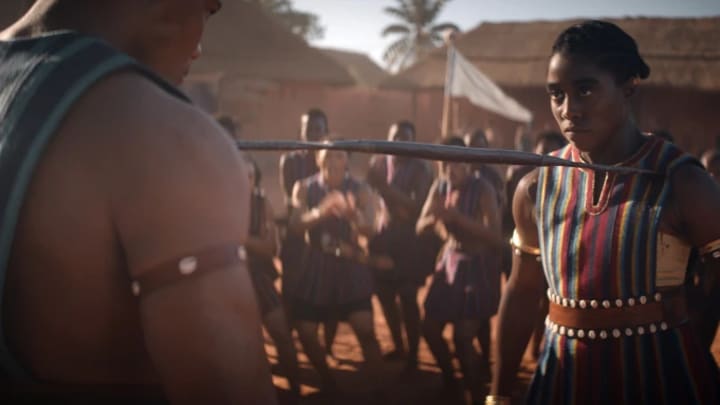 In the film, it is shown that Izogie had endured many hardships in her youth. As well as the others, she had made sacrifices and had survived against all odds.
Many things in her past are not revealed to the audience, but can be left up to our own interpretation. One thing that is seen are the several scars that remain from her sufferings.
Most of the Agojie embrace their scars as a testament of bravery on the battlefield. However, Izogie donned dozens of disfigurements from childhood.
These markings are the makings of her sacrifices and willingness to survive at all costs. Etched permanently in her skin, they are a constant reminder of the treatment she received.
A reminder of past transgressions and even past traumas. One of them was burn on her left hand that happened when she was viciously mishandled. She got the burn when she held a hot brand with her hand in defiance of her assailants.
She stated that, even though she was used and abused when she was younger, it is better to smile than to cry.
Izogie artfully showed the ability to transmute one's emotions. That circumstances may dictate you use your cunning and your emotions to get you further ahead.
Part of her healing process was that, she deemed, she would be better off using her hatred to help instead of being a hindrance.
Instead of becoming a victim, Izogie used her violent past to gain victory in life. Allowing her circumstances to push and propel her beyond the limited perceptions of others.
She refused to allow herself to be put down into guilt and shame, or even the blame game.
Lessons from Izogie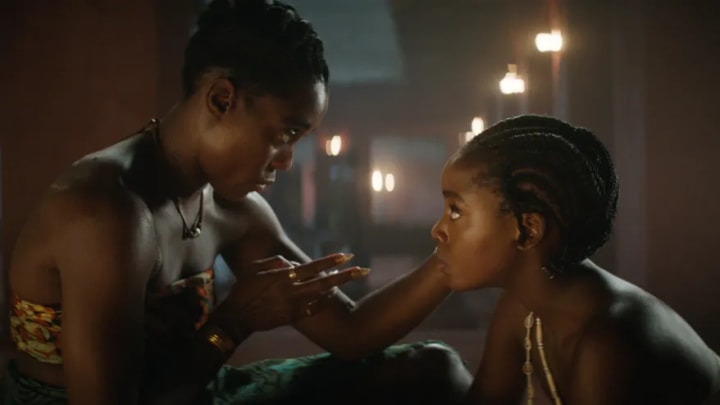 Izogie taught one of the main characters, Nawi, three lessons that I really took to heart. This one scene had so much sage wisdom, and spoke to my own life as well.
1. Focus
One of the lessons that Izogie spoke while she was braiding Nawi's hair, was that "to be great, you must focus. There can be no distractions."
This was a great lesson because Izogie noticed that the young girl had a recent love interest.
Taking up the blood oath to be an Agojie warrior, required the women to leave the fantasies of courtship behind.
They were relinquishing and releasing the need for relationships and sacrificing this privilege to be able to be more effective on the battlefield.
It was a total devotion to training and fighting for the king and their nation of Dahomey.
When Izogie noticed that Nawi had this love interest of another character (named Malik) she spoke about focus. She had learned that, if one has a goal in life, sacrifices must be made.
When you aim at nothing, you hit nothing. So, to go about your goal aimlessly, you can be swayed and easily taken off course.
She understood that, with no distractions, one will make it to their desired destination much faster.
The Woman King gave the sense that, no matter where you come from, you can change your path in life.
You can change your direction at any point you desire. That who you were doesn't have to be who you are. And where you've been doesn't have to be where you're going.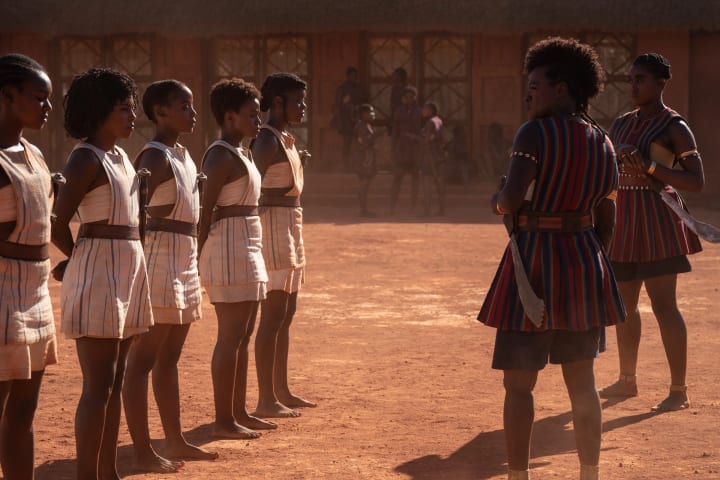 2. Do Not Surrender to Emotions
Another lesson that she taught the young Nawi, was that "love makes you weak."
This can be left up to one's own interpretation, but is very thought-provoking.
I took this to mean that, when you allow yourself to be swept up in emotions, and powerful emotions at that, you lose sight of your goal.
You lose sight of your aim. You lose sight of your sense of direction and gain. You tend to take yourself off course because you are distracted by your emotions.
Dis-traction is the opposite of traction. When we fall for the attraction of someone else, we may fall into a design of distraction because we succumb to our desires.
Even a strong desire that goes against your goal can burn out or extinguish the fire that you have within you for something more. This is what I deciphered by "love makes you weak."
Perhaps you have felt the same in life?Where you were once on a course, you were on some sort of track, but then due to a desire or due to lack of focus, you were set back.
One might say to themselves that setbacks are not in the way, they are on the way. Believing that we can always turn a stumbling block into a stepping stone.
But the difference between one who does, and one who does not, is not always known. And it is definitely not always shown.
The lesson that "love makes you weak"reminds me of part of the Jedi code. In Star Wars, there is a tenement that is taught to the padawans that would become Jedi Knights.
It says that "There is no emotion. There is peace." Jedi in the Star Wars universe are taught to let go of their emotions like passion, love, and hate that will eventually lead to the dark side and threaten to take them off course.
Sacrificing their stillness and serenity when they are unable to sacrifice these strong emotions.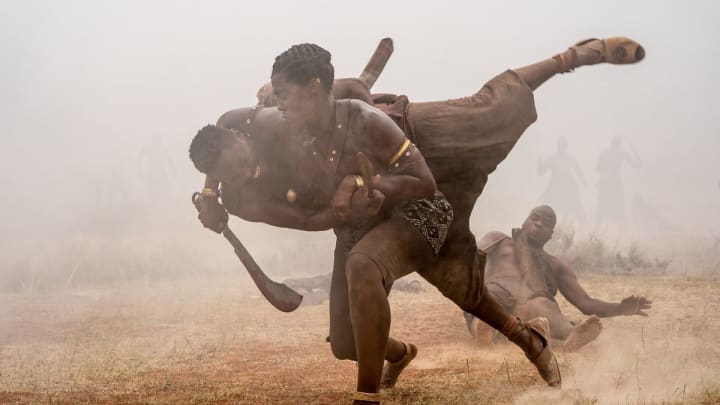 3. You Cannot Have Both
The last lesson that I got from Izogie in this film was when she stated that she hoped to attain the title of General one day.
To do this, she understood that "you cannot have both." You may have to give up one to gain the other.
She had set her eyes on a target. Though she was aiming high, she also knew that she could not be romantically interested in someone if she wanted to realize it.
Someone once taught me that, if you do not sacrifice for your dream, then your dream becomes your sacrifice.
That you can have ANYTHING you want in life, but you can't have EVERYTHING. This is powerful because it is a lesson that can be learned in all of our lives.
When we have something that we are willing to die for in life, it takes a certain amount of sacrifice.
If we do not have that sense of compromise, then we will create chasms between us and our desired outcome.
We may end up falling into a pit of despair because we surrendered to our baser desires.
But if we, like Izogie are able to transmute our emotions, and reframe our pain, we can transcend the things that would detract or pull us back.
What looks like calamity can actually be a catapult that would launch us into a better alternative.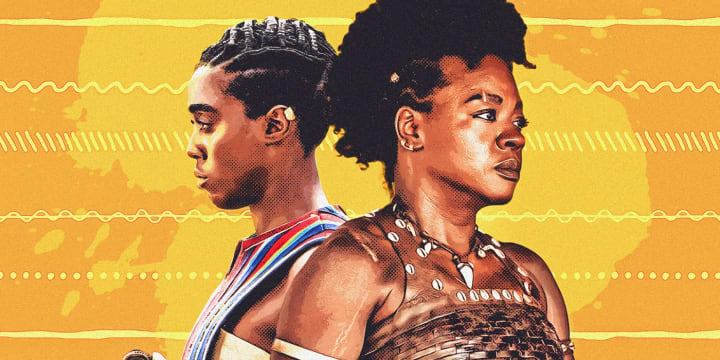 I highly recommend this film to any avid movie goers. The Woman King was such a refreshing watch and not just a rehashing of history.
Hats off to the actresses and actors who made it come to life. And to Lashana Lynch for her demonstration of courage, concentration, and the willingness to be able to truly devote oneself.
These are the exemplary traits that she exhibited in this film, and I seek to do the same.
About the Creator
Here to inspire you on your journey. ✊🏾
Connect with me on IG @jromeshaw
Donations are appreciated $jromeshaw 🙏🏾
Reader insights
Nice work
Very well written. Keep up the good work!
Top insight
Expert insights and opinions

Arguments were carefully researched and presented
Add your insights