There Is No Better Marvel Team-up Than Clint Barton and Kate Bishop! Right?
A nerdy love letter to Kate's and Clint's friendship, which is one of the most precious things in the comics and that's why we NEED it to happen in the upcoming 'Hawkeye' TV series.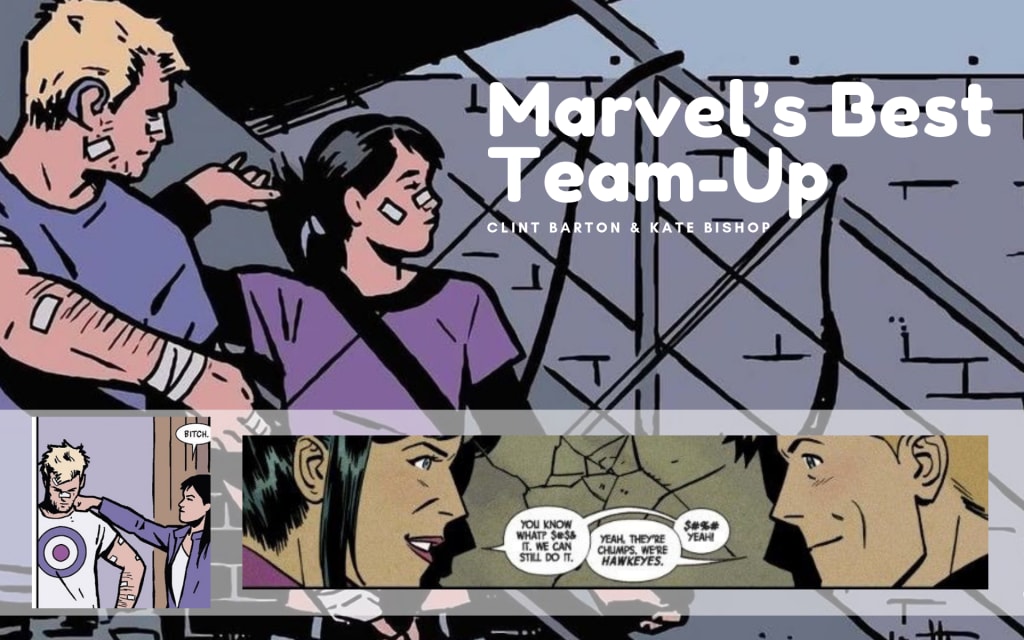 Well, every Marvel fan knows that there'll be this new Hawkeye TV show and we also know that there might be Kate Bishop introduced in the MCU.
HELL YES!
I can't tell you how freaking excited I am for this. Because I want them to be as amazing and hilarious as in the comics. The Hawkeye team-up is really precious and I just love them.
But if you're not a frequent Marvel comicbook reader, then you might ask yourself now:
"Who the hell is this Kate Bishop? I know Clint Barton. He's this archer guy, but who's the girl?"
Well, my lovely nerd, let me explain…
Who is Kate? And where the hell did she come from?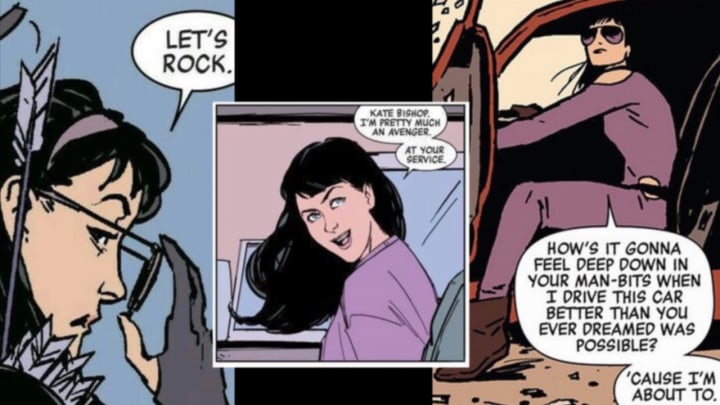 Kate first appeared in the comic, Young Avengers in 2005, where she fights with other young aspiring heroes against evil forces. The "adult" Avengers, though, aren't really happy about these kids who are trying to be heroes and mess things up so they refuse to train them. But Kate who has a rich family doesn't want to give up on that idea and puts her family's money into a new home for the Young Avengers.
She's also the only one who stands up for them and argues with Captain America that they wouldn't mess up so much when they would have been properly trained. Captain America is so impressed by Kate that he gives her Hawkeye's bow and the Codename "Hawkeye."
Kate takes on the name "Hawkeye," and is really honored because Clint Barton is her role model. He is the reason why she wants to be an Avenger and why she is convinced that everyone could be a hero even without superpowers.
When Clint comes back and wants his name back (yes, I know, comics! Right?) he finds out about Kate. He steals the bow back, which forces Kate to go after him and also steals "her" bow back. And that's actually Clint's and Kate's meet-cute moment.
Soon after that Clint becomes her mentor because he notices her (obvious) potential and skills (and badass vibes, if I might add). The mentorship then becomes friendship and after that they're family. Aaaaaw!
And let me tell you, their friendship/partnership is one of the most precious things in die Marvel comics and I really hope it'll be the same in the MCU.
Fingers crossed, nerds!
Kate and Clint = Hawkeyes for life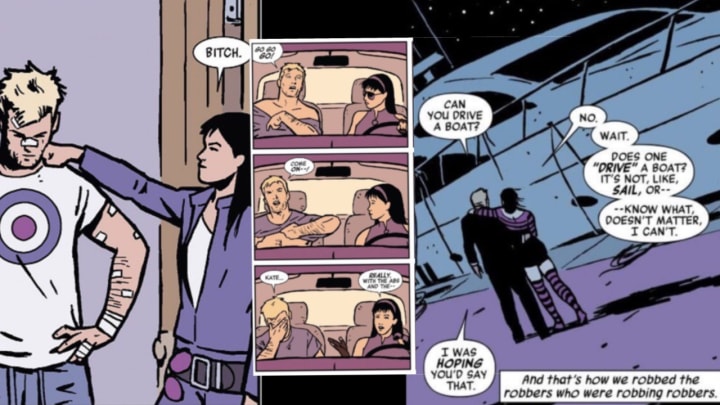 One of my favorite comics is by Matt Fraction called Hawkeye: My life as a Weapon from 2015. In the story we follow Clint Barton through his daily struggles of being an avengers and down-to-earth-guy but we also see how the relationship between Katie and him works.
And it's so bittersweet and so hilarious! They are just amazing together and SO fun.
They are like the next-door-neighbor-superheroes who we can relate to on every level.
I just love them and every Marvelfan should read this comic, to be honest. Because it's one of Marvel's best and I guarantee you that you'll fall in love with these two dorks just like I did.
In this comic Kate plays an important role in Clint's life because she's his family and his rock. She picks him up, when he's down and they keep fighting together the good fight against bad guys.
Kate also proves to be a very strong and independent character who can be super stubborn and opinionated but who always puts others before her needs. So whenever Clint needs support or help, she comes to the rescue.
There's no Clint without Kate, and no Kate without Clint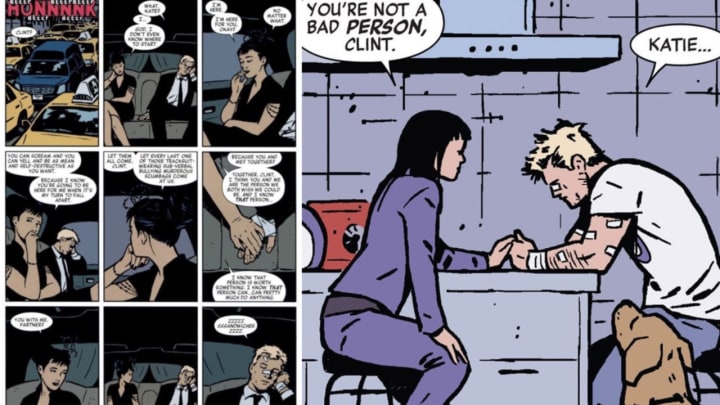 Even though after Matt Fraction's comic Kate decides to go to LA to be on her own for a while, she never forgets about Clint. She occasionally checks in with him and they still keep in touch.
In the latest Marvel comic series "West Coast Avengers" (started 2018) they team-up again when Kate needs help to lead her new Avengers Team. So Clint comes to LA to support her and together they fight with other heroes for the right thing.
The sweet thing about their friendship is not only the never ending support for each other and their trust, but also that they always back each other up. They know their strengths and weaknesses. So when one of them needs a pep-talk, the other one will give it. Or if one needs a kick in the ass, the other one volunteers without hesitation.
So I really hope that there will be the same chemistry and friendship in the upcoming Hawkeye TV series.
tv
When I'm not hunting demons with Dean and Sam or looking for hidden treasures with Indiana Jones, I'm writing stories or geeky articles, and sometimes (ok, most of the time) I'm fangirling about shows, comics, or movies.
Receive stories by Julia Valentina in

your feed