'The Young and the Restless' Spoilers for December 2-6
Bad Billy returns, Adam turns the tables on Phyllis, Summer ponders her future, Nick, Chelsea, Adam triangle heats up.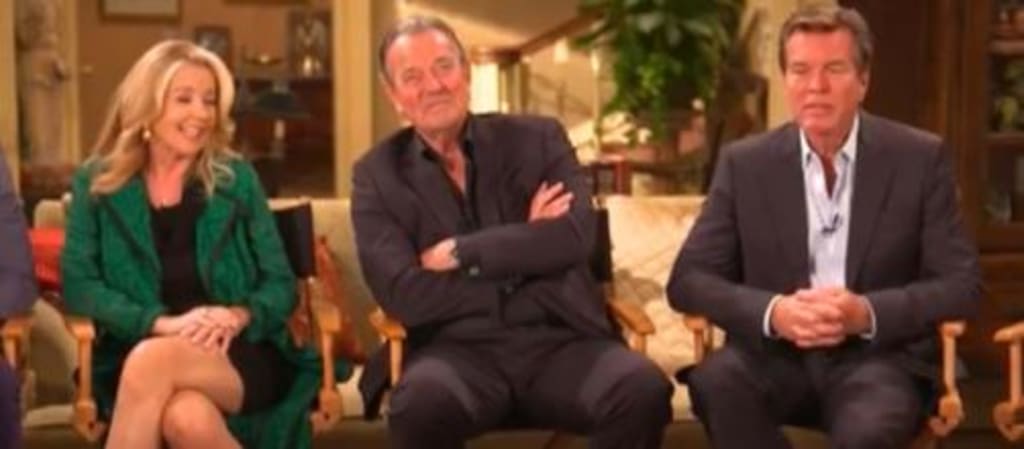 Soaps She Knows at Soaps.com gets their information straight from the CBS studio. For this reason their spoiler alerts are accurate and do not change. Here is what will happen in Genoa City during the week of December 2-6.
Billy Abbott is headed to the dark side again and let's hope he's not chewing gum. This week Victoria's baby daddy will be flirting with danger, hiding secrets and end up in a dive bar during a snow storm with Amanda Sinclair. He will be tempted by old habits but it's not clear if he will cheat on his baby mama, start drinking again, or return to gambling. Many who watch The Young and the Restless believe the show is making Jack's little brother unlikable and his days in Genoa City may be numbered. Spoiler alerts indicate that Victor will have a few words for his former son in law who quit his job and is now unemployed.
Meanwhile there may be some sparks flying between Vicki and Rey, who is still in the land of indecision where Sharon is concerned. It seems that every time "Villy" fans get their hopes up and Victoria and Billy seem like they are about to put their family back together, something tears them apart. Someone will apologize to Ms. Newman this week and Sharon is going to be in a foul mood because she believes Genoa City let her down during Thanksgiving. Please keep in mind that because of the impeachment proceedings, The Young and the Restless will be airing their Thanksgiving episode on Monday. Sharon will be feeding the homeless and it sounds like she will not get the support she desires.
The triangle between Nick, Chelsea and Adam heats up when Ms. Lawson decides it's in the best interest of her son if he moves in with him and his father. Nicholas will be powerless to complain because after all, his brother and his ex are Conner's biological parents. Phyllis will continue trying to find out the connection between Adam and Chance, but will find the tables have turned on her. Adam will gain the upper hand but knowing Ms. Summers it won't be for long. In the meantime, Nicholas and Phyllis will go down memory lane and may consider finding comfort with each other.
Summer will be pondering her future and accessing whether or not Theo should be in it. Last week she appeared annoyed with his behavior when he kept trying to flirt with her during office hours. She also questioned him regarding his approach to his new job, an Theo seemed offended. Summer has laughed with Kyle, and Lola even caught her touching his face while they were on the clock. For some reason she wants to put distance between herself and the man she is currently dating. Summer has matured and is taking her new promotion seriously, but does not seem to understand that Mr. Vanderway is moving at his own pace.
Soaps She Knows is also reporting that Devon will be haunted by his past and trying to find Colin which is an annoyance to the viewers. Loyal devotees of The Young and the Restless are not fond of the fact that the saga of Katherine's will continue. Fans want closure, but with Cane out trying to find his dad and the missing money, who knows when this will ever end. The spoiler also says Devon will be thinking about Amanda, who seems sweet on Nate and will end up in an encounter with Billy.
Phyllis and Abby will continue bickering with each other and Kyle will celebrate some type of success. Victor is going to be suspicious of Amanda and later in the month Chloe will announce to Kevin that she is pregnant, while Adam and Chelsea will be in a fight to save Christmas for their son. Unfortunately, nothing is mentioned about Michael, Lauren or Paul and The Young and the Restless viewers want to see more of the. It was announced by spoilers a few weeks back that Fen will return to Genoa City for the holidays so perhaps we will have them on screen at that time.

Cheryl E Preston
Cheryl is a poet, freelance writer, published author and former Newspaper columnist. She has degrees in Psycology and Biblical studies. She enjoys sharing natural cures, and Nostalgia related info. Tips are greatly appreciated.
See all posts by Cheryl E Preston →