Theo Could Still End up in Paris on 'The Young and the Restless'
Summer's new attitude and Kyle's hostility could send Mr. Vanderway straight to Ashley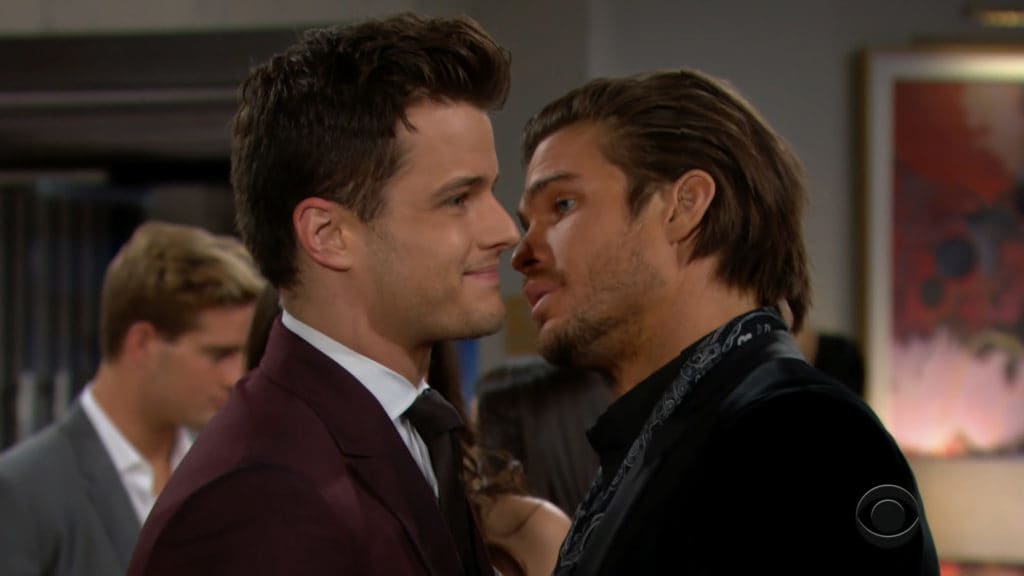 Kyle does not trust Theo
Those who write for daytime drama often have an end game for characters. Fans of The Young and the Restless had noticed for at least a year, that Cane Ashby was being shoved out of Genoa City. Sometimes the writers allow the storyline to seem to be headed in a certain direction, then flip the script leaving viewers bewildered. There are other occasions where those who pen the dialog seem to be unable to find the right fit and all of these could be true in the case of Theo Vanderway. He came to town as Kyle Abbott's former party buddy, then became obsessed with trying to break up "Kola." He hinted at things about the past to Lola, began dating Summer who is Kyle's ex wife, then brought Zoe to town.
Theo seemed immature and had no real ties in Genoa City and many viewers wanted him to be written off of The Young and the Restless. The next thing you know, he turns out to be Dina's grandson and Ashley offers him a job in Paris. It looked like those who were eager to say "adios amigo' to Mr. Vanderway were about to get their wish, when Jack stepped in and hired his nephew to run the Jabot social media department. This does not, however, indicate that Summer's beau is putting down roots. All of this could be a set up for a long goodbye. Last week as Theo was talking with his team, he seemed a little off as if his were not really his cup of tea. Keep in mind that he has always been a free spirit, doing his own thing. Punching a time clock in corporate America might have him longing for European soil.
Theo may consider that being in Paris would be worth having to settle down, much more so than being under his cousin's watchful eye. Kyle remains skeptical, and is waiting on his new relative to fail. In addition, Summer seems to have changed since her promotion to the marketing department. Last week she insisted to Theo that they remain professional while on company time, but on several occasions she has been flirty with Kyle. Summer was so critical of Theo that he asked her who had the problem with him, his boss or his girlfriend. This exchange could be taken several ways. Theo could have been referring to the fact that he reports directly to Summer or he may have been asking if the issues were coming fro his cousin.
Summer has been growing and maturing and now that she has been promoted, she desires to prove herself worthy of her new position. She wants Theo to straighten up and fly right as well. All of this pressure may prove too much for the playboy and cause him to walk away from it all. Right now ever is shined and new but newness wears off. There are multiple possibilities of what could go wrong and send Mr. Vanderway packing.
In addition to Theo becoming frustrated, he could make a serious mistake that would prove Kyle was right all along, and he is fired. There could be a serious work issue with Summer that causes Theo to quit or his sweetie give him the ax. Things could heat up with Skyle and they give in to their emotions which would dissolve Summer and Theo along with Lola and Kyle. Both relationships would also be damaged if Theo and Lola hooked up. There is also the slim chance that issues at Jabot could cause Jack to step in and do damage control.
The bottom line is that a majority of those who watch The Young and the Restless do not believe Theo is a good fit. The writers do not seem to know what to do with the character and more than likely he has an expiration date in Genoa City. Be sure to keep watching the action each weekday afternoon on CBS at 12:30 PM EST. It will be interesting to see how all of this plays out and don't forget the writers could keep Dina's grandson in Genoa City, although highly unlikely.