The Young and the Restless: Noah's secret begins to unfold
Sharon will notice that her son is distracted but he will not confide in her. Instead, he will share at least some of his agony with Faith.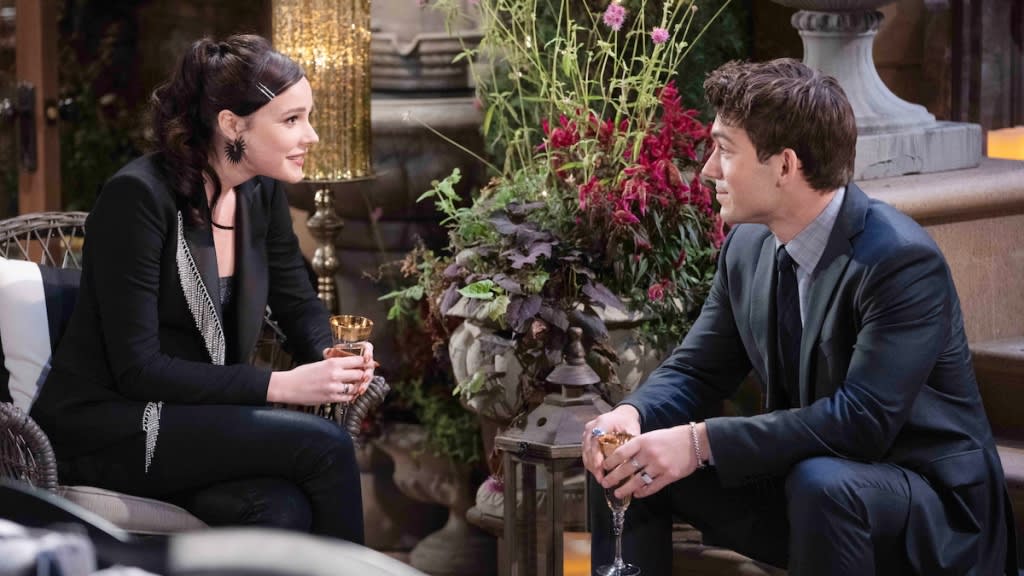 Noah and Tessa
The Young and the Restless spoilers: Sharon is worried about her son
Next week on The Young and the Restless Noah Newman (Rory Gibson) will be at his mother's cottage but will zone out and not hear Sharon Rosales (Sharon Case) calling his name. He will try to play it off but Sharon will point out that this has been happening a lot lately. Noah will tell his mother that there is nothing to worry about and leave to go on a run.
The Young and the Restless spoilers: Noah may not be completely over Tessa
Soap Dirt spoilers suggest that Noah may still be hung up on Tessa Porter (Cait Fairbanks) but that she will insist to him that she is gay. This is speculation and may or may not turn into reality. SD points out that Noah lights up whenever he is with Ms. Porter in a way that does not happen with anyone else. Y&R fans did not complain when Tessa dropped Noah for his sister Mariah Copeland (Cameron Grimes) but there could be an outcry of disdain should Tessa leave her current partner for her brother. Even if Noah does still care for his ex-girlfriend he probably will not act on it.
The Young and the Restless update: Noah will confide in Faith
What is certain based on other spoilers is that on Monday Noah will run into his baby sister. Faith Newman ( Reylynn Caster) will ask her big brother to open up to her and promise not to tell anyone what he reveals. Faith believes that if her sibling opens up to someone else it may stop their mother from obsessing over his personal life.
Viewers know that Noah was in love while living in London and he will share some things about his failed relationship with his sister. Noah will admit to falling hard for another artist and say he was hurt pretty bad when she walked out on him. He will discuss how the relationship went downhill when he achieved success much faster than his girlfriend. He will tell his sibling that his former girlfriend felt patronized when he tried to reassure her.
The Young and the Restless: Noah admits his relationship became toxic
Noah shares with Faith that his fights with his former girlfriend became toxic as their fights became ugly and he returned to Genoa City in order to escape the negativity in London. Noah says he is trying to not to repeat the same mistakes, and Faith will suggest he hits the showers and go with her to the coffeehouse.
The Young and the Restless spoilers: Noah and Tessa are comfortable with each other
Noah and Faith arrive at the Coffe House and join Tessa at a table. Faith will soon excuse herself to get some brownies and blondies and talk to her parents. Nick Newman (Joshua Morrow) will be talking to Sharron when Faith informs them that Noah is doing well. Meanwhile, Noah will be thankful that he doesn't have to pretend when he is around Tessa and they will share a warm moment together. Faith will glance over at her sibling and be glad that he is having a good time.
Everyone including Mariah will be happy that Tessa is helping Noah to adjust to life in Genoa City. What is not clear is what the writers are going to do with their relationship. Be on the lookout for updates, spoilers, and breaking news related to how Nick and Sharon's son will move forward and if he still cares for his sister's partner.
entertainment
Cheryl is a poet, freelance writer, published author and former Newspaper columnist. She has degrees in Psycology and Biblical studies. She enjoys sharing natural cures, and Nostalgia related info. Tips are greatly appreciated.
Receive stories by Cheryl E Preston in

your feed