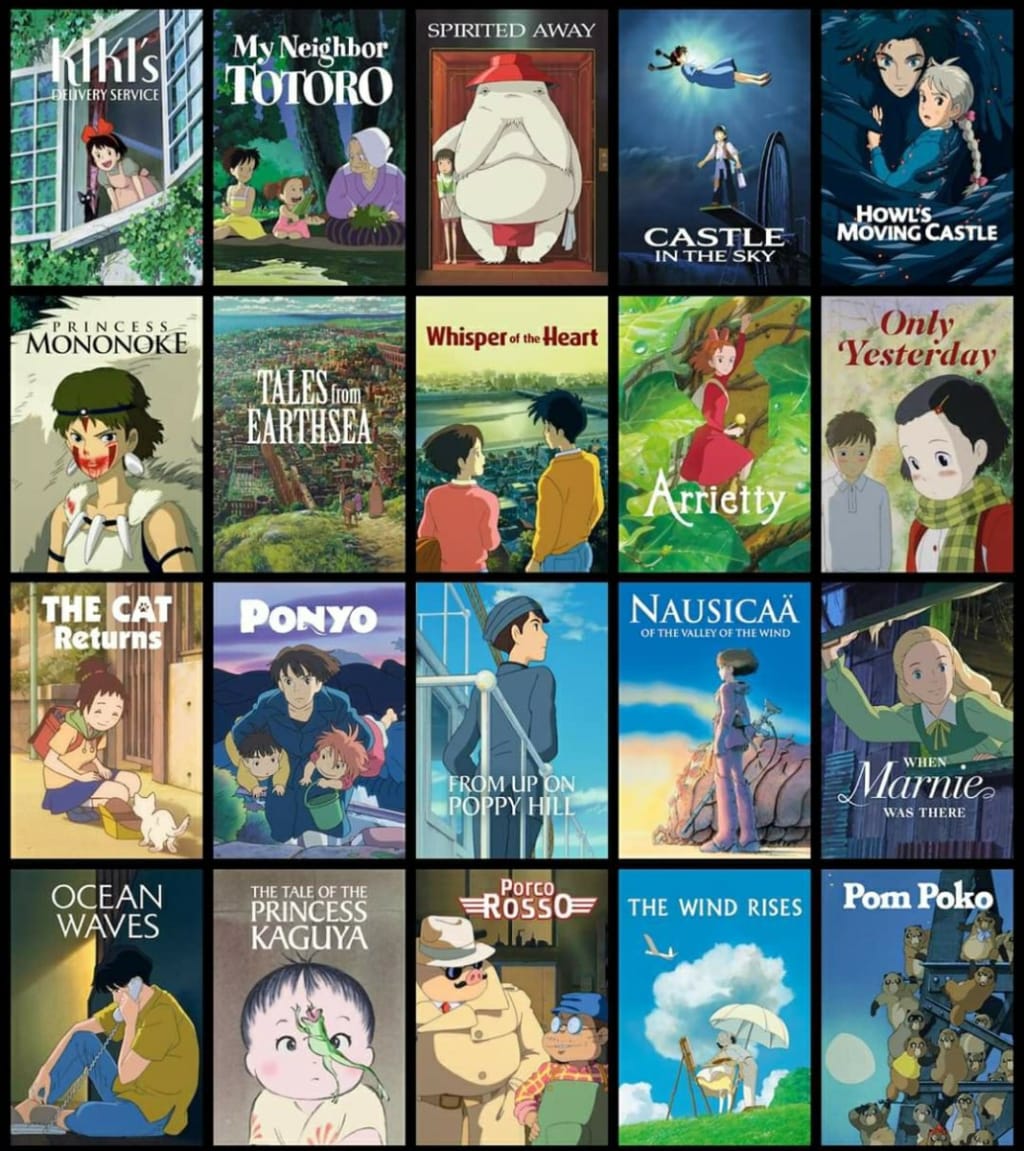 As many people did, I started my studio ghibli addiction with the famous spirited away. After watching that masterpiece I was HOOKED! I had to hunt down every movie they created and watch it. The creator of most of the films Hayao Miyazaki brought a breathtaking world to our TVs. Every story is unique, and when you rewatch them another meaning comes to light. Character development is in each movie, with strong female leads. Heart-stopping art will have you want to be teleported into the wonderful world of Studio Ghibli.
I would like to add I love all of their movies so ranking them just felt wrong, But I will give my honest review and what I got out of each movie.
There are 20+ movies so I will also be breaking this down into 3 parts, make sure to subscribe to not miss any
I'd love to hear your favorite movie in the comments below
Nausicaä and the valley of the wind - 1985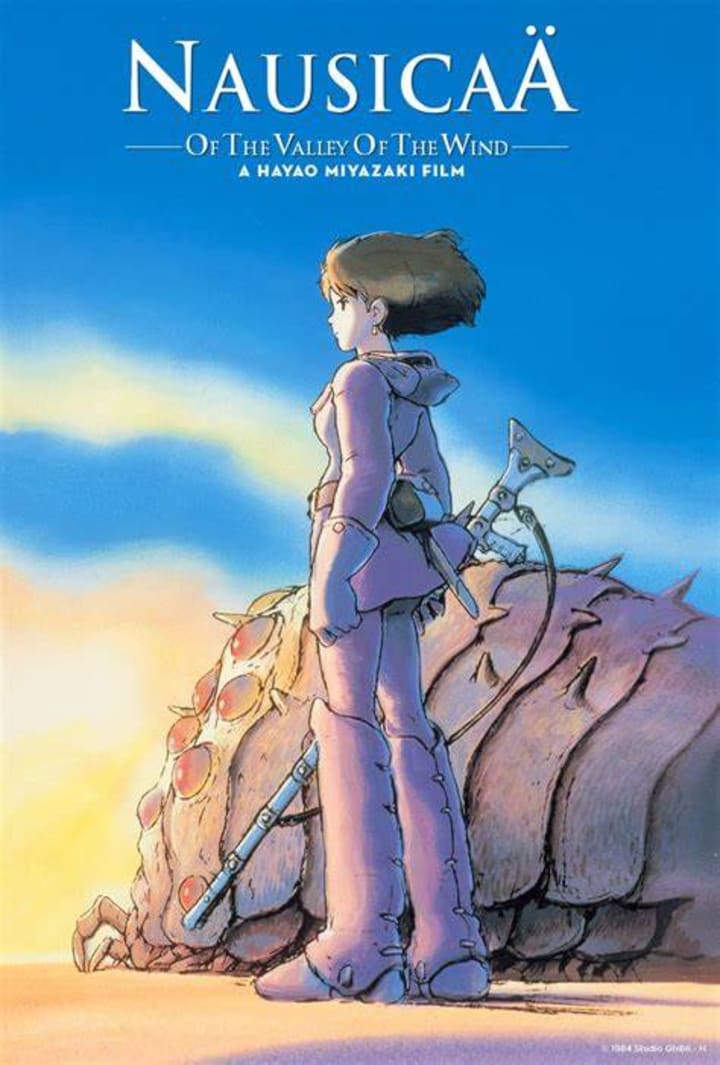 Storyline: An animated fantasy adventure. Set one thousand years from now, the Earth is ravaged by pollution and war. In the Valley of the Wind lives Nausicaä, Princess of her people. Their land borders a toxic jungle, filled with dangerous oversized insects. Meanwhile, two nearby nations are bitterly engaged in a war and the Valley of the Wind is stuck in the middle
Genre: Adventure, SCI-FI
My Review: For this to be the first studio ghibli film it set the bar pretty high. Not only is this a thrilling adventure, but It also gives us a glips into our reality if we don't take care of our planet. The world we live in is fragile and needs to be taken care of by us. When I went to the Studio Ghibli museum I found out about the main character Nausicaä. She started as a typical princess, in a pretty pink dress and a big dog by her side. It brought more appreciation to the character to see her transform into a warrior. Fighting for her kingdom, and putting her life on the line to bring balance back to the world, all while her father (The king) is dying. The fight between the enemy, the dying planet, and Nausicaä was a thrilling storyline. Highly recommend it to thrill-seeking individuals.
Castle in the sky - 1986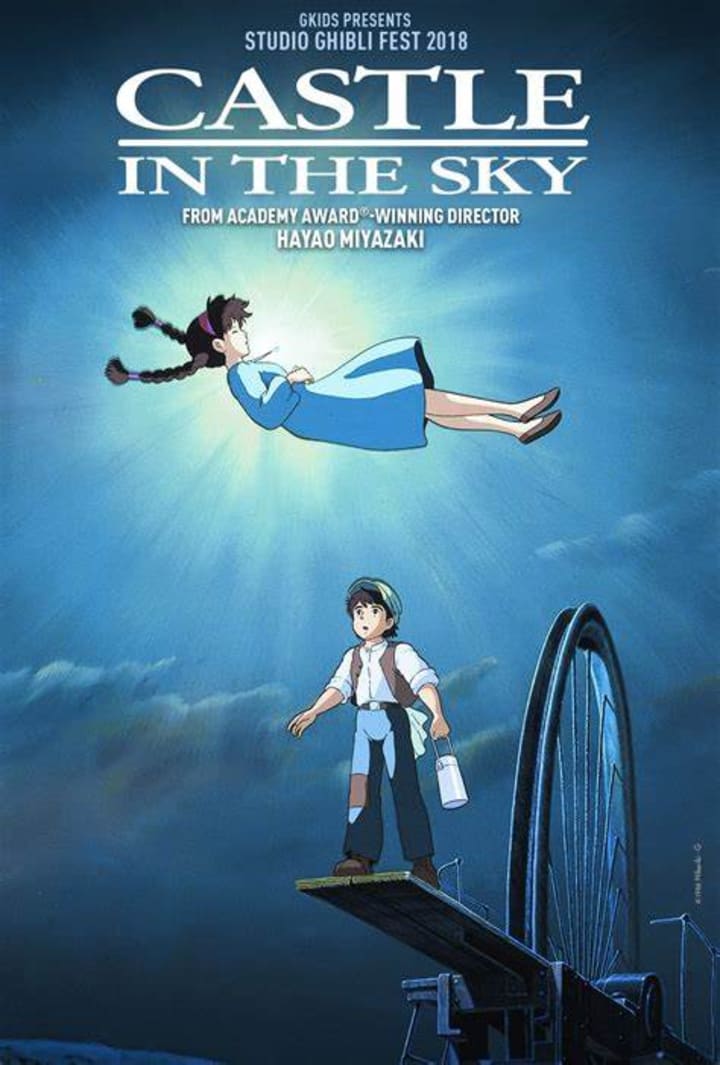 Storyline: A young boy stumbles into a mysterious girl who floats down from the sky. The girl, Sheeta, was chased by pirates, the army, and government secret agents. In saving her life, they begin a high-flying adventure that goes through all sorts of flying machines, eventually searching for Sheeta's identity in a floating castle of a lost civilization
Genre: Adventure
My Review: This might be one of the best stories Studio Ghibli ever created. The characters are tested throughout the movie and it is endearing to see their growth, and the collaboration between the characters to accomplish the same goal is perfectly written. I know the genre is an adventure but I would also add mystery, there are so many layers and depth to the story it will keep you on the edge of your seat. I have to give props to Mark Hamill for an incredible performance as Muska in the dubbed version, His ability to bring a villain to life gives me the chills. Even though this is an action-packed adventure, there is an adorable romance, stunning artwork, and a world you want to jump into. The fact that this masterpiece came out only a year after Nausicaä adds to how much I admire the time and effort that went into this movie.
Grave of the fireflies - 1989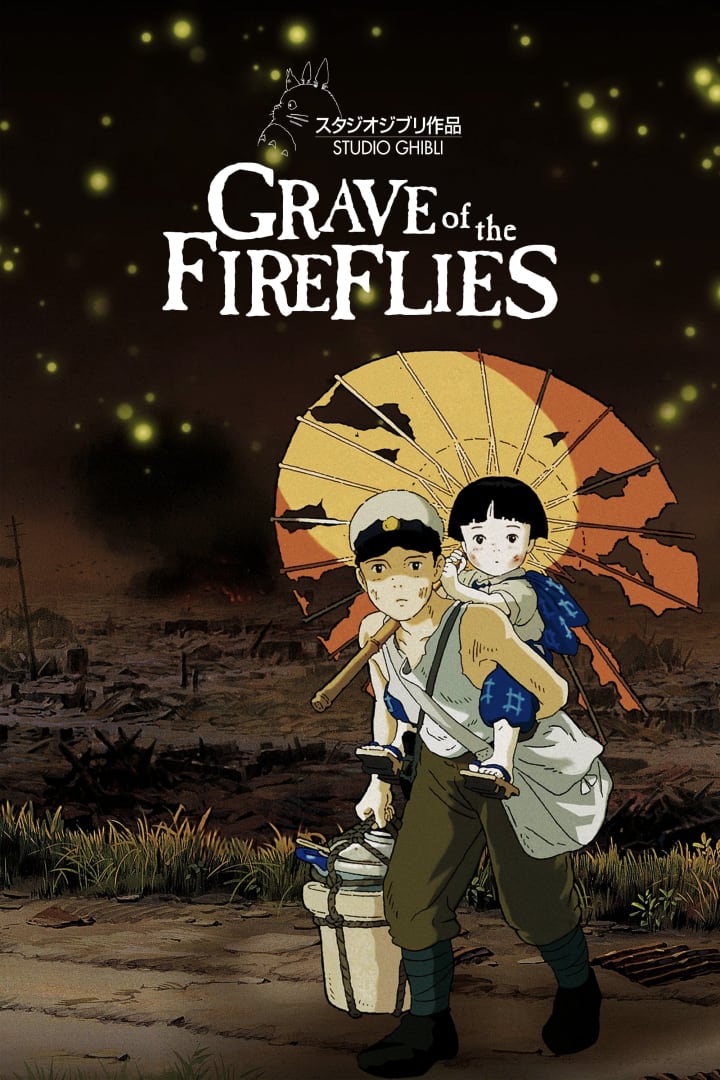 Storyline: The story of Seita and Setsuko, two young Japanese siblings, living in the declining days of World War II. When an American firebombing separates the two children from their parents, the two siblings must rely completely on one another while they struggle to fight for their survival.
Genre: Drama, War
My Review: I am going to be completely honest, I only saw this movie once and I sobbed so hard that it traumatized me from watching it again. It is a Studio Ghibli masterpiece!! An endearing story of siblings keeping each other alive through the battle of World War II, which is happening all around them. I later found out this is based on a true story!! Highly recommend reading - The true story behind 'Grave of the Fireflies' and hearing about what happens. This was such a beautiful story and hit deep. It also brought me a lot of joy to hear that this story was able to be told on the big screen by survivors of World War II. Be prepared with a box of tissues and enjoy the emotional rollercoaster of this masterpiece.
My Neighbor Totoro - 1988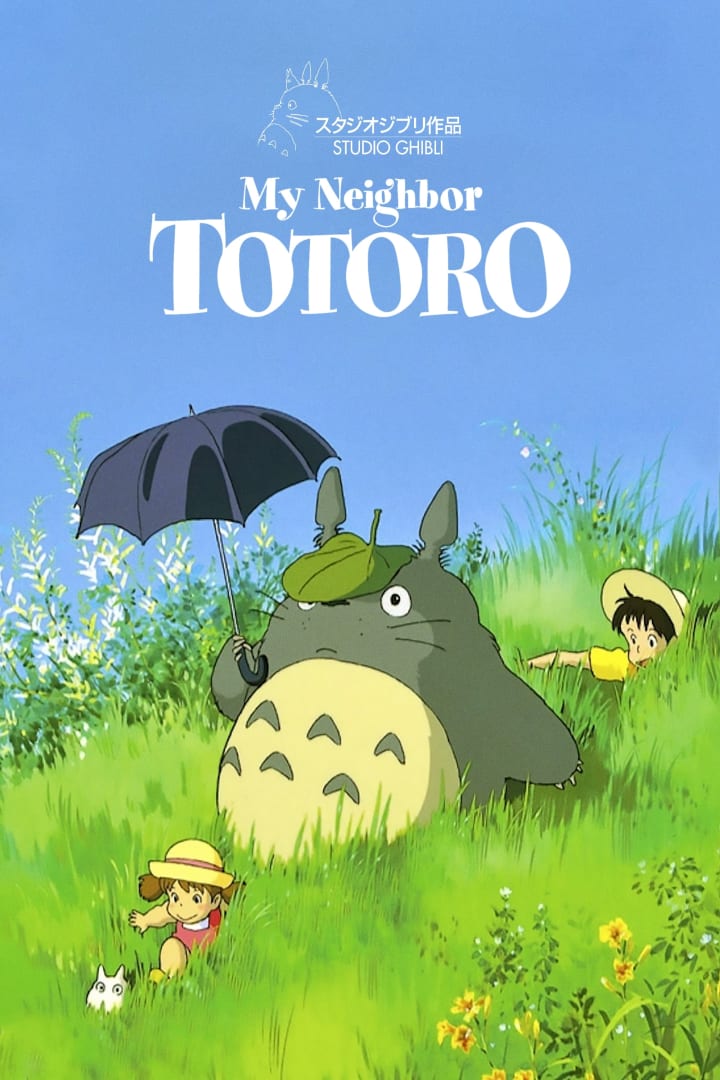 Storyline: Two young girls, 10-year-old Satsuki and her 4-year-old sister Mei move into a house in the country with their father to be closer to their hospitalized mother. Satsuki and Mei discover that the nearby forest is inhabited by magical creatures called Totoros (pronounced toe-toe-ro). They soon befriend these Totoros and have several magical adventures
Genre: Comedy, Family
My Review: Totoro is one of the most famous characters in studio ghibli, yet the movie wasn't one of my favorites. It was a very cute story between sisters finding their way in the world, and not losing their imagination in the constant changes in their lives. The dad is my favorite character, He is raising two adventurous and independent girls alone while taking care of his sick wife and balancing work in that family life. He is very enduring and always sweet to his daughters. This is a very sweet and light-hearted movie that will lift your spirit, and remind you to not lose your creativity and imagination in a world that only wants to pull you down.
Kiki's delivery service - 1989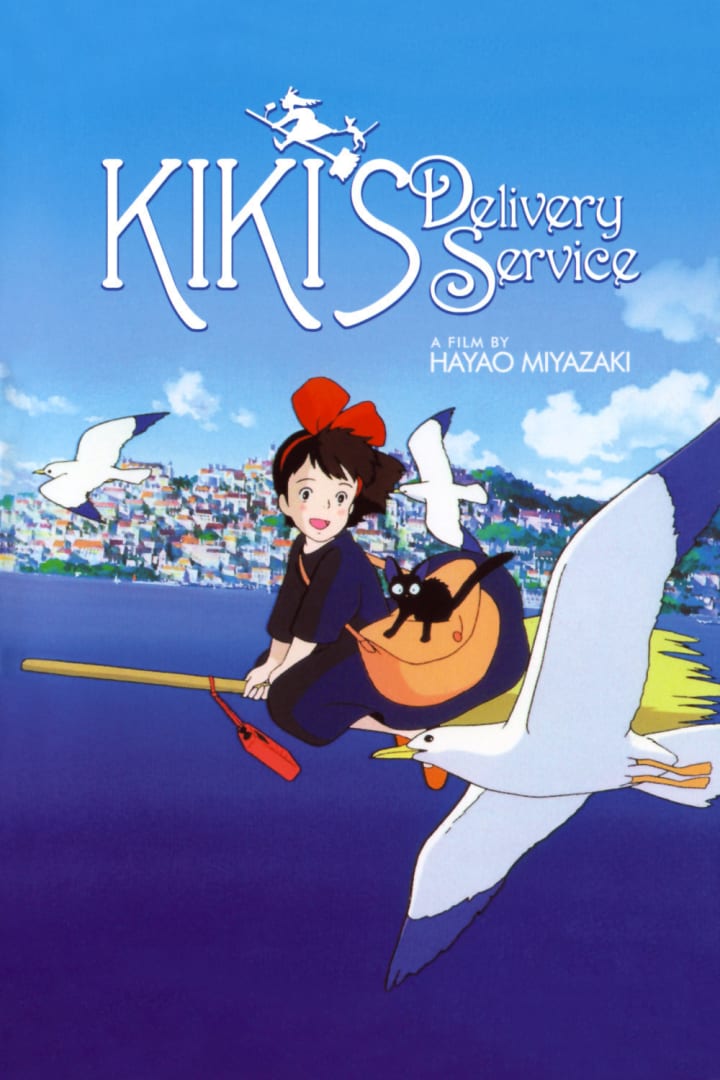 Storyline: This is the story of a young witch, named Kiki who is now 13 years old. But she is still a little green and plenty headstrong, but also resourceful, imaginative, and determined. With her trusty wisp of a talking cat named Jiji by her side she's ready to take on the world, or at least the quaintly European seaside village she's chosen as her new home
Genre: Comedy, Adventure
My Review: I couldn't even imagine being on my own at 13, but the thought of being alone, leaving my hometown, and parents, and seeking to find my talent in life is a lot of pressure for a 13-year-old. Kiki navigating her new hometown and the people in it is inspiring and enduring. She is a strong female lead who starts a business at 13 and doesn't let anything get in her way. Just as life doesn't go as planned, she faces challenges and depression. She works hard to overcome every obstacle and discover her purpose in the process. I wish I had half her courage at 13. If you enjoy life coming of age movies, this is the most realistic one I have ever seen, Which is weird to say about an animated witch, but it is true.
Only yesterday - 1991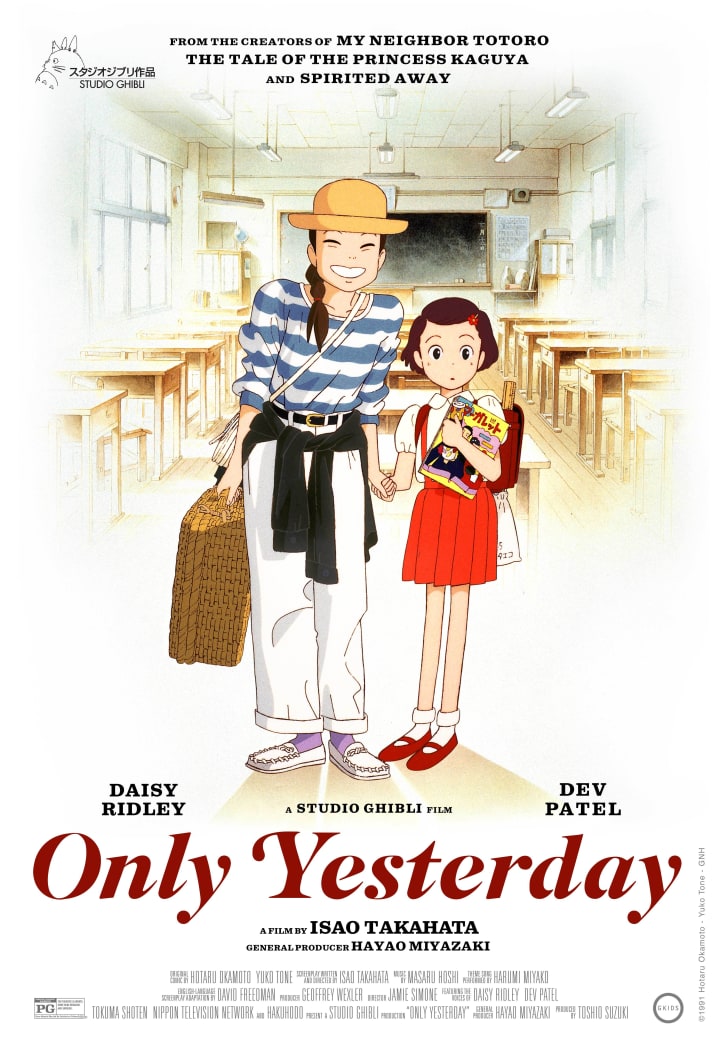 Storyline: A twenty-seven-year-old office worker travels to the countryside while reminiscing about her childhood in Tokyo.
Genre: Drama, Romance
My Review: The first time I saw this movie I was jetlagged at 3 am and couldn't sleep. To state the obvious I didn't remember much of it, But after rewatching it a couple of times it's become an incredibly impactful movie to me. Life really gets in the way, and change happens so fast that sometimes we need to go back to our roots and rediscover ourselves in the process. This is a very heartfelt story and again has a story female lead. While she was having her flashbacks, I was having mine, making it all a very personal experience. Her life has been shaped by her memories, and now she is guided by them as she comes face to face with a momentous, potentially life-altering decision. Even if she was only an animated character, I got so bound up in the story that I desperately hoped for her to make the right choice. Sometimes I even forgot that I was watching an animated movie. If you haven't seen Only yesterday make it a point to watch it soon.
Porco Rosso - 1992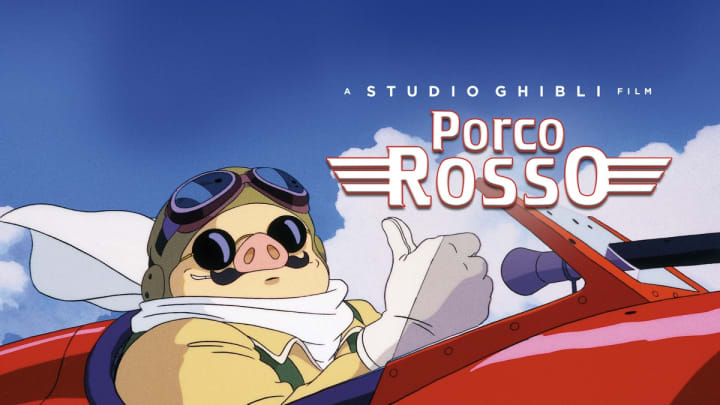 Storyline: In the Early 1930's era Italy air pirates, bounty hunters and high fliers of all sorts rule the skies. The most cunning and skilled of these pilots is Porco Rosso. A former Ace, he now makes a living flying contract jobs, such as rescuing those kidnapped by air pirates. Donald Curtis, Porco's rival in the air and in catching the affections of women, provides a constant challenge to the hero, culminating in a hilarious, action-packed finale.
Genre: Adventure, Comedy
My Review: Honestly this might be my favorite Studio Ghibli. The storyline is amazing, fun, and inspiring. This movie is based in the 1930s which creates a vintage vibe throughout the whole movie. I love Fio, She is strong, bold, and stops at nothing to accomplish her dreams. For a movie to have strong female leads is very important to me. The character development of Porco Rosso throughout the movie makes me believe anyone can change and be the person they want to be. There is also a slight romance story interwoven which creates a perfect ending to this magical movie. Your adrenaline will shoot through the roof with the aerial fight scenes. It was incredible to see how they were created when I visited the studio ghibli museum, the amount of work and creativity that goes into making a fast pace scene in the sky created a deeper appreciation for the art in each of the scenes. When you watch this movie be prepared to want to rewatch it over and over and over again.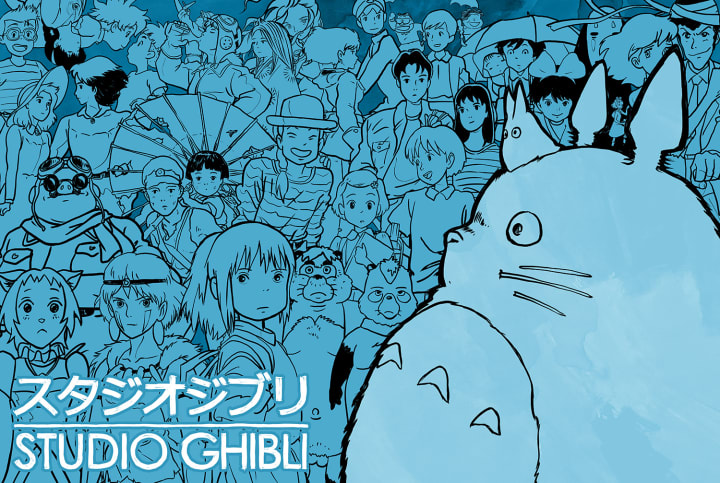 These movies have meant so much to me and I hope I can do them justice in my reviews. I feel as if I could write a book on each movie and the depth that went into the creation, but to keep this a manageable read I am breaking it into 3 parts.
Make sure to subscribe to not miss the second part!
Movies coming up next
Ocean Waves
Pom Poko
Whisper of the heart
Princess Mononoke
My neighbors the Yamada's
Spirited away
The cat returns
Thank you for reading and I hope you were able to find your next Studio Ghibli masterpiece to enjoy
About the Creator
✨Anime Blogger✨
I watch too much anime and would love to turn it into a creative outlet!
Blogging every Friday about anime topics, giving honest reviews, and staying up to date with all things anime
Socials
Reader insights
Outstanding
Excellent work. Looking forward to reading more!
Top insights
Easy to read and follow

Well-structured & engaging content

Expert insights and opinions

Arguments were carefully researched and presented

Heartfelt and relatable

The story invoked strong personal emotions
On-point and relevant

Writing reflected the title & theme
Add your insights