The White Lotus Season 2 Review
Season 2 of 'The White Lotus' lacks a coherent story.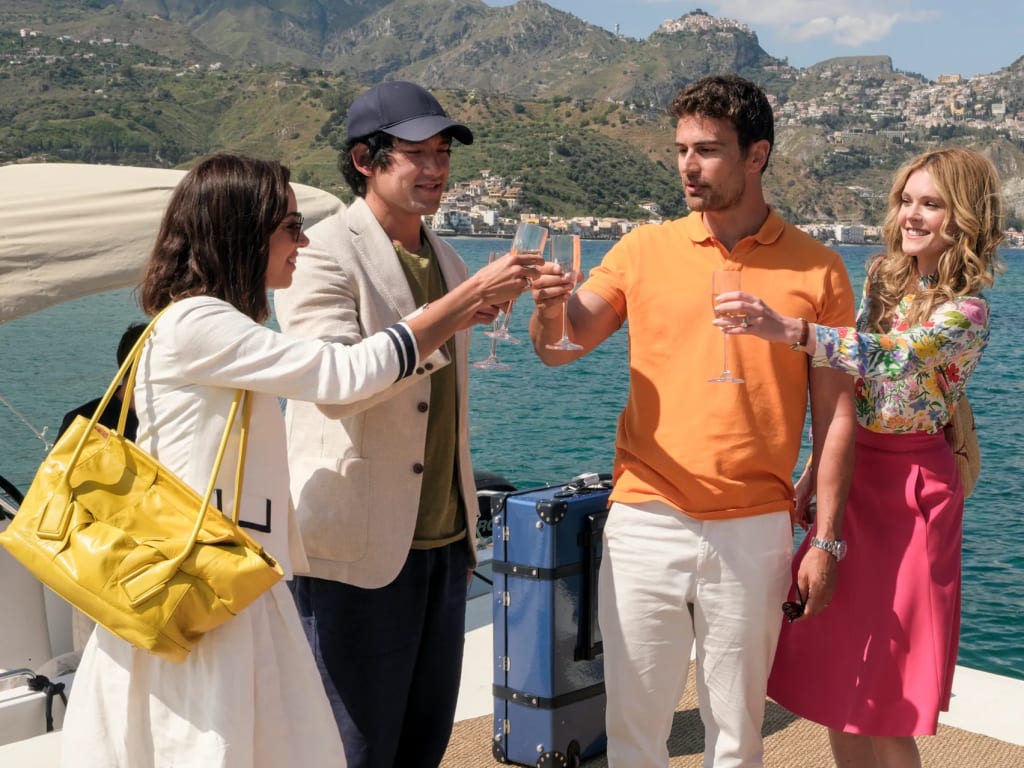 Let's see what adventures we'll encounter at The White Lotus today.
Season 2 of The White Lotus takes place in Italy. Following the new stories of hotel residents on vacations, each finds that they have similar dilemmas in their relationships. As Tanya is figuring out her flailing marriage, she discovers a diabolical plan at foot.
I loved the first season of The White Lotus. I couldn't wait to watch each episode and I was sad to see it end. I was both excited and skeptical to hear that another season was in the works. Season 2 of The White Lotus lacks a coherent story. The sexual tone overlaps from any character depth becoming a porn show.
The White Lotus is all about the characters. That's what drew me into the series. Characters lacked depth in season 2. To me, they were just saying lines most of the time. That and acting out several sex scenes.
Fan favorite Jennifer Coolidge is back as Tanya. She does an impeccable job pulling off misery. Miserable as ever, Tanya thinks she has found a link to happiness. Coolidge is Marvelous, succeeding in a pivotal dramatic scene.
All new characters are introduced. I know that the characters from season 1 resolved their problems but what if old characters were combined with new characters? It is well-acted, but the actors didn't have enough time to fully develop their characters before filming began.
Harper and Ethan (Aubrey Plaza and Will Sharpe) have a toxic relationship. They're not meant to be together. Harper is so critical of things. I feel bad for Ethan. For the entire vacation, they spend time with Daphne and Cameron (Meghann Fahy and Theo James). The main couples have the same conversations and arguments in each episode.
I am a fan of Haley Lu Richardson. Portia should have had a different relationship with Tanya rather than being her assistant. With how her character evolves, she should have been Tanya's stepdaughter or a niece. The only interactions I liked were between Portia and Albie (Adam DiMarco).
All these characters had so much potential. The stories are so hollow. The three generations storyline was interesting but just like the rest of the stories, they all revolve around sex. I feel bad for Beatrice Granno and Simona Tabasco (Mia and Lucia). Their characters were sex workers. I had no interest in their storyline.
I'm not joking when I say this season is like watching porn. Only mature audiences should watch this. There's a lot of nudity throughout. Each episode starts or ends with couples having sex. Honestly, I was so disgusted! I could barely get through it.
The final episode was the best. It is a suspenseful finale. Why couldn't it have been like this the whole time? Mike White got ahead of himself when he saw how popular The White Lotus was. Plus, it's all about the location. We don't spend enough time in Italy locations. That was another missing aspect from this season.
What made The White Lotus an excellent series was the writing. We could relate to these characters and their dilemmas. The second season fell on lazy writing. Close to the finale two men have a fight in the ocean. Later on, they both act as if nothing happened!
The White Lotus should have been a standalone series. With season 3 coming I hope it's better and that it returns to the format of season 1. I recommend The White Lotus but not the second season. Skip to the final episode because it is the most exciting.
About the Creator
Writing has been my passion since I was 11 years old. I love creating stories from fiction, poetry, fanfiction. I enjoy writing movie reviews. I would love to become a creative writing teacher and leave the world inspiring minds.
Reader insights
Be the first to share your insights about this piece.
Add your insights