The TeamLab Borderless Experience
An immersive digital world
If you've never heard of TeamLab then you are missing out! TeamLab is a digital art museum full of beautiful pieces of art and music that form one big borderless world. The artwork moves amongst each other intermingling and never staying in one space. The pieces move throughout your time there so it's a good idea to check out a room more than once because it may be different the second time around. When you walk in you find yourself in a dark room only to be lit by the artwork. Flowers were floating all around us. The colors were absolutely beautiful.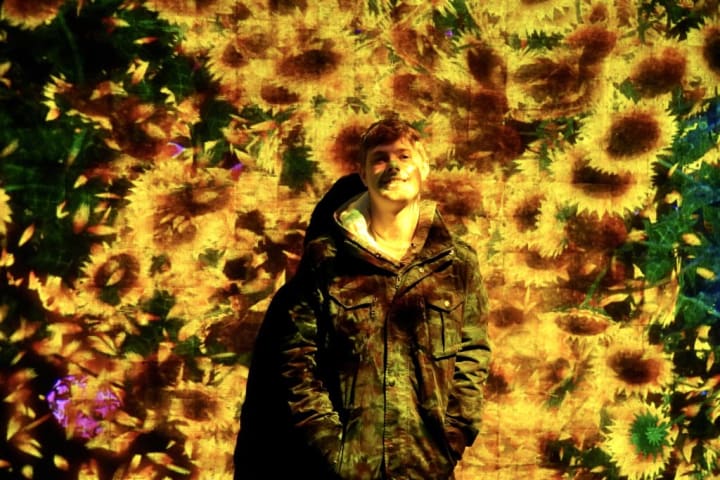 As we made our way through all of the different rooms we found it very easy to get lost in there. Trying to get back to one specific room to get more pictures we kept stumbling into a room we hadn't seen yet. There are so many incredible pieces I know we didn't get to see everything. You could probably spend a whole day there and still not see every single piece. There are a few main attractions within the museum, however, that are must-sees.
One of the must-see pieces is The Hanging Net. This piece you get to actually walk onto a hanging net. You lay down and watch the artwork dance around the room while being accompanied by music. Now, keep in mind this is probably the biggest attraction, so try to make this your first stop. There most likely will be a line you'll have to wait in, so the earlier the better. We actually had to wait in line for an hour before getting to experience the wonder of The Hanging Net. But, I definitely would say it was worth it.
Another popular attraction would be the LED Lights. Hanging from the ceiling are hundreds of LED lights. The music plays and the lights move along with it. At one point you hear a rainstorm and the lights begin to fall like rain. The lights mimic the sounds playing and its incredible to see the changing colors playing with the music. The path takes you to open spaces with walls of lights surrounded by mirrors giving the allusion of lights being all around you. The mirror effect almost gives off a mirror maze aspect, which makes it all the more fun.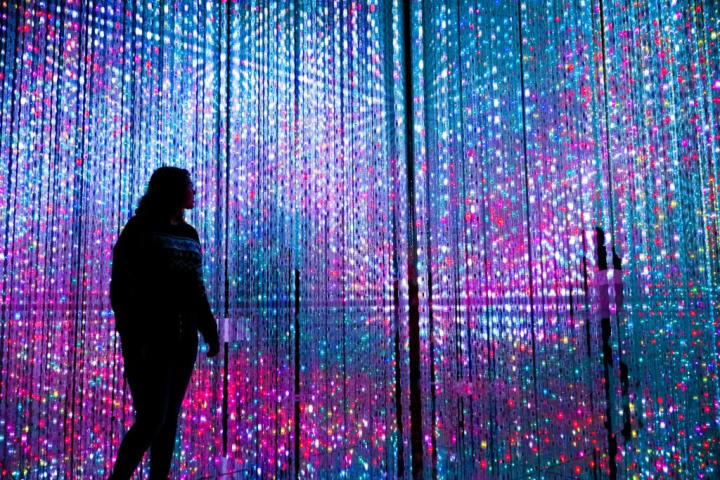 The next, and probably my favorite attraction was the Forest of Lamps. This attraction we also had to wait in line for, but not as long as the Hanging Net. This attraction features lots of hanging lamps all at different heights. The colors are constantly changing. Red, blue, pink, purple. So many colors surrounding us. It was the most beautiful when all of the colors intermingled with each other. Once again the theme of mirrors comes back in this room. We are boxed in surrounded by four walls of mirrors. This was brilliant, as it gives the allusion of a never-ending forest of lamps. I just wish we had more time to spend in this marvelous room.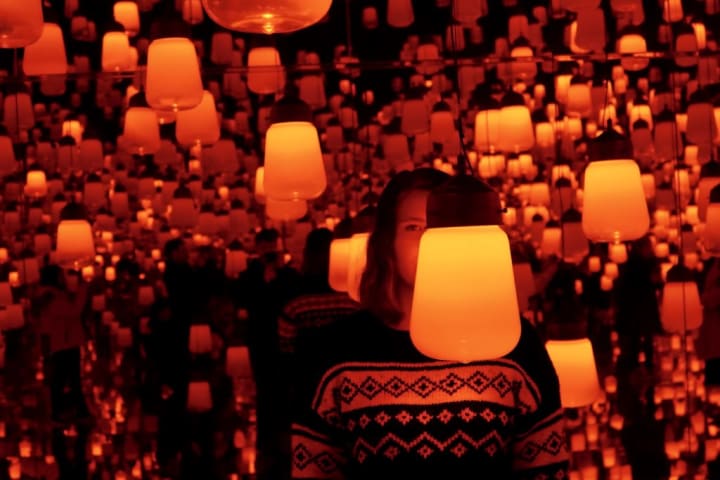 What I've mentioned so far is just a fraction of what this museum has to offer. We didn't even come close to seeing everything. I remember seeing multiple signs for the Athletic's Forest. Honestly, I had thought we'd been to it, but after looking at other photos I realized we hadn't even come close to it. There are rooms of giant glowing balloons and interactive art that can be climbed on and so much more. We missed a lot of what this place has to offer. We will definitely be back to explore more of this miraculous place. And we encourage y'all to as well. This is an experience you will never forget.