The Sleep of Reason
A Black-And-White Graphic Novel Horror Anthology (2014)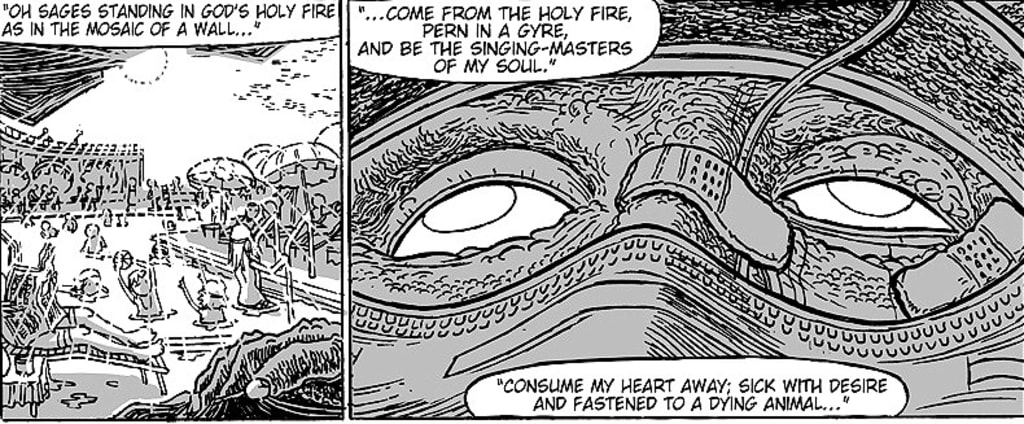 The scene could be a selection from a feverish nightmare. It could simply be a metaphor for the callous "care" shown by the bourgeoisie toward the starving peoples of the Third World. Do they really get off on watching their victims twist in pangs of desire and hunger, while they dole out the literal equivalent of Marie Antoinette's famous cold-blooded quip?
A ring of tuxedoed men and women in luxuriant evening wear stand observing a hideous mockery of a starved human body, writhing in agony. They mock the desiccated sitter, reeking of gourmet food and cologne, expensive wine, and perfume. A cake ringed by strawberries is wheeled out, and to their laughter, but seemingly fighting the urge to do so, the starving body lunges for a piece of the delectable desert, cramming it into his mouth. This causes a physiological reaction, a "body horror" that causes him to swell out in fatty, tumorous tissue and growths until he is wheeled away to have them surgically removed and begin the process once again. He will be returned to the same chair, and this nightmare scenario will be repeated.
While he is experiencing this, the assembled revelers begin to fondle themselves. I'll leave it at that.
This scenario, this vignette, is called "The Waiting Game", by Carla Speed McNeil. The most memorable (all are truly memorable) of this anthology, Sleep of Reason, edited by C. Spike Trotman, an anthology of dark, black-and-white independently produced horror comics, are the stories that shock at the very end because they take the normal flow of events and deform them until they create a landscape of unexpected terror and fear.
Here there are, as the back cover copy states, "no vampires, no werewolves..." Nothing supernatural, for the most part. Just good, old-fashioned, nightmarish mutation; "body horror" in the truest sense of the word, as well as normal situations gone markedly abnormal.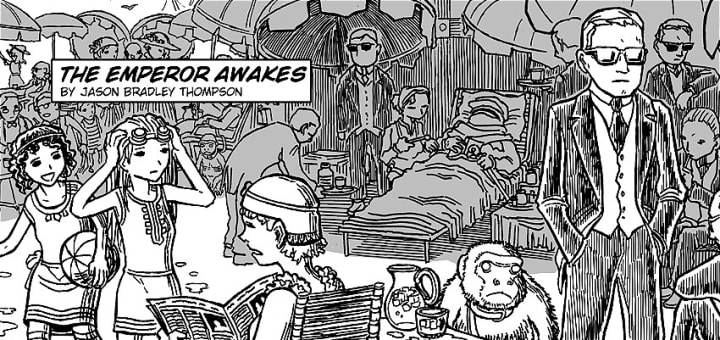 "The Child Eater," by Meg Gandy, has a young girl who can see that her father, a drunken, abusive lout, is in actuality a demon with tentacles growing from his skull. She placates a spirit to come to her rescue.
"Found Object," by "britt C.H.", has a man with a taxidermied pet that does powerfully strange things to his ailing body. "I Want to Wake Up," by Greg Stolze and Langdon Foss," has a man on the verge of a schizophrenic meltdown visualized in the weird, surrealistic line art that seems to progress from an L.S.D. trip. "Weft", has a young mother pulling bizarre webs from her face, ears, and mouth until she is covered in them. Is this nightmare image a metaphor?
"The Untimely Death of Smokey 2," by Der-Shing Helmer, presents us with the cold-blooded revenge of a pissed-off little tot, and "4 P.M. is Tea Time" is the nightmare vision of parents whose faces slowly fade. (Because they are not real?)
"Fungus City," by Gerald Swanson, is a gritty urban terror tale that seems parts R. Crumb and Clive Barker, where a man takes a repellent ride on a train bound for a world of giant bugs. Bugs also play a prominent role in "The Collection," by Ainslee Seago and Tristan Harrison, as a young entomologist in a cabin in the woods gets more than she bargained for with several cases of beetles.
I would be remiss if I didn't mention "Sunken Ship," which I consider the most grueling and vomit-inducing piece here. The comic, by Isaiah Smalley and Kev Anderson, concerns a Floridian with a storm cellar slash bunker. He is perfectly content to wait out the storm, and the destruction of his house above. Below though, he begins to have a little rat problem. They come in quite a tidal wave. Lots and lots of rats. Think Creepshow and its sickening cockroach conclusion.
The styles of art presented here range from finely detailed and slick, to virtual manga, to stuff that looks as if it were drawn as a cartoon for the student newspaper. But it all works together very well, to create a sometimes inscrutable, sometimes putrid anthology of the work of artists from a decade ago. And it's altogether rather tasty. Bugs, blood, grue, growths, fungus, mutants, and all.
Bon Appetit.
About the Creator
Author of Haunted Indianapolis, Indiana Ghost Folklore, Midwest Maniacs, Midwest UFOs and Beyond, Scary Urban Legends, 50 Famous Fables and Folk Tales, and Notorious Crimes of the Upper Midwest.: http://tombakerbooks.weebly.com
Reader insights
Be the first to share your insights about this piece.
Add your insights