The Ornithologist (O Ornitologo)
A Reimagining of the Journeys of Saint Anthony of Padua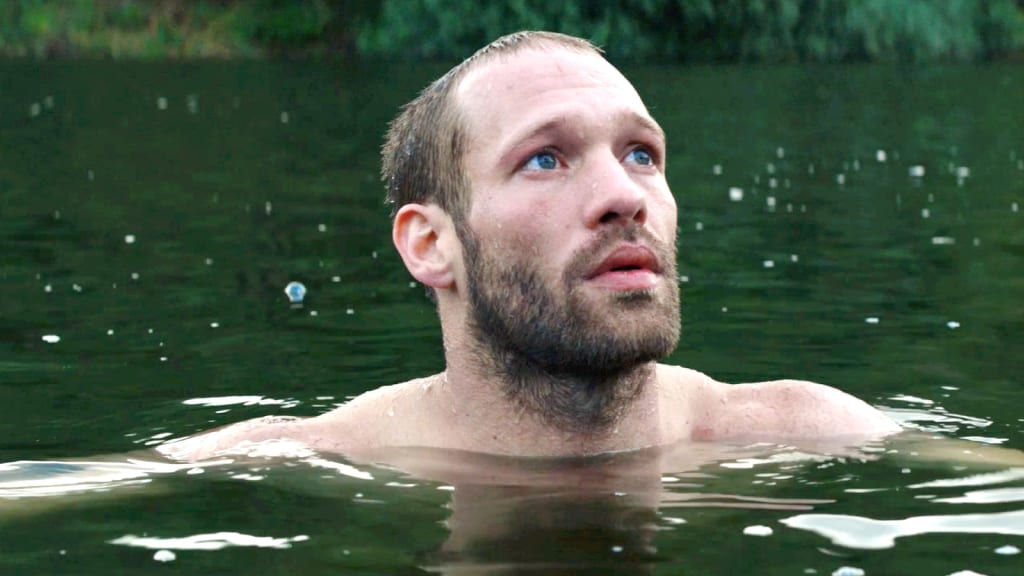 The Ornithologist (O Ornitologo). Image courtesy of Matchbox Films.
With The Ornithologist, Portuguese filmmaker Joao Pedro Rodrigues delivers an extraordinary film.
Born in Lisbon in 1966, Rodrigues's previous films include O Fantasma (2000), and The Last Time I Saw Macao (2012).
The story of The Ornithologist (co-written by Joao Pedro Rodrigues and Joao Rui Guerra da Mata) gives us the tale of Fernando—a studier of birds who is exploring a remote river in northern Portugal, looking for endangered black storks. Fernando's camping expedition takes an unexpected turn when he is suddenly swept away by treacherous rapids while kayaking along the river, binoculars in hand. Rescued by a couple of Chinese pilgrim girls who have become lost on their way to Santiago de Compostela, Fernando is suddenly plunged into a dark, eerie, and dangerous forest. Although he endeavours to find his way back to the world he knows and a safe path, Fernando encounters a series of unexpected obstacles and unusual characters who put his resolve to the test, and drives him to extreme, transformative actions.
Cast includes:
Paul Hamy as Fernando
Xelo Cagiao as Jesus/Tome
Joao Pedro Rodrigues as Antonio
Han Wen as Fei
Chan Suan as Ling
Juliane Elting as Caçadora Loira
Rodrigues has written that his inspiration for the film is a reimagining of the story of Saint Anthony of Padua—a hugely significant figure in Portuguese culture and society.
Christened as Fernando Martins, Saint Anthony, who is known for his affinity with nature and animals, was born in Lisbon in the 12th century. Saint Anthony's life was one of travel, by land and by sea. One of the most often told stories of Saint Anthony is that his boat was cast adrift on a stormy sea as he returned from an evangelical mission in Morocco, washing up on the shores of southern Italy. From there he set forth on a journey until he reached Padua, where he died in 1231.
It is this story of a boat being cast adrift that is Rodrigues' jumping off point for this story, recreating the key elements of Saint Anthony's most famous journey through a contemporary perspective.
Rodrigues is also using the character of Fernando to explore his own personal story (he studied to become an ornithologist before becoming a filmmaker), as well as the concept of transition, and the process of transforming identity.
I think you need a bit of that context to understand where this film is taking you. The story embraces magic realism, symbolism, and the natural world in a manner that is a long way removed from traditional narratives that we find in most contemporary films.
Paul Hamy (previous films include Disorder [1995] and My King [2015]) is perfectly cast as Fernando. He conveys an earthy purity, almost as if he is a blank canvas being brought to life through the various trials and tribulations with which he is faced.
One of the most impressive aspects of the film is the extraordinary cinematography by Rui Pocas, gloriously capturing the stunning landscapes and untamed wildness within which Fernando is immersed.
The Ornithologist was released in 2016 and was popular on the festival circuit, winning Rodrigues the award for Best Direction at the Locarno International Film Festival.
It's not a film that will appeal to everyone: it's a bit of a religion-heavy mind-trip, and ultimately it's not really clear where the story has taken us or what Rodrigues is trying to say. But The Ornithologist is undoubtedly ambitious filmmaking that gives a real sense of the creative direction that Rodrigues is tackling, and the scale of the themes that he is grappling with as an artist.
Ultimately, Fernando finds his path, and Rodrigues has delivered an extraordinary piece of filmmaking.
movie
About the author
A non-smoker who loves to laugh... (and binge on travel, food, movies, fashion, and theatre...). Find me on Twitter @gtvlondon
Reader insights
Be the first to share your insights about this piece.
Add your insights