Culture Vulture: 'Seat In Shadow'
A film drenched in smoke, surrealism, anarchy, and psychoanalysis.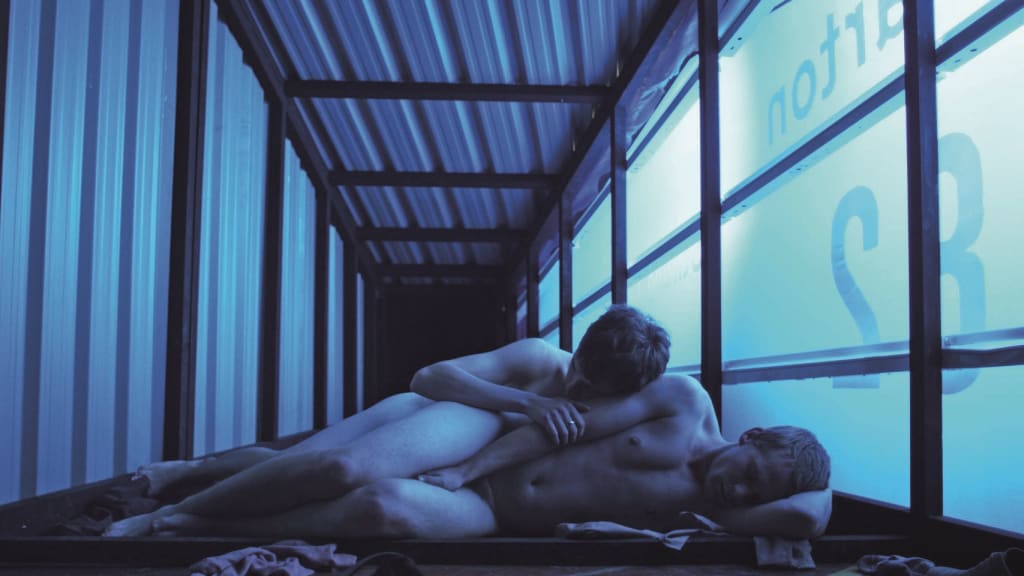 Seat In Shadow (image courtesy of BFI Flare Festival)
For his debut feature-length production, Scottish artist and filmmaker Henry Coombes has collaborated with performance artist David Sillars to create Seat In Shadow.
Set in Glasgow, the story revolves around two main characters – Albert, a reclusive artist; and Ben, a young gay guy who seems to be a bit depressed.
Albert is an ageing gay bohemian, immersed in his day-to-day domesticity. He's an artist and an amateur psychoanalyst – guided by self-help gurus on YouTube and also his cherished pot-plant, through which he seems to be able to communicate with the spirit of Carl Jung.
The quiet existence enjoyed by Albert begins to be disturbed when a friend – referred to as Granny – drops in and asks Albert to provide some counselling to her grandson Ben. It seems as if Ben's recent boyfriend troubles have left him depressed and miserable.
At this insistence of Granny, Albert reluctantly agrees, and an odd inter-generational mentoring relationship begins.
The cast of Seat In Shadows includes:
David Sillars as Albert
Jonathan Leslie as Ben
Marcella McIntosh as Granny

Ross Hunter as Rossy

Robert Williamson as Bouncer

Joe Venters as Joe

Mathew Scott as Matty

Gordon Robertson as Gordon

Lee Partridge as Adam

Jo McQuaid as Ginger Jo
Coombes is a renowned artist. He represented Scotland at the Venice Biennale in 2007, and was also featured in the Sydney Biennale in 2014. But film is a medium that he has long experimented in – one of his best-known pieces of work is a short film called The Bedfords. The film reimagines a relationship between the Duke of Bedford and the landscape painter Edwin Landseer, exploring the class differences between the two men.
In interviews about the film, Coombes has confirmed that the characters and stories of this film are largely drawn from his own experiences. Glasgow is Combes's home city, and he has recently qualified as a psychotherapist.
One of the strengths of Seat In Shadow is Coombes's depiction of the city of Glasgow. Coombes was born in London but moved to Glasgow to study at the Glasgow School of Art, graduating in 2002. In this love-letter to his adopted home-city, Coombes celebrates its gritty, industrial, and grey cityscape, but also manages to reveal its artistic and bohemian underbelly.
Seat In Shadow had its premiere at the Edinburgh Film Festival in 2016, and toured the international festival before its general release.
This was a low-budget production, shot over 14 days. Flashback and fantasy scenes are recreated with cardboard and paint. Coombes has written that he took inspiration for the look and feel of the film from the paintings of Sidney Nolan – creating collage-based storyboards to convey his vision for the film.
It's possibly this art-based approach by Coombes that can make Seat In Shadow a bit of a challenging film to wrap your head around. The narrative isn't necessarily linear, or particularly easy to follow, and the characters aren't neatly drawn or articulated. The film is more an exploration of ideas, of constructs. Coombes also gives us some visually beautiful moments, incredibly filmic.
In the key role of Albert, David Sillars is compelling – bizarrely self-absorbed and almost completely lost in the fog of a drug-induced existential mind-trip. But Jonathan Leslie in the slightly underwritten role of Ben is also impressive – there's a blank numbness to his performance, unfazed by anything that Albert throws at him, somehow more connected to the reality and ridiculousness of the world in which they live.
For both Sillars and Leslie, Seat In Shadow is their first major film role, and that sense of collaborative experimentation really comes through in the final work.
Coombes has written that he is keen to create more feature-length films. If his vision of Seat In Shadow is anything to go by, we're in for a trippy ride ahead.
review
About the author
A non-smoker who loves to laugh... (and binge on travel, food, movies, fashion, and theatre...). Find me on Twitter @gtvlondon
Reader insights
Be the first to share your insights about this piece.
Add your insights