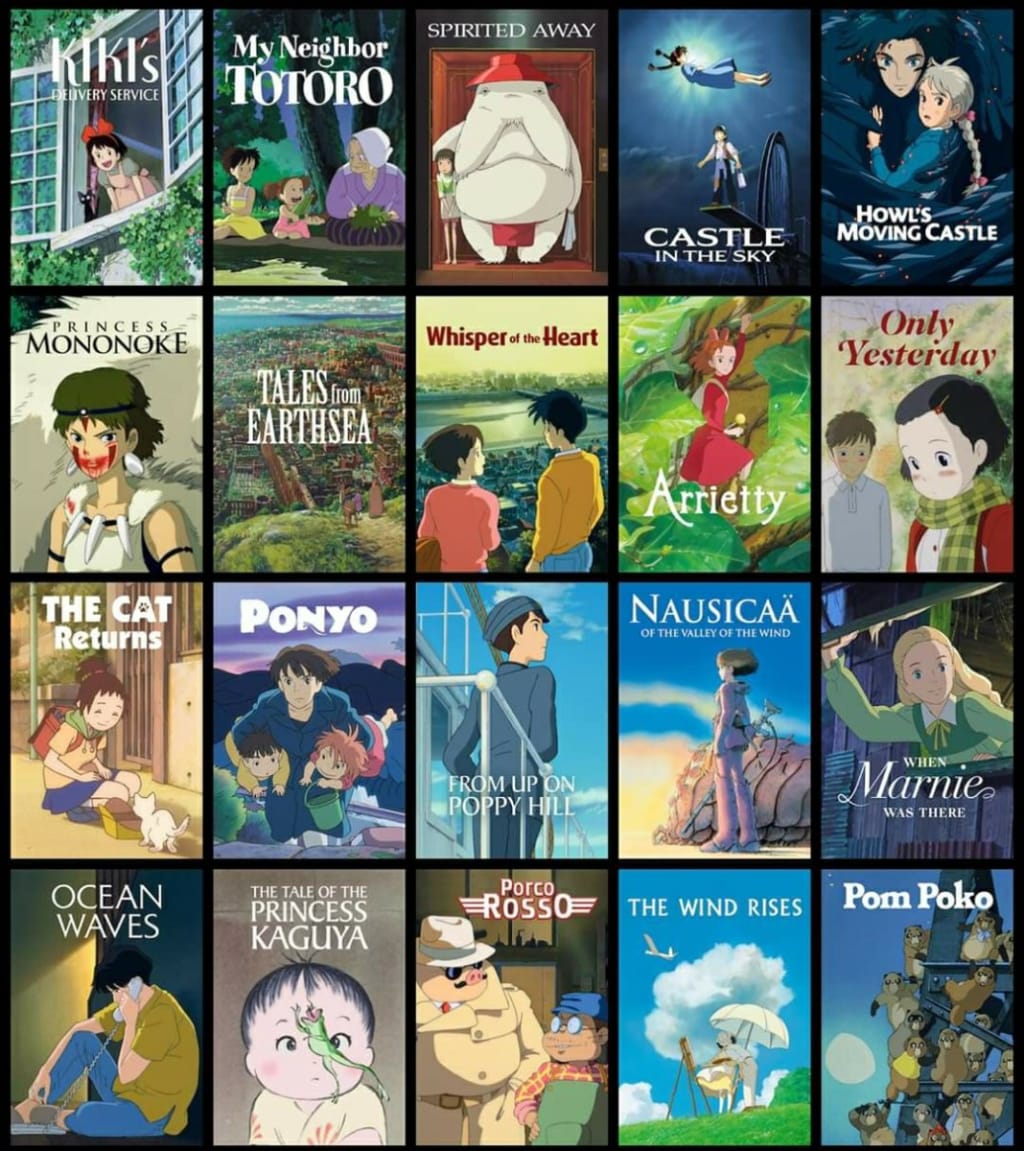 Our journey through the wonderful world of Studio Ghibli continues! If you have not yet read the first part of this series I would highly recommend it
Thank you to everyone who showed so much love on part 1, It means a lot to me. Studio Ghibli has meant so much to so many people. These movies are timeless masterpieces and as I have been writing them out it blows my mind how much work went into each film. From 1984-2014 they release 22 movies. That is almost a movie a year for 30 years!
One of the comments on part 1 reminded me that some theaters even do Studio Ghibli fests and will play the movies in the theaters again. I would check your local theater and see if there are any replays of Studio Ghibli films. Then I would find a Studio Ghibli film you haven't seen yet and go enjoy it on the big screen.
I would like to add I love all of their movies so ranking them just felt wrong, But I will give my honest review and what I got out of each movie.
There are 20+ movies like I mentioned. This is part 2 out of 3 parts
Part 1 - The Wonderful World of Studio Ghibli
Make sure to subscribe to not miss any
I'd love to hear your favorite movie and your thoughts in the comments below.
Ocean Waves - 1993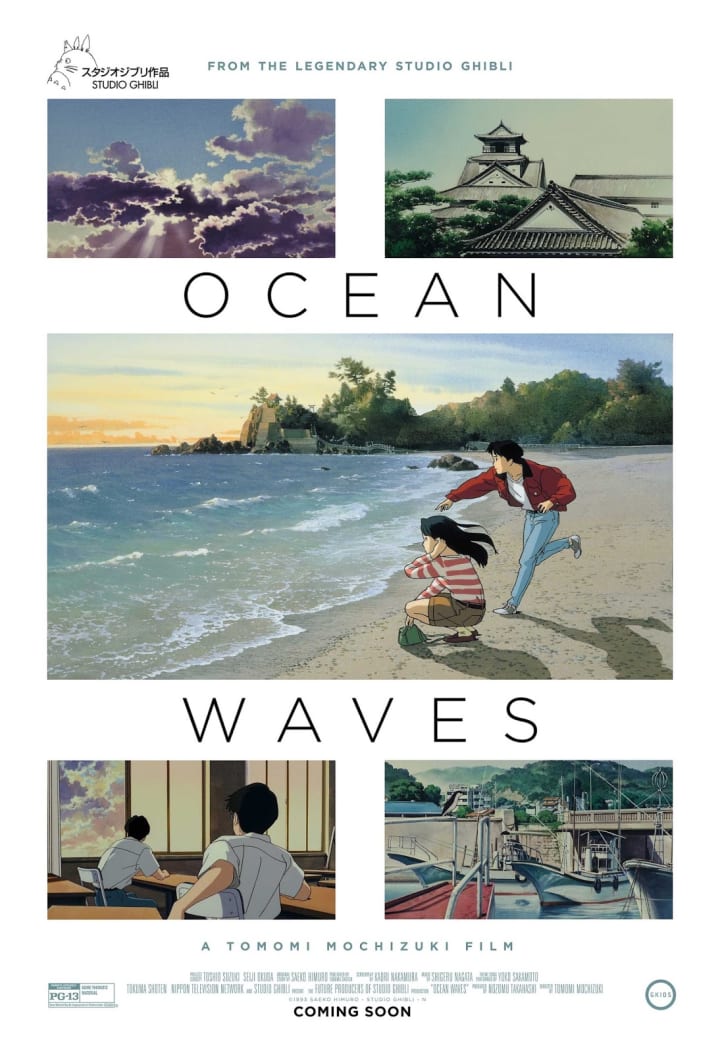 Storyline: As a young man returns home after his first year away at college he recalls his senior year of high school and the iron-willed, big city girl that turned his world upside down.
Genre: Drama, Romance
My Review: This movie has the best 90s vibe. I ate up the style and the artistic scenes. I am not going to lie I just saw this movie for the first time this week, I had to watch it for you guys. It is the only Studio Ghibli movie that was never dubbed and my dyslexic brain really struggles with subtitles, so I put it off for a while. That being said it was a mistake to put it off this long. If you want a realistic high school romance this is your movie. This is a Tomomi Mochizuki film, not a Hayao Miyazaki wonderland of a story, so it is a lot more down-to-earth and relatable. The struggles of high school life were beautifully written. Not wanting to fall in love with your best friend's crush, start over at a new school after your parents get separated, having a difficult time making new friends, doing odd jobs through school breaks, learning how to communicate your emotions, etc. Every realistic high school struggle you could think of wrapped up in a 90s aesthetic is all in here.
Pom Poko - 1994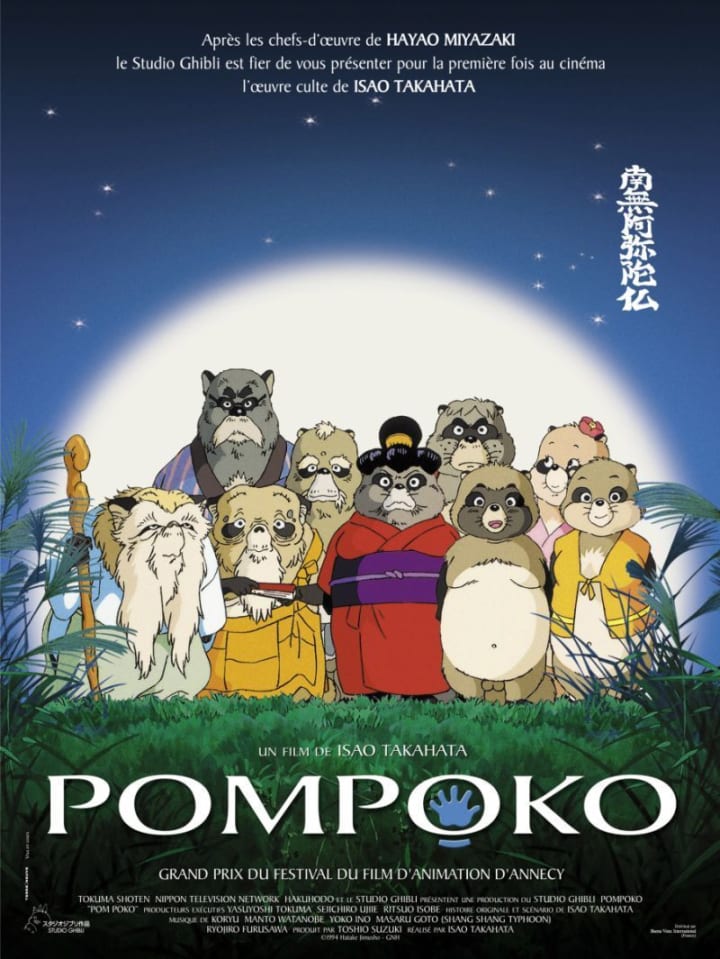 Storyline: As the human city development encroaches on the raccoon dog population's forest and meadow habitat, the raccoon dogs find themselves faced with the very real possibility of extinction. In response, the raccoon dogs engage in a desperate struggle to stop the construction and preserve their home.
Genre: Drama, Comedy
My Review: This movie was not my cup of tea. It was very light-hearted and fun. The creator of this film is Isao Takahata, who also created Grave of the fireflies, Only yesterday which I talked about in part 1 and The oscar Nominee film the tale of The Princess Kaguya. He is a much more direct storyteller. He gets right to the point in the plot that made you aware of modern-day construction and how our forests are being destroyed. There were a lot of characters, which did make the character banter and interaction fun. Personally, I just thought it was way too long of a film and it struggled to keep my attention. I would love to hear in the comments below what you thought of this film and if I should give it another try.
Whisper of the Heart - 1995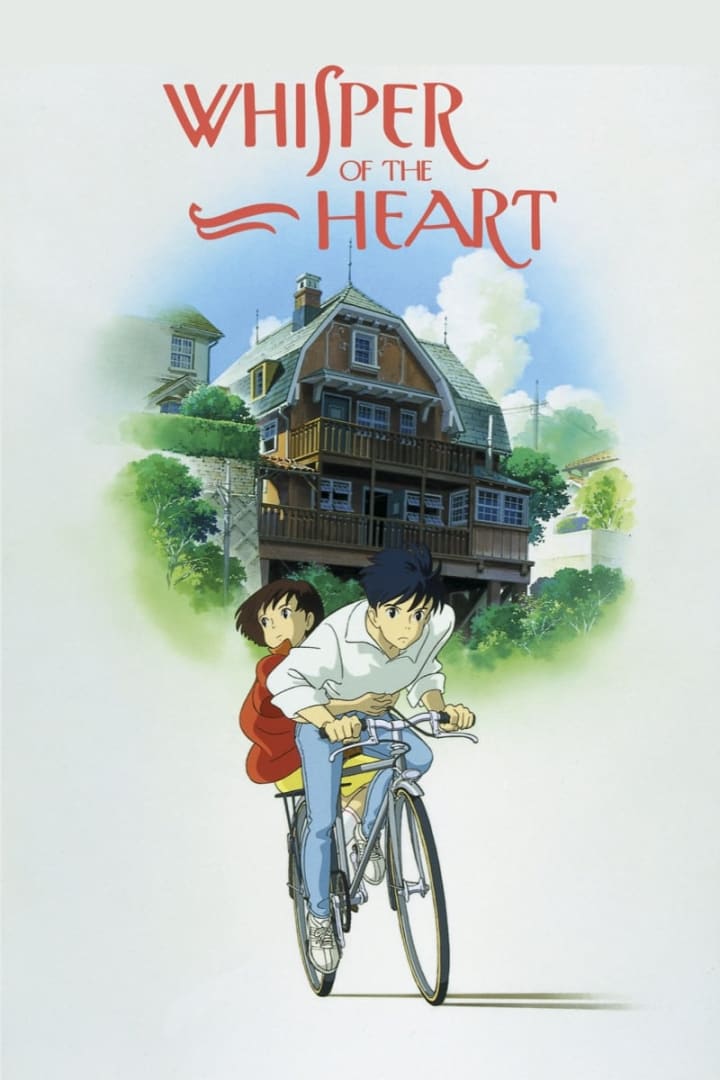 Storyline: A young Japanese middle school girl finds that all the books she chooses in the library have been previously checked out by the same boy. Later she meets a very infuriating fellow... could it be her "friend" from the library? The boy's grandfather has a violin sales and service shop. The boy wants to be a violin maker like his grandfather
Genre: Drama, Romance
My Review: How can I put this movie into words? What an emotional rollercoaster. If you do not know what true love looks like, watch this film. The relationship goes from a secret admirer to being annoyed with each other, to being inspired by each other's life goals and dreams, chasing their dreams for each other, and then working together. I love this movie more every time I watch it. With such an inspiring story it's hard to not want to chase your dreams once the credits roll. I deeply relate to Shizuku Tsukishima and her desire to be a writer, despite what others think. The beauty in their romance is the foundation. They both went after large goals, used time apart to accomplish them, and supported each other in their dreams. My favorite character has to be the grandfather. He supports and encourages them both, and brings so much wisdom to us all. This scene inspires me whenever I feel down or when I give it my all but I feel as if I failed. I hope it inspires you too, never give to give up, and remember there is always progress to be made, not perfection to be chased.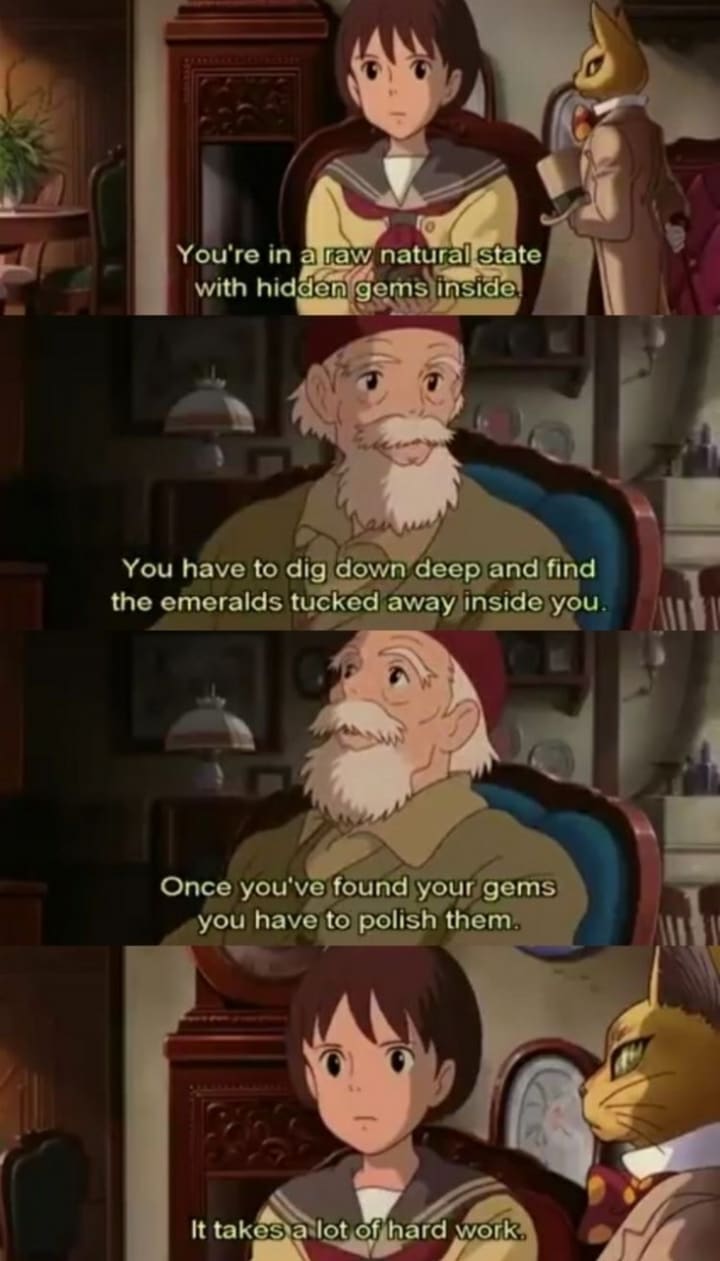 Princess Mononoke - 1997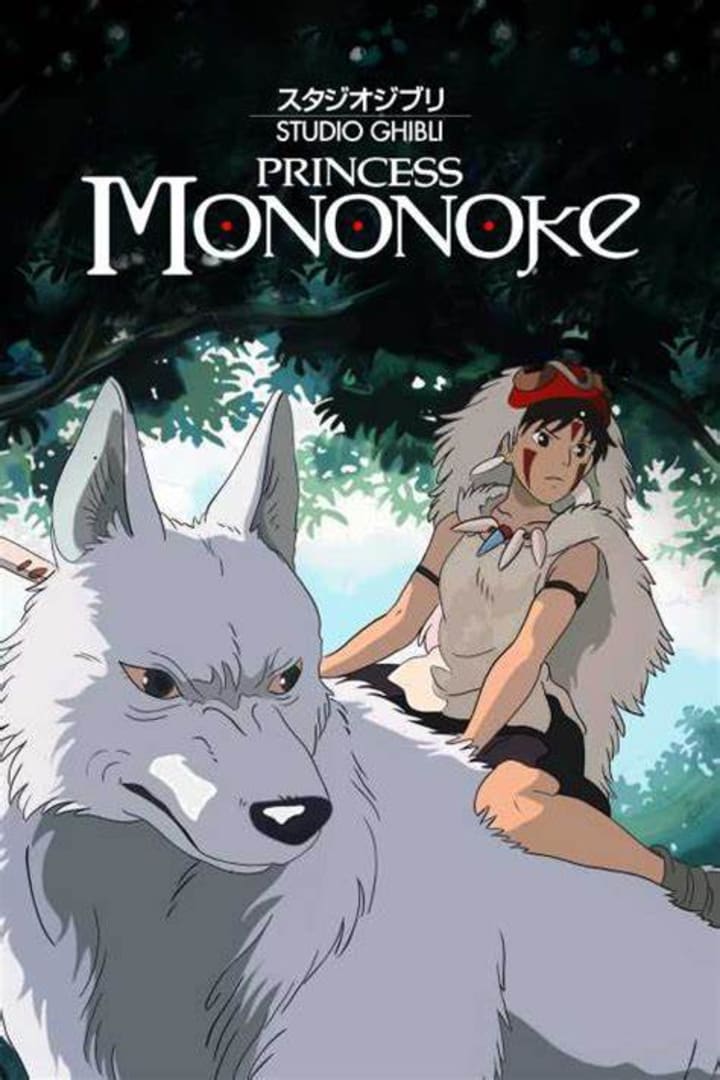 Storyline: While protecting his village from rampaging boar-god/demon, a confident young warrior, Ashitaka, is stricken by a deadly curse. To save his life, he must journey to the forests of the west. Once there, he's embroiled in a fierce campaign that humans were waging on the forest. The ambitious Lady Eboshi and her loyal clan use their guns against the gods of the forest and a brave young woman, Princess Mononoke, who was raised by a wolf god. Ashitaka sees the good on both sides and tries to stem the flood of blood. This is met by animosity by both sides as they each see him as supporting the enemy
Genre: Action, Fantasy
My Review: I am going to try not to write a novel about this movie. This is one of Studio Ghibli's more adult films because of gore and violence. That being said it is also one of the most recognizable and popular films. This is a story with a lot of layers. Very similar to Pom Poko, in the forest and humans fighting for their space in the world. But one of the deeper meanings of the main character Ashitaka is he is neither man nor creature. He starts his story as a human warrior for his village but in that fight gets cursed by a demon. The elders reluctantly force him to leave, and he is now journeying on his own with no place to call home. On his journey, he met both a kind-hearted village and a forest filled with wonder. He is the middle ground for both worlds. It is such a fascinating story about humankind and our natural greedy nature, but also how terrifying nature can be. The forest scenes will give you chills, and with an incredible soundtrack, it will feel so in-depth as if you were just teleported into that world. This is a timeless film that shows the devastation when our two worlds collide and the peace that comes when we work together to find peace and balance with the nature surrounding us.
Side Note: The Forest Spirit, also called Shishigami and Night-Walker, is a creation out of Hayao Miyazaki's wonderfully created mind. Most of the spirits you find in spirited away and princess Mononoke can be traced back to Japanese folk tales. The fact that this amazing creature was completely made up brought a lot more respect to the creation of the creature known as a god of life and death.
My Neighbors the Yamadas -1999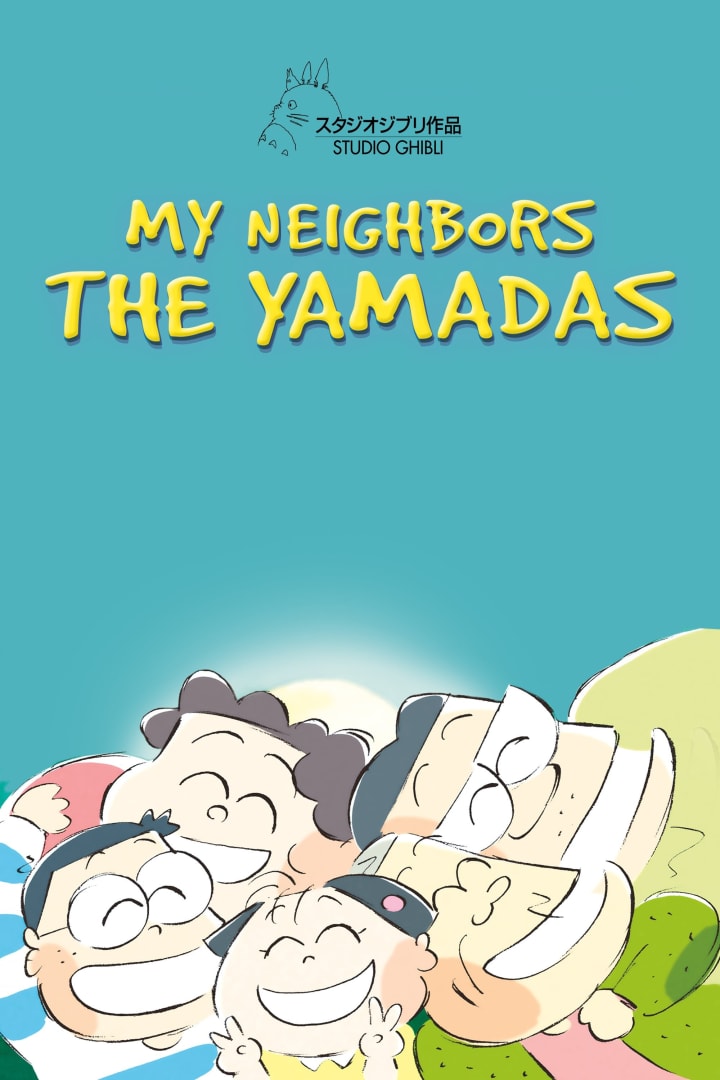 Storyline: The Yamadas are a typical middle-class Japanese family in urban Tokyo and this film shows us a variety of episodes of their lives. With tales that range from humorous to heartbreaking, we see this family cope with life's little conflicts, problems, and joys in their way.
Genre: Comedy, Family
My Review: The first time I watched this movie, I thought "What the hell did I just watch and why was I laughing so hard." It's not one story but it is one family, going through everyday life. It is so relatable and funny. There is a short story from everyone's point of view and to see the differences between a working father, a retired grandmother and a little girl is so lighthearted and fun. Just know going to it that the whole movie will be all over the place but you will not be disappointed one bit! After rewatching this I don't know how many times, I still laugh so hard it feels like I am going to crack a rib. If you need a laugh and an escape from the realities of everyday life, this film is for you.
Spirited Away - 2001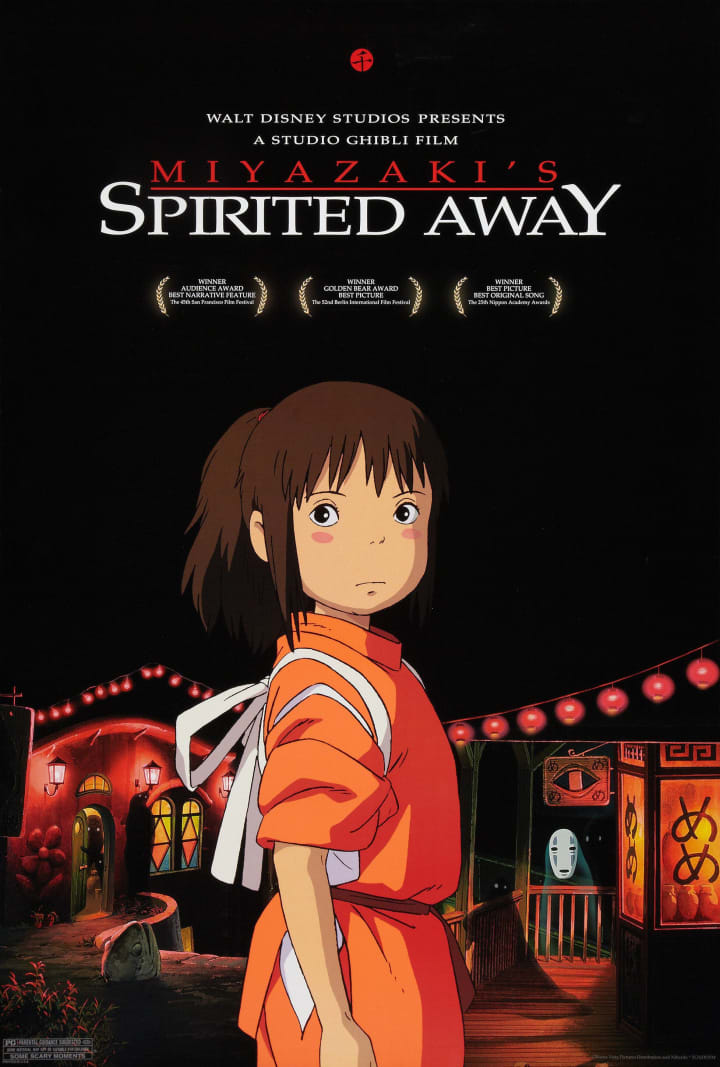 Storyline: Chihiro and her parents are moving to a small Japanese town in the countryside, much to Chihiro's dismay. On the way to their new home, Chihiro's father makes a wrong turn and drives down a lonely one-lane road that dead-ends in front of a tunnel. Her parents decide to stop the car and explore the area. They go through the tunnel and find an abandoned amusement park on the other side, with its little town. When her parents see a restaurant with great-smelling food but no staff, they decide to eat and pay later. However, Chihiro refuses to eat and decides to explore the theme park a bit more. She meets a boy named Haku who tells her that Chihiro and her parents are in danger, and they must leave immediately. She runs to the restaurant and finds that her parents have turned into pigs. In addition, the theme park turns out to be a town inhabited by demons, spirits, and evil gods. At the center of the town is a bathhouse where these creatures go to relax. The owner of the bathhouse is the evil witch Yubaba, who is intent on keeping all trespassers as captive workers, including Chihiro. Chihiro must rely on Haku to save her parents in hopes of returning to their world
Genre: Adventure, Family
My Review: The movie you have all been waiting for. The famous spirited away. This was my first Studio Ghibli movie and it introduced me to the beauty and wonder created by Hayao Miyazaki. The depth of this story has taken me years to fully understand. I might have to write a full character and story breakdown at some point, Let me know in the comments if you would be interested in reading that. The comment I hear most after watching spirited away is "That was a weird movie" and it is. The first time you watch this film your mind is so overfilled with everything going on, that you miss a lot of depth. You could call this a very intense coming-of-age movie. The amount of research, consideration, and work that went into this movie is mind-blowing, it is no wonder this is an award-winning film. I would challenge everyone to watch it once and then watch it again looking for all of the hidden messages.
The Cat Returns - 2002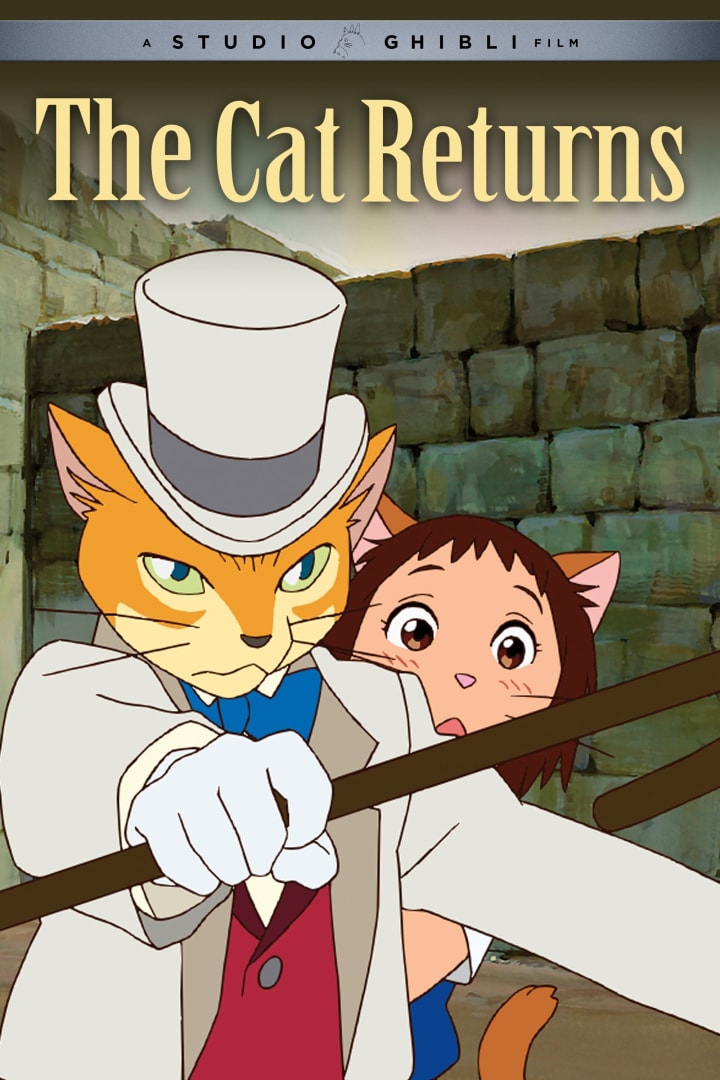 Storyline: A teenage girl rescues a mysterious cat from traffic and soon finds herself the unwelcome recipient of gifts and favors from The Cat King, who also wants her to marry his son, Prince Lune. With the assistance of a fat, grouchy real cat and an elegant cat statuette come to life (both characters featured in Studio Ghibli's Whisper of the Heart (1995)), the girl visits the Cat Kingdom and narrowly escapes again.
Genre: Comedy, Adventure
My Review: This is such a fun movie! Super colorful and creative. You have to watch whispers of the heart first to be able to fully appreciate the characters. The adventure through the cat kingdom is both magical and hilarious. Have you ever heard the term "You don't know how good you have it until it's gone." That is exactly what happens to Haru. An average girl, with not a lot going on in her life, she wishes for more. Yet she gets more than she bargains for. She is torn between the choice of staying in a magical land or returning to her high school life. This is a fun adventure of a lifetime.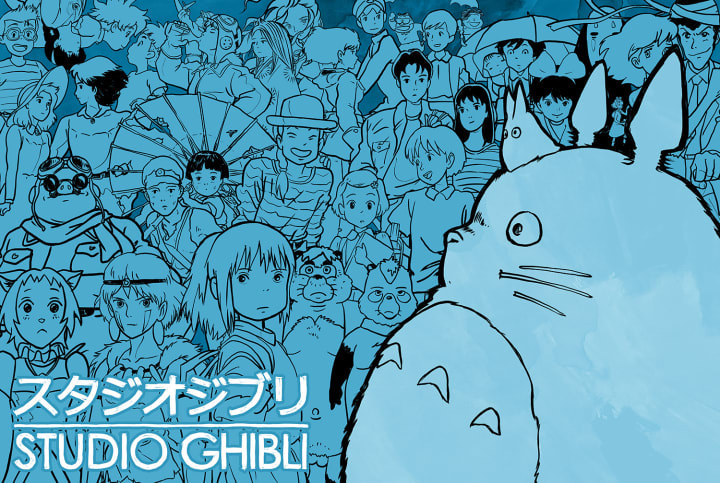 These movies have meant so much to me and I hope I can do them justice in my reviews. I feel as if I could write a book on each movie and the depth that went into the creation, but to keep this a manageable read I am breaking it into 3 parts.
Make sure to subscribe to not miss the Third part!
Movies coming up next
Howl's moving castle
Tales from Earthsea
Ponyo
The secret world of Arrietty
From up on poppy hill
The wind rises
The Tale of The Princess Kaguya
When Marnie Was There
Thank you for reading and I hope you were able to find your next Studio Ghibli masterpiece to enjoy
About the Creator
✨Anime Blogger✨
I watch too much anime and would love to turn it into a creative outlet!
Blogging about anime topics, giving honest reviews, and staying up to date with all things anime
Reader insights
Be the first to share your insights about this piece.
Add your insights