'The Haves and Have Nots' Couple: Justin and Candace
Co-stars became engaged soon after their daughter was born in 2016.
Candace Young and Justin Lewis are co-stars on Tyler Perry's The Haves and the Have Nots on the Oprah Winfrey Network (OWN). Some might not know that they have are engaged and have a beautiful daughter together.
Even though they both are on the same series, they are not usually in the same scenes because their storylines are different. Once Justin did go to Candace's house when he was an officer because his mother reported that some suspicious noise was coming from Candace's house across the street.
Candace Young
Candace Young, played by Tika Sumpter, has been on the series since it was released for its first season on May 28, 2013. Statistics show that Tika has been in almost every episode. At first, she didn't know if she wanted the role of Candace Young in the series. Listen to her conversation in the short video clip below with creator, writer, director and producer Tyler Perry.
Candace is Hanna's estranged daughter, Benny's older half-sister and mother of her late son Quincy Jr. She and her family members are "the have nots" of Savannah, Georgia. When the series first began, Candace was Jim Cryer's latest mistress. Jim and his family members are "the haves" of Savannah. Candace has taken advantage of many people to get what she wants. She has engaged in elaborate cons, schemes and blackmail.
Candace mistreated her own mother during many of the previous seasons. She disrespected her, talked down to her and even called her "Hanna" as if Hanna wasn't her mother. She didn't treat all people badly. She shows genuine love and concerns for her younger brother Benny, and her friends Jeffrey Harrington, Mitch Malone, and her late friend Amanda Cryer.
Throughout the series, Candace has had to go into hiding more than once because people were trying to kill her. Her ex-boyfriend Quincy who was the father of their son, Quincy, Jr. found her. Candace and Jeffrey killed him in self-defense. Warwick who used to be a friend of Candace tried to find her. When he and his gang burst into the hotel room where Hanna was with Quincy Jr., a stray bullet went into the boy's head, and he died. Candace retaliated and arranged for War to be killed by the Malone crime family.
Candace was in a relationship with the president-elect Charles Frederickson until she was dismissed by him and his staff.
Justin Lewis
Justin Lewis, played by Nicholas James, has been on the series since Season 3. At first, he was an officer, but because of bad behavior, he is no longer on the police force. He tried to rape Jeffrey. At other times, he harassed Jeffrey and threatened to kill him. He later wanted a relationship with Jeffrey. He became obsessed, jealous and possessive.
Tika Sumpter
Tika Sumpter, whose real name is Euphemia LatiQue Sumpter, is a 39-year-old actress, producer, television host, and model. Other than playing a bad person on The Haves and the Have Nots, she plays a wife and a very good mother to three children on ABC's comedy Mixed-ish that premiered on September 24, 2019. It is interesting that Tika is married to a Caucasian man on one show and is engaged to a Caucasian man in real life.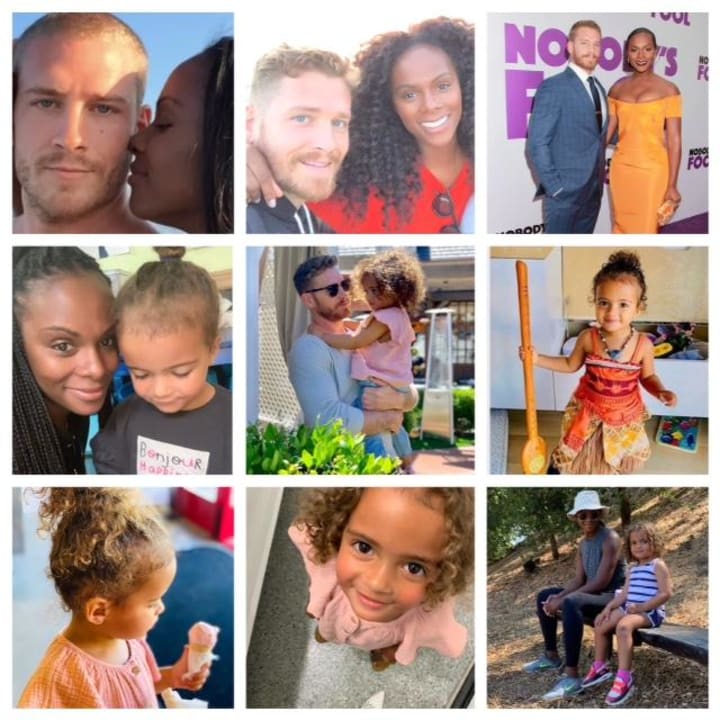 Nicholas James
Nicholas James, whose real name is Nicholas James Muscarella, is known for his role on The Haves and the Have Nots that he has had since 2016. The 37-year-old actor has been engaged to co-star Tika Sumpter since Christmas Day of 2016. They have a daughter named Ella-Loren who was born on October 8, 2016. Even though Nicholas is a private person, he posts photos of himself, Tika and his daughter on social media. It is evident that they are very close.
Tika related that she and Nicholas went for a drink after filming, and things just clicked. She soon discovered that she was pregnant. She and Nick became engaged a couple of months after their baby was born. It was a fast-paced relationship, but it has been a very long engagement.
Tika has been asked on social media why their engagement is so long. She responded by saying, "Our relationship is not dependent on a ring. I love him to death, and he loves me to death, and that's all that matters."