'The Defenders': How Marvel Netflix Reinvented Karen Page
Deborah Ann Woll's Karen Page was introduced back in 2015, in Daredevil Season 1.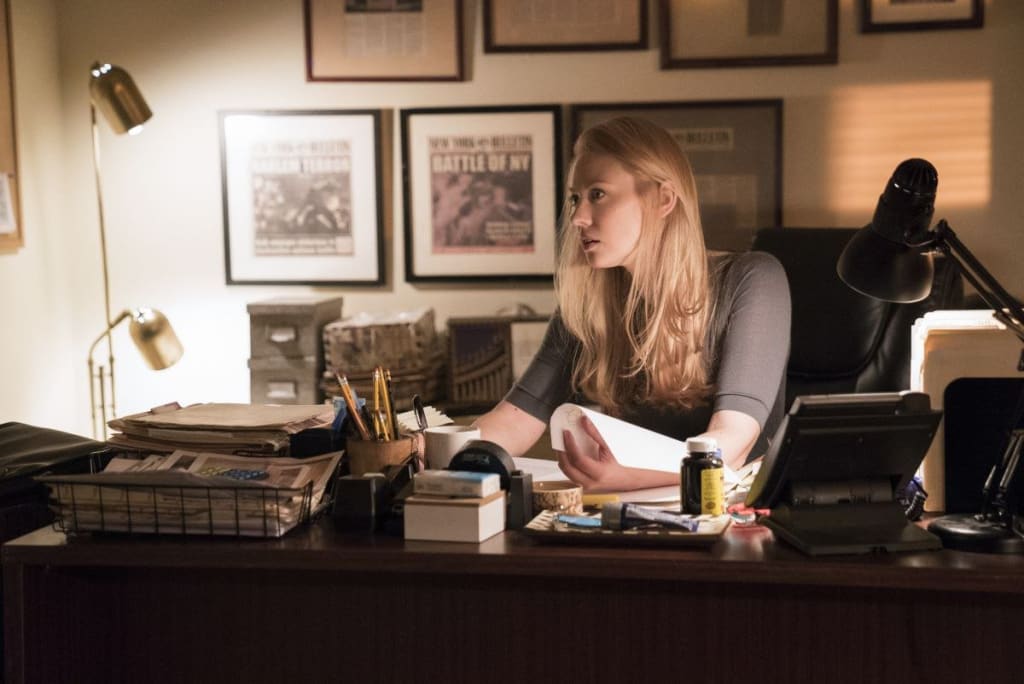 Deborah Ann Woll's Karen Page was introduced back in 2015, in Daredevil Season 1. The Defenders marks her third appearance, and she's set to play a major role in November this year, too, in The Punisher.
However, comic book fans will notice that the character has been changed a lot — Fan-favorite arcs have been dropped while her analytical streak and investigative skills have been amplified. How has Karen Page changed, and why? What different arcs does this set up? Read on, but be aware; this article contains light spoilers for The Defenders.
A Strong, Independent Character
Over in the comics, Karen Page was introduced as Matt Murdock's secretary and love interest. In the early years, she was pretty much your standard superhero's girlfriend, regularly getting into trouble and rescued by #Daredevil. Later writers reinvented the character, presenting Karen more as Daredevil's sidekick than just a love interest. She was given an inquisitive, analytical streak that often took her into dangerous situations — but also a level of intelligence that meant Karen often got herself out of those situations too.
The #Marvel Netflix shows have clearly taken inspiration from the more well-developed version of the character found in recent comics. Karen has essentially been the main female protagonist in Daredevil Season 1 and 2, with a depth of backstory that's quite remarkable. Sure, she starts off being rescued by Daredevil, but soon Karen is taking matters into her own hands; she even kills the Kingpin's right-hand-man in Daredevil Season 1. Season 2 sees her launch an investigative crusade to uncover the Punisher's history, and she built a remarkably strong rapport with John Bernthall's Frank Castle. No surprise, Karen will play a key role in The Punisher, presumably continuing to shine a moral light on the ruthless antihero's methods.
A Very Different Career Path
Perhaps the most intriguing twist of all, though, is that Karen Page's career has taken a very different direction. Over in the comics, she eventually left her job as Matt Murdock's secretary to become an actress. Her career nose-dived, and Karen wound up acting in porn movies, and soon developed a heroin addiction. In order to feed that addiction, she actually sold Daredevil's secret identity to the Kingpin!
In contrast, the Marvel Netflix version of Karen Page has taken a very different direction. We've seen her drawn into the world of investigative journalism, and The Defenders showed her as a professional reporter with tremendous deductive skills. It's a logical extension of the inquisitive, analytical character from the comics — but a surprising twist nonetheless. Why has Marvel taken Karen in such a different direction?
The fundamental reason, I think, is because Marvel made a mistake back in Daredevil Season 1, killing off Vondie Curtis-Hall's fan-favorite Ben Urich. The death of the reporter fitted perfectly with the overarching narrative of Daredevil Season 1, but it left a Ben-Urich-shaped hole in the nascent Marvel Netflix world. Over in the comics, Urich is a major player; he's a secondary character who's frequently on the fringes of the superhero community, and often gets drawn into the darkest corners of the comics universe. The role is an important one, bringing the character into contact with so many different heroes, while allowing him to act as a foil to a wide range of characters.
This new version of Karen Page has become the spiritual successor to the comic-book Ben Urich. As we saw in Daredevil Season 2, her investigative skills have led her to side with the Punisher, and she has a strangely disturbing bond with the brutal vigilante. In The Defenders, we saw that Karen has become comfortable with her role as a reporter, although she knows there are certain stories she can never tell; say, for example, the true story of Midland Circle. We can presume Karen's work as an investigative journalist will again draw her into the Punisher's world in his solo series, due out in November.
A Fitting Decision
Marvel has undoubtedly made the right call. The truth is, Deborah Ann Woll's Karen Page is a very compelling character, and the original comic book plot wouldn't do her justice. Daredevil Season 1 emphasized Karen's passion for truth and justice, using her to introduce the character of Ben Urich in the first place. The second season focused in on these aspects of Karen Page, using her to drive the Punisher plot and reveal Frank Castle's backstory. Frankly, I'd go so far as to say that her desire to expose the truth has become Karen's core character trait.
Given that's the case, it makes perfect sense to refocus Karen's character, making her an investigative journalist. It's a decision that takes her out of Matt Murdock's orbit, ensuring she can stay relevant to the growing Marvel Netflix world even if Daredevil is believed dead. She has the potential to become another major piece of connective tissue in the Marvel Netflix shows, playing a similar role to Rosario Dawson's Claire Temple. With Claire now firmly established as a supporting character in Luke Cage, that's actually another gap that needed to be filled now Phase 1 of the Marvel Netflix shows is complete.
I have to say that I prefer the Marvel Netflix version of Karen Page. She's a strong, confident character who promises to play a key role in the growing Marvel Netflix universe. She more than fills that void left by the death of Ben Urich, and her personal relationship with Matt Murdock adds poignancy and power to her role as a reporter. Most beautifully, though, Karen's role proves that the character has grown beyond that relationship with Matt Murdock. Given she was originally created as your traditional superhero's girlfriend, one that often depended on Daredevil coming to the rescue, it's great to see that Karen's become so well-rounded in the Marvel Netflix shows.