The Bold and the Beautiful Spoilers tease Deacon and Taylor might become involved
There was speculation about these two last summer but will it now become a reality?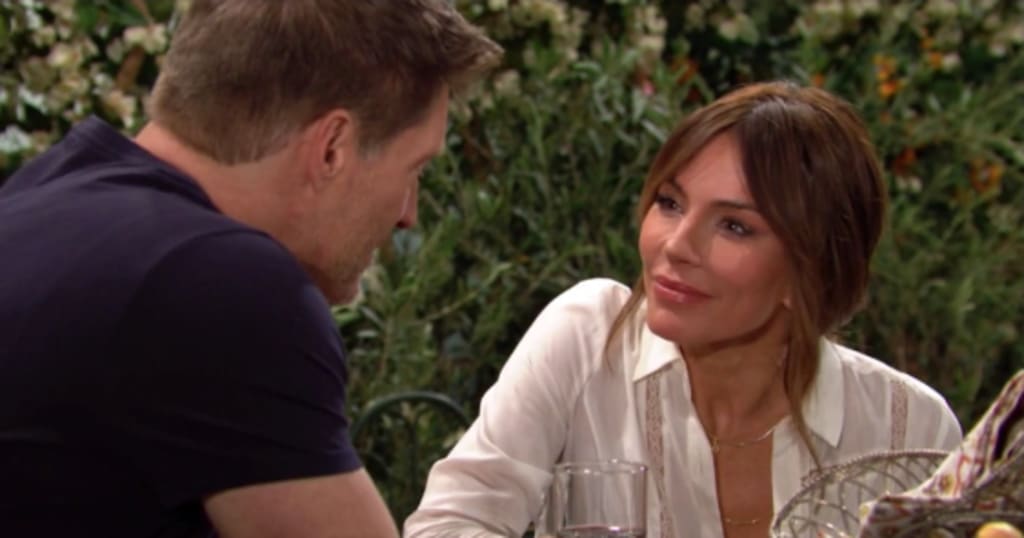 Will Deacon and Taylor become an item?
Last summer spoilers for The Bold and the Beautiful teased that Deacon Sharp (Sean Kanan) and Taylor Hayes (Krista Allen) might get together but nothing happened. Now based on what is in the following video as well as other spoiler alerts it's possible that now is the time these two might get together. Some fans have questioned Taylor's motives recently when she suggested Deacon make a play for Brooke Logan (Katherine Kelly Lang) again but he was skeptical.
Does Deacon realize Brooke's heart belongs to Ridge?
Deacon wanted assurance that Taylor was not trying to push him towards Brooke so that she could try again with Ridge Forrester (Thorsten Kaye). There are many who watch The Bold and the Beautiful who say that the pact that Brooke and Taylor made is unrealistic and that they will not continue to choose their friendship over other relationships. Kaye recently told Soaps In Depth that no matter how it plays out on screen he believes Brooke and Ridge are each other's one true love.
A number of B&B fans feel the same way and are hoping the couple will get back together. Taylor and Deacon also know deep down that Bridge really love each other. When the two women decided on friendship over Ridge fans cheered because they were tired of the love triangle going back and forth. Now that things have calmed down viewers are seeing it all differently.
If Taylor and Deacon do hook up Brooke might feel betrayed because Deacon is the father of her daughter Hope Spencer (Annika Noelle) and it might feel awkward to know he slept with her new BFF. The women's friendship is already about to be tested by several storylines that are brewing that will put them at odds. How long can they maintain their admiration for one another when their families are about to go to war?
Hope and Thomas will cause their mothers to be at odds
Spoilers say this week that Steffy Forrester (Jackie Wood) will become sick and tired of Liam Spencer (Scott Clifton) complaining about her brother and she will finally blurt out that it's not Thomas who is the problem but Hope who has feelings for him. On Friday Hope admitted to Brooke that she did have feelings for Thomas but knew he was mentally unstable and manipulative. Thomas was standing outside the door and Hope was stunned when her mom left and she realized he heard everything.
This week she will apologize and tell him she did not mean it and Thomas will be confused by her recent behavior. Steffy promised not to tell Liam that Hope flirted with Thomas but once this news is out the dominos will fall. At some point, Liam will question his wife and she might stop denying her feelings and admit to her husband that it's true. Brooke and Taylor will more than likely discuss their children and Taylor won't like Brooke putting Thomas down.
Do Taylor and Deacon have a chance?
Taylor might find herself back at Ill Giardino pouring her heart out to Deacon who may be licking his wounds if Brooke turns down his advances. Spoilers suggest the duo will drink together and this is what lands them in bed. Brooke may feel like Taylor should have known that Deacon was off limits just like Ridge and the two will argue.
The fallout from this along with the mess Hope has made will surely make Brooke and Taylor realize they really cannot be friends. If Hope's dad and Thomas's mom do become a couple fans are hoping they can make it last but the ongoing Forrester/Logan/Spencer drama suggests they will not have a real chance. Stay tuned to The Bold and the Beautiful to watch this fiasco play out.
About the Creator
Cheryl is a widow who enjoys writing about current events, soap spoilers and baby boomer nostalgia. Tips are greatly appreciated.
Reader insights
Be the first to share your insights about this piece.
Add your insights