Still Alice - A Movie Review
Still Alice was a success because of Julianne Moore's engrossing performance.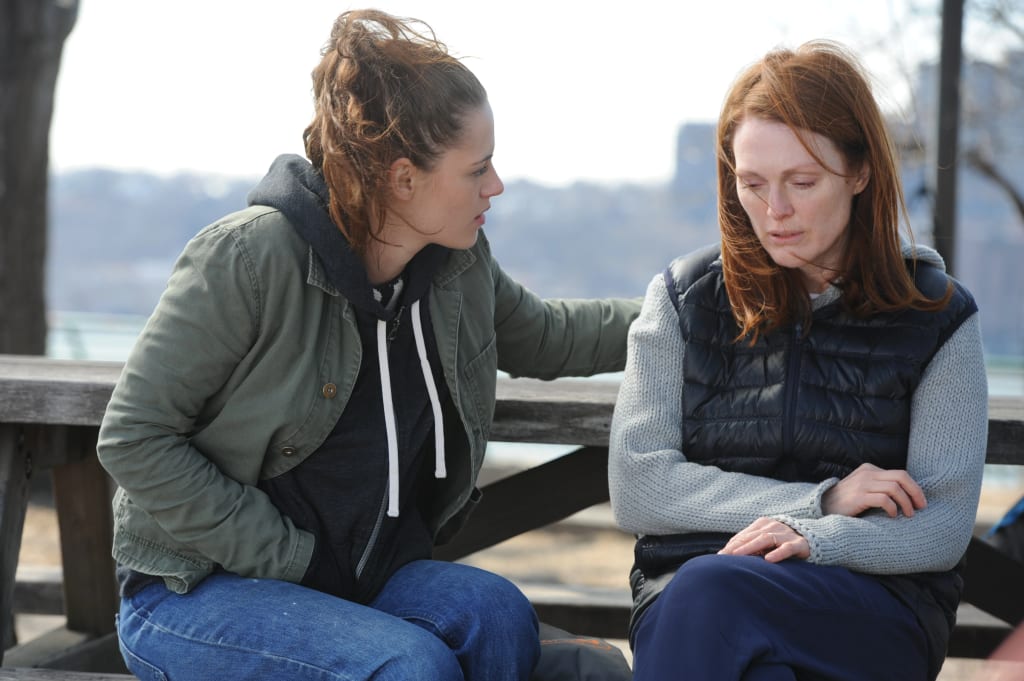 No matter life's greatest battle, never give up the fight.
Still Alice is a 2014 film based on the novel written by Lisa Genova. Alice, a 50-year-old woman is diagnosed with early-onset Alzheimer's disease. As the disease progresses, Alice is determined not to let it hinder her life.
Although sad, Still Alice is important. I have wanted to watch this film for a long time. I am glad that I did. We need more films that discuss Alzheimer's/Dementia and its ill effects. Still Alice enforces to treat people as they are and not like their disease.
Julianne Moore's extensive research for her bold enactment granted her a well-deserved Best Actress Academy Award. Still Alice was a success because of Moore. In preparation, Moore spoke with individuals diagnosed with the disease to get a sense of what they were battling.
Alice fights to maintain her memory. Her love for her family is strong. Bearing unimaginable emotion, Moore is absolutely incredible in her performance. She completely disappears into the role. The scene where she breaks down utterly beside herself is a gutwrenching moment.
The ensemble for Still Alice contains a strong cast of actors. Alec Baldwin, Kristen Stewart, Kate Bosworth, and Hunter Parrish were all magnificent in their enactments. They made a genuine family. Based on my own experience, illness in family is tough. A lot of reactions and opinions are relatable.
John (Baldwin) was a mixed bag for me. The way he treated Alice's situation was selfish. At one point, he berates Alice for missing dinner plans with his coworkers. This is after he learns about Alice's diagnosis. While it is tough witnessing someone you love diminish from a disease, I was hoping John would have a change of heart.
Kristen Stewart has come a long way in her acting career. Stewart was the right choice for Lydia. Having a diverse perspective on life, Lydia is more open to learning about her mother's condition. Sharing a different relationship with each of her children, the bond between Alice and Lydia grows.
Editing is a crucial element in Still Alice. The late Richard Glatzer and Wash Westmoreland establish the story's perspective. Only exhibiting the most significant aspects of the story, they presented something new. Glatzer, who had ALS, brought forth authenticity. That is the most important portion of this film.
Most of the time, the camera follows Alice. The cinematography blurs, becoming more disorientated in Alice's decline. One scene that was effective was Alice feverishly looking for her phone until skipping to the next day. She is happy to find her phone. It's next month.
The subject matter is not for all audiences. Still Alice is sad. But it is a beautifully made film. I wasn't sure if I wanted to watch this film, but I was drawn to it because of Moore's impeccable performance. Still Alice is a genuine depiction.
Though I will say that the timespan of Alice's Alzheimer's is a little fast. Granted it's a movie, the story doesn't show the worst of effects, leaving it up to interpretation. That is for the best.
If you are looking for something to be thankful for this Thanksgiving season, be thankful for your health. Be thankful for your family. Spend this time with family. Keep building memories. My aunt passed away from cancer a few years ago. I found Still Alice relatable. We cannot treat people any differently because of their disease.
Still Alice is a tough film to recommend but it is worth a watch to witness Moore's performance. Find the film on Netflix.