Marvel Superheroes
Silver Surfer vs Thor
The Skyrider of the Space Ways vs The God of Thunder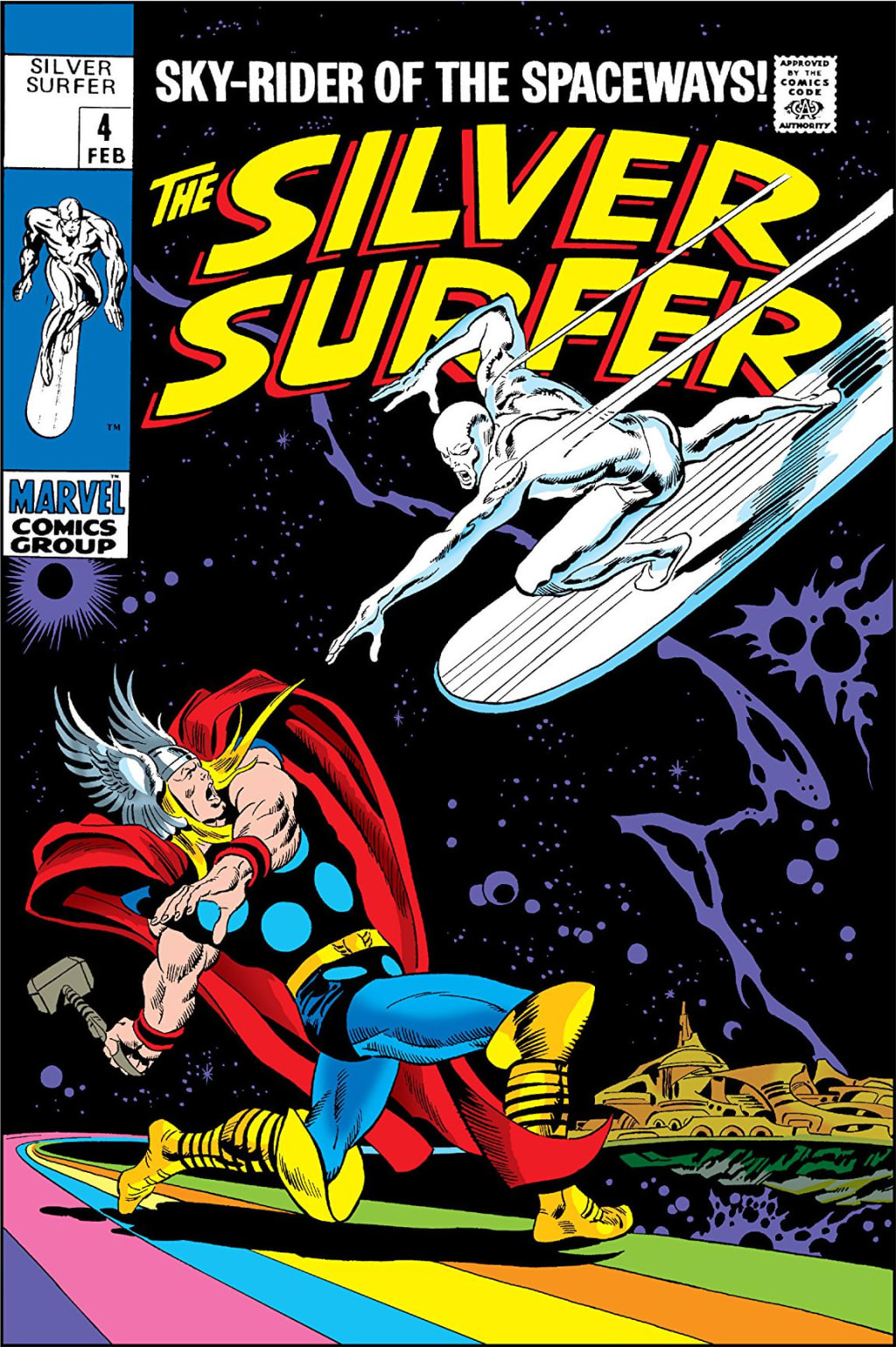 In Silver Surfer #4 (1969), collected in Essential Silver Surfer Vol. 1, Silver Surfer meets Thor in their first encounter. The encounter is orchestrated by Loki, the Asgardian God of Mischief.
We begin with Loki plotting against his half-brother Thor. He seeks by astral travel multiple Marvel heroes in his plan to defeat Thor. First, he finds Hulk, then Thing, then Hercules before he finally finds Silver Surfer attempting to overcome the space-travel barrier around Earth set by Galactus, preventing the Silver Surfer from leaving Earth.
We encounter the Silver Surfer amidst, "Earth's creatures."
Silver Surfer amidst "Earth's creatures"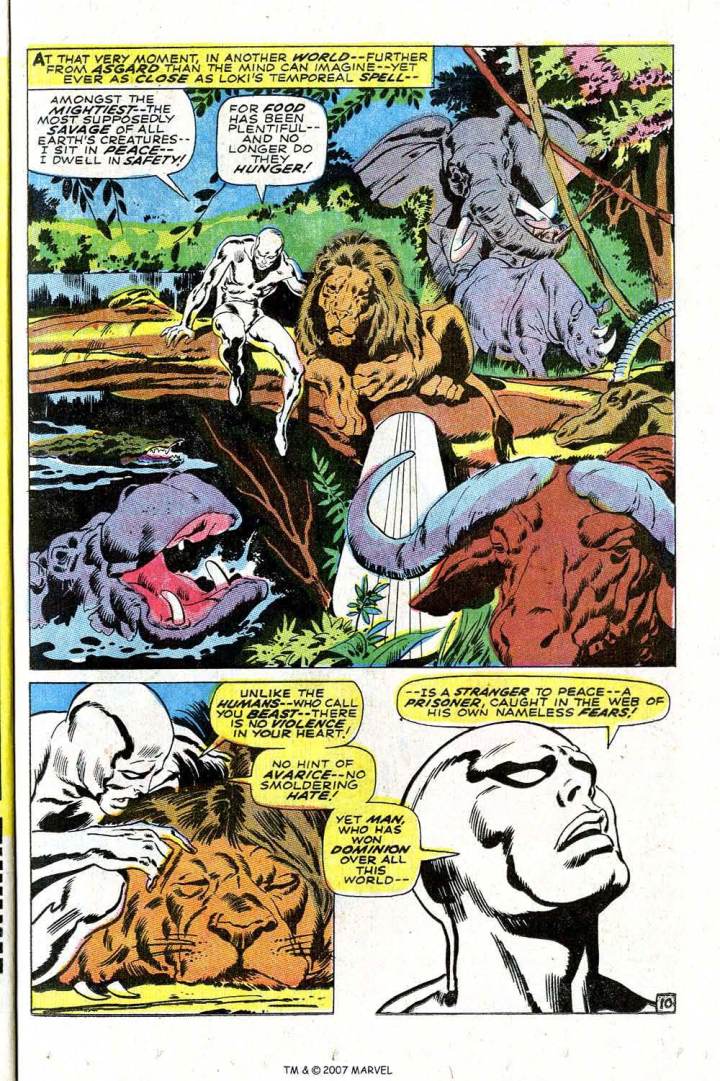 Loki encounters the Silver Surfer and proposes a challenge in order for him to spare humanity his destruction. Silver Surfer proves to match Loki in a duel, though, Loki remarks that he is no match for Thor.
He proposes to free Silver Surfer from his space-travel barrier if Silver Surfer accepts to defeat Thor, to save the throne from being threatened, as Thor is to "gather an army about him—with which to attack the imperial All-Father!!"
Loki frees Silver Surfer from the barrier, and transports him to Asgard in order to face Thor. The Silver Surfer arrives as Thor celebrates with friends and comrades, and challenges him to a duel only to be met by Thor's invitation to feast, in order to determine "a grim and troubled mien!"
Silver Surfer Challenges Thor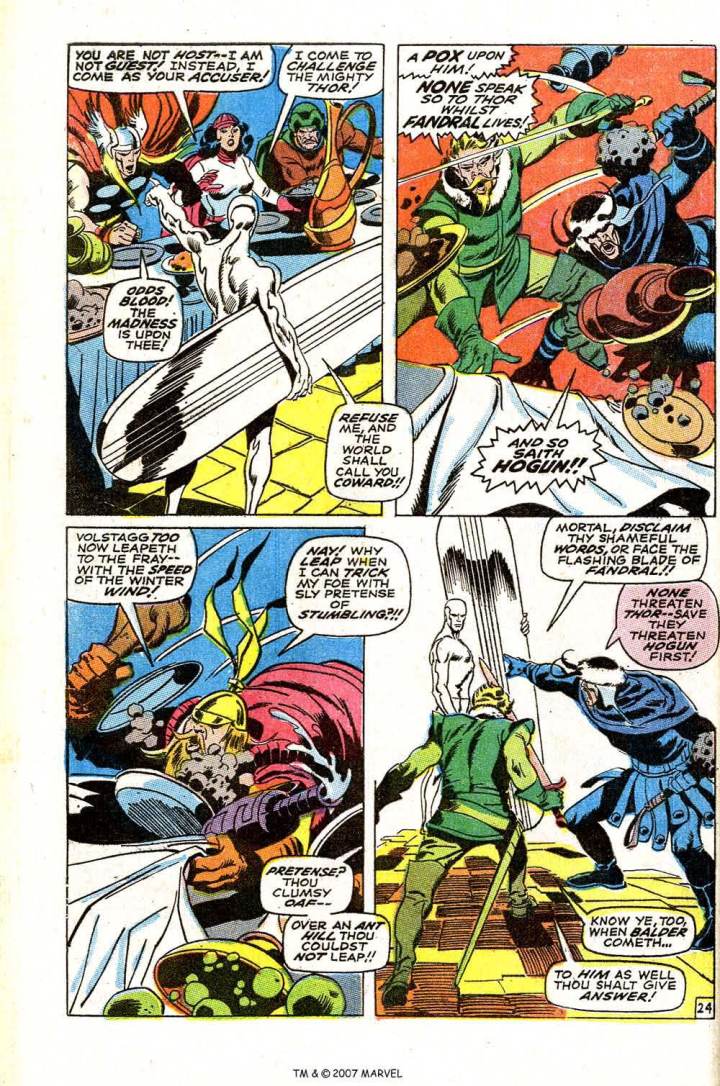 Silver Surfer Battles Thor and Asgard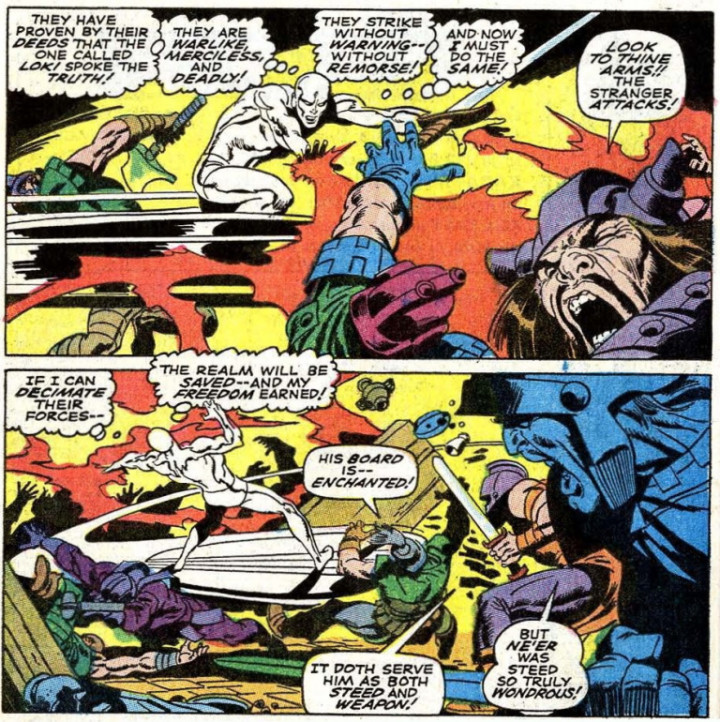 The battle rages and Silver Surfer destroys Asgard's army before meeting Thor.
Silver Surfer Battles Thor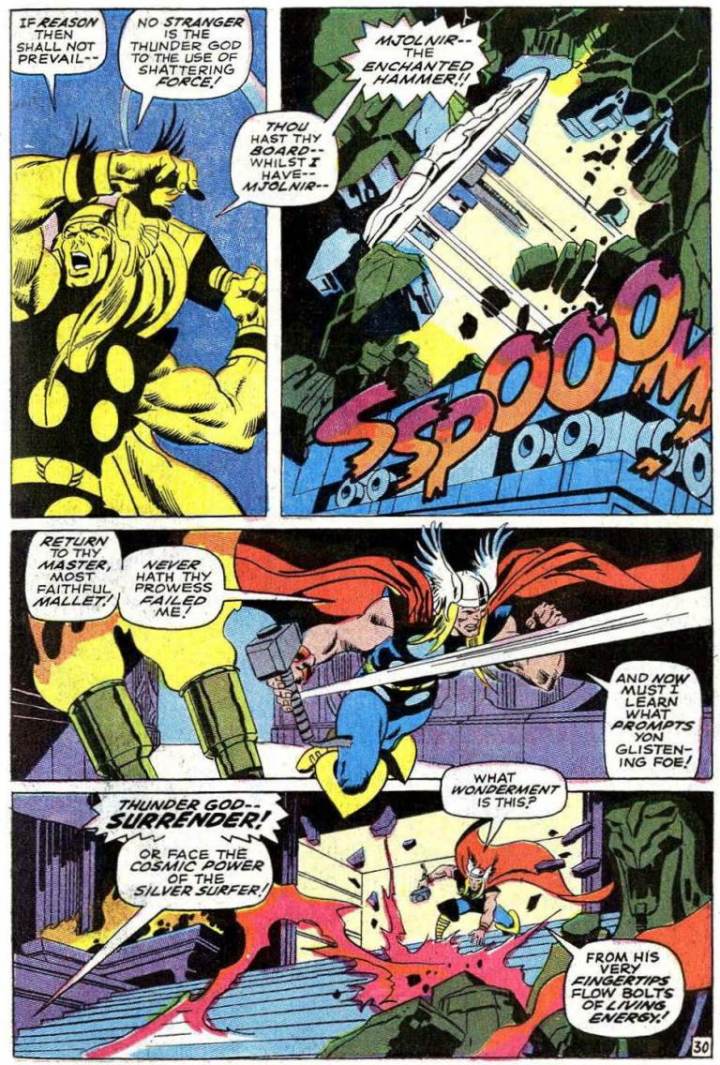 Silver Surfer Battles Thor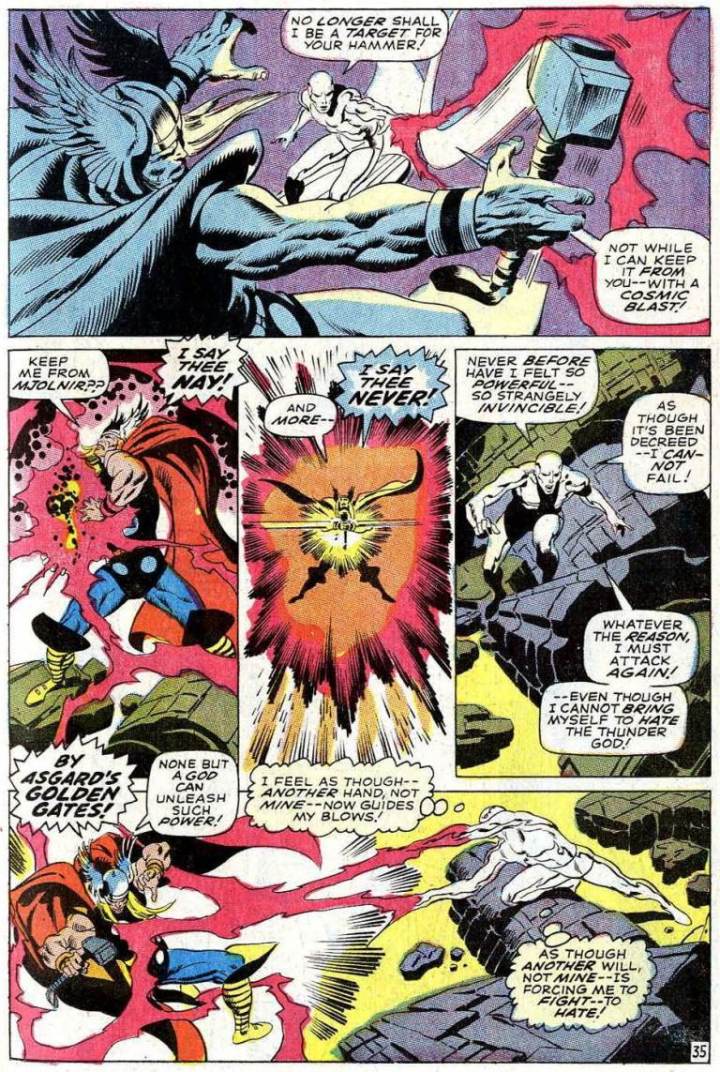 Silver Surfer Battles Thor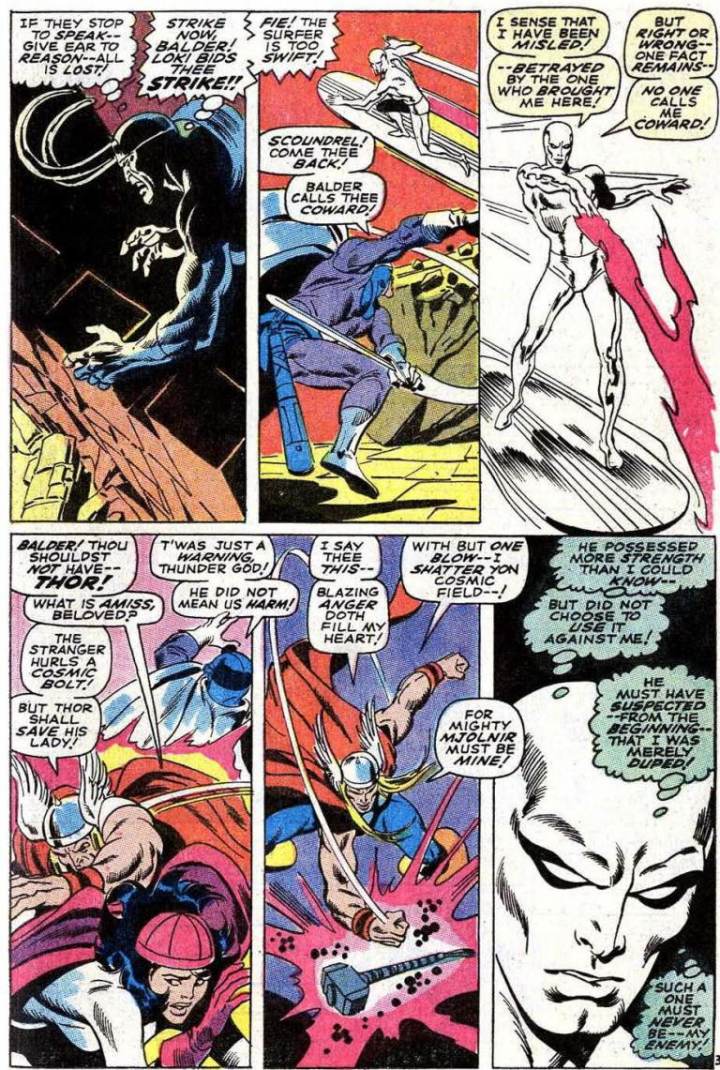 The battle remains inconclusive, though Thor seems to emerge stronger, as though Silver Surfer is enhanced by Loki's magical power. Thor is able to use his superior strength. Silver Surfer comments that Thor may be stronger.
Analysis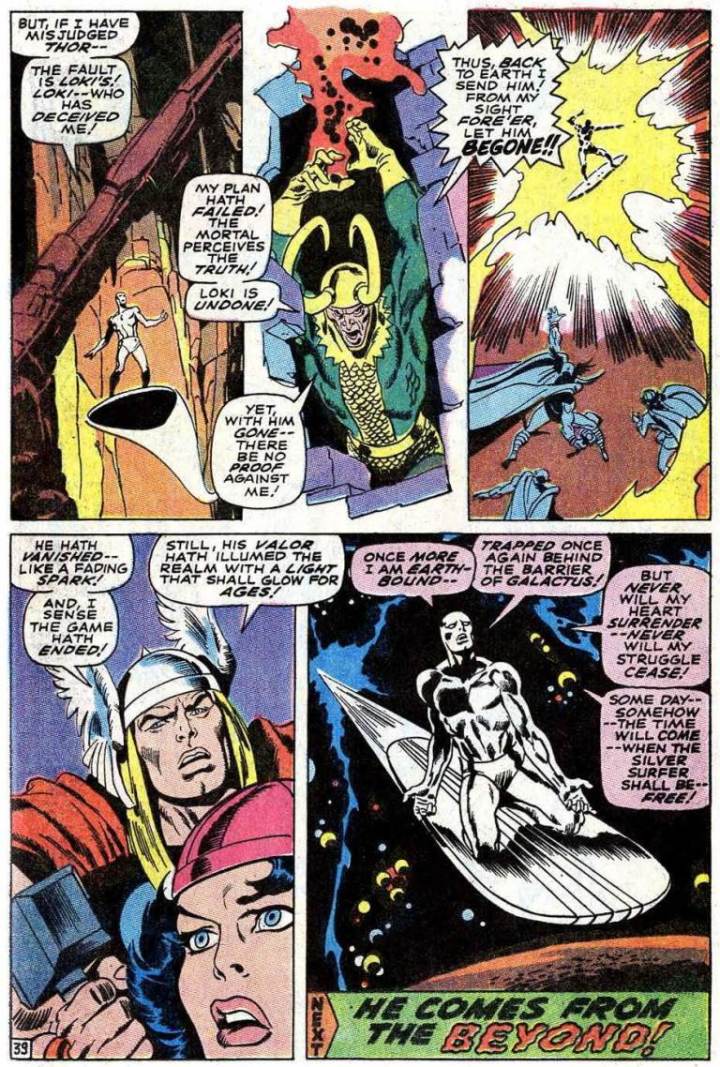 The battle between the two heroes, is a confrontation between the power cosmic and Asgardian magic. Silver Surfer, a cosmic hero imbued with the power of the cosmic, The Power Cosmic, possesses a host of powers that allow him to survive the pressures of stars in space, evolve planets, interstellar travel at faster-than-light speed, and the ability to generate powerful blasts of cosmic energy. These powers alone are formidable, and should allow the Silver Surfer to triumph over any foe—after all, they were granted to him by Galactus, The Devourer of Worlds.
The Silver Surfer seems unable to overcome the power of Asgardian magic. Marvel seems to infer that the powers of an Asgardian god are superior to that of a cosmic being, and that of a Herald of Galactus.
Silver Surfer proves superior in speed, ferocity, and skill. He is able to take down Thor's army in a short amount of time, and attack Thor with powerful attacks to the point that he is able to imprison Thor's hammer in a "cosmic field," augmented by Loki's magic, and prevent Thor from using it. Thor proves that his anger allows him to use superior strength to shatter the "cosmic field" with one blow. Thor proves that he possesses superior might; that he truly is "The Mighty Thor" (Silver Surfer #4).
The contrast in the Marvel multiverse reveals that Thor may be considered more powerful than Silver Surfer, or at least, the conqueror in their head-to-head match-ups. This may be due to their popularity or perhaps due to their personalities and powersets, as Thor's warrior character is more appealing than Silver Surfer's more pacific personality.
The first encounter between Thor and Silver Surfer marks a milestone in Marvel comic book history.