Short Film Reviews: Jenna Larson + A Surprise
In celebration of Pride Month, let's take a look at a handful of short films produced by LGBT+ director Jenna Larson.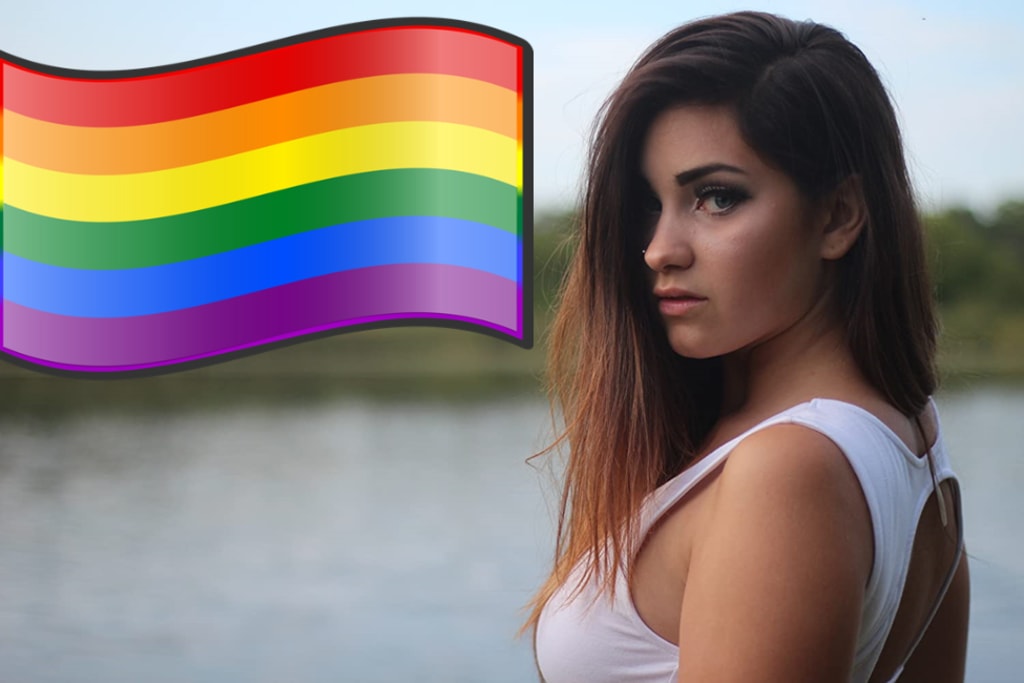 With this year's Pride Month coming at a time when our country feels more divided than ever before, the messages of love and living without fear that are spread by this month are something we're all greatly in need of. So to celebrate society's continued fight to bring about equality in regards to the LGBT+ community and other groups who have faced unjust discrimination and persecution, I decided to check out some LGBT+ short films courtesy of Jenna Larson, a Los Angeles-based filmmaker, actress, and YouTube vlogger--and stay tuned for a bonus review:
Kiss & Tell:
Is there anything worse than being attracted to someone you can't be with? It's a feeling I'm sure many people--regardless of sexual orientation--can relate to. Kiss & Tell's Morgan (played by Chelsea Kearns) definitely can, as she finds herself at a party with her best friend Sarah (Elizabeth Stenholt) and Sarah's boyfriend Nick (Jordan Whitney). But a game of Never Have I Ever and a surprise dare will leave an already confused Morgan spinning--unsure of what she wants or who she is.
Despite a relatively simple set-up, Kiss & Tell packs a lot of emotion. Chelsea Kearns can take most of the credit for this, as her subtle performance allows for Morgan's conflicting feelings to hit the audience just as hard as they hit Morgan. The first few minutes of the film have Kearns giving a painfully authentic portrayal of Morgan's silent discomfort. The fact that none of Morgan's "friends" seem to take much notice of her unease only adds to the poignancy of a disheartening set-up that gets more uncomfortable as it goes on.
Opposite Kearns is Elizabeth Stenholt as Sarah, with Stenholt (in addition to remaining in character as a drunk girl throughout the whole film) bringing a lot of ambiguity to what could've been an average "Wild Party Girl" stereotype. As we see Sarah drunkenly open up with and ramble to Morgan, we're left wondering how much of what Sarah's saying is just the alcohol talking and how much is genuine--particularly in regards to her troubling relationship with Nick and whatever feelings she may have for Morgan. Given her earlier instance of pressuring Morgan into accepting the plot-triggering dare, is she even really that good a friend for Morgan? The same can be said for all of Morgan's friends, even the ones who appear outwardly friendly.
Kiss & Tell leaves all these problems unresolved, which while frustrating, aligns perfectly with a story that focuses on the difficulty some people have with their sexuality. In notable supporting players, Ryan Keem is adorkably charming as Grayson (even as we see him engage in some not-so-adorkable behavior) and Jordan Whitney brings just the right amount of douchey to Nick: enough to where you know he's bad news, but subdued enough to where you can see why he's still Sarah's boyfriend and a part of this friend group. Overall, Kiss & Tell is a powerful and well-shot drama short that is sure to strike a chord with many viewers.
Score: 9 out of 10 butt plugs.
Prom Night:
For this short film, Jenna Larson takes the spotlight as Callie, a girl whose Senior Prom will be defined by one big decision: to either have the courage to love without fear, or stay hidden and risk losing that love forever. Prom Night gets off to a slightly rocky start, with the opening dialogue amongst Callie's friends skirting the line between quirky and cringey (highlights include unironic uses of "OTP" and "unproblematic fave"). There's also the fact that the film's reported $15,000 budget is often too evident for its own good (thoughts crossing my mind while watching: "Why is this school holding Prom in an abandoned building?" and "Why is only 15% of the student body in attendance?")
But once Prom Night gets into its story, the film taps into the same emotions explored in Kiss & Tell--though not to the same degree of success. Jenna Larson has strong moments when we're able to see the fear and worry that's keeping Callie from being open about her relationship with Sarah, but for too much of the film, her reasons for hiding are needlessly unclear. It even appears for a moment that Callie's reason for hiding her relationship with Sarah is to not jeopardize her chances of winning Prom Queen--an implication that makes Callie look bad not only for disregarding Sarah's feelings, but for stringing along Liam (who, from what we see, is a perfectly decent guy) as her unknowing beard--the latter of which Prom Night, likely because of time constraints, glosses over.
The finale, however, subverts this implication by giving Larson the chance to truly connect with Callie's fear of judgment and show that, despite her worries, Callie truly loves Sarah and wants to prove that to her. SPOILER ALERT And while I believe the ending would've been more impactful had Callie taken Sarah back inside to share their dance, thus firmly proving she cares about Sarah more than what others think, Prom Night's ultimate conclusion is nonetheless a heartfelt finale. Spoilers Over
Larson shares strong chemistry with Tara DiNinno, who on her own brings palpable emotion to Sarah's justified frustration with Callie's resistance to them being open about their relationship. Cringe-worthy dialogue aside, the rest of Callie and Sarah's posse are charming enough to be fun, with the jewel of the bunch being Motoki Maxted as Sarah's sassy wingman Noah. While it may be significantly lighter than the emotionally heavy Kiss & Tell, Prom Night is a sweet-natured short film that is sure to put a smile on your face--and maybe provide escapism to the unfortunate high school seniors who weren't able to have a Prom this year.
Score: 7 out of 10 hotel cards.
Sparked:
In another film where Larson takes the lead role, a Halloween party turns into a night of surprises for the shy Natalie. In a change of theme from the previous films covered on this list, Sparked is much less focused on Natalie's sexuality and is instead primarily about her struggles with callous friends and the knowledge that she left her true friends behind to chase popularity.
Sparked is much less emotionally charged than Larson's previous films, and the more mundane pace is sure to turn some away. But Larson gives a solid lead performance as the awkward and unsure-of-herself Natalie, while channeling the same energy Chelsea Kearns showed in Kiss & Tell when it comes to portraying the feeling of being the "odd one out" at a party and an outsider in your own friend group. Alex Felix is similarly charming as Natalie's old friend Anna, and the two share believable chemistry as close friends who still care about each other, even after drifting apart.
While Sparked may not hit as hard as Kiss & Tell or Prom Night, it still holds up as a strong film that has a good message about standing up for yourself and remembering who your real friends are--messages all of us could use, regardless of sexuality. And if you're looking for an LGBT+ film where the protagonist's journey to their sexual identity isn't fraught with struggle and pain and is instead a wholesome tale of self-discovery, Sparked is right up your alley.
Score: 6 out of 10 games of beer pong.
Her First Time:
In this last Jenna Larson-directed film, Alice Tsui stars as Izzie, a newly out bisexual woman who finds her fretting over her first date and sexual experience with a woman. Her First Time puts a greater focus on the LGBT+ aspect of its storyline, while still maintaining that simple, slower-boiling feel that Sparked had. Despite sharing in Sparked's flaw of having a potentially audience-alienating pace, Her First Time is made memorable thanks to stylish directing by Larson (the aesthetic of the film matches its sensual mood) and a strong cast in its trio of actors.
Alice Tsui brings relatability to Izzie as she finds herself nervous about her first time being with a woman, and Katie Lograsso is charming as the more experienced and confident Katie. Tsui and Lograsso strike authentic chemistry with each other as they have their post-date tryst (a scene notable for starting with a realistic sense of awkwardness on Izzie's part) and Katie becomes a supportive shoulder for Izzie and her insecurities. Joey Jofre also makes a meaningful appearance as Izzie's equally supportive best friend AJ, being as funny as he is sweet and encouraging of Izzie's sexual awakening.
Like Sparked, Her First Time is a sweet-natured little slice-of-life tale with an LGBT+ twist to it. While the less dynamic tone and pace may not be to everyone's liking, there's enough heart here to make it an enjoyable watch--especially if you can relate to Izzie's self-doubt.
Score: 7 out of 10 glasses of wine.
Bonus Film: Night Drive
While I initially intended for this short film review set to be exclusively Jenna Larson content, it was while making this list that I stumbled across another YouTuber with an LGBT-themed short film under her belt whose work I wanted to take a look at: Keara Graves, who followers of my Lifetime reviews might recognize for her supporting roles in Deadly Influencer and The Cheerleader Escort, two Lifetime features from last year.
Months before making her Lifetime debut, however, Graves made her debut as a writer/director with Night Drive. In it, Graves plays Maia, whose sudden reunion with her old friend Heidi (Jessica Danecker) reignites long-forgotten feelings between them. Similar to Sparked in terms of both plot and pace, Night Drive proves to have an advantage over the previously discussed film in terms of emotional impact. Graves and Danecker share palpable chemistry as reunited best friends, which keeps the conversations between them that dominate much of Night Drive's runtime engaging and allows their friendship's transformation into something more as believable as it is heartfelt.
On her own, Graves makes for a charming and fierce protagonist, with Maia's best moments emerging when she encourages Heidi not to let her boyfriend mistreat her and when she ends up facing off with him herself. Danecker brings palpable authenticity to Heidi's fear and insecurity, throwing herself into her character's more intense moments. Matias Lucas (who would later co-star with Graves again in Deadly Influencer) rounds out the cast as vicious boyfriend Travis, with Lucas bringing the same effectively understated malice Jordan Whitney showed in Kiss & Tell, even when his dialogue takes a turn into "Generic Domestic Abuser Remarks" territory.
As her first excursion into the world of filmmaking, Keara Graves makes a great first impression with her simple yet impactful story highlighting the strength of friendship and solid camerawork for a film I assume was made on a limited budget. If Graves decides to make filmmaking a regular thing for her YouTube channel, I'm certainly interested in seeing what else she brings to the table.
Score: 7 out of 10 vanilla cones.
Overall:
While some of the short films discussed here have their share of flaws, the works of Jenna Larson and the directorial premiere of Keara Graves all have more than enough heart and emotional energy to make up for those faults. With current events leaving many feeling isolated and uncertain of what the future holds, films like these are sure to be a breath of fresh air to many. So curl up with these heartfelt tales about loving without fear this Pride Month, and for more content from these two talented young women, check out their channels in the provided links!
About the Creator
Aspiring writer and film lover: Lifetime, Hallmark, indie, and anything else that strikes my interest. He/him.
Twitter: @TrevorWells98
Instagram: @trevorwells_16
Email: [email protected]
Reader insights
Outstanding
Excellent work. Looking forward to reading more!
Top insight
Expert insights and opinions

Arguments were carefully researched and presented
Add your insights