Season 8 Of 'Shameless' To Begin Filming in Chicago This Month. Here's 8 Times The Show Was Truly Shameless
While much of 'Shameless' is filmed in the Los Angeles area, some of the series is filmed on location in Chicago.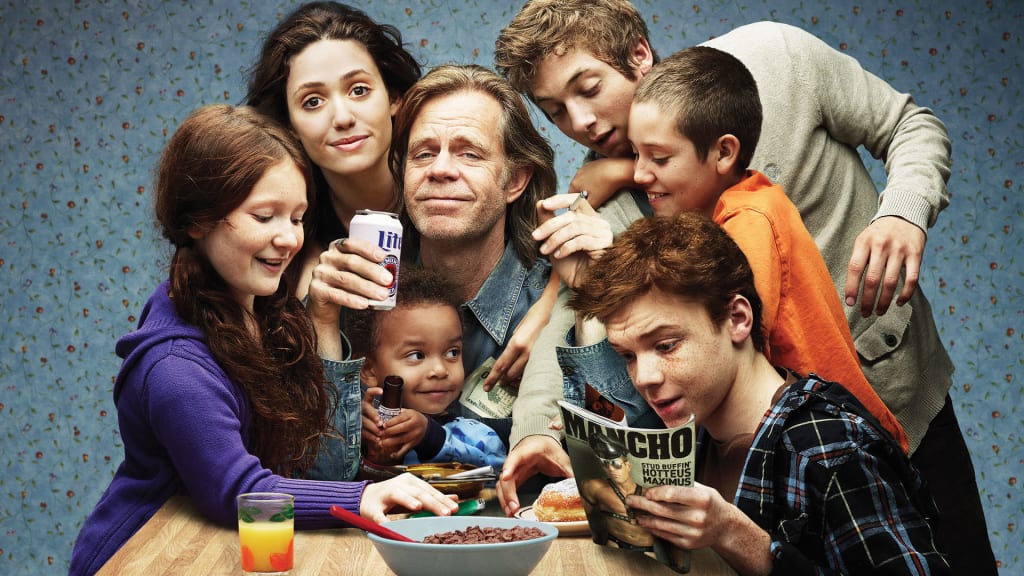 The Gallagher's (Credits: Showtime)
Showtime has announced smash-hit dramedy Shameless is about to begin filming in Chicago for its eighth season. The cast will head back to the Windy City from July 31–August 4, according to the Chicago Film Office. The season was announced the moment the popular Season 7 wrapped late last year.
While much of the Chicago-set show is filmed in the Los Angeles area, some of the series is filmed on location in Chicago for about two weeks of each season. The show that tells the story of the dysfunctional Gallagher family will see the return of characters including Frank (William H. Macy) and his ultra-responsible daughter Fiona (Emmy Rossum), who has raised her five younger siblings in lieu of her father and his drinking/working/responsibility problem. For the first time Shameless will also feature Jessica Szohr of Gossip Girl for the 12-episode Season 8.
While we wait for more Gallagher mayhem to begin, let's take a look back at eight of the most shameless events from the past seven seasons. And hopefully those storylines we weren't buying actually end up being worthwhile.
8. Frank indirectly trades his son to pay his debt.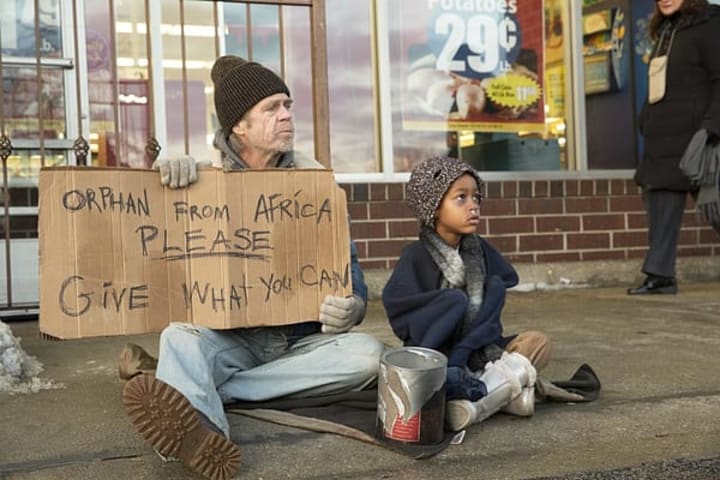 There's no doubt that Frank Gallagher is a complete asshole. So much so that he has no quarrel with indirectly being a racist bigot. In the Season 2 premiere, Frank bets a patron at his local bar $10,000 that he can stay awake during two taser shocks. Frank has bartender Kevin whip out his electroshock weapon and zap him twice. Liam ends up being taken as collateral until his village idiot dad can come up with the $10k he owes.
7. Lip and the Milkovichs go after sex offenders.
If you watch the show, you'll know that Lip Gallagher is just as messed up as his father Frank. In Season 3 Lip goes on a manhunt for child predators along with the Milkovich posse. Thinking the sex offender is a guy, the group prepares to track down and beat the ever-living hell out of this offender.
Unbeknownst to Lip, the sex offender turns out to be a hot 20-something woman and former teacher who likes them a bit younger than she should. In order to prove that she is the sex offender the mob is after, Lip sleeps with her in a honeytrap of sorts. After Mandy Milkovich finds out, her family digs a six-foot grave in the teacher's garden and threatens to use the former educator as fertilizer in a bid to force her to flee town.
6. Lip pursues his married college professor.
With college professor Helene Runyon (Sasha Alexander) proving so alluring, Lip can't help but feel the attraction. She reciprocates and in Season 5 the two engage in a clandestine affair. The odd and shameless part about this? Her husband seems unusually OK with Lip bedding his wife and even tries to befriend the young Gallagher. Things go from weird to violent when Lip end's up beating Helene's son, who he mistakes for her other lover.
5. The kids try to kill Frank Gallagher.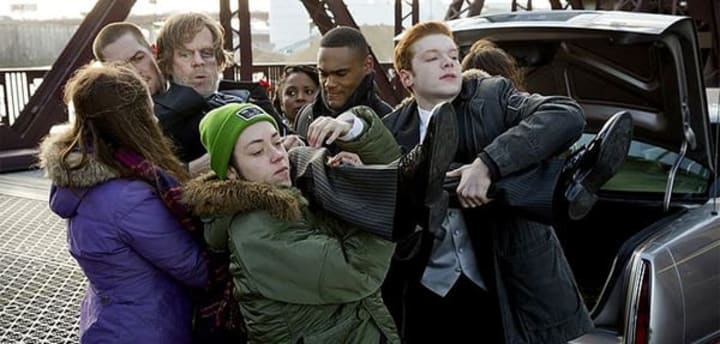 If you're the Gallagher children, it's likely you'll resort to shameless acts just to get by in life. One such occasion was the Season 6 finale, when Frank ends up ruining Fiona's wedding to Sean by divulging that his daughter's soon-to-be husband has suffered a secret heroin relapse. The kids end up throwing Frank off a bridge into an ice-cold river and leaving him to die.
4. Veronica has Kevin knock her mom up — and ends up pregnant herself.
In Season 3, newlyweds Kevin and Veronica face some hardships when trying to start a family. Finding out that Veronica has only a slim chance of conceiving, she decides to utilize her still-fertile mom Carol as a means to start a family of her own.
Carol eventually gets knocked up by Kevin, but in the Season 4 premiere Veronica finds out that she's also pregnant. Kevin is surprised but delighted to have two babies on the way. Then they find out that Veronica will be having triplets.
3. Mandy runs over Karen to keep Lip to herself.
If you're a Milkovich, you're undoubtedly a menace to society. And to their loved ones, Mikloviches are even more trouble. To show her love for Lip, Mandy decides to permanently fix a problem that has once again resurfaced. Karen is back and she knows that Lip still has feelings for her. Having fallen hard for Lip, Mandy knows she might lose him so decides to take care of things the Milkovich way.
Karen, on her way to meet Lip, meets the metal grill of Mandy's car instead. She's left severely incapacitated for life, marking the character's exit from the show. Lip leaves Mandy after finding out that she was responsible for Karen's life-shattering "accident."
2. Mickey and Ian get caught by Mr. Milkovich
On the mean streets of Chicago's Canaryville and Back of the Yards neighborhoods, being in a same-sex relationship is dangerous for Mickey Milkovich and Ian Gallagher. In Season 3 Mickey's dad caught the two going at it in the family room and ends up beating the living daylight out of both boys as a consequence.
But Mr. Milkovich doesn't stop there, forcing his son to have sex with a Russian prostitute, which ultimately leads to her getting pregnant. He also keeps Ian in the house at gunpoint and forces him to watch the sex act.
1. Carl becomes a schoolyard arms dealer.
While setting off fireworks, torturing animals and being a punk is something Carl is good at, he takes the title of thug to a whole new level in Season 6 when he uses the tricks he learned while locked up in juvy to make some extra crash — by selling firearms in his school. No surprises that Carl gets more badly behaved the older he gets, showing us why this is one of those messed-up TV series you should be watching.
[Source: Chicago Tribune; The Hollywood Reporter]