Scorecard Weekly: 'Mars Attacks'
Throwback Thursday!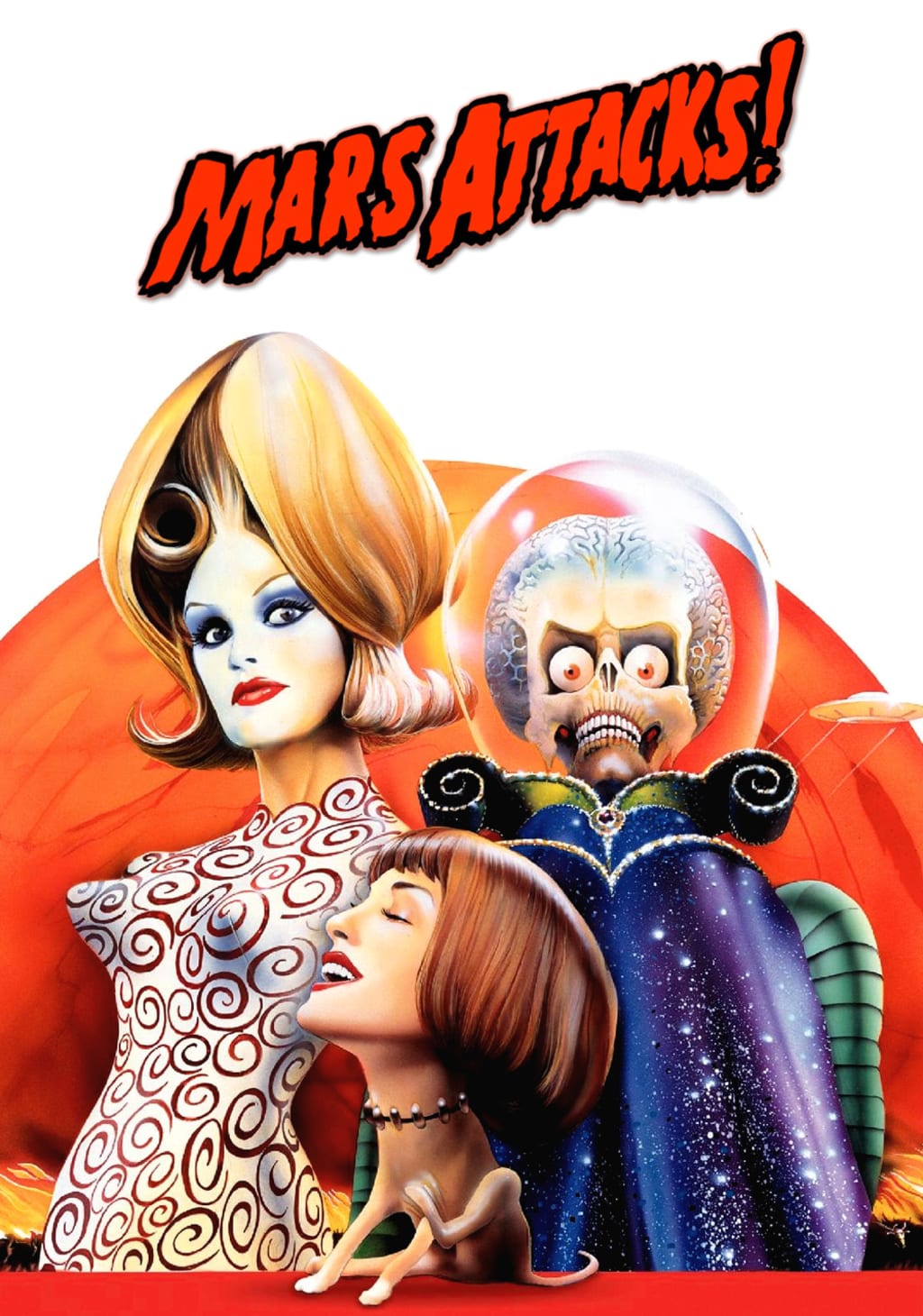 HAPPY NEW YEAR! Saying that we're excited would be an understatement. We're more than excited. This will be a GREAT year for television and film. We're ready to bring you TONS and TONS of scores. So, stay tuned because it's about to get wild! Now, for the first time in 2019…
If you'd like to make any suggestions and/or comments, after you read HEAD OVER to Facebook and LIKE our page @ScorecardWeekly. There, you will get the latest and greatest news about our series. LINK DOWN BELOW!
WELCOME TO SCORECARD WEEKLY! The place where you come to get honest, uncut, and uncensored reviews of the newest and oldest, TV series and movies. Before we begin today's card, let's recap on what we are grading, shall we? Please turn your attention to the invisible, non-existent whiteboard codename JARVIS.
Using our state-of-the-art scorecard, we grade:
Setting/Characters
Obstacles/Conflict
Tone
Concept
The minimum score for a section and card is one. The maximum score is five. Finally, we decide if it's recommended or a pass.
IT'S THROWBACK THURSDAY PEOPLEEEEE! The first of the year, so we're going to attempt to do this the right way (plus my girlfriend suggested it). Help us take it back to 1996 by welcoming the film Mars Attacks, brought to us by Tim Burton Productions and starring too many people to write... into the scorecard family.
1. Setting/Characters
Oh! We're going back. Back. Back in the day. To the year of 96 and a place NONE OF US would want to visit: The town of Pahrump, Nevada. I can't think of anything crazy from that era (granted, I did turn six that year), but this film was a big deal. It was LOADED when it came to stars appearing. Yet, even with all of them involved in this film, you don't get anything from them that makes you care about what you're watching.
The main characters were practically playing themselves throughout the film. We're thinking that maybe they knew it was some sort of sick joke, too, once they read the script. The characters are all incredibly simple—seriously, these people lack basic human intelligence. You'll sit there watching this and wonder, "What the fuck is wrong with these people?" because you'll see with your own eyes how poor of a job was done with a powerhouse cast, but even those actors/actresses offer rather terrible performances.
Score: 1
2. Obstacles/Conflict
The conflict is in the title people! Come on. Must we tell you everything? The conflict is between the proud citizens of the United States of America and creepy little aliens who run around in their undies zapping every fuckin' person in view. Things seem to start off well after we make contact, but then everything goes to shit. (It had to have been the dove!) The deaths of innocent bystanders didn't detour our Chain of Command—OH NO! They decided that we needed to try again because why not? The pattern is clear, yet somehow, they continue to fall for it, getting people killed—and it was in the aftermath of all this that the MIB was created, but not even agents K and J could save anyone...
Score: 1
3. Tone
Cheesy. It's awful, here we thought, "The movie might suck, but at least there will be comedy." We've never considered cringing comedic. Are we starting to see a pattern with this? Yeah. Yeah, we are, but we'll save it for the end (I'm sure you'll figure it out before then). There's nothing wrong with a slow start for a film. It isn't ideal, but we can forgive—well, that's not the case here. THIS SHALL NEVER BE FORGIVEN!!
Just bear with us…
This is harder than it seems. Just talking about it...
Score: 1
4. Concept
The only good thing about this film: We're positive that, if this film had been created in the present, it would look a hell of a lot better than it does, especially adding in the numerous stars it would include. The idea is simple: What would happen if aliens from Mars arrived on our planet? That sounds like a good watch. The problem with this film is they didn't execute this good idea well—from start to finish. It was absolute chaos from the minute it starts.
THIS IS A PSA! Be cautious when watching this film. It is known for making you a little dumber.
Score: 2
Overall Score: 1.25/5
Final Verdict: Pass
Final Thoughts
Do not waste your time! We're warning you now that if you embark on this journey from this point forward, you will be alone. There will be no backup. No phoning a friend. We care about you all too much to suffer through such a thing with you. There are too many negatives here for us to overlook, the film should have never been made. It's terrible and easily one of the worse films ever made.
movie
Screenwriter, Father, King of the pirates, Demogorgon Killer, and The People's Champion (Sorry Rock)
Follow me on Twitter