School of Rock Review
Getting around to reviewing a classic I should have seen by now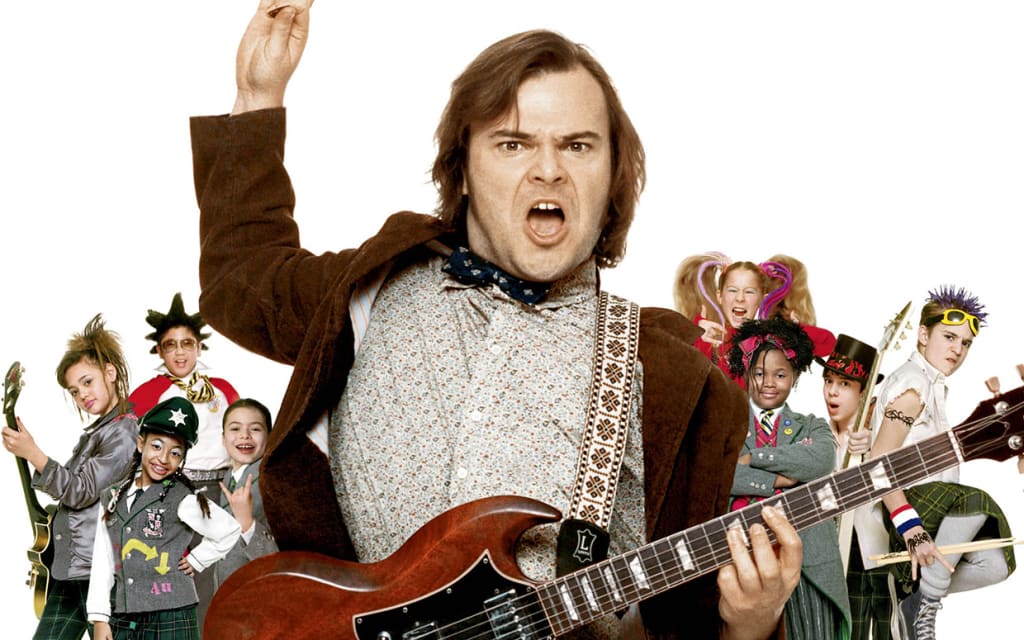 Check out my original review on my Letterboxd profile here to check out a Spotify playlist I made for this film.
Before we get started... it's been a while, huh? Almost a month, in fact. Well, yeah, I've been busy with college and haven't had the time to watch a movie for a while. That being said, I've been trying to watch a certain TV show that is available to review on Letterboxd and have gotten about halfway through it, but I need to motivate myself to continue it because of everything else going on in school. Heck, it's been a while since I've been able to motivate myself to watch a movie, let alone a TV show. I'll review that show sometime before the end of the year if I get my way, but for now, let's talk about this film.
There hasn't been a film that has gotten me THIS pumped up in a long time. With Richard Linklater being one of my favorite directors, having directed the INCREDIBLE Before Trilogy and Boyhood, you'd think I'd have seen this comedy classic by now, but I suppose it's better late than never. Oh, my god, this movie literally and metaphorically rocked my socks off, metaphorically in that it touched me to my spirit and it didn't actually kick my socks off, but literally in that this movie is drenched in the soul of rock and roll.
I feel like School of Rock has no reason to be as fantastic as it is. Sure, it's got its problems with the occasional line of exposition that's too obvious and inconsistencies in certain character choices that don't make sense in the moment, but by the end, everything in this film completely gelled for me. It's not like this is a Citizen Kane or any of those high-class dramas, but it doesn't need to be. It's a feel-good movie that manages to alter the stereotypical feel-good formula in JUST the right ways to keep you genuinely invested in the characters and the story and make it feel like this movie's events could actually happen.
I would be BEYOND shocked if the role of Dewey Finn was written for anyone other than Jack freaking Black. Everything about this performance was tailor-made for him, from the singing and guitar to his stage presence to his comedic chops to his ability to bring the tone down to a genuine seriousness when needed. The guy is a talented mastermind, and even though I grew up with Kung Fu Panda, I have to say that this is EASILY his best performance, by a country MILE. Everyone else in this film absolutely killed it, too. Joan Cusack turns a seemingly one-dimensional character into something that's just as compelling as everyone else, all of the side characters are given incredibly likable performances, and the kids... oh, my god, the KIDS!! They're all phenomenal, and of course, a special shoutout should be given (although she is not even CLOSE to the only talent among this huge group of people that I can't even begin to name) to the debut role of the one and only Miranda Cosgrove. It's CRAZY seeing her so young here, and here's the thing -- I never once saw her as a younger Carly. She just fit so well into the role here, it's so perfect for her particular acting style and it's no wonder she was able to get the gig of a huge Nickelodeon sitcom after this.
What makes this film more than it had any right to be, however, is Linklater's direction and Mike White's script. The unironically incredibly camera movements, the surprisingly meticulous attention to detail, and the dialogue that knows how to get the best laughs out of a situation and savor every minute of screen time all elevate this from simply a feel-good comedy to one that genuinely makes you feel inspired. As Dewey is performing this "ruse," he never once betrays his own character or even stutters over himself trying to come up with a stupidly elaborate excuse, both of which you CONSTANTLY see in movies like this where the lead character has to hide something. His true character always comes out, and at his core, he is passionate about music and willing to give other people around him the credit they deserve and inspire them to create and do what they love. There are reasonable arguments put forth into this movie as to why you shouldn't go out there -- it's safer doing what you know will work, it's hard constantly trying your best and consistently failing, and heck, it might even be dangerous at certain times -- but it always prioritizes its primary message of never compromising what inspires you even if others around you tell you that it's not what you should prioritize.
By the end of this film, I was genuinely jamming out in my room, and that's NO small feat. It came from a consistently likable premise, dialogue that is absolutely hilarious and authentic, and characters that all feel like they're given the appropriate amount of screen time to feel like real characters with their own personal struggles and aspirations. Everything about this film could have easily turned into the most pretentious inspirational message ever, but Linklater, White, and all of the actors (particularly Black) transform it into something more, something that every creative out there can empathize with, something that motivates you to get out there and just create because it's what you love doing. I love every single thing about this movie, and again, even though there are occasional objective flaws every once in a while, it's just not enough for me to say that this film isn't perfect to me. It's been a while since I've been so excited about a movie, but if you need a pick me up, PLEASE watch School of Rock, whether you've seen it before or not.
Letter Grade: A+
Reader insights
Be the first to share your insights about this piece.
Add your insights