Rey returns home on 'The Young and the restless'
Sharon and her husband forgive each other and start fresh in Geno City.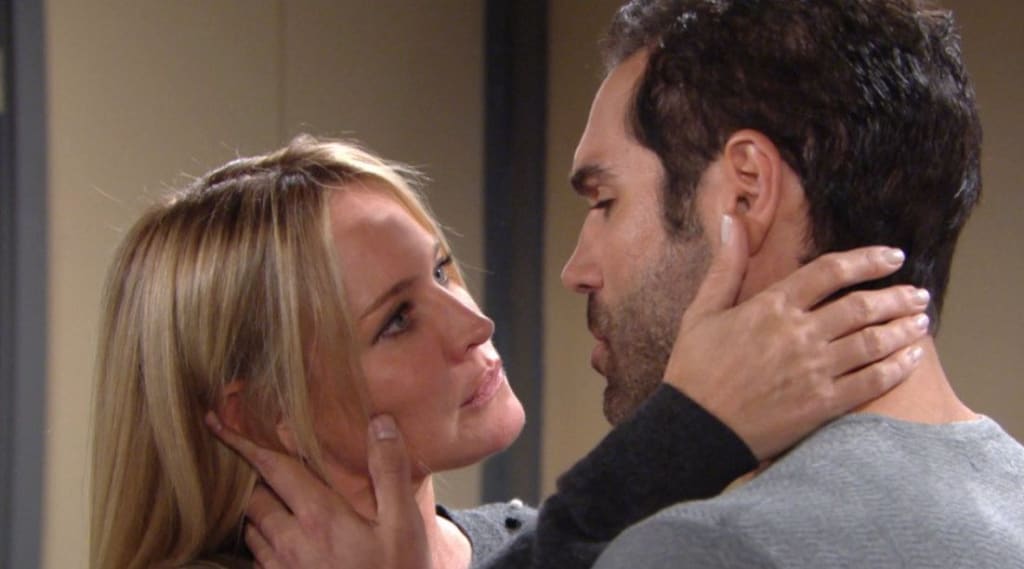 Shey fans will be delighted and Shaddam lovers will be disappointed because on Monday's episode of THE YOUNG AND THE RESTLESS, Rey and Sharon reunite and he moves back home. A few days back Sharon was angry at the fact that Rey even asked her if she slept with Adam but after self reflection and talking to each other the duo have decided to work things out. Rey called his wife on Thursday to meet him at the coffee house and Nikki agreed to stay and watch Faith.
Sharon meets with her spouse and tells him she understood why her husband believed Chelsea who said Sharon and Adam had been having sex in the penthouse. They discussed how the stroke and emotional stress had more than likely caused her to have delusions. Rey says he was accusing his wife of being obsessed with Adam when it really was him. Each asks the other for forgiveness and they decide to go home together.
Unknown to Shey, while they are reconciling, Chelsea was alone in her room at Ferncliff and shaving her own moment of reflection. DA Michael Baldwin had been trying to get her confession on tape but was unsuccessful and her doctor told him it was time to leave. Ms. Lawson began saying out loud over and over, that Sharon is to blame for her losing everything. It's obvious to Y&R viewers that Chelsea really is delusional and rather than take responsibility for her actions she is focusing on Sharon which is not good.
Meanwhile, Chloe went to visit Adam and does not believe he is trying to change. She actually tells him that he should stay away from Chelsea for her own good. Adam reiterates that he is trying to be a better man but hinted he might pursue the fact that Chloe helped Sharon poison Rey if he had to. Chloe was relentless and would not give Adam the benefit of the doubt which indicates that she still is not as stable as she lets on. She keeps blaming Adam, while Chelsea thinks everything that went wrong is on Sharon.
Back at the ranch Rey and Sharon are happy to be able to put their differences aside and can't wait to tell Faith the good news. It looks like Mr. and Mrs. Rosales are on the right track but looks can be deceiving. Spoilers indicate that Rey is going to be questioning Chloe about her part in his poisoning. Like Adam, he knows that Chelsea could not have pulled this off alone. Kevin is soon going to defend his wife and it could be in relation to Chelsea's case.
Many of those who watch THE YOUNG AND THE RESTLESS are debating how long Shey will remain together because they do not believe Adam has really given up on Sharon. Perhaps the focus should be shifted to Chelsea who may hatch some type of plan while in Fairview to cause harm to the woman she believes ruined her life. She already pulled a fast one when she lied to Rey that Sharon and Adam slept together. Should Rey visit her while she is institutionalized she might get inside of his head again.
On Tuesday, Rey and Sharon will continue reaching out to each other as they embark on this new path of not allowing others to interfere with their relationship. This sounds good in theory but Chelsea's wheels are already churning, and Adam could flip at any moment. If he does Victor would only be too happy to assist his son in getting the woman he loves. There is also the possibility that Sharon herself might find she cannot stop thinking about her former lover, so stay tuned to find out what happens next on THE YOUNG AND THE RESTLESS.
tv
About the author
Cheryl is a poet, freelance writer, published author and former Newspaper columnist. She has degrees in Psycology and Biblical studies. She enjoys sharing natural cures, and Nostalgia related info. Tips are greatly appreciated.