Reviewing Both "Murder Mystery" Films...and the Villainesses who Graced the Screen
Adam Sandler's 2019 hit Netflix film was followed by a hit sequel in 2023, and delivered big time in a lot of ways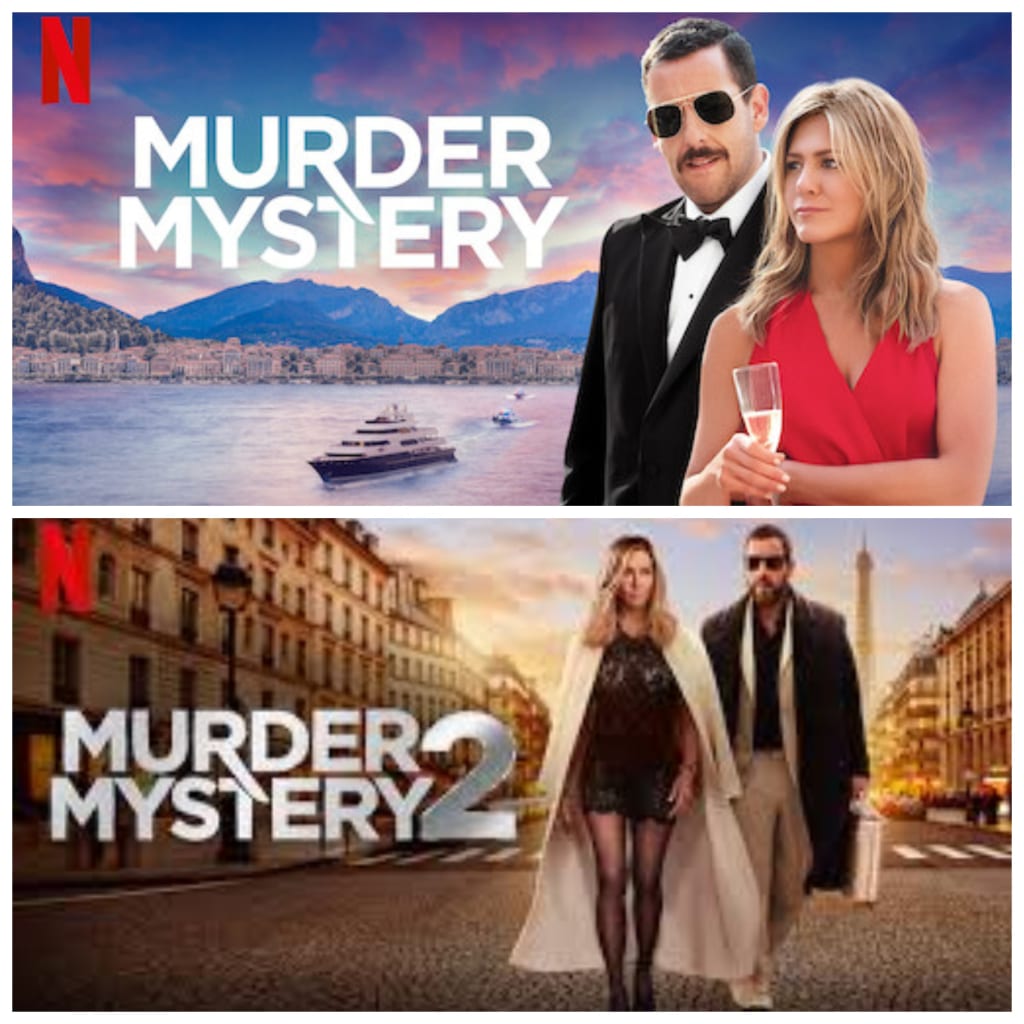 I am a huge, repeat, huge Adam Sandler fan, and have been for at least a quarter-century. Where do I start with him? The man is simply too, too underrated and underappreciated. One of the main reasons why I don't like the big award shows is because they don't give deserving credit. Sandler's films are better than 90% of the stuff that's nominated! Billy Madison, Happy Gilmore, The Waterboy, The Wedding Singer, Little Nicky, The Longest Yard, Pixels...I could go on. Sandler has this big working relationship with Netflix that has done wonders for him. His production company, Happy Madison, has delivered quite a few gems for Netflix, and among them was 2019's Murder Mystery.
Sandler co-starred with Jennifer Aniston (who, prior to this film, last worked with Sandler in Just Go With It) in this film, with the pair playing married couple Nick and Audrey Spitz, who were celebrating their 15th wedding anniversary. The marriage was quite a good one, but Audrey's main complaint was that she and Nick never went anywhere. Her long goal was a European trip, and even though it was ahead of time, Nick surprised Audrey with plane tickets to Paris. The flight saw the couple meet Charles Cavendish, who invited them on a yacht heading to a wedding party for his uncle, Malcolm Quince. That's where things start to get interesting.
The party includes Grace Ballard, a famous actress, Tobey Quince (Charles' cousin and Malcolm's son), Colonel Ulenga (Malcolm's longtime acquaintance), and Juan Carlos (a race car driver). The interesting part: Malcolm's bride is Suzi Nakamura, who used to go with Charles. Oh boy! Malcolm later appears and verbally buries his guests for wanting to be around him only for his wealth, which he plans to leave only to Suzi. At that moment, the lights go out, and when they come back on, Malcolm is found with a knife in his chest!
Nick's suspicion is directed towards Tobey, after all, he didn't look too happy about being cut out by his father. One problem: Tobey's found dead in an apparent suicide. It's followed by Sergei (the Colonel's bodyguard) being shot, but not before telling a story about Malcolm actually hooking up with the Colonel's fiancee, Madeleine LeBoutillier, which resulted in a child being born, though sadly, the offspring died at birth. Nick and Audrey go on their own investigation, but they end up as the main suspects! Nevertheless, they persisted, and it saw them shot at in a library, as well as nearly killed by a blow dart. While they avoided that shot, Suzi--unfortunately--didn't, as she was killed after being confronted by the couple and Juan Carlos.
After Nick tossed a plate at the masked assailant, he and Audrey turned their attention to Charles, figuring that he was behind everything. Do I need to say it? Yep. Dead. Poisoned, in fact. So with that, Nick and Audrey, with Inspector De La Croix present, gathered the remaining possible suspects together and grilled them. Vikram had a solid alibi, as did the Colonel, and they were very certain that Juan Carlos wasn't involved at all. That left Grace, and once the conversation turned to the aforementioned child of Malcolm and Madeleine, Nick revealed that while there was a death certificate for Madeleine, there wasn't one for the child, which they all realized could have been a daughter, not a son.
How does this involve Grace? As Nick pointed out, Ballard wasn't her real surname, as she did one of her earliest films under her actual name, Grace Butler--the surname being a loose translation of LeBoutillier. So that's when it all came out: Grace was Malcolm and Madeleine's child, and she wanted two things: revenge on Malcolm, and the inheritance. She enlisted Tobey to kill his father, doing so after she turned out the lights, but she killed Tobey to get the money all to herself. She also killed Sergei to set up the couple, and it was Grace behind both attempts on Nick and Audrey, with the second one killing Suzi. Grace also poisoned Charles to keep him from finding out, though she was also angered that she carried a torch for Suzi and not her.
Grace admitted to being the believed-to-be-deceased offspring, but not to anything else, as she was looking for her big payday. As Grace walked off, Audrey ordered her to remove her hat, as she, most likely, had a scar from that plate that Nick tossed. When Grace refused, De La Croix removed the hat, and there was the scar, evidence that she was the masked assailant. Grace holds Audrey at gunpoint, only to be shot on her shoulder by Nick. While Grace is stopped, Vik's statement that he and Grace were together when Sergei was shot ended up revealing that Juan Carlos committed that shooting, as he wanted revenge Malcolm due to his father losing both of his legs in a racing accident. He doesn't get away for long--he ends up run down by a tour bus.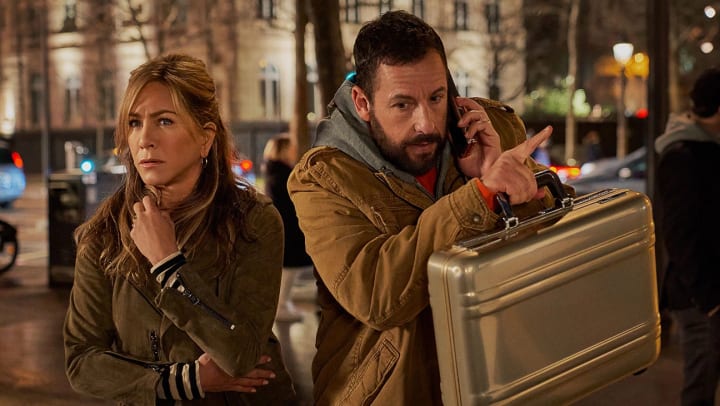 To my extreme excitement, a sequel to Murder Mystery was announced in late 2022, and hit Netflix earlier this year. The film's opening revealed that in the time that passed since the events of the first film, Nick and Audrey started a private investigator business, which, well...at least they're trying. Nick later gets a call from Vik (who I was happy to see back in the sequel), who invites the couple to his wedding party at his private island. He's not the only familiar face we see, as Colonel Ulenga is back, though he went from being without his left hand to being without his left arm, with Vik revealing that the Colonel took a bullet for him back in Mumbai.
The party's cast of characters included the Maharajah's bride-to-be, Claudette Joubert (very elated to see Mélanie Laurent, from Inglorious Basterds), his sister, Saira, his ex-fiancee Countess Sekou (along with her right hand woman, Imani), his bodyguard, Lou, and his footballer business partner, Francisco Perez--who can't stay away from Audrey. Everything goes at a party is supposed to go, but as the groom enters riding an elephant, we see a cloaked figure walk off, and the man believed to be the groom collapsing. Saira worries that her brother has been killed, but the deceased is revealed to be Lou, while Vik is missing.
So we have another case, and it sees everyone point the finger at each other, while the investigation is led by Connor Miller, a former MI6 hostage negotiator, as well as the author of a book that details investigative methods. So Vik is held for ransom, with the price starting at $50 million before going up to $70 million, and Nick and Audrey are tasked with delivering the ransom. The quest results in the couple ending up in the van with the kidnappers, and a fight for their lives results in the van crashing in a cafe, the kidnappers dead, and the Spitzes (again!) framed. Miller arrives to take the ransom and continue the investigation, but his car is blown up. A thief takes the briefcase, but that person ends up run down and killed, leading to a second thief taking the case. The couple track the case, with help from De La Croix (knew he'd be back), to a chateau, but upon arrival, they are encountered by Countess Sekou and Imani, who hold them at gunpoint.
So are the Countess and Imani behind Vik's abduction? No. They did, however, steal the briefcase, as it was all they wanted, and they planned to eliminate the couple, after which Nick warned Imani that alliances like this always end in betrayal. Sure enough, that's what happens. The Countess shoots Imani and then starts a fire in an attempt to kill the Spitzes, but Imani uses her last dying breath to shoot the Countess to death, after which Nick and Audrey free themselves. After this, we get a big climactic meet up with everyone involved, though it's briefly interrupted by a woman named Susan (played so humorously by Jillian Bell), who was looking to meet her true love in Paris. Vik appears with a bomb vest strapped to him, and time is running out. However, Nick lets it run out, as he knows that the bomb wouldn't detonate, and it doesn't. Nick deduces that the killer would never jeopardize the ransom, adding that the fact came from the very book written by the actual kidnapper: Connor Miller.
So Miller's the bad guy, because he's played by Mark Strong, and there's apparently a clause in his contract stating that he has to be the villain. He shoots De La Croix before running off, leading to Nick and Audrey pursuing him while the rest of the group tries to disarm the vest. Miller's group ends up taken down, and the couple's battle with Miller ends with him sent over the Eiffel Tower and killed by a chopper's blades, while Vik is free from the vest. Everything's all and good, though Audrey notices a dark smudge on Saira's arm, with Saira claiming that her henna had smudged during the night's commotion. At that moment, I start beaming, because I had just watched the first film a day prior to seeing this. The first film had a twist, and Audrey had that look that said, "This story's not over."
Audrey used her years as a hairdresser during her summation: she stated that henna doesn't smear once it sets, and added that she wasn't at the welcome dance, and suddenly showed up after the elephant arrived. With that, it all came out in the open. Saira was the cloaked figure Audrey saw at the party; she killed Lou thinking that he was her real target--Vik. As Nick deduced, Saira was furious over the fact that her parents gave their family business to Vik, as she was much smarter than him. She was behind the murder attempt in Mumbai due to her evil ambition, and made the aforementioned attempt at the party. Once Saira was exposed as a greedy and ruthlessly murderous villainess, she grabbed a gun and attempted to kill Vik again, only for Claudette to knock her out. So to recap: Vik's abductor is deceased, two villainesses killed each other, a third is taken down and defeated, De La Croix and Susan hooked up, Vik and Claudette got married, and Nick and Audrey saved the day again...only for their pilot to take the money that Vik gifted them. Crazy.
And now, the reason for this review, the villainesses:
Grace Ballard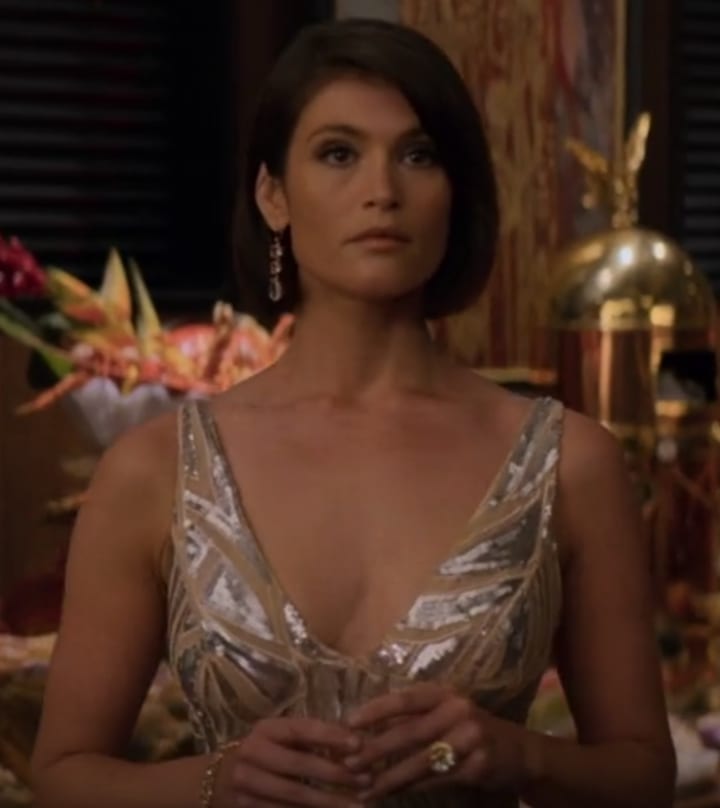 The first film gave us quite a fiendish villainess in the form of Grace Ballard, played wonderfully by Gemma Arterton. Grace was elegant, stylish, and very lavish, but as we saw in the climactic reveal, she was quite the femme fatale as well. She was a woman who was hellbent on revenge over being abandoned by Malcolm, and was also determined to get what she felt was rightfully hers. Grace didn't care who she had to go through, and definitely didn't care who she had to kill, as long as she achieved her ultimate goals. Arterton, unsurprisingly, played all of Grace's facets very well, while also keeping up with the comedic pace that comes in a Happy Madison film.
Gemma Arterton is best known for being on a long list of Bond women, playing Strawberry Fields in the film Quantum of Solace. She also played Gretel in Hansel and Gretel: Witch Hunters, alongside Jeremy Renner and Famke Janssen, and recently, Arterton appeared in The King's Man, a prequel in the Kingsman film series.
Check out Grace Ballard's profile on Villainous Beauties Wiki!
Countess Sekou and Imani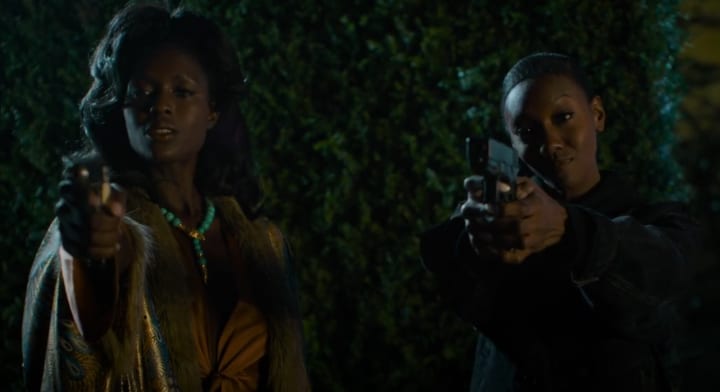 The 2023 sequel gave us an amazing hat trick of villainesses, starting with the surprise reveal from Countess Sekou (played by Jodie Turner-Smith) and Imani (played by Zurin Villanueva). These were two hilariously catty characters, but that's basically all I expected. Their reveal as villainesses was immensely surprising, but the humor remained, especially with that weird laugh from Imani. Both of them were opportunistic and greedy, but as we saw, the Countess was just a tad more ruthless than her co-conspirator, though Imani gave her a taste of her own medicine.
Turner-Smith and Villanueva were hilarious in their roles, and they really shined while acting out their characters' greedy and criminal demeanor. Turner-Smith's film debut came in the horror-thriller The Neon Demon in 2016, and she also appeared in the film, Queen & Slim in 2019. As for Villanueva, this film isn't her first time on a Netflix original; she appeared in an episode of the Netflix series, Insatiable. She also appeared in three episodes of the Amazon series, The Marvelous Mrs. Maisel, with her most recent appearance coming in the show's fifth and final season.
Check out Countess Sekou and Imani's profile on Villainous Beauties Wiki!
Saira Govindan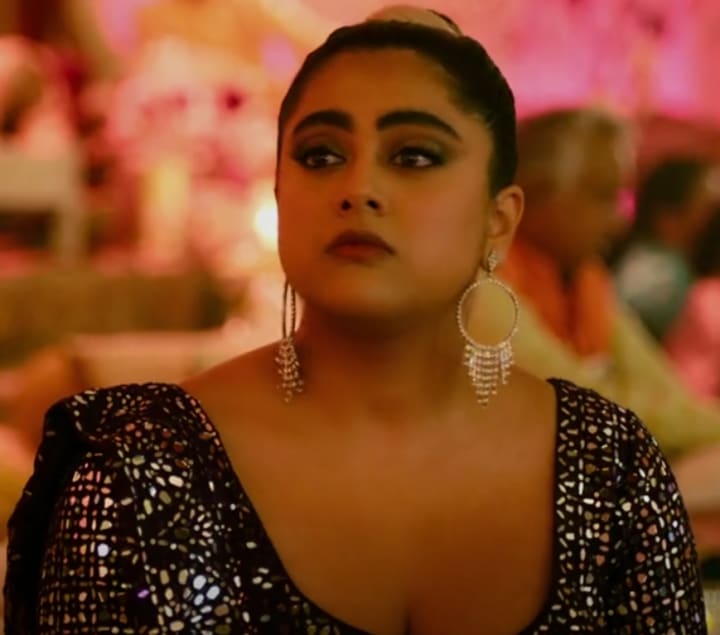 The most delicious villainess out of the three featured (if not out of the four from the two films combined) had to be Saira Govindan, played by Kuhoo Verma. Saira's a bit of an enigma at first, but the climax tells us everything we need to know about her. Though she appears to be low key and quiet compared to those around her, Saira is quite sinister in her own right. I absolutely loved this villainess, mainly because she reminded me of a villainess who appeared in an episode of Quantico--a princess who attempted to kill her brother to gain her family's throne. And just like that villainess, Saira made multiple attempts.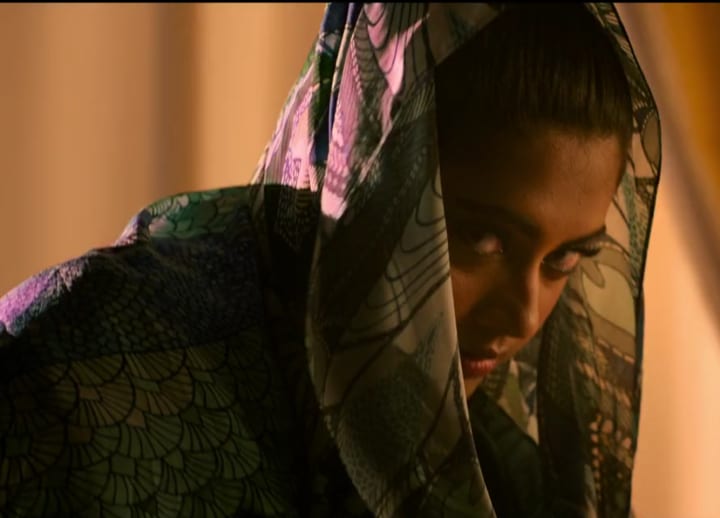 There was no way I was going to write this review and leave this pic out. As if my reasons for being a fan of Sandler's films isn't long enough, I would receive this delicious little nugget: a brief glimpse of Saira in her "cloak of evil." That moment told me everything. Saira's quiet and unassuming demeanor was a clear mask for her true sociopathic and vicious personality. She wanted her brother dead so she could take the throne of her family's business, and her persistence in her quest was vast. Verma's overall performance was amazing, but her shining moment was her reveal, which saw her dive in to Saira's insanity very gracefully, including the flashback scene, where Varma acts out Saira's heel persona to absolute perfection. Varma's first acting role was in the film, The Big Sick, and she is set to appear in the upcoming comedy, Space Cadet.
Check out Saira Govindan's profile on Villainous Beauties Wiki!
Overall, both films were amazing! I've seen Murder Mystery twice, and enjoyed it each time, and I really loved the sequel; it was even crazier than the first film! I sense a third film happening; I can see Sandler and Aniston being back for a (most likely) final chapter in this saga. If it were up to me, I'd bring Grace and Saira back as a villainous alliance bent on revenge against the couple. I'm hopeful that we do get a third film, I wouldn't be surprised if we get that announcement in due time!
If you like this story and review, click the heart and subscribe button, and feel free to comment below! Tips and pledges would be greatly appreciated, but only if you want to do so!
Reader insights
Be the first to share your insights about this piece.
Add your insights