Remembering 'Looking for Mr. Goodbar'
'Looking for Mr. Goodbar' launched the career of the Dalai Lama's favorite male lead, Richard Gere.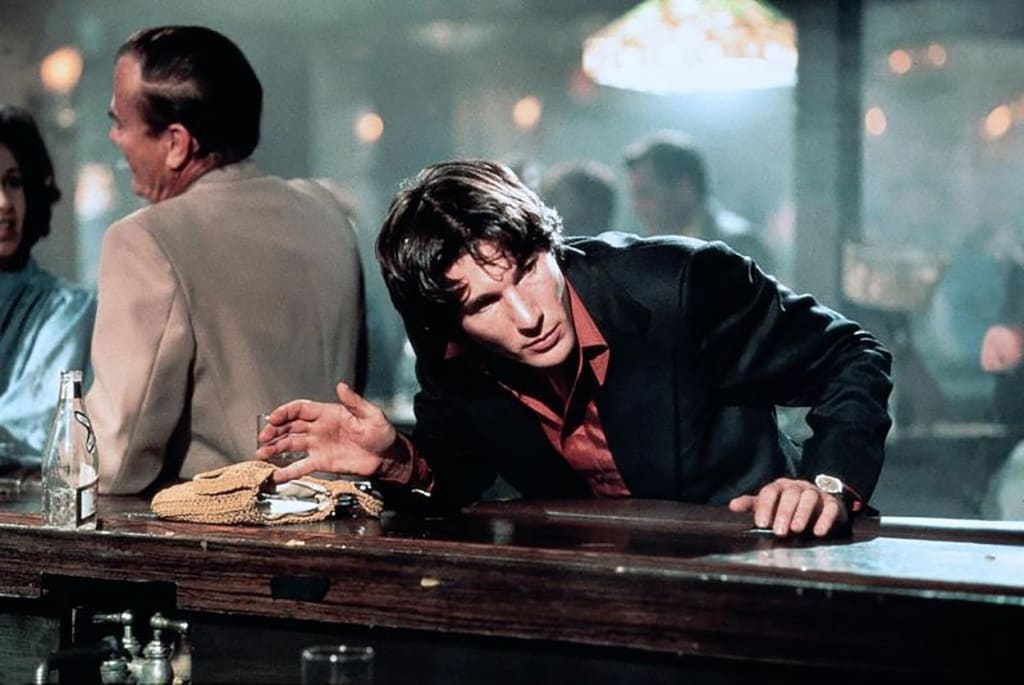 People are always asking for movies that stand the test of time. Movies that were made and feel like another era, but are so authentic that they could not be recreated today. These are the classic films like The Godfather, Ordinary People, or Apocolypse Now. I still have almost every VHS tape, laser disc, DVD, and Blu Ray I ever bought. It's a good thing too, because films like Looking for Mr. Goodbar are not easy to find. Sure you can watch it on YouTube until the Russian site that loaded it up to a channel gets shut down for copyright issues but that doesn't feel right. Back in 1977 when it was still a novel idea to successfully adapt a film from a book, and the only sequel was Rocky II, the classic Looking for Mr. Goodbar launched the career of the Dalai Lama's favorite male lead, Richard Gere. Unfortunately the movie does not compare to the book, and after re-watching the film recently I have taken it off my list of movies that stand the test of time. But I highly recommend reading the book.
A grotesque, senseless, and sanguinary murder became the skeletal basis for Judith Rossner's best selling novel, Looking For Mr. Goodbar. Rossner was able to shape and structure the events of the actual murder of a New York woman into a compelling narrative by preserving the thin line between fact and fiction. Director Richard Brooks (who filmed Truman Capote's seminal non-fiction novel, In Cold Blood) projects his own vision of the story in his film adaptation, Looking For Mr. Goodbar. After the publication of the novel and before the release of the film, reporter Lacey Fosburgh published excerpts from a forthcoming book that reports the facts of the New York girl's murder in a realistic manner. Of the three versions offered in this media maze, Brooks' presentation is the least effective-and painfully so. Brooks may be working in the most impressionistic medium of the three, but the director has seriously distorted the message. It's common practice for a filmmaker to alter—if not altogether dismiss—the source of his adaptation. Brooks' modifications of the novel are a large part of the fundamental problems that plague the movie Looking For Mr. Goodbar. The film's divergences from Rossner's novel are responsible for cheapening the novel's central ideas.
Diane Keaton's Theresa Dunn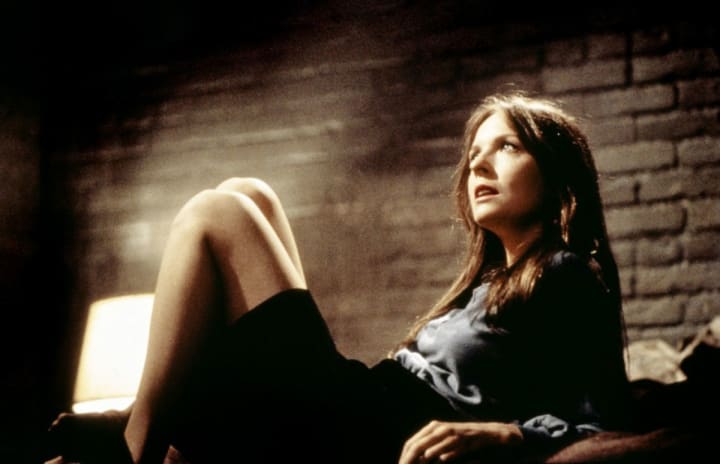 Richard Brooks lost sight of the tragic and haunting character of Theresa Dunn that Rossner created. In the novel, Theresa's personal struggles against curvature of the spine, a dominating and religiously obsessed father and the emerging era of female sexuality from which she feels cut off suggest a fascinating woman. Theresa's confusion and anguish over her physical deformity are compounded by her family's adoration of Katherine, her stunning older sister. Her father's belief that Katherine is perfect (while she's actually a swinging stewardess, screwing coast to coast) and insisting that God has punished Theresa with her lameness spur her into a sexual odyssey that ends with her being brutally stabbed to death.
A particular set of circumstances cause Theresa to adopt a sexually schizophrenic lifestyle. These circumstances are the critical elements that Richard Brooks' film leaves out. Diane Keaton is a compassionate and effective teacher of deaf children during the day. At night she develops the habit of cruising bars, singles bars and sleazy bars, in search of the sensations she has always felt deprived of Theresa's gradual induction into the night world of first-night fucking, stroke-and-toke sex, and her inability to derive satisfaction from her straight boyfriend James (William Atherton) are all related to Theresa's past. But rather than using these motivations to tell the story of one woman's experience, Brooks moves from the specific to the general, attempting to turn in a moral tale for the savage Seventies.
The casting of Diane Keaton, a woman far too beautiful to make Theresa Dunn believable, destroys the motive for Theresa's solitary evening sojourns. The slight limp from spinal surgery has been removed by Brooks, and only Theresa's scar remains. The reasons she gets involved with unstable characters like Vietnam vet Tony (Richard Gere) lack the psychological clarity provided in Rossner's book.
The roots of Theresa Dunn's motivation have been destroyed and altered, while other aspects of her personality are omitted. Many of Brooks' additions contribute more confusion than illumination. His use of disco music and modern bars as cultural symbols representing a new kind of hedonism seems strained, false and unduly sinister.
The shallow characterizations surrounding Theresa fail to supply enough support to make her plight comprehensible. Richard Kiley (the father) is saddled with a hopelessly overdrawn character, while Tuesday Weld (Katherine) is wasted in a few transparent glimpses into Katherine's dissipated life. Atherton doesn't get a chance to make much sense out of the part James plays in Theresa's life and Alan Feinstein has similar troubles with Martin, the cruel professor who becomes Theresa's first lover. Their acting is not deficient, the fault lies in Brooks' failure to construct and describe the characters.
Only Richard Gere and Diane Keaton manage to occasionally transcend the contrivances around them, but even their brilliance cannot redeem the film's pop-psych framework.
If you see Looking For Mr. Goodbar without reading the book, you're off on a wild goose chase. Anyone familiar with the tragic story of Theresa Dunn will agree that Richard Brooks' Looking For Mr. Goodbar substituted sensation for common sense or sexual insight.
Reader insights
Be the first to share your insights about this piece.
Add your insights