"Red Notice" REVIEW
Red Notice has already made history as Netflix's most expensive movie to date. But is it one of Netflix's best movies to date?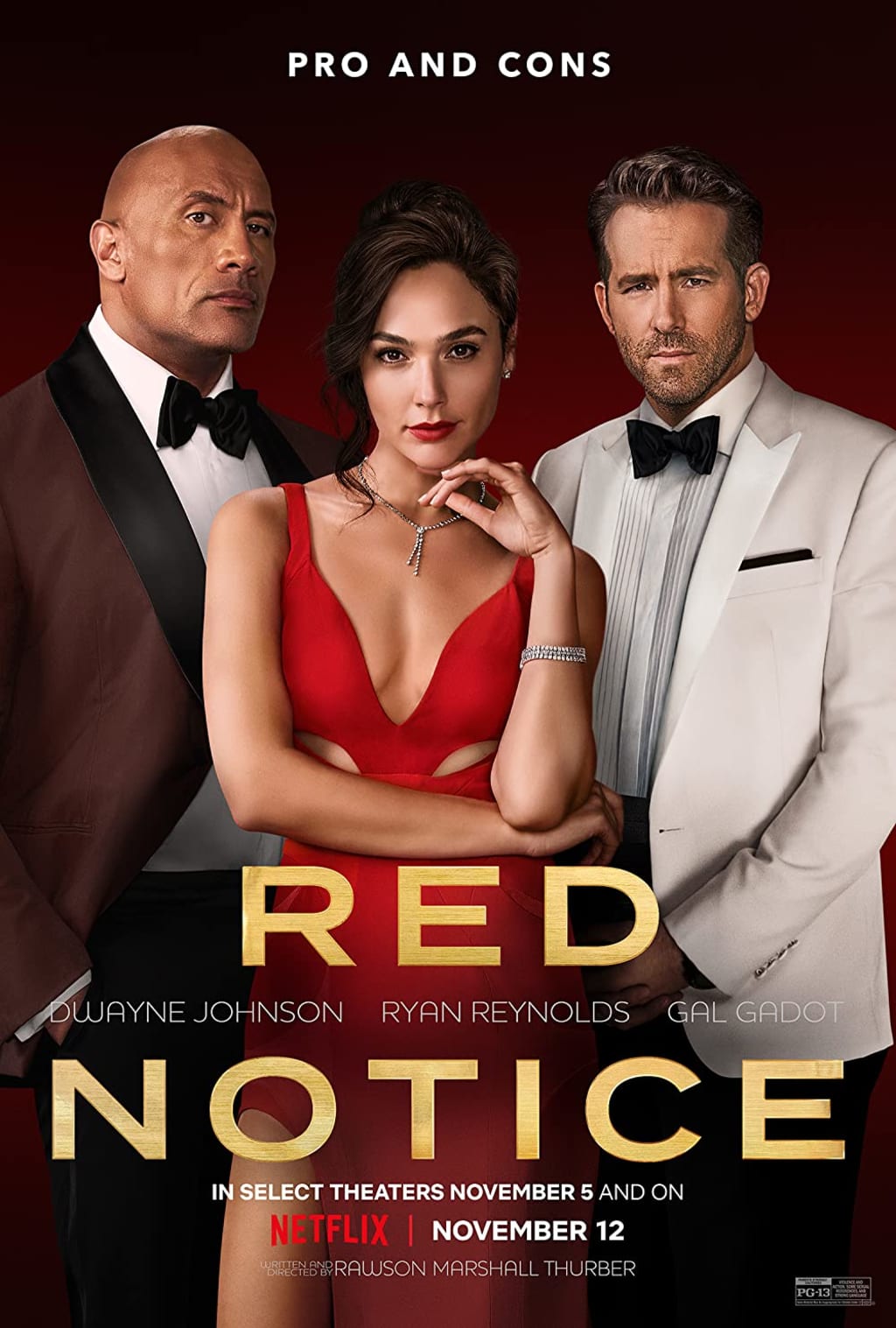 The story goes that there are three golden eggs. Together, they're worth millions of dollars. The problem is that one of them are missing, and the other two are locked up tight. However, the prize money is just too tempting for the world's top art thieves.
Enter John Hartley (Dwayne Johnson), a criminal profiler who specialises in art theft. He knows that Nolan Booth (Ryan Reynolds) is already working to steal one of them, while an even more notorious art thief known only as the Bishop (Gal Gadot) is also in the game.
There's just one problem: when Hartley stops Booth from stealing one of the golden eggs, he's double crossed.
Exit John Hartley?
In order to clear his name, Hartley needs help. In order to steal the eggs before the Bishop can, Nolan Booth needs help. If they work together in some kind of odd-couple team-up, they might both be able to win. Provided, that is, that they don't kill each other first.
Red Notice wasn't intended as a Netflix movie, but because of theatrical complications related to covid, it has broken records already as Netflix's most-expensive movie. Will it also break records for Netflix's most-loved movie? Netflix's most-watched movie?
Considering the combined star-power that the poster contains, it's no surprise that Netflix has put a lot of effort into marketing this movie. And honestly, that poster is probably about as accurate a depiction of the movie as you could expect.
Dwayne Johnson is playing a Dwayne Johnson-type character. Ryan Reynolds is playing a Ryan Reynolds-type character. Gal Gadot is playing a Gal Gadot-type character. If you like the three of them, you will probably enjoy them interacting throughout the movie.
And yet, the combined effect almost feels a bit nostalgic. While Netflix's marketing around Red Notice is most evocative of their last Ryan Reynolds-blockbuster, 6 Underground, the movie most feels like some of the action/adventure romps of the mid 2000s. The dynamic between the FBI profiler (Dwayne Johnson's John Hartley) and the master thief (Ryan Reynold's Nolan Booth) has touches of The Fast and the Furious before those characters were superheroes who went to space. The heisty, globetrotting nature of the movie is reminiscent of National Treasure or The Mummy.
Undoubtedly, if Red Notice is successful enough, there will be the inevitable cash-grab sequel, but for the moment it feels like a breath of fresh air to have an action/adventure movie that is not an adaptation or a sequel.
But with that said, Red Notice isn't exactly working to challenge anything. As stated before, all of the leads are basically playing the same role that they play in every other movie they appear in. Ryan Reynolds even drinks Aviation Gin, in case there was any question about whether or not he was just going to be playing his usual role.
If you like Ryan Reynolds' quippy, puppy-dog performances, then you'll enjoy him here. If you find him insufferable, nothing about this movie will change your mind.
Beyond the performances, everything is thin while remaining broadly competent. The movie's plot has the necessary number of twists and betrayals, but it's not going to revolutionise the genre. At one point, a character explicitly points out that they're busy chasing a bunch of MacGuffins, in case there was any question in the audience's mind. The action is distracting and silly. Some sequences, like an early fight that takes place on some scaffolding, are fun. Others are less fun. All in all, the movie hits more or less the exact number of points that you'd expect.
So, should you watch it?
I think you probably already know the answer to that by now. If the combative, jokey dynamic between Dwayne Johnson and Ryan Reynolds as buddy duo sounds like fun to you, you'll have fun with Red Notice. But it's not exactly a treasure worth chasing around the globe.
"Red Notice" is available via Netflix.
review
Short stories, movie reviews, and media essays.
The primary task of life is outgrowing the bio you have already written.
Receive stories by Littlewit Philips in

your feed