Opera's Race Problem
There is importance in acknowledging racism in opera, and staging racially-sensitive and culturally-appropriate operas in the twenty-first century.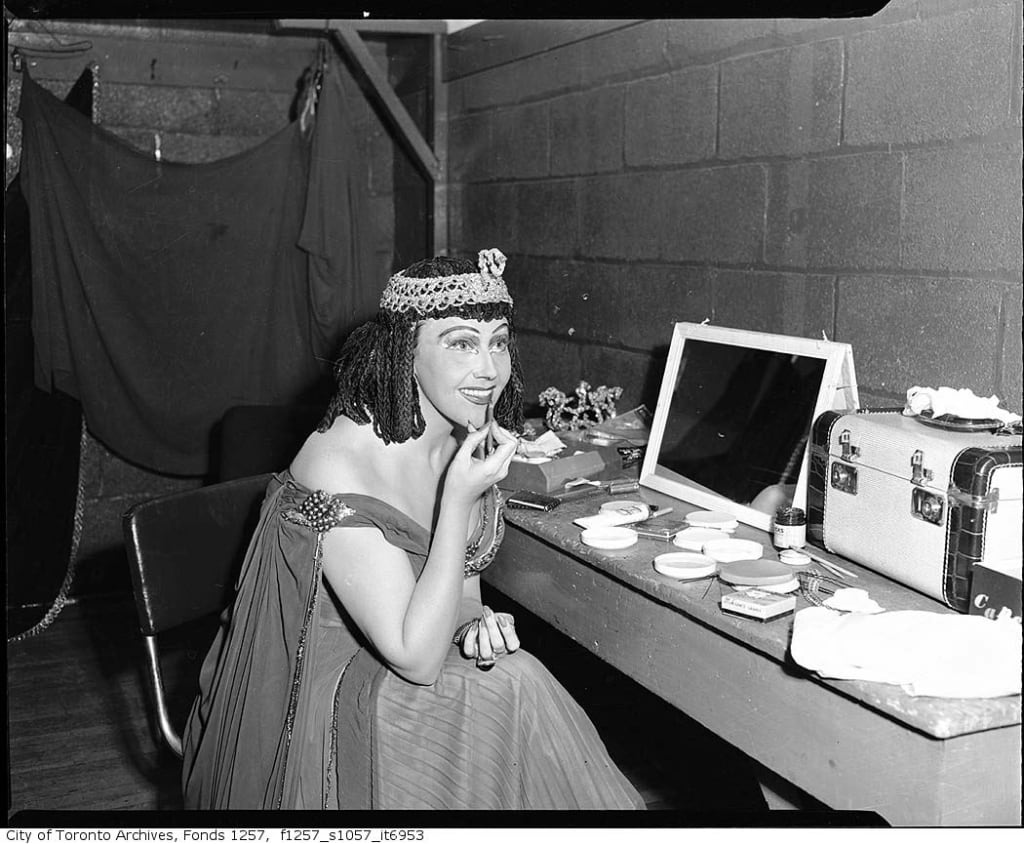 Metropolitan Opera performer for Aida in dressing room at Maple Leaf Gardens. 
Many of today's most popular operas traditionally take place in locations considered exotic by Western culture: Verdi's epic Aida takes place in Ancient Egypt. Puccini's famous Turandot takes place in medieval China, and his Madame Butterfly in late nineteenth-century Japan.
These operas were created at a time when the orientalist trend was widespread in literature, art and music. Audiences, often uneducated, were attracted to the grandiose sets, extravagant costumes, and storylines guided by customs and traditions that were, to European audiences, strange, fascinating and exotic.
Today, at a time of rising awareness to racism and sexism, it is time to acknowledge that western opera has a major problem.
It is overwhelmingly white, racially insensitive, and sometimes outwardly, blatantly, racist.
People of colour are severely under-represented in the world of classical music. While orchestras can have some diversity, it is nearly impossible for a black ballerina to be cast in a corps de ballet or principal role, as black dancers still face a lot of racism.
This rejection pushes away people of colour, making opera and classical music look inaccessible to them, leading them to feel unwelcome.
When a non-white opera singer stands out for a brief moment, they are almost guaranteed to vanish into oblivion shortly after.
Let's take the example of Chinese coloratura soprano Ying Huang, who sang a magnificent, touching, and heart-breaking Madame Butterfly in Frédéric Mitterand's 1995 filmed adaptation of Puccini's opera.
She later sang Pamina at the Metropolitan Opera's english-language, children-friendly version of Mozart's Magic Flute. She later had a few scattered concert performances, poor-quality videos of which can be found on Youtube.
Ms. Huang stated herself that she couldn't sing Madame Butterfly on an opera stage because it was inappropriate for her fach, or voice type. As a coloratura soprano, singing such a dramatic Puccini role onstage would cause permanent damage to her voice.
However, why was she not singing La Traviata or Lucia di Lammermoor at the Metropolitan Opera, instead of the soprano chosen for her looks, who blotched and ultimately skipped Donizetti's signature vocal acrobatics during the madness scene?
The other problem is when white singers try to impersonate Asian or African characters. Today, blackface and yellow-face are deemed offensive in any other forms of entertainment, but for a strange reason, they are still accepted on the operatic stage.
They are even quite mainstream.
Madame Butterfly was staged the Metropolitan Opera in spring 2016, and a year later, at the Kennedy Center. In every staging, the different singers who interpreted Japanese characters wore make-up that featured exaggerated pseudo-Asian traits. The same thing happened in Zeffirelli's thirty-one-year-old production of Turandot at the Met.
Spanish tenor Placidò Domingo wore dark foundation when he sung Otello in Zeffirelli's 1986 adaptation of Verdi's opera. More recently, Russian soprano Anna Netrebko wore blackface when she sung Aida at the Salzburg Festival in the summer of 2017.
YouTubers immediately face justified backlash when they try to impersonate African people with make-up. So why did most critics close their eyes over Ms. Netrebko's blackface, and how could the Salzburg Festival's directors allow it in the first place?
At a time when opera is going through important changes necessary to its survival in the twenty-first century, it's important that it takes into consideration the racism that has been ignored for decades, if not centuries.
With the advent of twentieth-century technology, the nature of entertainment has changed. Films (and Netflix) have replaced opera as the first and main source of entertainment for the general public. Opera publics today are generally white, aging, and wealthy enough to afford increasingly-expensive tickets. Consequently, many if not most opera houses are facing severe financial problems, with some of them even being forced to shut their doors due to a lack of funds.
To prevent opera's slow and painful death, companies around the world are attempting to reaching a wider and younger audience through radio, TV and DVD releases, but most importantly by broadcasting operas live in movie theaters around the world.
Those high-definition broadcasts are affecting the way productions are crated and staged because the performances are now being filmed for an audience in movie theaters, with different shots and many close-ups. This has greatly affected the ways sets, costumes, and props are selected and created. Some opera houses (including the Metropolitan Opera, and not without just cause) have even been blamed for choosing singers based on their looks first and their vocal abilities second.
On the other hands, "unconventional" productions that take operas out of their original setting and context are becoming more common, often attracting the ire of opera purists who, with their pitchforks and torches, label their dislikes as "Eurotrash," since, unsurprisingly enough, opera houses in Europe allow directors to be far more creative with their ideas than American opera houses do.
For some directors, the sky is the limit.
Literally.
Puccini's La Bohème was staged at Opéra Bastille in December 2017, but it didn't take place in its traditional context, Paris' Quartier Latin on Christmas Eve in the 1800s.
Instead, director Claus Guth took it to outer space.
If such a radical move can be accepted in a major international opera house, (regardless of the criticism it has received by the aforementioned opera purists), all opera houses can and should modify their productions to make them racially and culturally sensitive.
The misogyny of opera has often been addressed. Most female operatic characters are young, naive girls who wait for men to save them, are victimized, and almost always end up dying. Critics of Madame Butterfly claim that it reinforces the stereotype of the submissive Asian woman who is used as a sexual object by the Western man, and thrown away when he is bored with her. Fortunately, from a different angle, Butterfly can be perceived as a victim, but as a an allegory of childhood and innocence, with her death by suicide seen as a symbolic shedding of the child and entrance into adulthood.
Circumventing misogyny in opera led to very interesting productions. For instance, the Royal Opera House's Lucia di Lammermoor, where the heroine plans, with her maid, the murder of the man her brother is forcing her to marry, and only becomes mad after she miscarries her lover's child. Or the Coppenhagen Opera House's feminist take on Wagner's Ring des Niebelungens, which revolves around the Valkyrie Brünnhilde rather than Nordic mythology hero Siegfried.
If opera's misogyny is being increasingly dealt with, it is now time for its racism to be addressed.
Fortunately, the solutions are easy.
When staging an opera, the music and the libretto are the only things that remain unchanged. What makes opera unique, however, and what make people want to go see different productions of the same opera, is the staging.
In the Royal Opera House's recent staging of Verdi's Otello, German tenor Jonas Kaufmann fortunately did not wear blackface for the title role.
Hopefully, other opera houses will follow suit and understand that the public is knowledgeable, intelligent, and doesn't need to have everything literally spelled out in front of them to understand what is going on.
It isn't necessary for Aida and Otello to be in blatant blackface so that we know they are African characters, nor is it necessary that sopranos singing Turandot and Butterfly wear heavy, caked make-up so we know their characters are respectively Chinese and Japanese. That may have worked in the late nineteenth century, but not with today's Live in HD broadcasts, which make such makeup appear even more awkward in close-ups and reinforce, to broader audiences, the idea that opera is racist.
When creating new productions, directors who let their creativity roam free with sometimes-extravagant choices can make a conscious decision to make their productions racially and culturally sensitive.
When opera houses are rotating current or old productions, even if they are long-time favourites like Zeffirelli's, it isn't very hard nor very demanding to edit out the most offensive aspects, namely white singers masquerading as African or Asian people.
It's as simple as not applying that kind of makeup.
The little things also matter, like costumes, decors, and props. It's important that in an opera taking place in Nagasaki, Japan, the lanterns used as decorative accents are not blatantly Chinese. Someone in the audience will always spot the difference, and wonder if budget cuts and other financial difficulties have forced the opera house to recycle some of last year's Turandot's decors for this year's Madame Butterfly.
The solution to the other half of opera's race problem is also quite simple: hiring more people of colour, and in general selecting singers for their talent and not their looks. The public know they're attending an opera, and not a realistic period movie. If La Traviata's lovestruck-puppy Alfredo Germont is sung by Jonas Kaufmann and his interfering, moralistic father by Eric Owens, it will not ruin the opera because the son is white and the father is black. It will be a once-in-a-lifetime moment where two of opera's greatest voices appear together in powerful scenes and emotional duets.
Even better, why not cast more African singers for African roles, and Asian singers for Asian roles? This said, this should not be taken completely to the letter until it becomes a whole new extreme; it would be a shame to have some of the best black voices limited to Porgy and Bess. The idea is, again, to make opera as a whole more diverse instead of typecasting.
In opera's pantheon of stars, many black singers stand out: Kathleen Battle, Leontyne Price, Jessye Norman, Shirley Verrett. And more contemporary ones, such as Denyce Graves, Eric Owens, Lawrence Brownlee, Angel Blue and Pretty Yende. They need to be heard everywhere, and not just typecast into black or "exotic" roles. They need to be heard in works by Wagner, Puccini, Verdi, Donizetti, Massenet, Mozart, in all the popular works that audiences hold dear.
What will ruin opera is perpetuating the idea that it is inaccessible to all but the white, stuffy, aging elites. And there is no better way to do so than to make people of colour uncomfortable by perpetuating negative stereotypes and transforming opera into minstrel shows. If directors refuse to understand this, then the singers themselves, especially white singers, should take a stand against it.
In conclusion, creating racially-conscious productions or simply making the choice to avoid blackface, yellow-face, and cultural appropriations. This is crucial for opera companies around the world, if they want their art not to just survive for an increasingly smaller pool of admirers, but attract younger audiences and be, once again, more reachable to everyone.
The idea is not that Madame Butterfly should be banned for misogyny, nor that Zeffirelli's Turandot sets and costumes be lit into a bonfire in front of Lincoln Center in the name of racial equality. It is that the world of opera and classical music no longer remains overwhelmingly white.
Opera should no longer bury its head in the sand and remain insensitive to its own racism. Race awareness should not be perceived as censorship, but rather as vital necessities to insure the success of opera in the age of the Kardashians.
Because awareness of those issues is what will ensure its longevity. It is what will encourage today's generation and future ones to go to the opera and not just to concerts of the day's latest pop-star.
About the Creator
French-Lebanese-American. Writer, high heels aficionado, dark chocolate addict, doting mother of a purring machine/homicidal furball.
Reader insights
Be the first to share your insights about this piece.
Add your insights