Only Murders in the Building Season 2 Review
'Only Murders in the Building' is one of the best character shows, studying an assortment of backstories.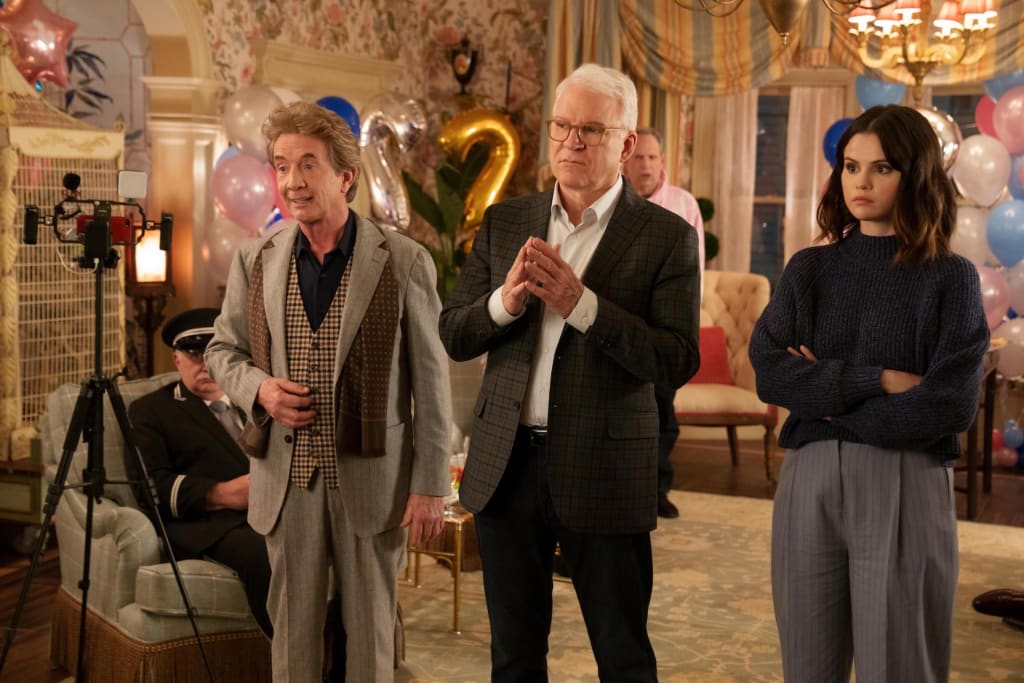 You never said a murder case would happen a second time.
Season 2 of Only Murders in the Building picks up right after a second murder occurs in the building. Framed for the murder, the trio once again figures out clues behind the case. Investigating the murder also helps them reconfigure relationships in their lives.
Once again, I binged every episode of season 2 of Only Murders in the Building while on the treadmill. This show has a strong narrative. Each episode ends with a brilliant twist that makes you gasp and lean forward in your seat.
I will say it again, along with several other fans, Steve Martin, Martin Short, and Selena Gomez have a striking dynamic. You'd never think they'd work well together. Learning several life lessons from one another, they're opened more out of their barriers.
Gomez was a standout in Mabel's arc. Dealing with trauma from the recent murder, Mabel reluctantly begins a relationship. Gomez was outstanding, building emotion that deserves more recognition.
At times, scenes between Martin and Short last too long, allowing them to do their usual comic shtick. They bicker too much. Filmmakers should have lessened that. It took away from the story. They broke character too much. We needed to dive more into the personal lives of Charles and Oliver.
Only Murders in the Building is one of the best character shows, studying an assortment of backstories. The acting is excellent. The show institutes what hidden battles people face. I felt like I knew them because they had real problems. It does not matter how small your part is. In fact, you should pay attention to every character.
I know viewers have mixed opinions about her, but there's an appearance by Amy Schumer - playing herself. This show likes to surprise viewers with unexpected cameos. Tina Fey appears as a snooty podcaster. Oh yes, and Jane Lynch. I won't spoil anything about her character.
More credits include Michael Rappaport, Adina Verson, Ryan Broussard, and Cara Delevingne. Nathan Lane deserves more screen time. I was impressed with how well he conducted his character.
Theo (James Cavely) is my favorite supporting character. He deserves his own series, especially how he conducts a positive influence on the deaf community. The episode with Margot and Theo is a great episode because we get to see this dynamic unfold. We need more episodes like this!
Abiding by the usual mystery tropes, there is always an obstacle. Again, the ideas were clever. You never know what you'll come across in a mystery - like a talking parrot. Steve Martin and John Hoffman take clever twists and turns, building obstacles for all the characters, including secondary ones.
Relationships play a substantial theme in season 2. Touched upon in the show, Only Murders in the Building is open to sexuality. That's one element that has drawn in audiences. There are several stories in this series to keep viewers engaged.
Let's talk about the show's humor. Occasionally it runs dry, but there are funny moments. The delivery of dialogue is sharp. Writers put together amusing comebacks, like when Charles and Oliver are trying to speak in more modern slang.
I love the theme music. Edits get you into the mysterious atmosphere. The writing for the show deserves its own shoutout. The series exhorts layers, specifically with the characters. Each episode keeps you hooked.
Find Only Murders in the Building on Hulu. We need season 3 now! The finale will keep you on your toes. It's the best show to binge.
About the Creator
Writing has been my passion since I was 11 years old. I love creating stories from fiction, poetry, fanfiction. I enjoy writing movie reviews. I would love to become a creative writing teacher and leave the world inspiring minds.
Reader insights
Be the first to share your insights about this piece.
Add your insights