Guillermo del Toro's Pinocchio - A Netflix Movie Review
Guillermo del Toro's latest 'Pinocchio' is a magnificent expression of stop-motion.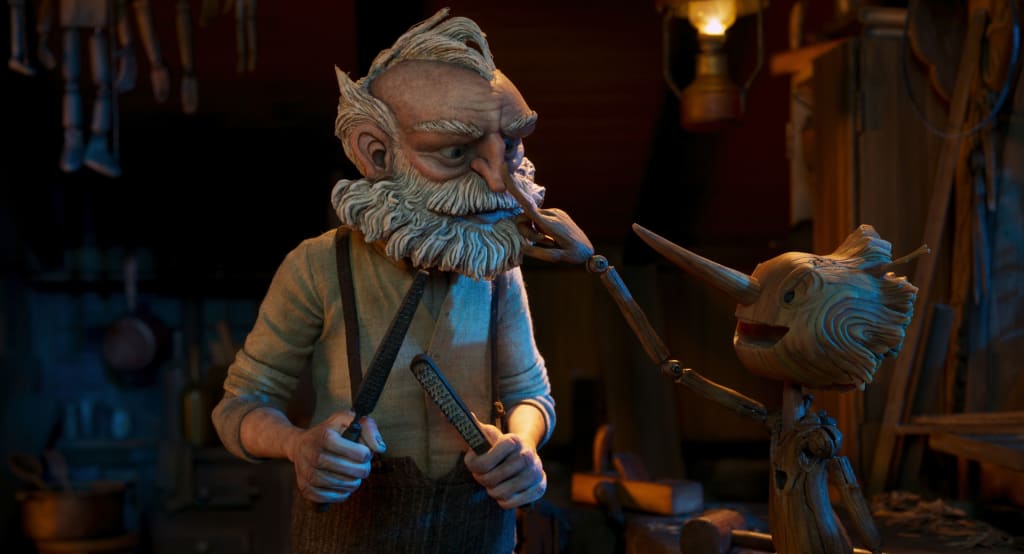 Life is a wonderful gift. Be exactly who you are.
Guillermo del Toro's Pinocchio is a 2022 Netflix adaptation of the well-known story. Gepetto grieves his young son's loss and creates a wooden puppet. His wish is magically granted. Adjusting to his life with Pinocchio, the puppet is curious about the world, inadvertently getting into trouble.
I was anxiously waiting to watch the highly-anticipated Pinocchio on Netflix. Guillermo del Toro's latest project is a magnificent expression of stop-motion. The story projects dark themes but distinguishes a positive father-son bond.
Gepetto was my favorite character. Out of any of the characters, Gepetto deserves to have a backstory. This adaptation of Pinocchio augments Gepetto's character and his evolution as a parent to Pinocchio. He is a loving parent. Albeit, he is not willing to build a bond at first, he takes a chance. It is the right decision.
Pinocchio's appearance was offputting during his first scene. Unlike previous adaptations, Pinocchio lacks discipline. At times, he came off as annoying with his ignorance but that is the whole point. He discovers what matters.
I was disappointed in how downplayed Jiminy Cricket's role was. Like most adaptations, he serves as the voice of reason, but other than that, not much else. Jiminy's role is reduced to running gags of the poor cricket being squashed by objects. He spends an entire segment trapped underneath a book when he could have been helpful!
The characters have depth. Pinocchio includes a cast of wonderful voice actors. Ewan McGregor, David Bradley, Gregory Mann, Christoph Waltz, Finn Wolfhard, and Cate Blanchette instilled emotion and clever vocal effects. For her character as a voiceless monkey, Blanchette was so eager to be a part of the production that she happily lent monkey noises.
One of my favorite characters that has merited more development in the Pinocchio story is the Blue Fairy. Known as Wood Sprite (Tilda Swinton), she gives Pinocchio three chances to correct himself.
The stop-motion animation for Pinocchio was fantastic. The film won a record as the longest stop-motion animated film. Hard work went into every minute detail, like having a door open a crack and having a character shut it again. I like when filmmakers do that. It shows that they want to make an impact.
These are not just puppets. The character felt like actual people which is what Guillermo del Toro wanted. Faces were so expressive, mainly the eyes. I was so captivated, inspecting every detail on the screen. It's so easy to get lost in this film.
Guillermo del Toro did extraordinary work on this adaptation that he originally wasn't intending to finish. He concentrated heavily on how to expand the story. The emotion is moving.
This Pinocchio is not intended for young audiences, brandishing themes like war, religion, and death. Death is a prominent theme in Pinocchio. Due to his grief, Gepetto has turned to Alcohol. It's a good idea to talk to any young viewer about the themes presented in Pinocchio.
The war segments took me out of the story. It didn't feel necessary. In the placement of Pleasure Island, instead, Pinocchio goes to a youth war camp. I wasn't fond of this scenario. It didn't add much to the story. The scenario did however do a good job of cementing the bond between Pinocchio and Candlewick (Wolfhard). This friendship deserves a spin-off.
Aside from that, Guillermo del Toro's Pinocchio is a notable film. I wish it the best during awards season. Watch it on Netflix. Watch it twice because there's so much detail to encounter in this film.
About the Creator
Writing has been my passion since I was 11 years old. I love creating stories from fiction, poetry, fanfiction. I enjoy writing movie reviews. I would love to become a creative writing teacher and leave the world inspiring minds.
Reader insights
Be the first to share your insights about this piece.
Add your insights