North Shore Music Theatre's 'The Buddy Holly Story' is a Powerful Enactment
Opening night of NSMT's 'The Buddy Holly Story' was Unforgettable.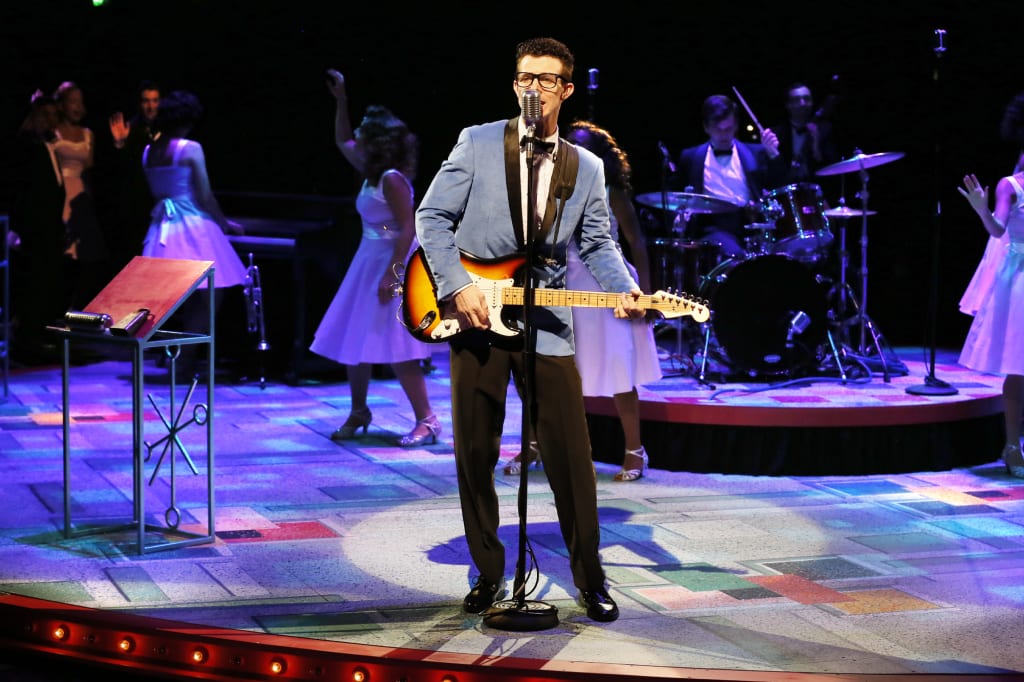 Every day seems a little longer, every way, love's a little stronger - Buddy Holly
North Shore Music Theatre presents The Buddy Holly Story. Unfolding the early life and career of the famous rock and roll musician, Buddy Holly fights to incorporate his own music into the industry. His legacy imprints his own personal technique on the world.
Opening night of The Buddy Holly Story was unforgettable. I never knew much about this singer. North Shore Music Theatre assembled an authentic enactment that bequeathed a spectacular performance about the late Buddy Holly. Based on the standing ovation from the audience, the cast of NSMT's Buddy Holly did a breathtaking job.
Matt McClure's dedicated performance as Buddy Holly was a job well done. Embodying the real persona's goofiness and quirks, McClure studied every fact to make a genuine performance. His singing and guitar-playing were wonderful.
The cast of Buddy Holly did an amazing job bringing this story to life. I enjoyed watching scenes involving Buddy and his friends performing in the recording booths. Their charm, humor, and banter were a fun part of the evening.
No part is ever small in the theater world. You will see a few recognizable faces from past NSMT shows. All music was performed live onstage by the actors. Buddy Holly is a show about passion. Every cast member lent their enormous talents to the stage.
Jaelle Laguerre brought down the house with an epic song number. Her energy, enthusiasm, and quick improvisation were a highlight. The members of the Apollo performers all did a wonderful in their song numbers.
Although her appearance was short, Maria Elena (Maria Cristina Posada Slye) had a significant impact on the life of Buddy Holly. Elena never let anybody get to her. McClure and Slye did a wonderful job enacting the couple's short love story.
Most of the second act is dedicated to a full-on Buddy Holly rock concert. I felt like I was at a real Buddy Holly concert. With all the actors dancing, singing, and performing their instruments, it's a boatload of fun. Some even showed off doing flips, playing a large octobass over their shoulders, and one performer playing the piano and trumpet at the same time.
The entire audience was having the best time bopping their heads and singing along. Audience reactions are my favorite part of any show. I remember looking around and seeing a group of older women happily singing along.
Some songs to recognize are 'Everyday', 'Peggy Sue', 'Chantilly Lace', and 'Johnny B. Good', the showstopper of the evening.
The tone quickly shifted when it was announced over the radio that Buddy Holly and other performers were killed in a plane crash (A.K.A The Day the Music Died). A person sitting behind me gasped upon finding out how young Holly was when he died.
Following this, a ray of light beamed down on McClure who moved on to sing, 'Rave on'. A mix of melancholiness and gratitude filled the air. I will never forget this feeling. Before completing the final note of 'Johnny B. Good', the audience stood up giving all the performers a one-minute standing ovation.
Following the performance, I researched more about Buddy Holly. That should be the main intent of any biographical show. Marcos Santana excelled in the direction of the show, respectfully paying tributes to the late Buddy Holly. The whole night was memorable for all.
Get your tickets and see The Buddy Holly Story at North Shore Music Theater. The show runs until August 28. It is worth it to catch this commemorative show.
art
review
pop culture
entertainment
comedy
celebrities
About the author
Writing has been my passion since I was 11 years old. I love creating stories from fiction, poetry, fanfiction. I enjoy writing movie reviews. I would love to become a creative writing teacher and leave the world inspiring minds.
Reader insights
Outstanding
Excellent work. Looking forward to reading more!
Add your insights