Netflix Adult Animated Shows That Are a Must Watch
Looking for the best adult animated shows to watch on Netflix? Look no further!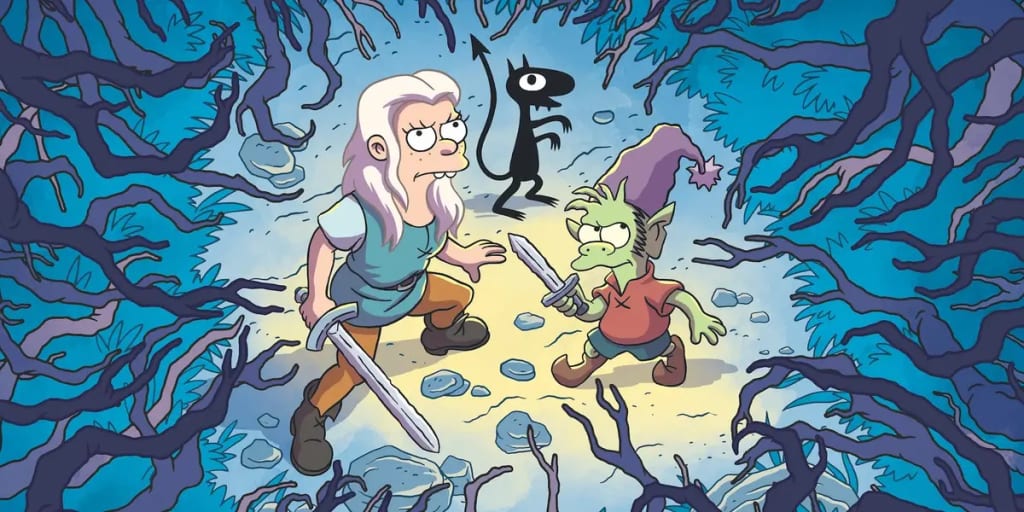 Best Adult Animated Shows On Netflix
Since its launch as a streaming platform, Netflix has consistently produced high-quality adult animated shows, and there are no indications of a slowdown in content production.
The streaming giant, which has been growing for over a decade, has experienced a momentary shakeup, with a decline in subscriber numbers for the first time.
But don't worry; their impressive library of content and consistent production of original programming remain intact and undeniably impressive.
What sets Netflix apart from its competitors is its exceptional adult-oriented animated programming, which has been turning heads. Thanks to a talented pool of creators and directors, the platform boasts an outstanding selection of highly regarded shows.
Even their earlier works remain popular and continue to engage audiences.
Check out our list of the top Netflix animated series for adults available now.
1. Total Drama
If you're a fan of reality TV, you've got to check out Total Drama, a hilarious spoof on the ubiquitous reality shows found on Netflix. Initially inspired by the Survivor series, this animated series has become a general parody of reality television and has gained a strong cult following since its launch on the Canadian television channel Teletoon. The show has since been passed to Cartoon Network, becoming one of its best series.
Although the storyline is predetermined, many viewers watch with bated breath, as if the events unfolded in real-time.
Some viewers find the fabricated drama similar to the real-life ones showcased on reality shows. Interestingly, even employees working on Total Drama are asked to sign a confidentiality agreement to prevent them from revealing each season's winner.
2. Inside Job
Hold on to your hats, folks, because in 2021, some of the best writers, animators, and creators from an animated hit show banded together to create the latest Netflix sensation: Inside Job.
This incredible team includes talented artists from fan favorites like Gravity Falls, Disenchantment, BoJack Horseman, and Regular Show, all bringing their unique flair to this exciting new show.
With its bold visuals reminiscent of Rick and Morty and Regular Show, Inside Job is a show that couldn't be more timely, given the current state of American culture. The series follows a secret organization responsible for covering up the conspiracies that frequently pop up on sites like Reddit and 4chan, making it topical and hilarious.
So, buckle up and get ready to immerse yourself in this fantastic series guaranteed to help you catch up on all the wild conspiracies out there.
3. F Is For Family
You won't find another show quite like F is for Family on Netflix. While most adult animated series try to explore modern-day culture and perspectives that are often dismissed, this show takes a unique approach by looking at a classic 1970s sitcom for inspiration and unearthing some new revelations.
Bill Burr, one of the show's co-creators, injects his trademark brand of acerbic comedy into the story, which revolves around a stereotypical white middle-class family living in the 1970s. But this show is no mere parody of an outdated era.
Instead, it constantly raises the question of whether that old-school way of thinking was ever good, even at the time. F is for Family is an incredibly compelling and thought-provoking series that is not to be missed.
4. Big Mouth
Nick Kroll and John Mulaney's show Big Mouth is hilarious and brutally honest, so hold onto your seats. Despite its horrifying character designs, the show's humor and truthfulness remain intact.
Big Mouth takes a deep dive into the awkward moments of adolescence and offers a laugh a minute while also exploring societal views on sexuality and gender.
No stone is left unturned in Big Mouth's exploration of puberty's uncomfortable and often disgusting realities. The show has a strong understanding and appreciation for the time in your life when your body changes faster than your mind can keep up.
Although puberty can be scary, Big Mouth never forgets that it can be equally hilarious. Get ready for a wild ride and plenty of laughs with this incredible show.
5. BoJack Horseman
This show explores the struggles of trying to find your identity in modern life but presents them in the whimsical format of a world where anthropomorphic animals and humans coexist.
The series follows the story of BoJack Horseman, a washed-up actor and former star of a 90s sitcom. He grapples with being out of the limelight while still living in Hollywood and trying to regain his former glory.
BoJack never changes his behavior, even though it makes him a pariah in the industry.
BoJack Horseman is a unique blend of dry, dark humor that creates an absurd yet poignant narrative about mental health and self-sabotage. This show is a thought-provoking masterpiece that will leave you contemplating your life choices long after watching the final episode.
6. Love, Death, & Robots
Get ready to be blown away by Love, Death, & Robots, a brilliant and exciting assortment of episodes that will leave you wanting more. This animated anthology series is filled with different shorts, each as breathtaking as the last.
Each episode tells a new tale with a different art style, making it a must-watch for any animation fan.
The series is an absolute feast for the eyes, with incredible animation and mind-bending concepts that will leave you in awe. So ensure you're ready to take it all in before watching it!
With three seasons of adult animation on Netflix, this anthology is worth your time. You will want to experience this incredible journey through many worlds and art styles.
7. The Midnight Gospel
The Midnight Gospel, takes the trippy visuals and free-flowing comedy from his original Adventure Time and cranks it to another level. This show has a unique and strange free-form storytelling structure.
The main character is a podcaster who goes on adventures and meets various characters who become interviewees on his podcast.
But that's not all - the show is based on co-creator Duncan Trussell's podcast, and audio clips from the pods are used as dialogue.
What results is a fascinating anthology-like series where the plot is tertiary to the animation and discussions that touch on everything from death to existentialism to drug use.
The Midnight Gospel is a unique show that will captivate and inspire you. The animation is as mesmerizing as the discussions are thought-provoking, and the show's unique structure makes it a standout among other series on Netflix.
8. Tear Along The Dotted Line
Get ready to dive into the mind of Italian artist and graphic novelist Zerocalcare, also known as Michele Rech, with the newly released autobiographical series Tear Along the Dotted Line.
Adapted from his own graphic novel, this six-episode show offers a direct look into Zerocalcare's mind through the author's surrogate, Zero, and let us tell you, a lot is going on in there.
According to Steve Greene at IndieWire, this show fits more into its first 15 minutes than pretty much any other animated TV series could. Zero is the point of view of every character in the show until the finale, where the audience is thrust into the present day.
Zerocalcare employs fourth-wall-breaking antics, time jumps, and monologues to show what it's like being exposed to one person's thoughts.
This show is a true masterpiece, offering a unique and intimate look at the mind of a gifted artist and storyteller.
Tear Along the Dotted Line is a must-watch if you're looking for a series that challenges your perspective and offers a glimpse into the creative process.
9. Castlevania
Get ready for a fresher and more compelling take on the traditional Dracula tale with Castlevania, an anime series based on the third video game in the franchise. The show depicts a world where Dracula has waged war against the human race, but this is no simple "good guys versus bad guys" story.
Instead, Castlevania delves deep into Dracula's motivations, revealing that superstitious humans burned his human wife at stake for her knowledge of medicine, incurring the ancient warlord's wrath. Meanwhile, the last surviving member of the vampire-hunting Belmont family teams up with a magic wielder and Dracula's half-human, half-vampire son to save humanity.
This anime series is a stunning masterpiece that explores the complexities of good and evil, delving into the darker side of human nature and exploring the consequences of our actions. If you're looking for a show that will keep you on the edge of your seat, Castlevania is a perfect choice.
Arcane
Get ready to experience the world of League of Legends like never before with Arcane, a stunning animated series that has taken the world by storm.
Even if you haven't heard of Arcane, you've likely heard of League of Legends - one of the world's most popular and competitive esports. And thanks to Netflix, the story of this beloved game has been brought to the world of television.
Despite the bad history of video game licensed media, Arcane has proven to be a staggering success. Its unique 2D and 3D animation mix tells a fascinating story that remains faithful to the source material.
Unlike many shows and movies based on video games that feel like cash grabs, Arcane offers incredible storytelling and character development that has already been confirmed to continue in season two.
This show is a true masterpiece that captures the excitement and drama of the world of League of Legends while offering a unique and fresh perspective that is sure to captivate both fans of the game and newcomers alike.
About the Creator
I'm an avid fan of anime and cartoons. Ever since I was a kid, I has been fascinated by the colorful and imaginative worlds that anime and cartoons can bring to life. My sites: https://cartoonvibe.com/
Reader insights
Be the first to share your insights about this piece.
Add your insights