My Review of "Creed III"
A enjoyable movie albeit a very predictable one.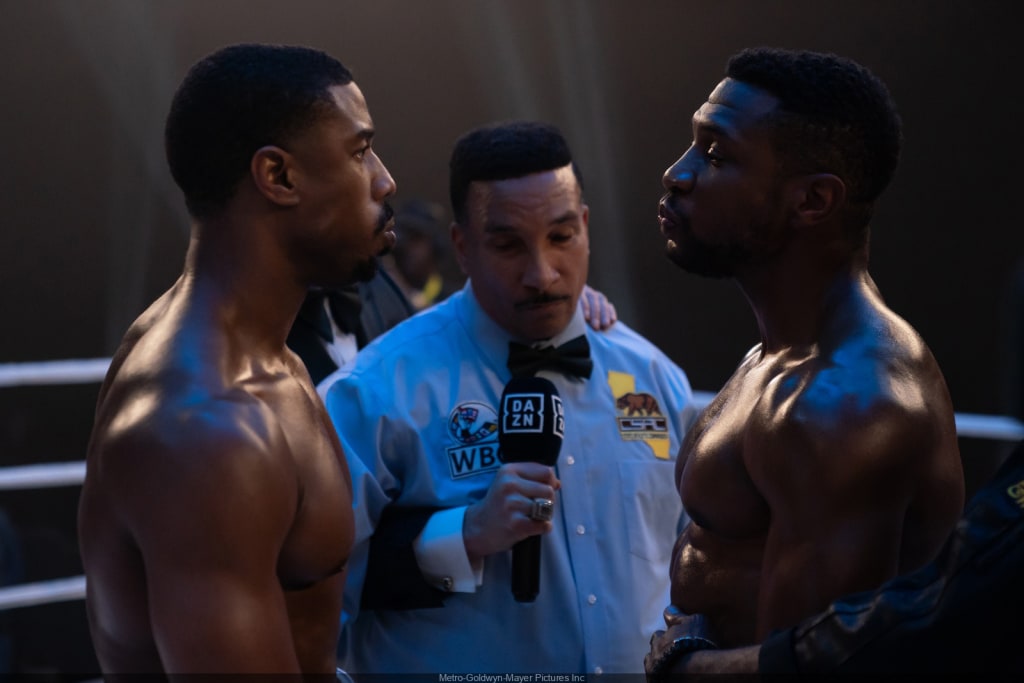 Creed III was one of my most anticipated movies of 2023 but it took me this long to finally check it out. I truly wished I had checked this movie out in the theatres when I had the opportunity to because this movie feels like it was warranted.
The movie starts off with short little explanation of the years that have passed since the last movie. Things have gotten good for Donnie and years have passed. He's become very successful and has finally retired. It kind of feels like how Rocky IV was like minus the super cheese. Well we do have a bit of that cheese but updated into a 2023 acceptable cheese.
Bianca his wife is doing quite well but no longer sings. She wants to preserve the hearing that remaining. I found that this was kind of weird because her hearing was pretty degenerative in the first 2 movies. If you've been following this version of the franchise it feels a little bit off.
Their daughter is now much more grown up. Probably in her pre-teens or something. She has a very small role in the movie but it feels like she gels the family together very well.
Everyone is doing very well but life is passing by. Donnie's mom had recently had a stroke and they want to take care of her. Out of nowhere, Donnie's childhood friend Damian comes into the picture. He was sent to prison for a mysterious incident that Donnie was a part of.
Nothing is really explained but it gets slowly revealed as the movie goes on. I liked the way that they slowly reveal the layers of this story as it progresses Donnie's character. We see that he has some skeletons in his closet and despite him being so established he still has some growing up to do. It's a nice life lesson to say that despite our accomplishments we still always have something to learn and grow from in life.
I like Damian's character as well. He's a bit of an agitator and knows how to push people's buttons in a passive aggressive way. This is some sort of X factor that makes the audience continually guess what he's going to do next. That's a nice little addition but things never go too chaotic where I want them to go chaotic.
There's a moment where he tries to get under Bianca's skin by talking about her inability to sing in front of an audience anymore. I like the fact that she talks about success in not being successful. It's an interesting lesson with the old Texas hold'em adage know when to hold them and know when to fold them. She chose this path because she knew that it would ruin her hearing. Accepting her position and making the most of it is a very good lesson to all of us.
I felt that the movie really kind of falters at the end and some people will argue with me. A lot of people will love the ending because of the stylized nature of the way it was done but I found it very cheesy and predictable. They could have made us feel a little more anxiety while the fight was going on but it is a Hollywood blockbuster movie so I'm not too surprised.
Overall, I had a really good time with this movie and that's really all that counts. There are some really stylized moments in the movie that will dazzle you. The pacing of the movie was really well done and it was over as soon as I knew it. This franchise could end with this movie to finish a trilogy but I have a feeling that they'll continue to make sequels to this franchise. I have to give this movie a 7.5 out of 10. It is something you have to watch if you're a fan of the series.
About the Creator
I have tons of opinions that change constantly. I watch a lot of movies and play video games. There are some articles on my struggles with languages and dance as well.
Reader insights
Be the first to share your insights about this piece.
Add your insights