MrBeast: the legend of YouTube
Surreal contents on YouTube from extraordinary scale, unimaginable budget and world changing fundraisers.
Planting 20,000,000 Trees as Mr.Beast's biggest project ever! on Oct 25 2019 video
Jimmy Donaldson, more commonly known as MrBeast is a YouTuber from America. He is notable for his expensive stuns and philanthropy. He started YouTube since 2012 when he was 13 till now with over 42.8M subscribers according to YouTube on September 9th 2020.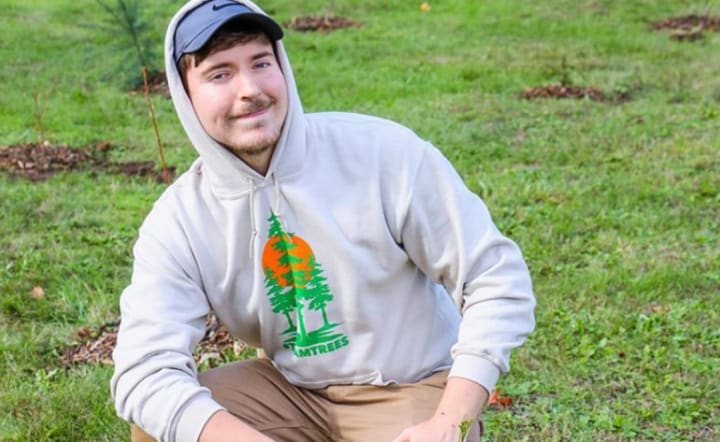 I have subscribed on his video for over two years since his video on 2,256 Miles in one Uber ride (world record). This video has personally related to my own experience where I had to drive a truck from Toronto to San Francisco within three days. This experience was extraordinary and a tale to talk about when someone brings up long driving tales of their own. Watching that video of MrBeast on a Uber ride reminded me of diving across the country which made me want to find out more about him. Since then on he had amazing contents that blew my mind. From 100 million Orbeez, 24 hours insane asylum, last to leave series, giving away money series, free store series, winning 1 million dollars, most expensive series, world breaking series, adopting every dog in a shelter, buying a private island, and my personal favorite planting 20,000,000 trees.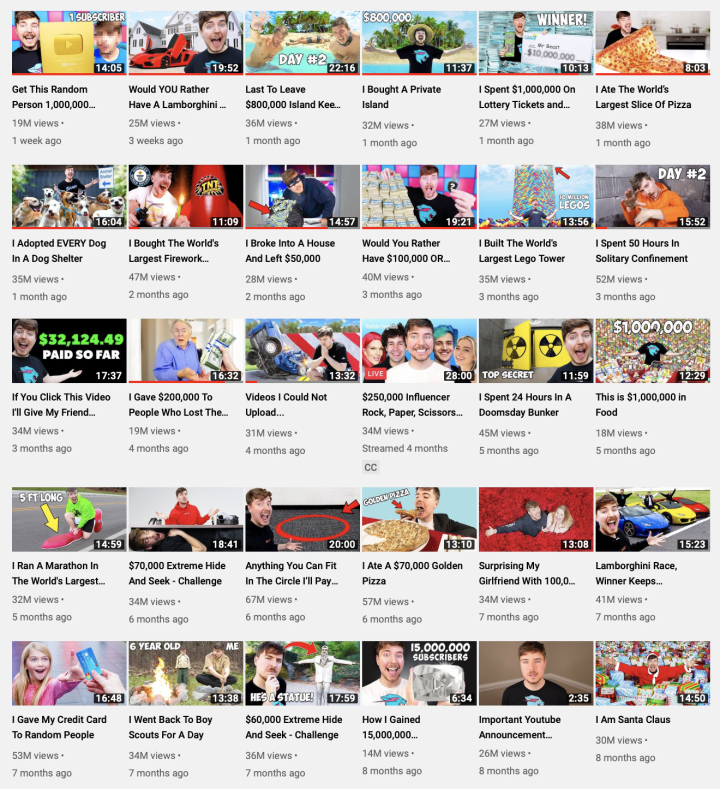 If you have not seen his videos on YouTube, I personally recommend watching this video to see how much impact MrBeast has that changes our world. His videos are well edited to keep views attention though every second of the video. On average they are under 20 minutes long with some exceptions with less edited live videos.
This particular video starts by talking to the audience by saying "You guys spammed me to plant 20 million trees" with screenshots of MrBeast fans. Then stated "So I made it happen." This intro was very quick and easy to understand what the video will be about with curiosity to see if he actually did it and if so, how he did it. Then MrBeast explains how to plant a tree by demonstrating with his team members. From digging a hole, placing the tree in the hole, covering the hole, to finally water the tree. As easy as that he shows a counter of 6/2MIL to show he just completed planting 6 threes with his team members out of the 2 million he stated. As the process is quick an easy, he explains again by saying 1. HOLE 2. TREE 3. MULCH 4. WATER. Each tree was checked to see if they were sturdy which was confirmed by an expert named Sarah. They kept going and planted 300 trees on the first day. On the second day they reached out on social media to get extra hands to plant the rest of the trees. A lot of people showed up and started plant over 1700 trees. As 2 million trees become impossible with the amount of hands, he had he reached out to the viewers to help raise money to plant a tree. They reached out to Arbor Day Foundation who is a non-profit organization who will plant 1 tree for a dollar donated though MrBeast channel. With months of his time and efforts of global fans they donated towards #teamtrees at teamtrees.org. MrBeast created this page as he states that we only have one earth and it is important that we take care of it. Recently lots of not so great things have been happening in forests and people keep making our generations retweet activism and actually doing something which is why they created Teamtree foundation. This was a way to show people care about our earth. Currently Teamtrees have planted 22,255,553 trees which is over what MrBeast has promised to plant on Youtube. It is amazing to see global funds from all sorts of people to show they care about our earth. Each day the numbers are rising and trees are rising from the ground. They are growing each day providing people with healthier air quality and a healthier ecosystem for our next generations to continues on.
Personally, this is my favorite video from MrBeast as it is simple and straight forwards. With four easy steps plant and tree to help our plant rather than talk about what needs to be done. Start with the four steps to see the impact it brings. Like other MrBeast fans, it is appreciative to see how he brings helps out in many ways rather than showing off wealth like others tend to do to gain on YouTube. If he is reading this by any chance, I want to say thank you for all he has done and I appreciate your posts on YouTube. If you have not seen his videos you can search MrBeast on YouTube to access all of the great contents and subscribe to his channel for future updates.
I see the change of impact of YouTube has changed and will grow with our next generations. Let's use this impact for good and make entertainment with a message behind. YouTube is a way of education where people learn and experience. Like MrBeast's 4 steps of planting a tree for a healthier earth, let's make video that matters for people to learn.