Movie Review: 'Spider-Man: Across the Spider-Verse'
It's so awesome.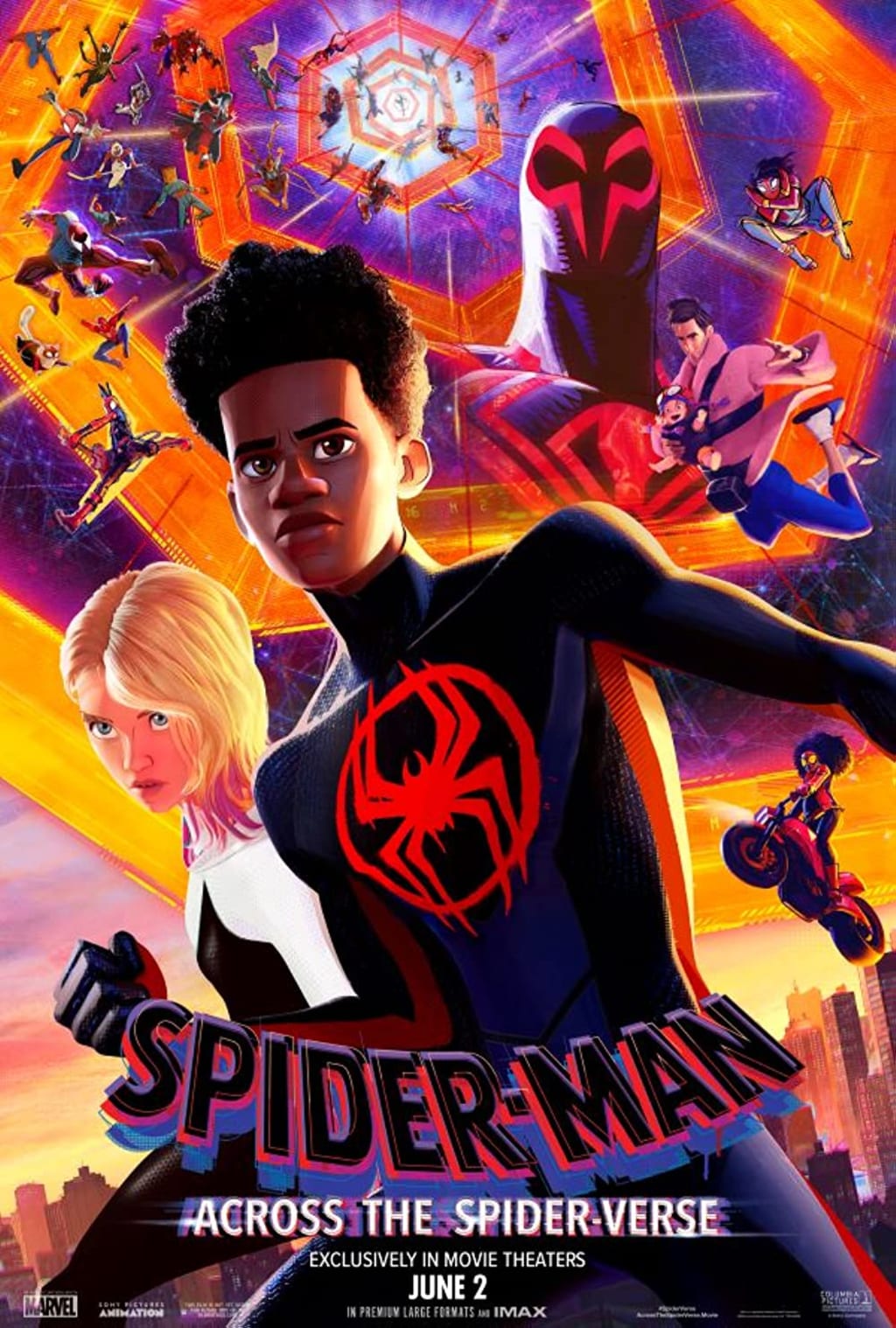 Spider-Man: Across the Spider-Verse (2023)
Directed by Joaquim Dos Santos, Kemp Powers, Justin K. Thompson
Written by Phil Lord, Christopher Miller, David Callahan
Starring Shameik Moore, Bryan Tyree Henry, Jake Johnson, Oscar Isaac, Hailee Steinfeld
Release Date June 2nd, 2023
Published June 2nd, 2023
Spider-Man: Across the Spider-Verse is a gorgeous piece of animation. It's a visionary work in the feature animation realm, a treat for the eyes. The innovative style of the first film, Spider-Man: Into the Spider-Verse, evolves here into brilliant new combinations of art styles and storytelling adventure. It's exciting to watch as the artists behind Spidey press the boundaries of what we can expect from an animated feature. That alone would be worth the price of admission but thanks to the work of writers Phil Lord, Christopher Miller, and David Callahan, Spider-Man: Across the Spider-Verse is far more than just gorgeous to look at.
Spider-Man: Across the Spider-Verse opens on Spider-Girl, Gwen Stacy (Hailee Steinfeld). She misses the friends she made when portals opened between worlds in Spider-Man: Into the Spider-Verse. Worse however, is the fate of her best friend, Peter Parker, who, in Gwen's universe, was a picked on pipsqueak who tried to change his lot in life through science. Peter dies in an accident at prom after his transformative medicine turns him into a monster and Gwen/Spider-Girl is forced to fight him to protect their classmates. His death happens just as Gwen's cop-dad arrives and sees Spider-Girl standing over Peter's fallen body. He assumes that she killed him.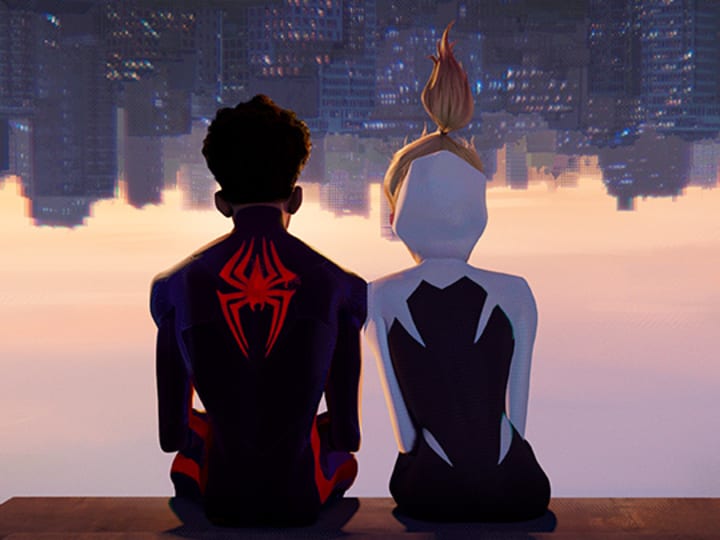 This scene is followed by the attack of a new and desperately out of place villain, a version of The Vulture, but not one from this universe. Someone or something is tearing new holes in the fabric of the universe and villains are bungling their way through to unfamiliar universes. Unbeknownst to Gwen, Spider-people from other universes are being brought together to try and repair the multiverse and via Spider-Woman (Issa Rae), and the leader of this group, Miguel (Oscar Isaac), Gwen is recruited to help save the multiverse.
This is Gwen's chance to reconnect with her friend, Miles Morales (Shameik Moore). Miles has grown a few inches since the last time they saw each other but other than that, he's the same awkward, sweet, kind and strong young man she first met. Miles is dealing with school and his parents and a new villain who may be the key to why the multiverse is in grave danger. A villain calling himself The Spot (Jason Schwartzman) is found by Miles while attempting to steal an ATM from a bodega. The Spot has the ability to open tiny portals that he can climb through and arrive at different locations.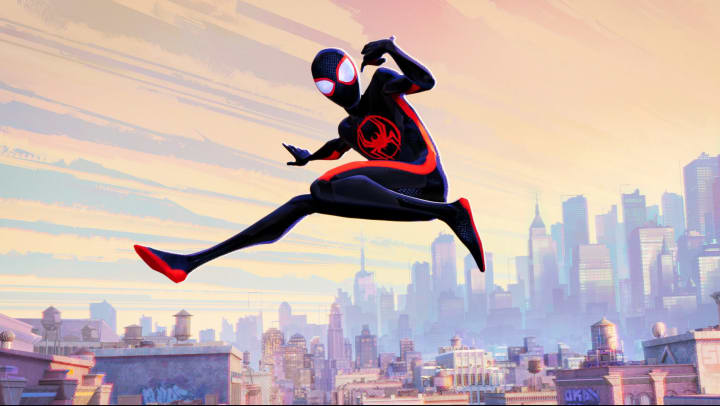 Eventually, The Spot realizes he can actually cross into other universes. He plans to use this incredible ability to take revenge on Miles whom he blames for creating him. Long story short, destroying the machine in the first movie created the mutation of The Spot and he's not happy about it. He intends on killing Miles' family as a punishment for the young man he blames for taking his face and replacing it with a spot, an empty space, a void. For his part, Miles has no memory of the poor soul he accidentally harmed while previously saving the multiverse.
Miles' main occupation these days is daydreaming about Gwen. He misses saving the world with her but, also, quite obviously, nurses a crush on the fellow Spider-person, one she may actually share. We know this because when she arrives in Miles' universe it becomes clear that she's not supposed to be seeing him. She's actually there to capture The Spot, part of the plan to once again rescue the integrity of the multiverse. But, Gwen cannot resist going to see Miles which leads to him following her back into the multiverse and creating a new paradox as they search for The Spot and Miles interrupts the flow of time, a so-called 'canon-event,' one that could imperil the multiverse all over again.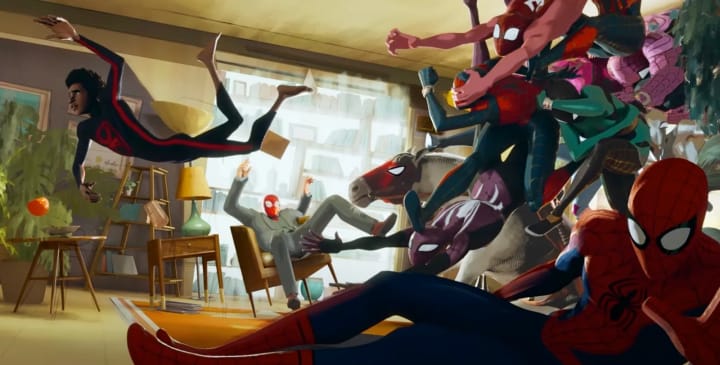 This is a rich and wildly ingenious story told via some wonderful characters. The expansion of the Spider-Verse is filled with indelible and wonderful new variations on Spider-Man that I absolutely adored. The best addition to this new canon of Spider-Man variants is Spider-Punk, played with remarkable brio by the brilliant, Daniel Kaluuya. Hobie, as he's really named, is an anarchist, a character who provides a vague but needed counter-point to the militaristic rigidity of Oscar Isaac's Miguel, whose version of Spider-Man has the haunted quality of Batman crossed with Peter Parker.
It's Hobie who offhandedly delivers the film's thesis statement, reminding Miles to consider what it is that he is fighting for. Kaluuya's voicework is dynamic, funny, and engaging. He's the Punk Rock Spider-Man I never knew I wanted. It's a glorious character with his own unique animation style, one that is the hallmark of the wild creativity at the heart of Across the Spider-Verse. Yes, there are other great additions to the character canon, Indian Spider-Man is an outstanding addition, and it was great to see comics fan favorite, Ben Reilly get to flex his emo-Spider-Man muscles via Andy Samberg's comically broad voicework.
This review is getting a little long and I actually could go on praising Spider-Man: Across the Spider-Verse for several more paragraphs. But, if I have one criticism of Spider-Man: Across the Spider-Verse, it's that the film is longer than it needs to be. I understand the desire for world building and I can definitely see that the filmmakers are building to bigger and better things in the next movie, but the film suffers slightly from chase scenes that linger a little too long and themes that are restated perhaps one too many times. The film could be just a little tighter but it's a minor criticism compared to what is so wonderful about this film and this budding franchise.
Find my archive of more than 20 years and nearly 2000 movie reviews at SeanattheMovies.blogspot.com. Find my modern review archive on my Vocal Profile, linked here. Follow me on Twitter at PodcastSean. Follow the archive blog on Twitter at SeanattheMovies. Listen to me talk about movies on the Everyone's a Critic Movie Review podcast. If you have enjoyed what you have read, consider subscribing to my work here on Vocal. If you'd like to support my writing, you can do so by making a monthly pledge or by leaving a one-time tip.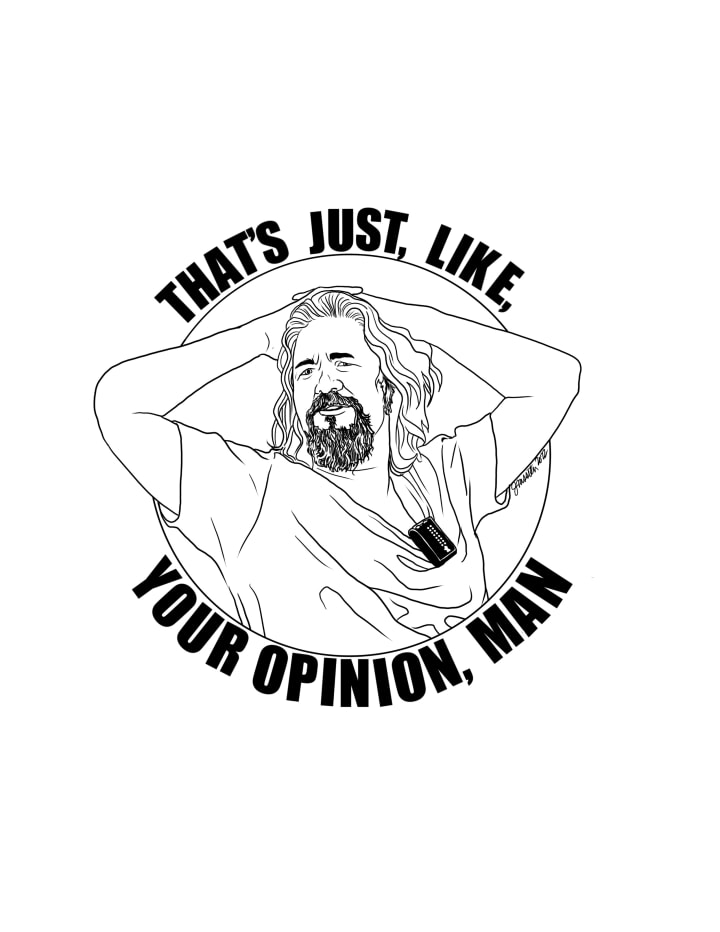 A new aspect of how I am doing things is that I am offering review requests. For a $10.00 donation to my Ko-Fi account, you can request for me to watch and write about the movie of your choice. I cannot promise a positive review but I will make it as entertaining as I possibly can. I do reserve the right to refuse a request, some movies I simply have no desire to watch or write about, but that's a rarity. Find my Ko-Fi account here to make a movie review request.
About the Creator
Hello, my name is Sean Patrick He/Him, and I am a film critic and podcast host for the I Hate Critics Movie Review Podcast I am a voting member of the Critics Choice Association, the group behind the annual Critics Choice Awards.
Reader insights
Be the first to share your insights about this piece.
Add your insights