Movie Review: 'In the Heights' Plays it Safe
Lin Manuel Miranda's follow up to Hamilton is a gentle and pleasant crowd pleaser.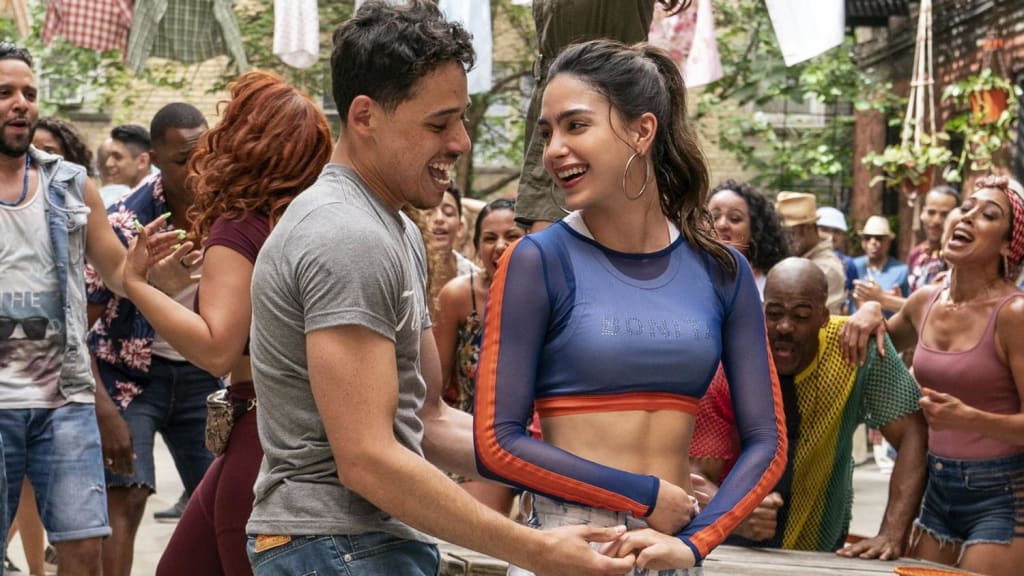 I don't know what I am missing here? I can't quite put my finger on what other critics see in In the Heights that I don't. I love Hamilton and I find the style of Hamilton to be impeccable. Hearing that same style used in In the Heights, I find it derivative and a great deal less interesting. The characters are likable enough and the message of love and community has warmth and good nature but the lasting impact, for me, is a gentle and pleasant musical that plays it safe at every turn.
Anthony Ramos stars in In the Heights as Usnavi, a shop owner in the Washington Heights neighborhood of New York City. Usnavi is a beloved member of the community, a stable element in an unstable era where the neighborhood appears to be gentrifying slowly but inexorably. Unfortunately for those who love Usnavi, he's also planning on leaving. Usnavi has a dream of returning to his family's home country in the Dominican Republic where he wants to re-open his father's long ago bar on the beach.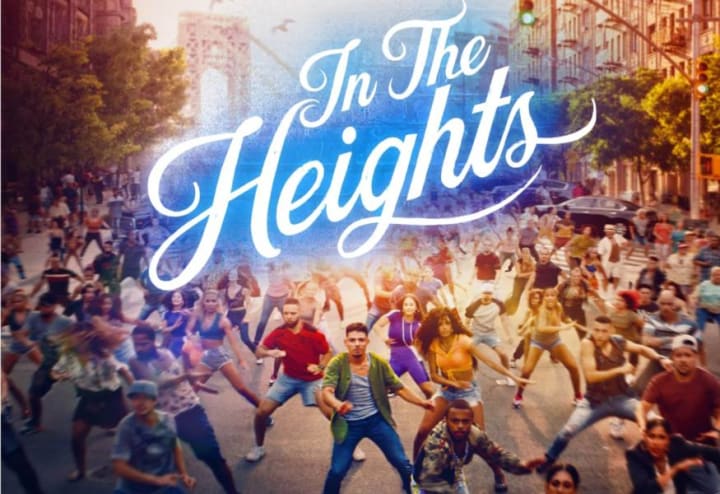 This will mean leaving behind much of his adopted neighborhood family including his little cousin, Sonny (Gregory Diaz), and the girl Usnavi has been pining for, Vanessa (Melissa Berrera). And don't forget Usnavi's best friend Benny (Corey Hawkins) who works across the street at Rosario's car service and entertains the neighborhood with his humorous traffic updates. Benny learned everything from his longtime crush Nina (Leslie Grace), who is just back in Washington Heights recently after having left to attend college at Stanford University.
This was made possible by the sacrifices of Nina's dad, Kevin (Jimmy Smits), owner of the car service, who sold part of the car service to raise the money to send Nina to college. Now, Nina isn't sure she wants to go back as college is proving even more challenging and expensive. She's worried that her father will have to sacrifice even more of his business and, by extension, the neighborhood, to make it possible for her to continue at college.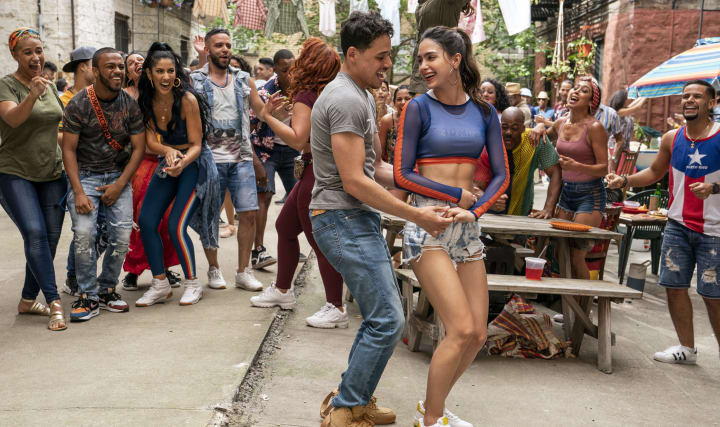 That's a good thumbnail sketch of the plot which is just in place to give a little context for Lin Manuel Miranda's dynamic Broadway meets hip hop music styling's and here's where In the Heights kind of loses me. The songs in In the Heights are each snappy and upbeat but also a little awkward and flimsy. Without the aid of the soundtrack in front of me, I could not tell you the name of any of these songs or even one memorable lyric.
The music of In the Heights reveals an unexpected weakness in Lin Manuel Miranda's style of Broadway crossed with hip hop. His cadence always sounds the same. No matter what a character is saying, it is all said with the same rat-a-tat cadence and it renders everything weaker by association. This worked in Hamilton because every bit of drama was heightened by historical context. In the Heights has songs about how great Usnavi's coffee is and a mystery around who won a lottery prize and these songs lack the urgency and wit of the songs from Hamilton.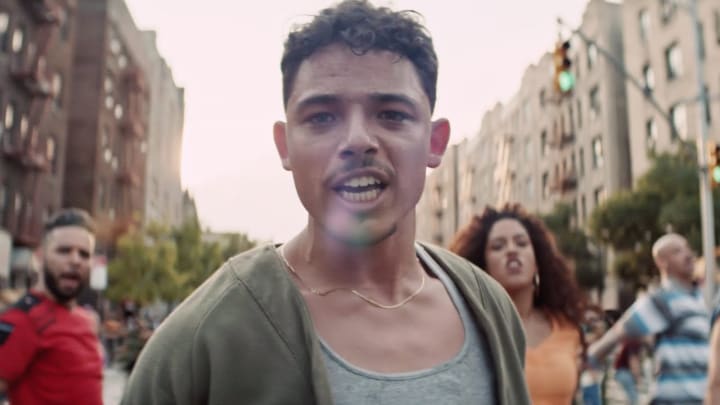 This doesn't mean that I hated the music from In the Heights, far from it. The music has a great deal of energy and several moments do rise to the promise of In the Heights. That said, more often than not, the songs feel like stalling until we get to the few big emotional beats that In the Heights has. Where Hamilton rises and falls beautifully from beginning to end, In the Heights struggles to maintain momentum or build to the few big emotional moments the story has.
Perhaps In the Heights is falling victim to my personal expectations. I have an emotional attachment to Hamilton that blinds me to any issues Hamilton might have. I have heard legitimate criticisms of Hamilton and dismissed those criticisms simply based on how emotionally attached I have become to the experience of Hamilton. In the Heights sounds like Hamilton but a Hamilton rendered even safer and appealing to the widest possible audience.
Hamilton isn't exactly challenging but just the transgressive nature of having people of color portray these figures of American history who were famously racist and yet famed for founding the country has always given weight to Hamilton that would not exist were it not for the casting and the shaping of American history through the modern lens of hip hop.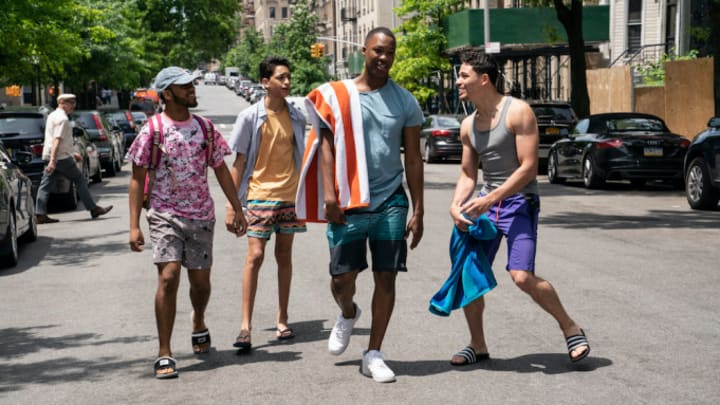 In the Heights lacks that charge, it lacks any kind of edge. Even as it includes a minor subplot about Dreamers, those who have immigrated to America on visas and then risked deportation to stay in the country and achieve their American dream, feels tacked on, as if it were a reshoot in reaction to current headlines. There is a toothless quality to In the Heights that leaves me less engaged and interested in the otherwise perfectly entertaining, warm hearted, family musical that In the Heights truly is.
Speaking of subplots, In the Heights has several and doesn't seem to care much about any one of them. Benny, for instance, by the end of In the Heights has lost his job which was important to him, or so we are told and we get no closure on his story, he's forgotten despite featuring in the film's centerpiece dance sequence, a dream sequence where he and Nina dance up and down the outside walls of their apartment building. It's a great scene but Benny and Nina's plots are rather superfluous by the end.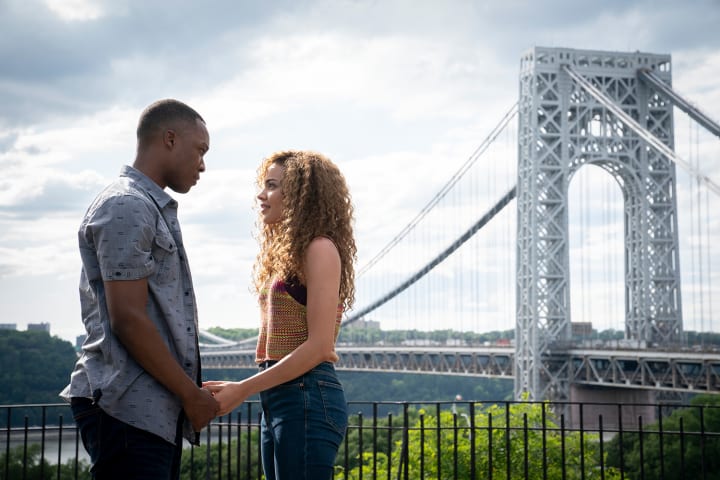 Kevin, Nina's dad, makes big decision near the end of In the Heights and whether or not he made a good move is left unresolved. On top of that, where does Kevin go from here? I know it's not his story but considering the importance the plot gives Kevin early on as the biggest employer in the neighborhood, and as a dedicated businessman always looking for bigger things, it feels odd and incomplete not to give the character a resolution.
The one subplot that does get a resolution is one regarding the local salon which is leaving Washington Heights for a more upscale location. This is a plot resolution that makes sense and is well handled. Rather than the neighbors being upset that another local business is leaving the neighborhood, the neighbors appear happy for the owner, played by Daphne Rubin Vega and her employees, played by Stephanie Beatriz and Dascha Polanco. The dance scene they inspire before leaving the neighborhood is the highlight of In the Heights.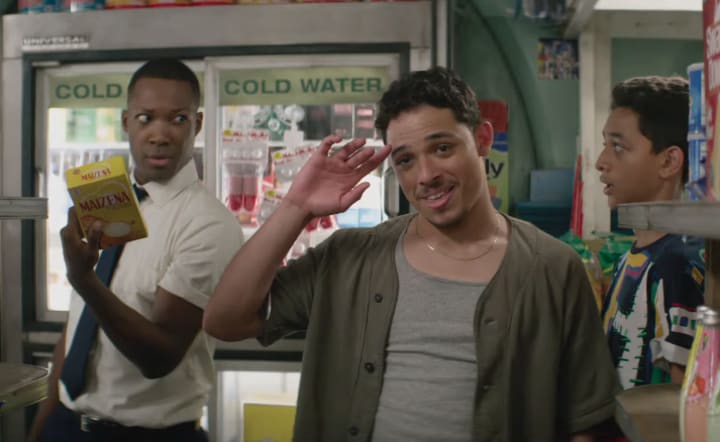 Much of the promised drama of In the Heights hinges on the relationship between Usnavi and Vanessa and here is where the movie truly fails. The relationship between Usnavi and Vaness lacks tension, romance and the resolution is bafflingly simplistic. I won't spoil anything but it never once feels like anything real is at stake. Usnavi and Vanessa have little spark as a couple, and beyond what the plot requires of their relationship, and without believing them, it's hard to believe how the story of In the Heights plays out.
In the Heights is gentle and pleasant, professionally crafted with moments of genuine heart and warmth. However, at several points, In the Heights is just spinning its wheels and those scenes felt far too frequent for my taste. It seemed to happen far too often that scenes would drag on without resolution and scenes that should feel more emotionally impactful, lack impact for all the wheel spinning, go nowhere, good time scenes in In the Heights.