Movie Review: 'A Little White Lie' is a Showcase for Star Michael Shannon
Michael Shannon is terrifically offbeat in the otherwise conventional comedy 'A Little White Lie.'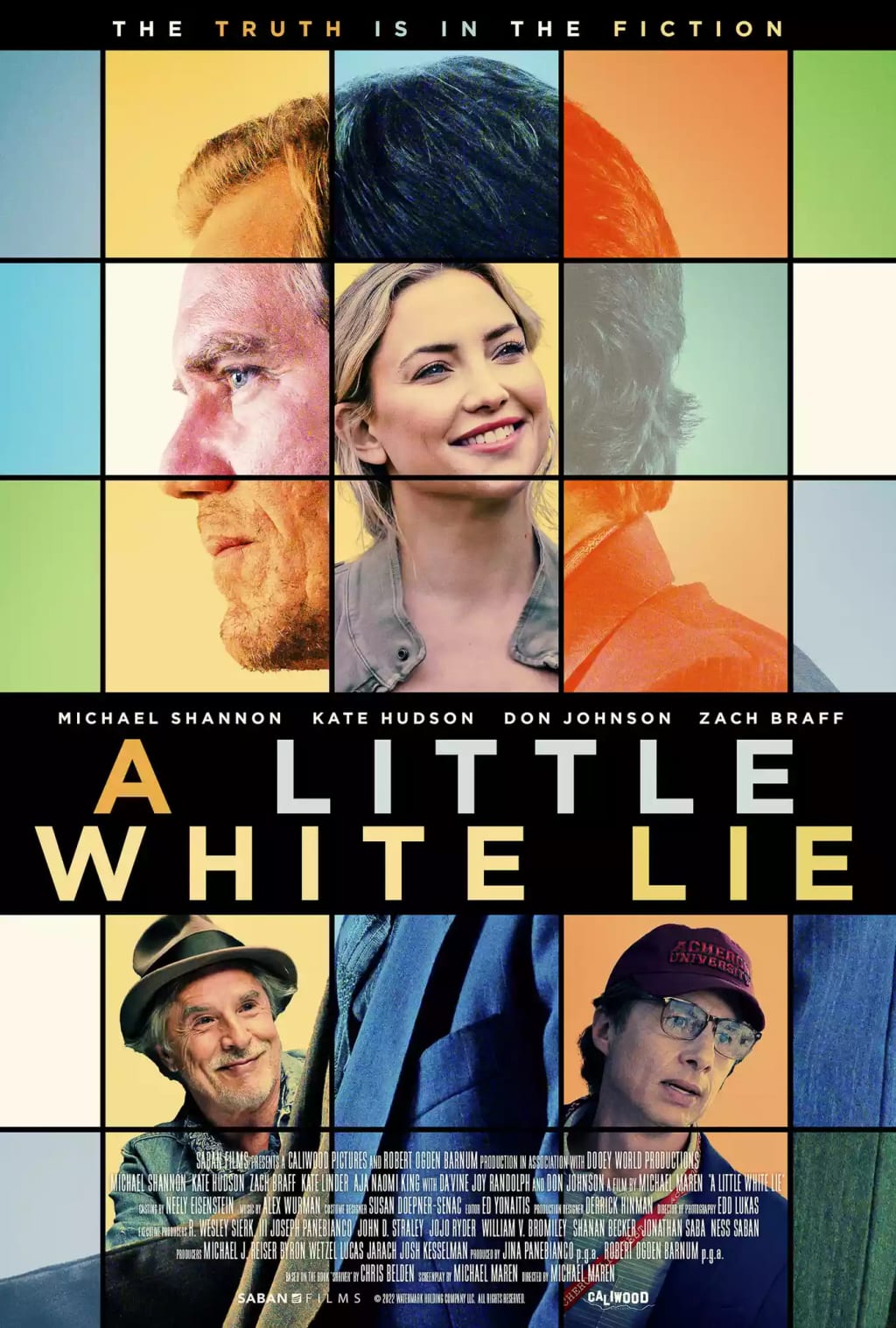 A Little White Lie (2023)
Directed by Michael Maren
Written by Michael Maren
Starring Kate Hudson, Michael Shannon, Don Johnson
Release Date March 3rd, 2023
Published March 1st, 2023
Michael Shannon has made his name as an actor by being wildly unique and unpredictable. Those qualities are on incredible display in the new comedy, A Little White Lie. Here, Michael Shannon stars as a man named Shriver, a janitor living a life of desperation and boredom in New York City. Schriver's life is upended when he receives a letter from a college professor, Professor Simone Cleary (Kate Hudson), inviting him to speak at a prestigious but struggling literary conference in Utah.
This is a little odd as Schriver doesn't remember having written a famous bestseller before pulling a J.D Salinger and disappearing from the literary world. Nevertheless, with prodding from his best friend Lenny (Mark Boone Junior), Schriver accepts the invitation and plans to pretend that he is this mysterious missing author. It's helpful to his scheme that no one has ever seen the famous Schriver, aside from a dark and broody photograph on the back cover of his novel.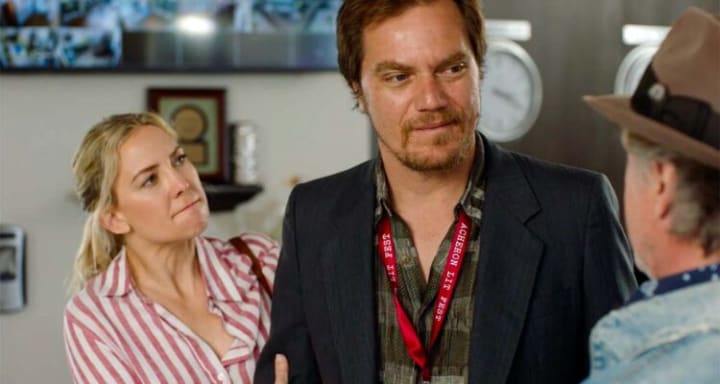 Arriving for the conference we meet the rest of the cast of this unusual comedy. Joining Kate Hudson is Don Johnson as a degenerate fellow professor with a deep admiration for Schriver and his writing. Aja Naomi King, known for role on TV's How to Get Away With Murder, plays a fellow author named Blythe Brown who is suspicious of Shriver from the moment she meets him. And rounding out the main cast are Da'Vine Joy Randolph as a Schriver super-fan and Romy Byrne as Teresa, Professor Cleary's assistant who appears to be in charge of exposition in several scenes.
There are elements of A Little White Lie that don't work like a highly reductive cameo by beloved character actress Wendie Malick. Malick plays a patron of the college literary department who has a legendary habit of sleeping with famous authors. That's the joke, she sleeps with authors. She's an older woman who likes to have sex and for reasons unexplained, this is supposed to be funny. Neither Michael Shannon as the object of her desire or Malick herself are given any time to flesh out what might be funny about this beyond the idea of it.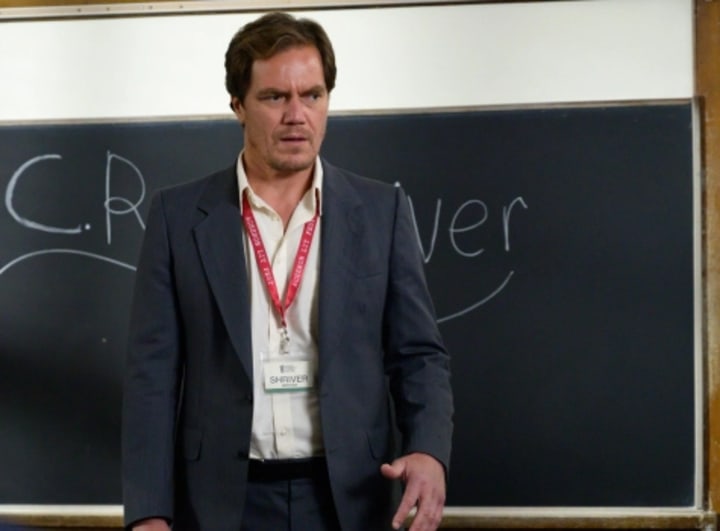 I also hate to point this out as I am otherwise a big fan of actor Zach Braff but his performance in A Little White Lie is pretty openly bad. In the third act Braff wanders in from a completely different movie with an entirely different energy and provides a highly perfunctory roadblock before the movie course corrects to a solid enough ending. Braff's goofball energy is completely at odds with the more intense and broody angst of Michael Shannon's performance and while a juxtaposition between these two characters is needed, Braff is so broad that it interrupts the movie and is not a welcome interruption. It doesn't help that Shannon appears to openly loathe Braff and seems to avoid being in scenes with him.
Despite my reservations however, as listed before, I still want to recommend A Little White Lie based on my appreciation for Michael Shannon. Shannon's brilliantly unpredictable performance is a lot of fun even as the character is deeply troubled, anxious, and with a touch of mental illness. He's not crazy, rather he's just been through a very serious mental breakdown that has lasted for several years and Shannon wears that fact in his very being. He's weary and bleary eyed, blinkered and consistently finding aspects of his personality that he'd long kept buried.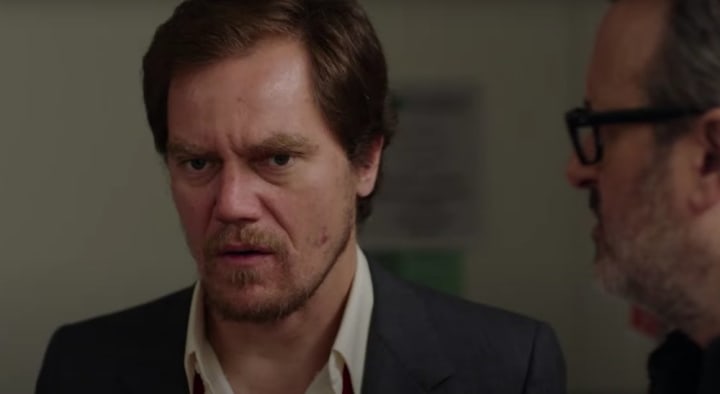 It's a fascinating performance. As someone who has seen a lot of movies and can tend to know what a particular character is going to say before they say it, predicting where a scene typically needs to go, I was consistently surprised by Shannon's choices. He's very much locked inside of a conventional comic narrative but Shannon never plays the role for comedy, not one moment. His energy reacts against a movie that wants to corral him into familiar comic territory and he refuses to adhere to any kind of convention. It's so much fun to watch that.
I've long said that there is nothing wrong with making a movie based on familiar comic tropes. The key is finding elements that elevate or subvert the predictable elements and make the familiar feel fresh. Michael Shannon's performance is exactly that kind of energy. Placing a weird, anxious, depressed oddball at the center of a familiar comic narrative, including an unlikely romantic connection with the ethereal Kate Hudson, is a stroke of genius. Shannon's presence, his shaky, nervous, un-comic performance is just the right complication for an otherwise conventional comedy.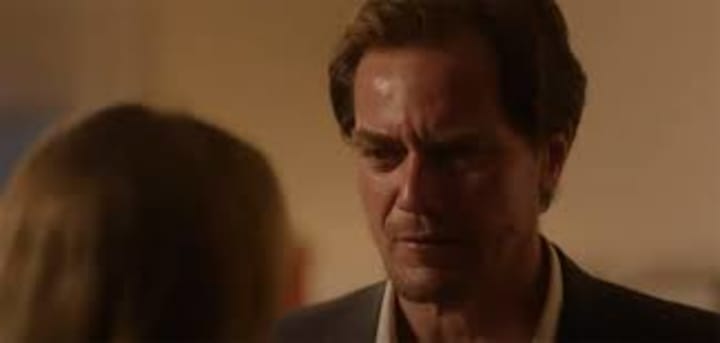 I assumed going into A Little White Lie that Shannon would be playing a man who was constantly on the edge of being found out and have to do a comic tap-dance to keep the story going. I assumed that he would be caught and have to proceed with the ruse out of a desire to help a woman in need, Hudson's professor. Then the ruse would be revealed and a manufactured roadblock would ensue before somehow we reached a happy ending. That's exactly what A Little White Lie looks like but that is not the movie that it is by the end. I loved that about A Little White Lie. I loved Michael Shannon and I found his chemistry with Kate Hudson unlikely, unexpected and entirely welcome.
For its unusual qualities, the way it subverts expectations and Michael Shannon's terrific performance, I am highly recommending A Little White Lie. I can see the flaws of the movie and the reasons why other critics are not recommending the movie, but I really enjoyed it. Writer-director Michael Maren's style is a little all over the place but with an anchor like Michael Shannon and the spice of Kate Hudson and an unhinged Don Johnson, A Little White Lie overcomes its flaws to become a shaggy underdog of a romantic comedy and a welcome upending of conventional comedy.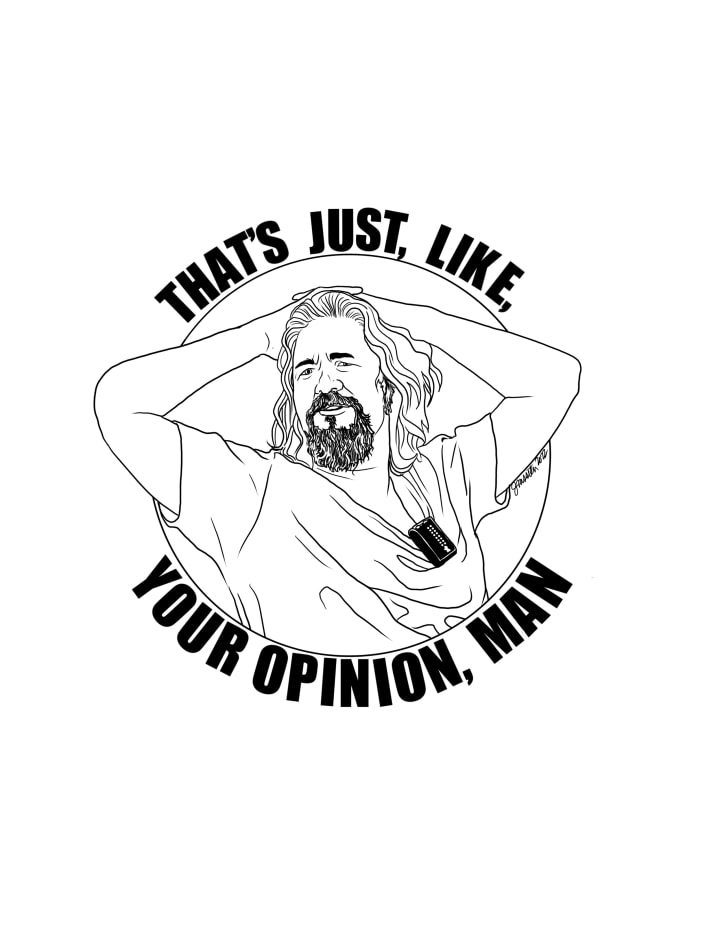 Find my archive of more than 20 years and nearly 2000 movie reviews at SeanattheMovies.blogspot.com. Find my modern review archive on my Vocal Profile, linked here. Follow me on Twitter at PodcastSean. Follow the archive blog on Twitter at SeanattheMovies. Listen to me talk about movies on the Everyone's a Critic Movie Review Podcast. If you have enjoyed what you have read, consider subscribing to my writing here on Vocal. If you'd like to support my writing you can do so by making a monthly pledge or by leaving a one-time tip. Thanks!
About the Creator
Hello, my name is Sean Patrick He/Him, and I am a film critic and podcast host for Everyone's a Critic Movie Review Podcast. I am a voting member of the Broadcast Film Critics Association, the group behind the annual Critics Choice Awards.
Reader insights
Be the first to share your insights about this piece.
Add your insights