Movie Critique: Fatal Affair
Nia Long and Omar Epps star in Netflix thriller film.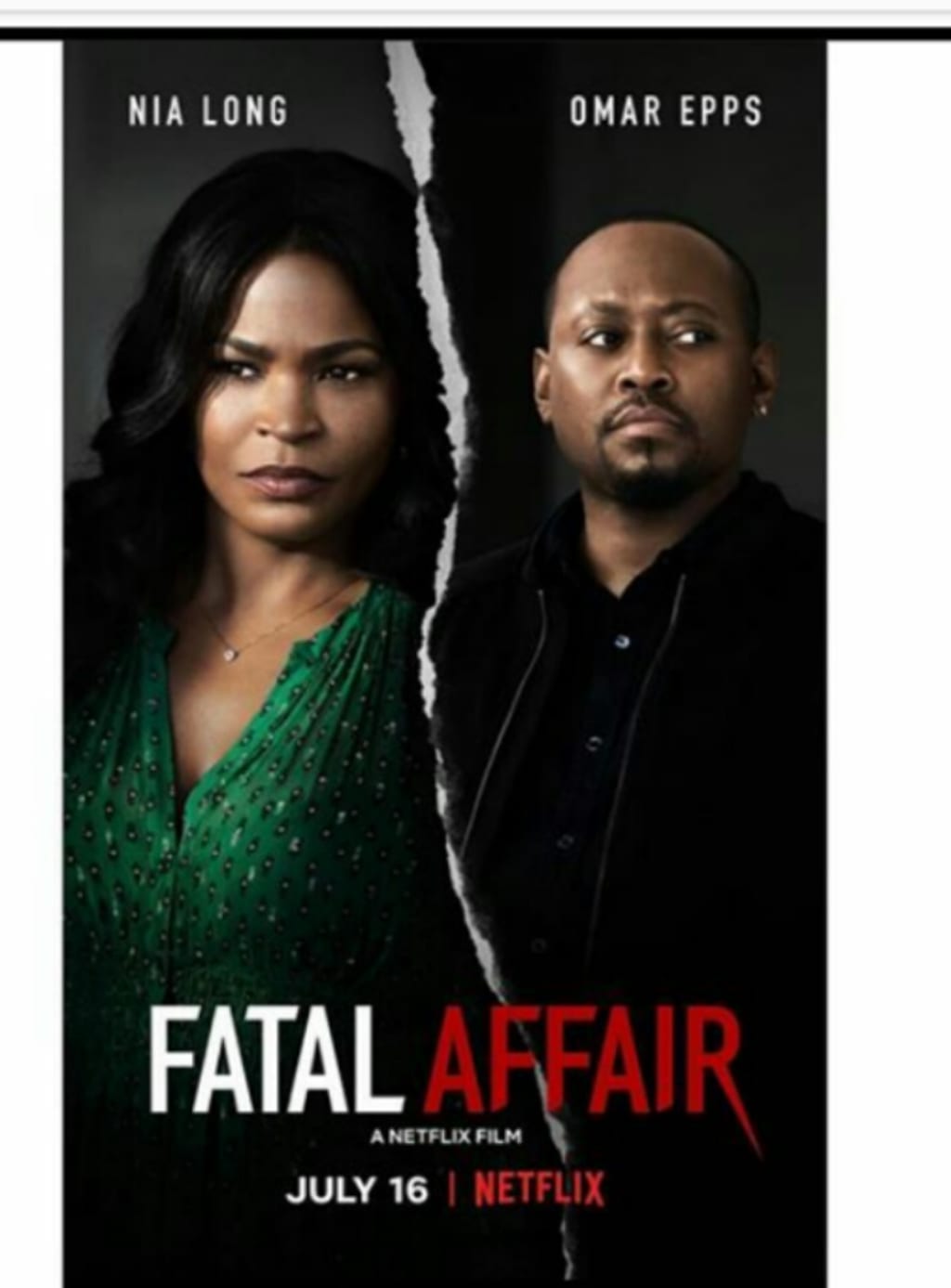 Netflix Film Poster
Nia Long and Omar Epps star in this Netflix original stalker thriller film Fatal Affair. A film about two former colleagues working at the same law firm have an affair until it started to turn into an obsessive and dangerous fatal attraction.
July 18, 11:30 pm
The movie opens at a two interracial couple started making love on the couch in the apartment. After they stopped, the woman went into the kitchen to get a drink until she hears a ruckus. She went to until she sees her man disappeared. She searches through the house until finds him in the bathtub running water. She disrobes herself and sees her man in a pool of blood The movie title appears. After the movie title closes, the movie opens up at this beautiful setting daylight, the oceans heavily roaring like the winds. Ellie Warren (Nia Long) driving on her way to her new home, Her home is like a summer beach house. Inside her home, it was filled half with boxes and half well decorated. Her husband Marcus Warren (Stephen Bishop), seems a well being and obedient. Marcus seems like uninterested character even uninterested to his wife Ellie. At Ellie's workplace, it has a familiar location to the film Obsessed from certain angles. She meets her former colleague David (Omar Epps) whose now working at the same firm with Ellie. Ellie and her friend Courtney (Maya Stojan) were supposed to have happy hour until Courtney cancels the last minute. David meets Ellie and joins her. They have a glass of wine to continue to catch up, she admits there was some trouble in her marriage and refers her husband as "a complete stranger". At the club, they later slow dance which it was the weakest sloppy slow dance I have ever seen. They almost kissed and stopped slow dancing until Ellie go to the bathroom when she and which is a kind of familiar with the scene Obsessed, like the scene when a drunk Derek goes to the bathroom Lisa follows him to the bathroom and seduces him except this is switched roles with Ellie and David. They kissed, made out but Ellie stops when they are about to do it. It wasn't really an affair. It was a disappointing attempted affair. Half of scenes were old fashioned like every simple stalker films like trying to contact the victim, the victim tells the stalker to stop but the stalker doesn't stop. Cinematography were good but kind of the same like any familiar stalker films. The ridiculous part of this film was when Courtney, Ellie's friend was starting to believe David over Ellie believing that Ellie made a move on him which is kind of familiar scene to another film Fear that starred Reese Witherspoon and Mark Wahlberg. When Ellie breaks into his apartment, she finds in David's Laptop that he has been taking pictures of her outside of own home and his hacking system on how he got a trace of her. Half of the killings that David had done weren't that horrific. The ending scene wasn't unsurprisingly thrilling enough just same way how obsessed stalkers die. Spoiler Alert: David falls off a cliff and dies. How unsurprising!
Here are my thoughts about this Film...
This movie seems like an Obsessed-style type of movie but surprisingly lame. It didn't give me a shocking thriller vibe, unlike all the stalker movies. Ellie's husband Marcus seems lame throughout this movie it made me realized why Ellie (Nia Long) said to David by calling him a "complete stranger". Omar Epps character in the film is a creepy, weird, and clever stalker. Honestly, I feel like this film doesn't belong to the Netflix film category. Also, I feel like this film was made in 60 seconds or 60 minutes. I love Nia Long, she's a wonderful actress but I don't know why she had to produce this film she can do better than this. Although I would have to admit the movie trailer is better than the actual film.
Production Company: Hybrid Films
Distributor: Netflix
Rating: R
Time: 89 mintues
Year: 2020
Cast: Nia Long, Omar Epps, Stephan Bishop, KJ Smith, Maya Stojan
Director: Peter Sullvian
Writer: Peter Sullvian
Producer (s): Barry Barnholtz, Nia Long, Jeffrey Schenck
Music: Matthew Janszen
Cinematography: Eitan Almagor
Edited: Randy Carter
movie
About the author
Hello, My name is Gladys W. Muturi. I am an Actress, Writer, Filmmaker, Producer, and Mother of 1.
Instagram: @gladys_muturi95
Twitter: @gladys_muturi
Facebook: facebook.com/gladystheactress
YouTube channels in the works
Reader insights
Be the first to share your insights about this piece.
Add your insights