My Critique On Hamilton: the Broadway Musical
Though I never watched in person, I got a chance to watch Hamilton, the Orginal Broadway Musical on Disney Plus and I have some thoughts about this musical.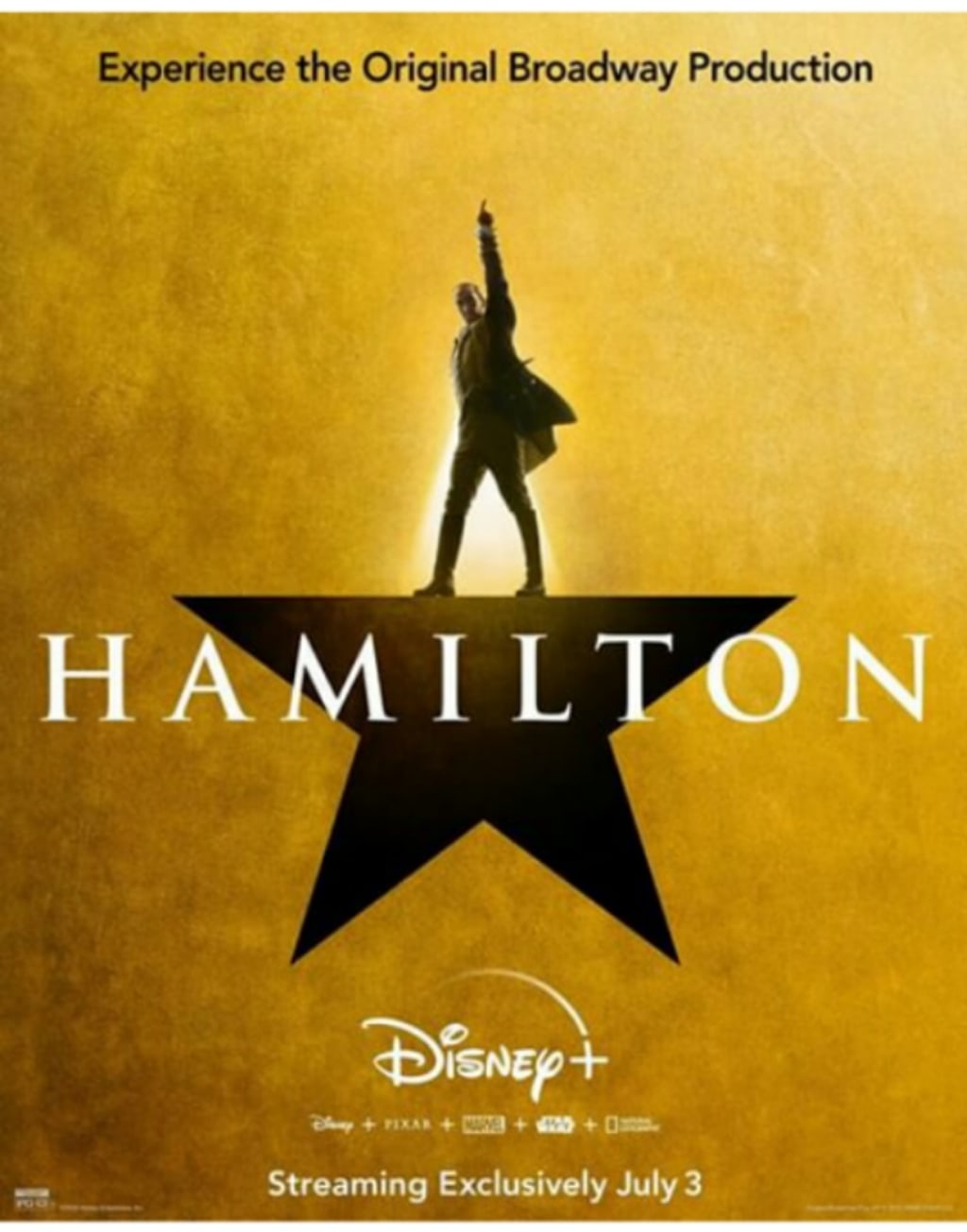 Hamilton Disney Plus poster
Though I never got the chance to see this Broadway musical in person. I heard on Instagram that Hamilton will be streaming the full Broadway musical on July 3rd (before Independence Day).
July 3rd: Hamilton premiered on Disney Plus
On July 3rd, I was watching this musical on my son's school laptop using my sister's Disney Plus account. I pressed Play to watch Hamilton. The movie opens with the audience applauding and cheering over the Disney movie intro background. Voiceover of King George III welcoming audience to "Hamilton". The stage takes place at the Richard Rodgers Theatre in New York City in June 2016. The setting of the musical: New York Times: 1700's. The stage opens at a well-lit wooden stage that looks Aaron Burr (Leslie Odom Jr.) enters and rap the part "How does a bastard, orphan, son of a whore and a Scotsman dropped in the middle of a forgotten spot..." then chimes Laurens(Anthony Ramos), Jefferson/Lafayette (Daveed Diggs), Madison(Okieriete Onaodowan), in the song. Then Alexander Hamilton, the main protagonist (Lin-Manuel Miranda) sings "Alexander Hamilton" by saying his name. Hamilton, Burr, Lafayette, Laurens, and Company sing Alexander Hamilton describing Hamilton and telling the story of Hamilton through the lyrics. The characters are all dressed in 1700's outfits and modern hairdos. Burr and Hamilton meet and sing "Aaron Burr, Sir", which I didn't care for that song. They meet up with Laurens, Lafayette, and Madison with some beatboxing involve which I thought was impressive. Next song "My Shot," the beat of the song was superb, kind of Busta Rhymes beat in a fast-paced muse. Dancers were succeeding in their choreography through the song. The Schuyler Sisters: Angelica, Peggy, and Eliza (played by Renée Elise Goldsberry, Jasmine Cephas Jones, and Phillipa Soo) were like a sisterly Destiny Child-ish group their song "Schuyler Sisters" were very impressive, I fell in love with the melody, sisters had incredible vocal chops to the song. King George III (Johnathan Groff) dressed in red royalty attire fresh to death like he was a million bucks, his face looks strict and selfish as enters the scene sturt walk like a supermodel. The "Dah-Dah-da" part was kind of catchy pattern in the song.
The Wedding Night scene, Angelica got me confused a little. It went from rewind direction scene to where Angelica meets Hamilton when she said "I'm a girl in a world in which my only job is to marry rich. My father has no sons so I'm the one who has to social climb for one." when I saw the scene where Hamilton kisses Angelica on the hand I wasn't sure he has a thing for her or if Angelica is trying to accept that her sister marriage to Hamilton and she wants to marry a rich man (after all, she's the one who introduced Hamilton to her sister, Eliza, his future wife). The scene and the song were incredibly timeless, sounded incredibly familiar to Destiny Child's "Say my Name".
The song "Yorktown (The World Turned Upside Down)" was an astonishing, meaningful song. The line from song "Immigrants, we get the job done" when Lafayette high fives Hamilton hits real hard for the audience roaring with cheers and applause. Dancers are dressed as British army band attire just like 1820 painting made by John Trumbull.
After the Act One ends, there was a 60-second intermission. Act Two opens at the introduction for Thomas Jefferson (Daveed Diggs) again this time in a puffy afro dressed in a purple 1700's attire with a cane, he sings a jazzy tune "What'd I Miss". In the 1789 scene, there was a rap battle scene between Hamilton and Jefferson almost leading them to fight but George Washington pulls Hamilton aside to stop them from fighting.
Then there was this scene I couldn't resist with Hamilton and Maria Reynolds (Jasmine Cephas Jones) dressed in a different attire with red lipstick on her lips. I fell in love with this song "Say No To This", it has three S's in the song: seductive, sexy and scandalous.
There were other scenes that were dramatic like "The Reynolds Pamphlet" a 100-word essay revealing to everyone that Hamilton had an affair with Maria, Eliza burning the letters from Hamilton, and the death of his son Phillip Hamilton.
When the duel between Hamilton and Burr was about to begin Hamilton pauses the show, a dancer holds the bullet to pause the scene. It went from clockwise-to-counterclockwise like the same direction from the "Satisfied" scene. The scene nearly ends with emotion when he glances at Liza one last time and said, "I'll see you on the other side . Raise a glass to freedom." Hamilton intentionally shots in the air, Burr shots Hamilton then he later dies. Burr survives becoming the villain of the story. The musical closes with Hamilton's now widow Eliza Hamilton, Aaron Burr, George Washington and Company sing "Who Lives, Who Dies, Who Tells Your Story" In the song, after Hamilton dies, the song explains the aftermath of Hamilton's death, Angelica, George Washington, Jefferson and Madison telling their narrative of their story and a heartbroken Eliza Hamilton continues to live Hamilton's legacy.
What do I think about Hamilton (In my Opinion)?
In my opinion, I have some thoughts about Hamilton the musical was good but it wasn't all the way good. Act One didn't catch much of my attention. In the beginning, the song Alexander Hamilton was an amazing opening song to know about Alexander Hamilton. Act One was somewhat interesting. The songs in Act One, My Shot, Schuyler Sisters, Helpless, Satisfied, Wait for It was my favorite so far, as for the rest of the songs were not my specialty. Act Two is way more interesting than Act One. Everything on Act Two was shocking, brilliant with the scandal, the music, and the drama. The songs did catch my eye-popping attention. The drama behind Act Two was very intriguing and astonishing.
I praised the cast of characters including Lin-Manuel Miranda's portrayal as Alexander Hamilton for everything they have done on stage. I love the dancers and their choreography they never missed a beat or made any mistakes. Other than that Lin-Manuel Miranda did a good job but it wasn't better than In the Heights. However, I would recommend students whether they're a high school or college who wants to watch and learn about Hamilton and do their research after the show even families with children should watch it.
Production Company: RadicalMedia
Distributor: Disney+
Cast: Daveed Diggs, Renée Elise Goldsberry, Jonathan Groff, Christopher Jackson, Jasmine Cephas Jones, Lin-Manuel Miranda, Leslie Odom Jr., Okieriete Onaodowan, Anthony Ramos, Phillipa Soo, Carleigh Bettiol, Ariana DeBose, Hope Easterbrook, Sydney James Harcourt, Sasha Hutchings, Thayne Jasperson, Elizabeth Judd, Jon Rua, Austin Smith, Seth Stewart, Ephraim Sykes
Director: Thomas Kail
Book, music, and lyrics: Lin-Manuel Miranda, inspired by the biography Alexander Hamilton, by Ron Chernow
Producers: Thomas Kail, Lin-Manuel Miranda, Jeffrey Seller
Executive producers: Sander Jacobs, Jill Furman
Original stage director: Thomas Kail
Original stage producers: Jeffrey Seller, Sander Jacobs, Jill Furman, The Public Theater
Director of photography: Declan Quinn
Production designer: David Korins
Costume designer: Paul Tazewell
Lighting designer: Howell Binkley
Sound designer: Nevin Steinberg
Editor: Jonah Moran
Choreographer: Andy Blankenbuehler
Music supervisor and orchestrations: Alex Lacamoire
Arrangements: Alex Lacamoire, Lin-Manuel Miranda
Casting: Bernard Telsey, Bethany Knox
Rated PG-13, 162 minutes
review
About the author
Hello, My name is Gladys W. Muturi. I am an Actress, Writer, Filmmaker, Producer, and Mother of 1.
Instagram: @gladys_muturi95
Twitter: @gladys_muturi
Facebook: facebook.com/gladystheactress
YouTube channels in the works
Reader insights
Be the first to share your insights about this piece.
Add your insights