Most Expensive Lego Sets 
The most expensive Lego sets you were denied as a kid.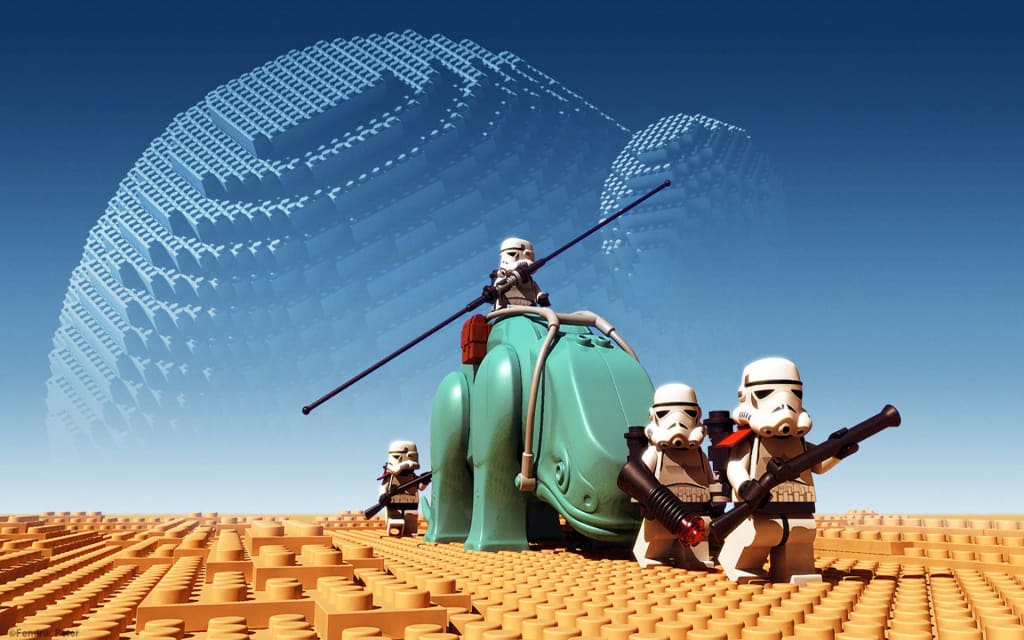 Remember when you were a kid and your parents always told you that Lego was far too expensive. Of course, you didn't believe them, and more to the point, you didn't really care. But when you grew up you realized that Lego is quite frankly, incredibly and extortionately expensive. Well, I'm about to burst your bubble yet again with the most expensive Lego sets. Lego for the past 15 years has set an average increase in value by 12% for the year after release. It also comes to no surprise though that Star Wars has made our list more than once, considering it is one of the most valuable franchises in the world.
A collection of Team GB mini figures was released in 2012 to coincide with the London Olympics. The nine characters include a gymnast, a tennis player, a weightlifter – and even a Speedo-clad swimmer. The £99.99 complete set is out of stock, which has sent the price of the collection as high as $550. If you look up a picture of them, quite frankly they don't even seem that overly impressive. If anything this makes us remember to never underestimate the value of what many can see to be just a pile of junk. One man's trash in another man's treasure. Who knows, with the upcoming Olympics in Brazil, keep an eye out for any seemingly short stocked Lego mini figures.
This little house set was released in 2007. Market Street is one building out of a group of eight that create the Street set. Others include the Fire Brigade, the Pet Shop, and the Cinema. This 1,248 piece set sold at retail for $89.99 but has now gone up to $4,000. So with a quick calculation, it's pretty easy to figure out that selling that off would net you over $3900. I'd urge you to think of all the stuff you could buy with that kind of influx of cash. However, with the complete set, although I can't find any specific numbers, imagine the outrageous value you can create.
That was the other great thing about Lego, the fact that it seemed to have permission to make licensed goods from a vast multitude of intellectual properties ranging from Star Wars to Indiana Jones. However, even a brief and cursory look over Lego collectors well tell you that the most highly sought after sets are out of production Star Wars sets. If you're going to start collecting, this is where the big boys choose to invest your time. The Imperial Star Destroyer was about $250 when it launched, but now its price has raised to a phenomenal $2,100. Not bad considering what a lot of people would call a waste of time. Also, this ship is cool as hell. Anyone who has seen the original Star Wars will remember the opening scene with the Star Destroyer hunting down the small Rebel transport ship. Cinematic, and build-able magic at its finest.
This is the definitive way to figure out whether you are a premier Lego collector or not. Mr. Gold is simply a little Lego mini figure in a suit and is painted entirely gold. In fact, Mr. Gold only cost around $3 when he released. So what makes him so valuable? Well, the gimmick around this mini figure was that only 5000 were every made of Mr. Gold. This has made the little unassuming figure a majorly important piece of Lego merch that every collector worth his salt will keep an eye out for, and you should be too. You never know what you might find at a yard sale one day. Maybe they'll never know what a valuable little Lego man they have managed to get their hands on.
This iconic vehicle from the Star Wars franchise has seen its way into cinematic history, but it's also found its way into the history of Lego collecting too. On sale between 2003 and 2005, this model has become coveted after for its apparent rarity, and would field you a very neat $2,340 if you managed to get a legitimate model and sell it. And who could be entirely surprised? Apart from the fact that it was very rare, this is the vehicle that Luke Skywalker flew to famously take down an AT-AT at the battle of Hoth. You don't get much better than that.
Y-Wing Attack Starfighter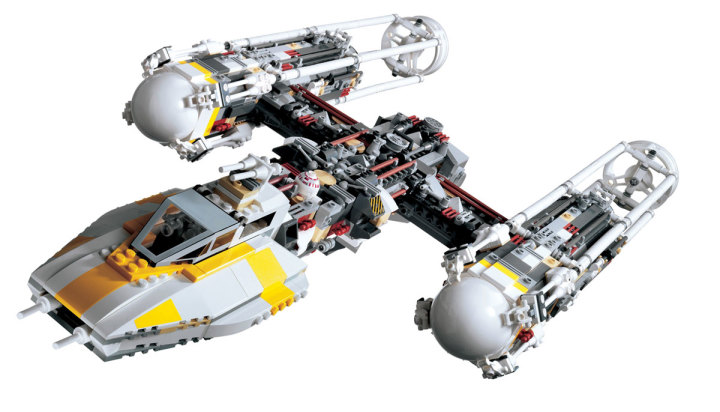 Battle the forces of the Empire with the Y-Wing Starfighter! Named for its unusual shape, the classic fighter bomber of the Rebel Alliance played a key role in the defeat of both Death Stars and the downfall of the Galactic Empire. Exploding with incredible details, the Ultimate Collector Series Y-Wing starfighter which originally only went for $120 now can be worth well up to $1,800. Not enough to buy you the actual Y-Wing, because of obvious reason but definitely enough for you to consider selling. A true fan favorite
But we're certainly not finished with the Star Wars franchise just yet. No, in fact, there are still many more to come. Seeing as there is now even more interest in the Star Wars franchise due to the new films releasing, I'd only expect the prices of these Lego sets to increase drastically as years go by and interest peaks. Selling a legitimate copy of The Second Death Star will field you a very neat $1900 from an avid collector who is prowling Amazon for it. By far the cooler of the two Death Stars although perhaps not the most iconic, The Second Death Star is an under-appreciated gem that some people would gladly spend thousands of dollars to get a Lego set of.
We're away from Star Wars for the time being for perhaps the oldest entry and goal of any Lego set collector, The Maersk Line Container Ship. Sold originally in 1974, at a glance any normal person would think that it isn't worth very much at all, but that's how it is. These people would miss the extraordinary opportunity, because selling a set of The Maersk Line Container Ship would net you over $1700 from any reasonable collector. If anything, this Lego set teaches us perhaps one of life's greatest lessons. Never, ever, judge a book by its cover.
The Eiffel Tower was at one point the tallest building in the world. In fact, some people thought it was such a monstrosity that they hated it with unbridled passion. One artist hated the world famous tower so much that he went up it every day and conducted his work from the platforms so that he wouldn't have to look at it on the horizon. It's become a symbol for Paris, and in 2007 Lego released their incarnation of the iconic building of brass. This Lego set has the distinct pleasure of being the tallest Lego set ever created to this day, stacking up with over 3000 pieces to over 42 inches tall. This Lego set did justice by the real life counterpart, and if you did happen to want to sell it, you would be well within your rights to request a price of over $2500 due to its rarity and esteemed standing in the Lego hall of fame. That will buy you a first class ticket on Air France.
From perhaps the most iconic building of France to the most iconic building of India, Lego are certainly doing their rounds around the world to find the greatest buildings designed by man to model their esteemed Lego sets over. Just like The Eiffel Tower set was known for being the tallest set ever designed by the smart people over at Lego, The Taj Mahal is known to be the largest set and perhaps the most complex of them all, boasting a total amount of pieces of over 5000 pieces. That's quite hard to even consider in your head. It must have taken ages to actually build the whole structure, however, one very good reason for trying to hunt down this set is for the price at which you can sell it at which can usually exceed over $3000. Now, I realize that there are some major Lego enthusiasts out there, but I don't know who would spend $3000 on a Lego set. Very popular with Oligarch children.
I promised we'd make our way back to Star Wars, and here we are. This set has the great privilege of being officially the most valuable Lego set in the world. Why? Likely a mixture between the fact that it is the second largest set that Lego have ever designed (behind only the previously mentioned Taj Mahal), the incredible amount of detail that has been put into the design which would make any Star Wars fan almost melt with excitement and the fact that it is infamously rare to find. The set cost upwards of $400 to purchase when it was new, but if you want to get a set now you're going to have to fork out over $6400, sixteen times the price when it was new. So go ahead and start collecting Lego now, and if someone makes fun of you for it or doubts its validity, just point them towards this article and show them how much money there is to be made out of this fascinating subculture.