Moon Knight S1 E1 Review
My Review of the First Episode of Moon Knight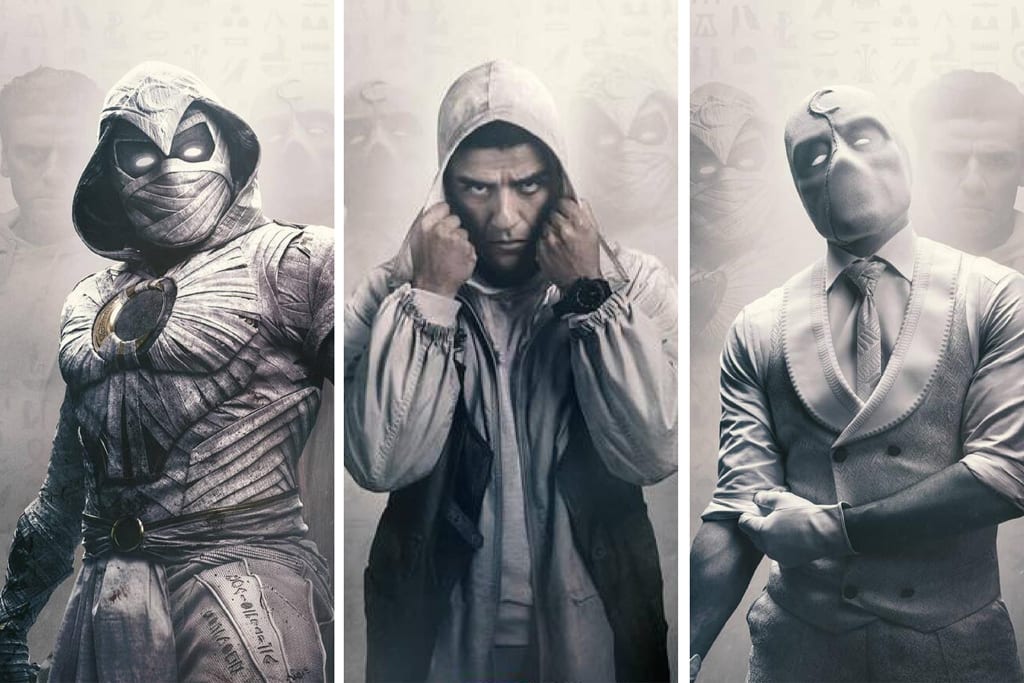 After months of anticipation, the long awaited Moon Knight is here! It premiered the first episode Wednesday (March 30) on Disney+, and , including myself, were astounded by the show so far. There were I loved about the first episode, and I'm looking to watching it every Wednesday! In this article, I'll be discussing my opinions, theories, and hopes for the show moving .
This article will contain spoilers for the first episode, so if you haven't watched it, come back to this article once you've seen it!
1. Steven's Struggles:
In the beginning of the episode, we meet Steven Grant, a shop clerk at a museum in London. He completes his morning routine of unclasping his ankle chains, checking the sand around his bed and the tape on the door, and talking to his goldfish, Gus. He leaves a message for his mom before catching the bus to his job. His boss, Donna, is a real hoot (and that's putting it nicely). We notice by the way he talks about the exhibits to a young girl that he has an interest in Egyptian culture and mythology.
On the surface, Steven seems like a normal guy trying to live a normal life, but later, we'll learn that something isn't right with him. He has Disociative Identity Disorder, or DID, and in his case, it causes him to change identities in his sleep. He tries to stay awake by doing puzzles or reading books, but he's pulled into a shift when he wakes up on the ground in a grassy pasture.
Throughout the series, I think we'll see Steven struggle with his disorder and "giving control" to his . Out of the rest of his identities, he's the least capable of handling himself in combat, so it makes sense for someone like Marc to take control of the body during those times.
2. Clues to Marc's Mercenary Life:
The first episode took us on a journey through Steven's perspective, from the moment he woke up to the end when he allowed Moon Knight to come out. The point of view was enveloping! Through Steven, we experienced his panic, confusion, and , which, worked well for the story.
When he woke outside the village, he was being chased by into a crowd of people waiting to see Arthur. Arthur Harrow appears to have gained a following through some strange mysterious powers (we'll talk about those in a moment) before outing Steven by asking him to give him the scarab in his pocket. , the in his head have other plans, which leads to an epic car chase in which Steven blanks out and Marc takes control, saving both of their lives.
Later, Steven finds a phone in his apartment with missed calls from a woman named Layla. On the phone, she asks for an explanation, which Steven cannot offer, because she's looking for Marc. Steven asks her why she called him that, but she hangs up the phone. When he tries to call her back, he hears the voice of Marc call out.
, we aren't given any more clues about Marc in this episode, but as the series continues, we'll most be the rest of the pieces to this puzzle.
3. 's Portrayal of Arthur Harrow is- well, Harrowing!
The first image of our suspected big bad is of him placing broken glass in his shoes! That sets off all the red flags! He has a tattoo of a set of scales on his right forearm that moves when he "judges" someone, a cane with two crocodile heads on it, and an armada of followers that blend into the background! He gives off Manson or vibes, and it's unsettling! put a poor lady to death because the scales weren't tipped in her favor.
later follows Steven to his job, believing him to have to him earlier in the village. tells him about , and rather cryptically, states that " chaos in you." At the end of the episode, Harrow sends what appears to be a jackal monster after Steven. It leaves audiences wondering, "what is the scope of his abilities?" along with other .
The Elements of Horror Marvel Plays With:
When I first heard that Marvel wanted to experiment with horror themes in their movies, I wasn't keen to the idea. I suppose I thought there would be cliche baddies, silly tropes, the . But, that was not the case!
The horror elements in the first episode were subtle, but well done! The show gave us paranoia, scary monsters, and a creepy moon god stalking the main character in a dark hallway. Paired with Steven's perspective, and we were feeling as confused and fearful as he was! The ominous and intimidating voice of gave me the same vibes I get whenever I watch one of the Venom movies! I'm excited to see (and hear) more from our mysterious Egyptian moon god!
I was disappointed when Marvel premiered one episode instead of the two we've been used to with the other shows. was on the edge of my seat while watching this show. look to watching more of this show.
About the Creator
M.N is a mother, cosplayer, nerd, and writer for CBR. She loves Marvel Comics and creating fiction. She hopes to inspire others with her stories and success.
Check out her work on CBR!
https://www.cbr.com/author/megan-negus/
Reader insights
Be the first to share your insights about this piece.
Add your insights