'Monsters Inc.' a Movie Review
Did you know that Sully has 2,320,413 hairs, and that it took 11 to 12 hours to render in each frame?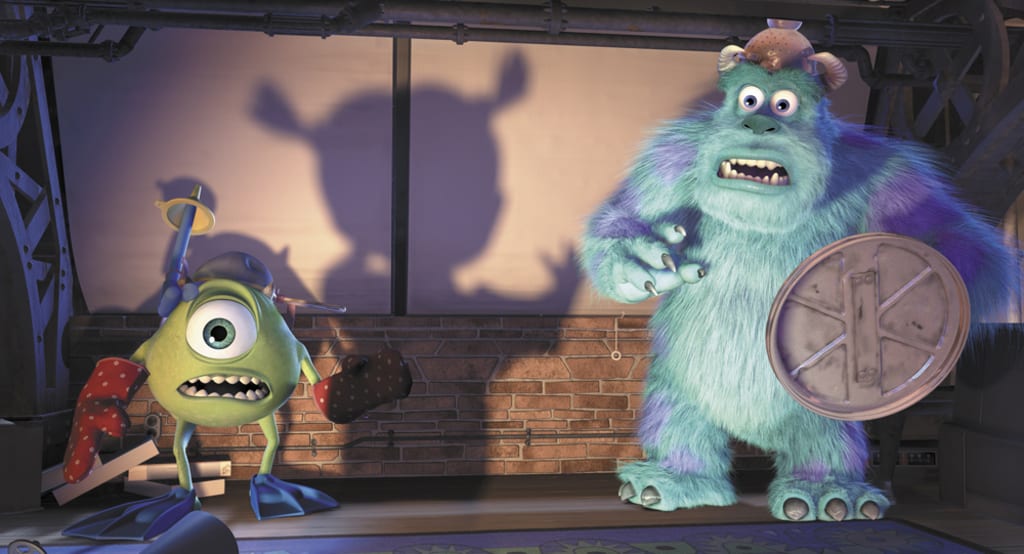 I sure hope that Mike and Sully aren't planning a surprise attack right now, or they're really going to regret messing up my sleep cycle.
In 2001, Pixar delighted audiences with Monsters Inc. Set in a world of monsters, their jobs are to scare kids in order to keep their city running. One night, a little girl escapes from her room into the monster world. Now, Mike and Sully, have to get her back to her room, before their world is further exposed.
When I saw this movie as a little girl I could not stop laughing in the theater. If you're ever having a bad day I suggest that you watch Monsters Inc. It's a creative movie filled with the funniest one-liners, a very unique world, and the best bloopers in the credits.
Without Billy Crystal and John Goodman supplying their voices for Mike and Sully, it would be a much different movie. Back in 1995, Crystal turned down the role of Buzz Lightyear! If he didn't accept the legendary role of Mike Wazowski that would be utter turmoil.
John Goodman delivers his best roars as Sully. Goodman is an awesome character actor, and he has great comedic delivery. Since animated films experiment with caricatures I wonder if artists copied Goodman's face for all of Sully's frightened faces during the trash compactor scene.
At the time of recording her lines for Boo, the little girl who escapes into the monster world, Mary Gibbs was only two years old! Since she was still too young to even sit still, directors followed her around recording what she said while playing. That's a job well done.
Other voice credits include Steve Buscemi as Randall, the late James Coburn as Mr. Waternoose, the energetic Jennifer Tilly, and Bob Peterson, as the raspy voice of Roz the sarcastic secretary. She's one of the best characters in Monsters Inc.
I love how Pixar spends close work with character interactions. Mike and Sully's friendship is meaningful, and filled with the right amount of sarcasm. Boo adds such a tender charm to the film. It hasn't occurred to me until recently that the story only takes places in twenty-four hours!
In my opinion, I believe that stories have more drama if they take place in only a few days, instead of a month, which draws it out. As a writer, that is an important tactic. Keep it short and simple with loads of drama to keep the audience busy.
Pixar spends incredulous hours with their animation. Did you know that Sully has 2,320,413 hairs and that it took 11 to 12 hours to render in each frame? Yeah, Pixar works long and hard to deliver their films to audiences.
I love movies that create new worlds. One of my favorite ideas for the film is how the monster has all the doors in the world stored in their factory. Writers were smart to have the epic conclusion go down in this part of the factory.
One lurking question that has gone through my mind is if the doors are magic? Does time in the human world stop? Boo was gone for a while from her world. I assume that the monster world must be different with time. See, that's the best thing about movies that create their own worlds. You get to ask questions and create your own headcanons.
If you're worried that this film may scare your children, I don't think it will. There a couple of scary images but nothing that is harmful. Adults are sure to enjoy Monsters Inc, too. After eighteen years I still have a good laugh whenever I catch it on TV. We're always kids at heart no matter what.
review

Marielle Sabbag
Writing has been my passion. I love creating stories from fiction, poetry, fanfiction, and I even enjoy writing reviews about movies and plays. I would love to become a freelance writer and leave the world inspiring minds.
See all posts by Marielle Sabbag →