Miles Morales Suit Review
All it takes is a leap of faith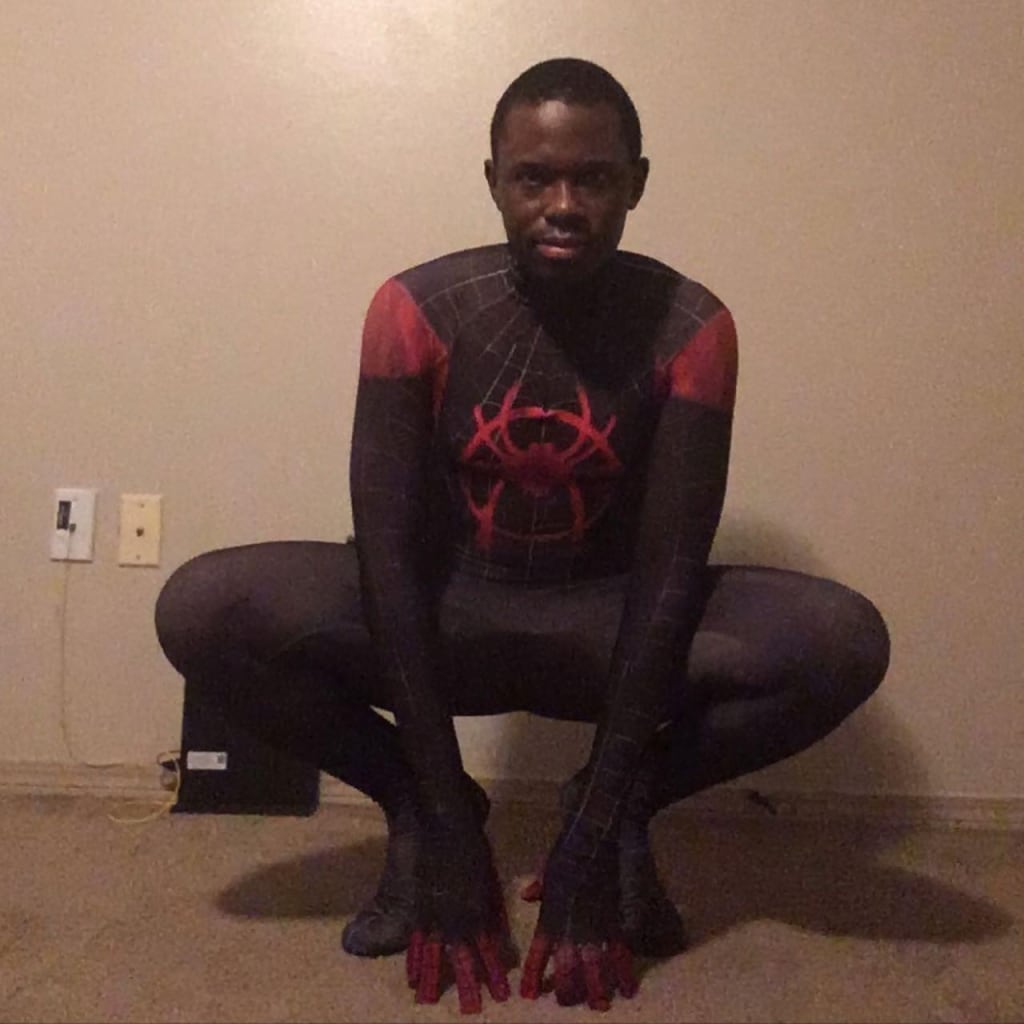 Greetings, true believers! The last time I reviewed a Spider-Man suit was about a year ago. It was my Captain Spidey suit from Zentaizone. Unfortunately, back in late March, it was stolen. It was in one of my backpacks and all of a sudden, a thief or thieves swiped it off a bench while I was charging my phone outside of a Walmart, just feet away, on a bench. I should've taken my bag with me and smart enough not to leave it unattended. It was devastating and wondered if I would ever have the courage to be Spider-Man again.
At the time, I was homeless for three weeks because my now ex-roommate moved back to Michigan and I stayed with friends until my new apartment was ready. After almost eight years living in Springdale, I moved to Fayetteville. I currently work in that town, so the move made sense to me. Almost a month into moving into my new place, my stimulus check arrived via direct deposit. I used sone of it to pay bills and rent for the following month. I had money left over to purchase one thing: a Spider-Man suit. Immediately, I went to the RPC Studio website looking at different Spider-Man suits. All of them looked great, but there was one that I've had my eyes on for almost two years. That suit was none other than Miles Morales.
If you're unfamiliar with RPC Studio, they sell props, other products, and of course, Spider-Man suits. There are over 150 suits to choose from and yes, there's also Spiderwoman suits: over two dozen to choose from. When you order a suit, you're in control of how you want it customized, such as the size of your suit, head size for you mask, and shoe size. The length of how long it'll take for your suit to be completed varies by suit. For example, I had to wait four to eight weeks for my suit to be completed. When that process is done, you'll receive an email confirmation stating that it has been shipped out and expect to wait up to 2-3 weeks for your suit to arrive at your home. If you're willing to spend hundreds of dollars on a webtastic suit, then RPC Studio might be the site for you.
On August 3, my suit finally arrived. After three months of waiting and anticipating, I was eager to try it on. Many people have said that I can pull of Miles Morales well and they were right. When I saw Into The Spider-Verse back in December 2018, I fell in love with Miles Morales the entire time I watched the movie. The scene where he was in his suit for the first time got me excited.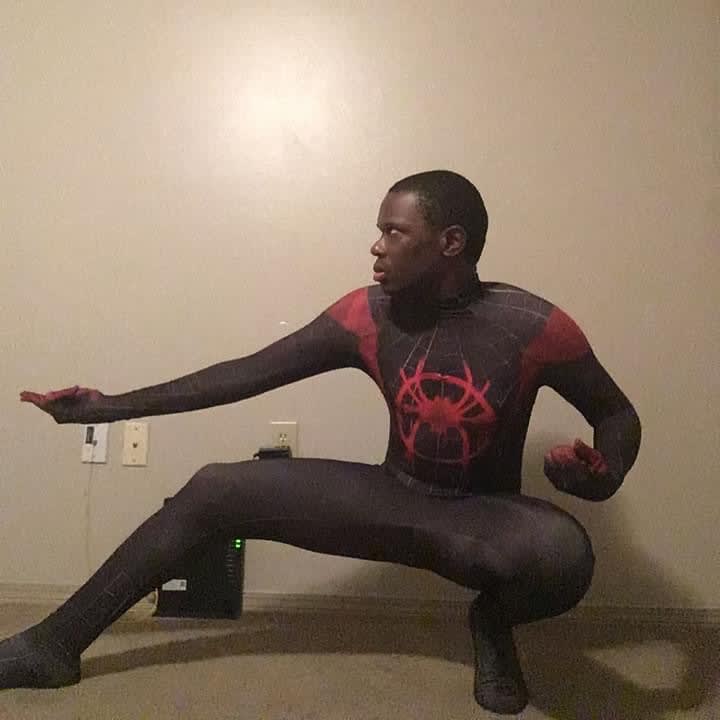 What you see above is me wearing my Miles Morales suit. It fit me perfectly and the funny part about is that I've lost a bit of weight long before it arrived. Nonetheless, I felt like a hero again. Wearing a Spider-Man suit again was a great feeling. I know it's hard to tell, but on the front of my suit, the symbol was made using puffy paint and had 3D webbing on the front of it, too.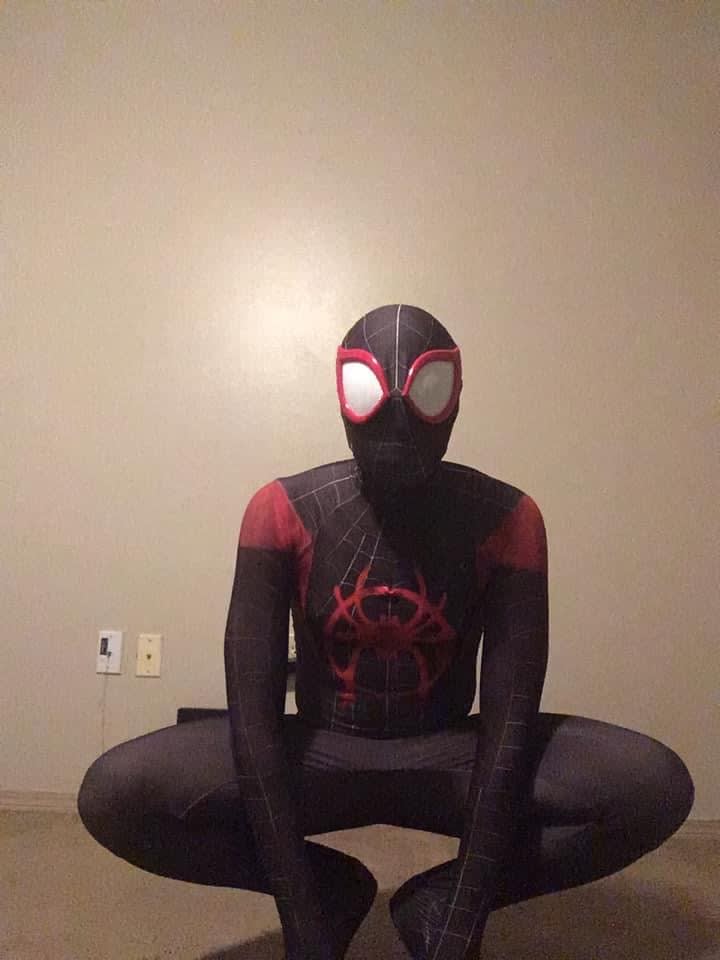 As for the mask, I had no problems putting it on. It fit me nicely and there's a zipper on the back of the mask.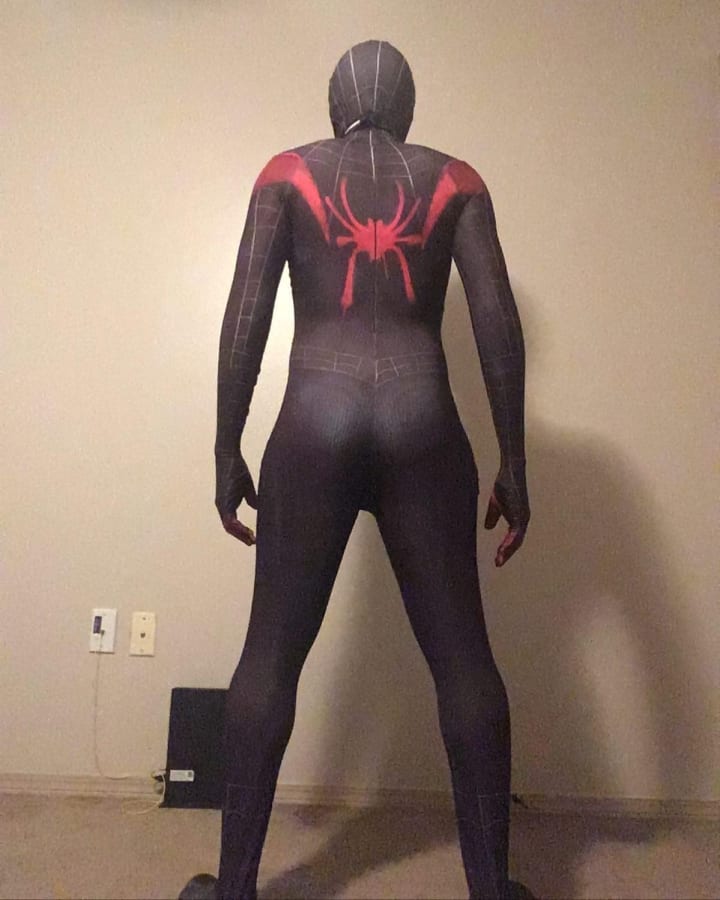 The symbol on the back is the same, but it wasn't done using puffy paint. You can also see the 3D webbing, just like the front of the suit. I have a faceshell that I bought two months earlier. Thinking about upgrading my mask soon. I'll probably need some guidance from my social media followers. I'll have a picture of my faceshell at the end of this story.
I've since made TikTok videos showing off my suit and did one duet on there so far. There will be more videos of me in my suit. Hopefully, TikTok won't be banned in the United States. I want to thank everyone at RPC Studio for spending numerous weeks and hours customizing my Miles Morales suit. They did a wonderful job on it and I would definitely purchase another suit from them again. When my previous Spider-Man suit was taken away from me, I was sad and discouraged. I was unsure if I wanted to be a web-slinging hero again. However, after much thought, I decided to give it another shot. I've since had positive feedback on my suit since it arrived and posted pictures and also videos of me wearing it on social media. I would highly recommend RPC Studio to anyone who's interested in purchasing a suit. That is, if you are bold to spend hundreds of dollars on one. They go anywhere from $250 to almost $1400. Completion times of a suit and estimated arrival of it varies. Hope you liked my review and please do support me on Vocal.
I'm now on TikTok: @thecosplayerfromtexas. I'm always in need of new followers. Mention that you've found me on Vocal and I'll follow back. Please check it out and enjoy my videos. Also, be sure to follow me on social media. The info to all of my social media pages can be found in my bio. If you enjoyed any of my articles, including this one, please feel free to send me a one-off tip, which is located at the end of every article. No tip is ever too big or small. It'll help me and other Vocal content creators to write better stories. Lastly, I encourage everyone to join Vocal+, a premium membership for Vocal content creators like myself to write better stories, connect with creators, and a lot more. So be sure to sign up for that membership and support your favorite Vocal content creators. Thanks in advance for your support of me and hopefully, I'll see you on social media.