Mike Camoin
Film Industry Trailblazer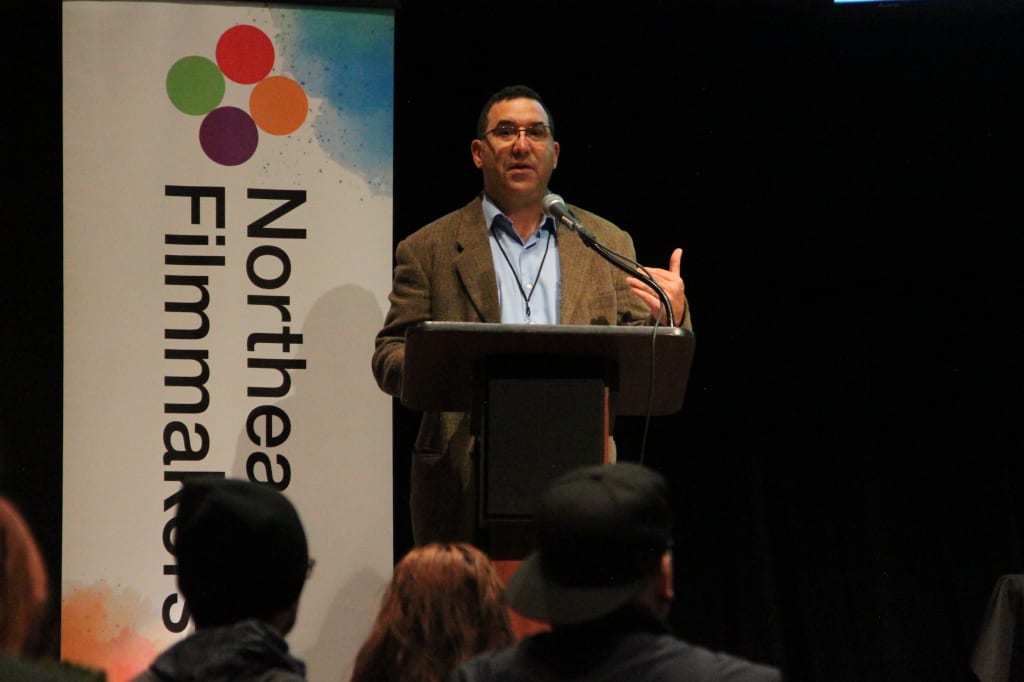 Photo courtesy Capital Cinema Cultural Exchange, Inc.
Mike Camoin is best known for his documentary series on Adirondack culture: Inside the Blue Line, How to Make an Adirondack Packbasket which have screened in Northeastern U.S. and Canadian television markets. On a cinematic mission, Camoin is currently in development on Scared To Debt: America's Student Loan Scam and in post with Life Or Death featuring David Kaczynski and Bill Babbitt, a story that reveals how two families turn mentally-ill brothers in to authorities with dramatically different consequences.
As a leader in independent film in Upstate New York, Camoin is a founding member and former president of Upstate Independents Filmmakers Network, Inc. (1995-2000), a 25 year old salon network of the Association of Independent Video and Filmmakers (AIVF) based in Albany, NY. He's appeared on public television and public radio with Alan Chartock discussing all things independent motion pictures.
Holding a Masters in Social Work from the State University of New York at Albany (1992), and a Bachelor of Arts from St. Bonaventure University (1988), as a filmmaker, Camoin studied directing, producing, fundraising and film distribution at intensive workshops over the past two decades. Camoin is also a fully insured licensed drone pilot.
As founder of Videos For Change Productions (1992), Camoin's company was the first of its kind in the Rensselaer Polytechnic Incubator (2002-2006) leading to the creation of The Battles of Saratoga, a documentary self-distributed on DVD to home and educational markets across the U.S. Camoin initiated talks leading to expansion of resources including the Capital-Saratoga Film Commission which fostered the New York State film tax rebate program.
A director on such short films as Ruler of Life, Crossing the Whitestone and Relax the later made it's Russian premiere in 2011 where Camoin was the sole American invited to an intensive 8-day producer's lab. Upon returning from the lab, Camoin founded the non-profit Capital Cinema Cultural Exchange, Inc. which hosts the annual Northeast Filmmakers Lab (NEFL) now entering its 7th edition. NEFL is a 2020 beneficiary to Albany's Wine & Dine Festival.
Camoin's credits include location manager/production coordinator for commercial clients and feature films as the 2018 Sundance winner We The Animals, 2016
Sundance Special Jury Prize winning As You Are, and locations on Paramount's Ninja Turtles, The Place Beyond the Pines starring Ryan Gosling, Bradley Cooper and Eva Mendes; Battle Under Orion and numerous public service, industrial, educational and political campaign video projects. Videos For Change is developing OUT OF THIS LEAGUE the docu-series on independent baseball and TRAGIC EMPIRE, a reality series
He resides resides with his wife, Linda, daughter, Isabelle and son, Jacob in Slingerlands, New York.
For more info about Videos For Change Productions visit videosforchange.com.
Vocal readers please enjoy our interview!
Tammy Reese:
What and/or who inspired you to get into your industry?
Mike Camoin:
I was inspired to get into the movie biz by Fr. Michael Dibble of Our Lady of Lourdes High School in Poughkeepsie, NY. "Dibs" as he was and is still nicknamed roped many of us seniors into drama. His classroom was in the basement, RM G03. I named the feature film division of my company RoomG03 Films after this space that others like Dan McCloughlin, musician in the band PUSH STARS, Kelly Cass of the Weather Channel, and playwright, Bill C. Davis, all caught our first break.
Tammy Reese:
What do you love about the work you do?
Mike Camoin:
I never watch clock. Haven't for years. I'm all in on my work and time flies. I guess I love that it requires and excites everything visual, emotional, logical. And I love being surrounded by fellow problem solvers.
Tammy Reese:
What is your stance on the black lives matter movement?
Mike Camoin:
I support the existence of BLM. Every sector of our population has an organization that represents them and their interests, so why not BLM? I'm also keenly aware of how black artists, skilled musicians, actors, doctors have been seriously mistreated by police because they are black. I also see that our industry is as white as it comes, just look at top executive positions, across television, motion pictures, reality, etc. Show me a diverse board — in 2020, it rarely exists.
Tammy Reese:
How has the pandemic changed the work you do and your day-to-day life?
Mike Camoin:
I can do a lot of work from home, editing from home and even sharing documents via new technologies. It's amazing. I've altered my coffee meet-ups to Zoom connections and I was delighted to participate in Reel Screen, Cannes and other virtual industry connections. Direct access to training, information and decision makers has increased dramatically in recent months.
Tammy Reese:
What are the most epic moments thus far in your career?
Mike Camoin:
I have a handful, yet perhaps one of the most epic moments in my career … was back stage of the 2013 closing night ceremony of the Cannes Film Festival. My wife Linda and I attended the red carpet premiere of a film I worked on, HBO FILMS Muhammad Ali's Greatest Fight, directed by Stephen Frears. While I did not have the right ticket, I somehow managed to land backstage of the closing night ceremony which that year was hosted by actor Forest Whitaker. I can share that when he walks, he glides like a Olympic speed skater just before a race. That year in Cannes there were two jewelry heists, though I have pretty good alibi. I was backstage, dressed in a tux and drinking champagne with all the winners, mingling with Jane Campion and the filmmakers of Blue is the Warmest Color which won the Palme D'Or.
Tammy Reese:
What are some hardships?
Mike Camoin:
The challenges are grasping why or how this industry actually works. I equate it to baseball: you fail more than you succeed. It took over a decade to realize that is just the way the game is played. So, be patient, step up to the plate, swing hard, just in case you hit it! There's a lot of doubters, people who just don't believe in your dreams. It's disappointing when you experience this, yet you need to find your own voice and eventually you realize that's what matters more than the good opinions of others.
Tammy Reese:
What is next for you?
Mike Camoin:
I wear a number of hats. At present, my company Videos For Change Productions in developing on a number of projects. First to see light of day is likely the documentary SCARED TO DEBT: America's Student Loan Scam, based on the true story of how the U.S. Federal government set up a system of greed and predatory lending that is now throwing millions of students and parents over the cliff.
Tammy Reese:
What are you currently working on?
Mike Camoin:
I'm producing a reality series TRAGIC EMPIRE based on serial-social entrepreneur William "Tragedy" Yager of Albany, NY. The show is a rare blend of from the heartfelt, street-wise, racially diverse cast mix of master barbers, tattoo and graffiti artists, laundromat-owning, small-business owners. It's a hoot! The teaser is nearing completion and we'll be pitching to reality show runners this Fall.
Tammy Reese:
What are some social awareness topics you think our country or the world should be shedding more light on?
Mike Camoin:
I've heard this said many times: folks don't know how to "think critically." Working collaboratively and learning to work collaboratively will be an in-demand skillset to make it through this challenging and transformative time. Truth is very powerful. Communication across all races and socio-economic groups is key.
Tammy Reese:
What do you think is the future of your industry?
Mike Camoin:
The distribution model for movies is rapidly changing. We're seeing that now in Covid, just how powerful HD video on the net truly is. Believe it or not, I still believe in "going to the movies," while diminishing it is still something people of all ages need to experience, feel comfortable and safe in community. Despite cellphones, iPads and computers, going to the movies remains a great human activity, especially for young people to experience.
Tammy Reese:
What's some advice for anyone who wants to join your industry?
Mike Camoin:
Best advice I got from my father who was an engineer … "if you're going to do this don't do it halfway. Step in with both feet!" Next, find a mentor, read and keep believing in your dreams. They'll eventually come true.
Tammy Reese:
What's some advice you have for our readers to get through this pandemic?
Mike Camoin:
I'm treating the "pandemic" like it's winter. In winter, I do things I generally leave for "indoor winter weather" like writing, editing, attend trainings. This is a GREAT time to hone your craft. Take a writing workshop. Writing is the foundation of thinking, communicating, and problem solving. Writing requires that you "entertain your audience" and your first audience is YOU. If you can entertain yourself, you can entertain others.