"Mary's Monster: Love, Madness, and How Mary Shelley Created Frankenstein" by Lita Judge - Book Review
The poems are as disturbing as the drawings. A quick, inspiring, factual depiction of the life of Mary Shelley. Many people don't know about Mary Shelley's life outside her creation of "Frankenstein," but within this book, readers can see how life, death, love, and hatred inspired her to become the acclaimed author we know today.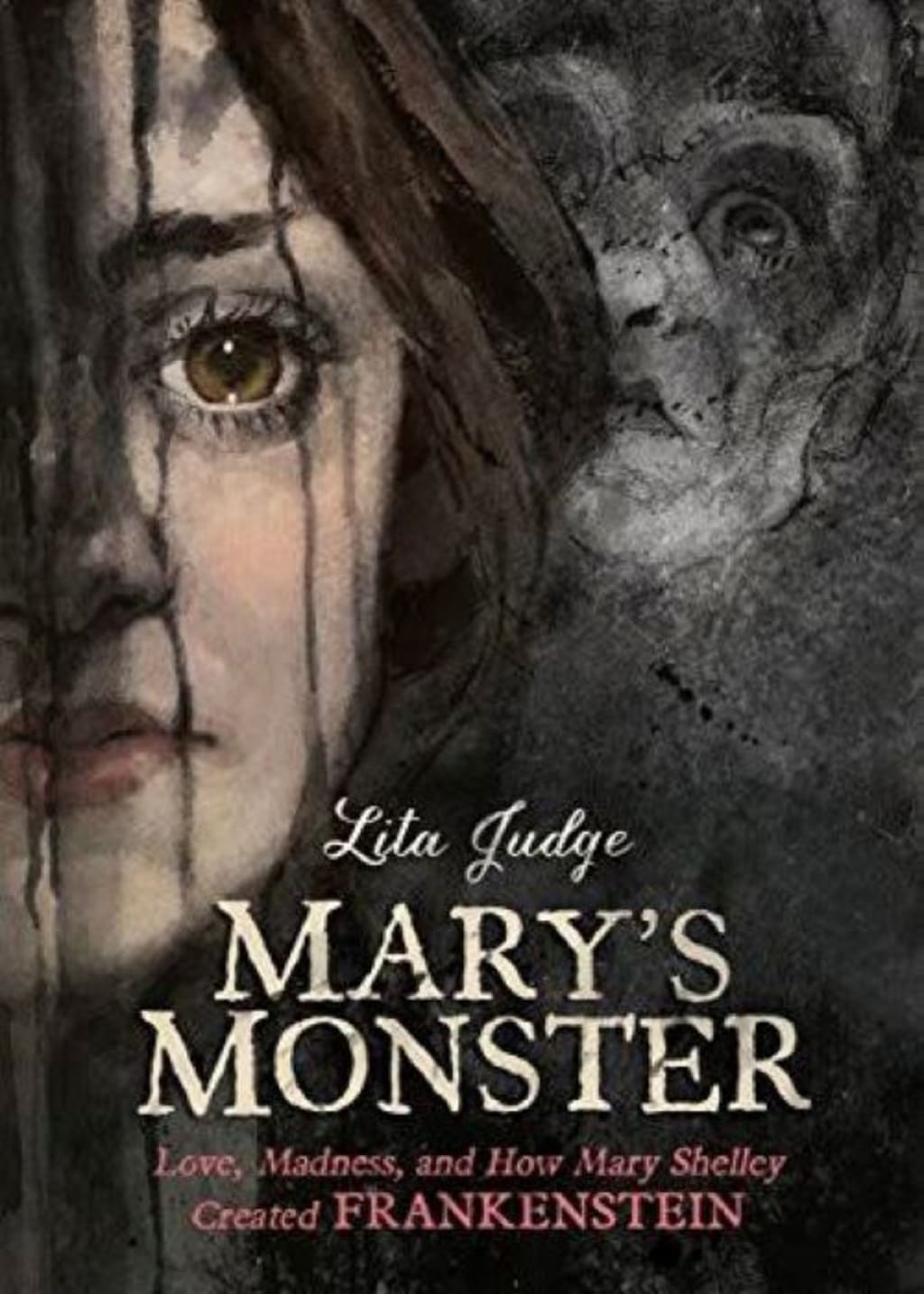 https://www.amazon.com/Marys-Monster-Madness-Shelley-Frankenstein/dp/1626725004
About the Author:
Lita Judge is the author and illustrator of over a dozen picture books, including the modern classic Red Sled, the Oppenheim Toy Portfolio Gold Medal winner Born to Be Giants, and the IRA Children's Book Award winner One Thousand Tracings. Lita lives with her husband, two cats, and a little green parrot named Beatrix Potter in Peterborough, New Hampshire (Google Books).
Book Description:
Mary Shelley first began penning Frankenstein as part of a dare to write a ghost story, but the seeds of that story were planted long before that night. Mary, just nineteen years old at the time, had been living on her own for three years and had already lost a baby days after birth. She was deeply in love with famed poet Percy Bysshe Shelley, a madman who both enthralled and terrified her, and her relationship with him was rife with scandal and ridicule. But rather than let it crush her, Mary fueled her grief, pain, and passion into a book that the world has still not forgotten 200 years later.

Dark, intense, and beautiful, this free-verse novel with over 300 pages of gorgeous black-and-white watercolor illustrations is a unique and unforgettable depiction of one of the greatest authors of all time (Goodreads).
Book Review:
We've all heard the tale that Mary Shelley wrote her famed masterpiece, Frankenstein, as part of a dare during a stormy night of ghost stories with Percy Shelley and some of their other literary friends, but what else is really known about the mysterious woman who penned a two-hundred-plus year old classic?
Mary Shelley is best known for writing the classic Frankenstein, but little else is often known about her life outside of being an author. Mary's Monster: Love, Madness, and How Mary Shelley Created Frankenstein changes that by showing readers a glimpse inside the mind of Mary Shelley as she grew up.
We see her lonely childhood (straight out of a nightmare), her tumultuous relationship with Percy Bysshe Shelley, her grief over losing multiple children and relationships due to her affair with Percy, and how all of this culminated in her creation of a creature that understood pain, suffering, and loss in a world that ostracized him.
Personally, I adore reading Frankenstein, but I never spent much time researching Mary Shelley beyond the fabled ghost story contest. Reading this book now and seeing how hard her life was, I can understand her writing better, too. Knowing Mary's story, readers can see the parallels between her life and that of her ficticious Creature. Both were ostracized for their differences; both felt they were missing pieces of themselves. They understood each other in a way that no one else in Mary's life really did. Judge's illustrations really showcase Mary's pain as she unburdens herself with her writings.
The remarkable illustrations will haunt readers' dreams as they watch Mary grow, learn, and grieve before their very eyes. Also, the poetic verses on each page correspond to the intricate paintings of Mary's life. The poems draw readers into Mary's world through descriptions of how much suffering and pain she went through in her young life. Readers will feel and see her pain over child losses, her elation when Percy chooses her, and her relief when she finishes the novel that she poured her heart and soul into for so long.
Overall, a great book worthy of any horror fan's time. The simplistic telling of Mary's life combined with the powerful illustrations and poems makes this biography a lot more interesting than the normal five-hundred-plus page tomes usually touted under the genre. As a graphic novel in poetic form, the reading is quick and easy, but the impact of the drawings will haunt all who dare to read.
About the Creator
Curious adventurer. Crazed reader. Archery fanatic. Amateur author.
Instagram: @kristenbarenthaler
Facebook: @kbarenthaler
GoodReads: https://www.goodreads.com/author/show/15101108.Kristen_Barenthaler
Reader insights
Be the first to share your insights about this piece.
Add your insights