Marilyn's Men: Mrs. DiMaggio
By 1953, Marilyn was fast becoming one of the biggest stars in the world.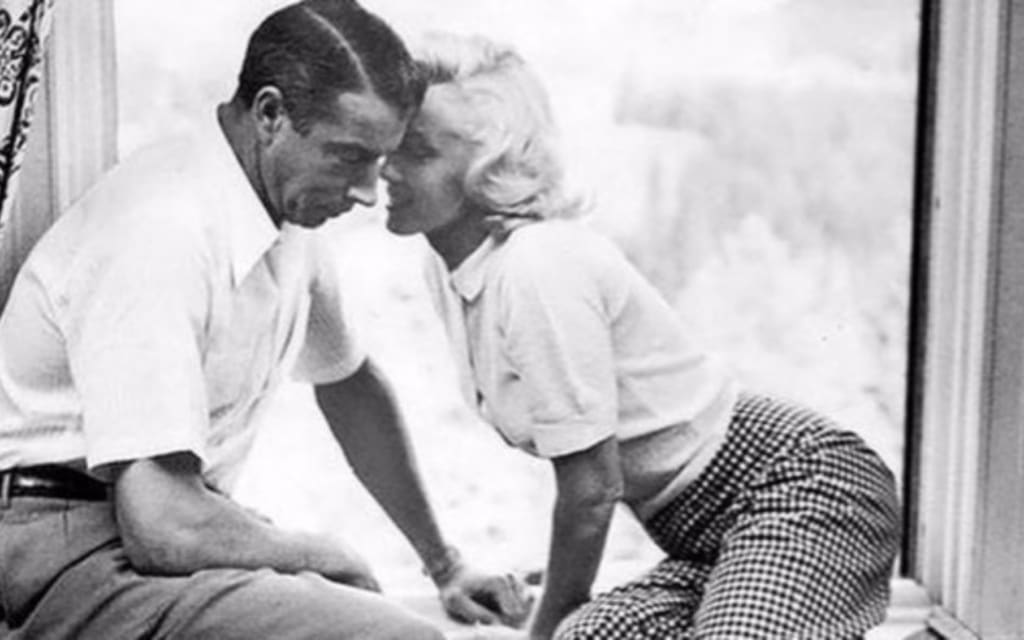 By 1953, Marilyn was fast becoming one of the biggest stars in the world. Her leading roles in hit films How to Marry a Millionaire, Niagra and Gentlemen Prefer Blondes had cemented her as a box office draw, and the scandal surrounding the release of her nude pictures had created a whole other image for her: she was officially a sex symbol. Though these nude pictures had been taken in 1949 when Marilyn was a struggling actress just starting out, and had been released in 1953s Playboy without her consent, they had succeeded in drawing the attention of Hollywood to her. Rather than denying that the woman in the photos was her, Marilyn simply shrugged the pictures off with a refreshing honesty – she had posed for the pictures because had no other choice, and did not see how that event could or should affect her current career. Of course, it affected it greatly.
The characters Marilyn had played in her three hit films of 1953 all evoked an ambitious sexuality that was only exaggerated by her real-life nude picture scandal, a scandal that made audiences and tabloids alike take one look at her curvaceous figure, blonde hair and breathy voice and conclude that this sexual demeanour was the true depiction of who Marilyn was.
And thus, Marilyn was cemented as a sex symbol reminiscent of Clara Bow and – a recurring theme with Marilyn – Jean Harlow. Her title as the United States' latest blonde bombshell held a great deal of meaning for a country just recovering from the Second World War; Marilyn's image and star persona became the epitome of womanhood, an image of all the allies had been fighting for, and a reminder of the 'reward' they could come home to. Of course, this was not true at all to the 'real' Marilyn, who had left her previous solider husband because he did not support her ambitions. What is even more cruelly ironic is the fact that Marilyn, who was held up as the perfect image of womanhood and femininity, had a multitude of fertility issues, causing her to have incredibly painful periods and a series of fertility issues throughout her life.
By late 1953, there was no doubt that Marilyn was the most famous woman in the country, if not the world, and with this fame came increased attention to Marilyn's personal life. The paparazzi hounded her wherever she went, and this only increased after the Playboy issue was released. Speculations were made about every element of her life, what she wore, how much she weighed, what role she would play next, and – most importantly – who she was dating.
Since their first meeting in 1952, baseball superstar Joe DiMaggio and Marilyn had been the leads in the biggest tabloid 'will they or won't they' of the decade so far. While Joe was smitten, Marilyn was less sure, prompting headlines to claim that DiMaggio had "struck out." However, he persisted, and by late 1953 the pair were seriously courting. By this time, a number of things had happened in quick succession. Marilyn's growth in popularity had been confirmed by her roles in How to Marry a Millionaire, Niagra and Gentlemen Prefer Blondes, and then escalated even further by her Playboy spread. At this point in her career, she took the opportunity to address an issue she had been uncomfortable with for some time. When the Fox executives requested a meeting to discuss her nude pictures, she used this meeting to ask for the parts she had longed for her whole career – less comedic, 'dumb' roles, and more gritty, dramatic roles in which she could prove herself as a 'real' actress. Instead of listening to her request, Fox offered her the lead in The Girl in the Pink Tights, another musical comedy. Marilyn refused the role, and thus broke her contract with Fox.
Marilyn's time away from Fox was a protest of many sorts. Most importantly, of course, it was a protest against not being taken seriously enough to be able to have a say over her own work (sadly this would be something she would fight her entire life), but it was also a protest in which she would attempt to reclaim her own personal life. The studio had been wary of her relationship with Joe, thinking that her sexually available image would be tarnished if she was no longer publicly single. Almost immediately after her suspension from Fox, Marilyn married Joe in San Francisco on the 14th of January 1954. This was the ultimate 'fuck you' to Fox who had tried so hard to control her – she was starting to live life by her own rules.
Marilyn Monroe to Joe DiMaggio-I don't know how to tell you just how much I miss you. I love you till my heart could burst. All I love, all I want, all I need is you—forever. I want to be just where you are and be just what you want me to be. I know it's lousy of me to be so late so often, and I promise to try a million times harder, I promise. Love, Marilyn
Not long after her wedding day, Marilyn's diaries were littered with references and reflection on how her life continuously drew comparisons with that of her idol, Jean Harlow:
"I kept thinking of her…we just seemed to have the same spirit or something – I kept wondering if I would die young like her too"
This is but one of the many omens that would haunt Marilyn throughout her life, and it is heartbreaking that she was thinking such maudlin thoughts even at a time which should have been full of joy. She was a newlywed, and was experiencing a wave of empowerment in terms of her career. However, these omens would soon prove to be true.
After their wedding, Joe was scheduled to tour Japan in order to promote American baseball, sponsored by Yomiuri newspaper owner Matsutaro Shoriki. Although he was a well known name throughout America, Joe's fame in 1954 was nothing compared to Marilyn's, and Joe's shy demeanour was not adapting well to the masses of photographers that would hound him and his new bride wherever they went. The prospect of spending some time abroad was appealing; it would act as their honeymoon while also allowing them a break away from the press.
Upon their arrival in Tokyo, the couple were mobbed by over 3000 fans. Even on the other side of the world, Joe had to share his wife with thousands of others. Though the main reason they were in Japan was for Joe's influence over the sporting world, at press conferences reporters only wanted to talk to Marilyn, leaving Joe largely ignored in the corner of the room. Joe began to be resentful. It was not that he wanted the fame for himself – far from it, he had retired in 1951 and had largely stepped out of the spotlight. Rather, he simply wanted Marilyn all to himself. In marrying her, he felt that he would somehow claim her and therefore take up all of her attention.
There was much speculation about whether or not Marilyn would use her time in Asia to visit the American troops in Korea. Hollywood stars entertaining the troops was not uncommon; during World War Two, stars such as Marlene Dietrich, Lauren Bacall and Carole Landis had entertained the Allied troops in order to boost the morale of soldiers fighting overseas. When asked if Marilyn would be performing for the troops in Korea, Joe responded "Of course not! She doesn't have an act." Of course, Marilyn didn't need an act – just the mere presence of Marilyn Monroe would be enough of an act, something that Joe was quickly learning.
Marilyn confirmed that she would indeed be visiting the troops in Korea, and when she arrived from Tokyo, she was seen to be sporting a broken thumb. While she did not hide the splint from the waiting paparazzi, she did not address it either, though later friends of Marilyn would later claim that it was the result of an argument with Joe over her decision to leave him behind in Japan on what was meant to be their honeymoon.
Marilyn's time in Korea was, for her, the first real confirmation of what her stardom meant to others. Marilyn performed to 60,000 soldiers over the course of four days, singing songs from her filmography so far as well as hits of the time as crowds looked on and cheered. She would later call her time in Korea the highlight of her life – a claim that seems strange when it meant she had to be parted from her new husband. She later said :
"I never thought I had an effect on people until I was in Korea."
Her time in Korea confirmed to Marilyn that she was doing something important with her career, that it was making people happy, and that in turn made her happy. When she was reunited with Joe, she was ready to get back into acting again, full of a newfound adoration and dedication to her fans. She returned to Fox, and was given a supporting role in There's No Business like Show Business – another musical comedy film that Marilyn despised, but knew she had to do in order to maintain her contract with Fox.
A key number of There's No Business like Show Business is the performance of Heatwave by Marilyn's character Vicky. This musical number called for Marilyn to dance wearing nothing more than a bra top and a showgirl-style skirt that left most of her now infamous figure exposed, all the while singing titillating lyrics. The one day Joe decided to visit the set just so happened to be the day Marilyn was shooting this scene. When Marilyn tried to kiss Joe on set, he rejected her, unhappy with how willing she was to appear so flirtatious for the cameras. He believed that side of her should only be reserved for her husband.
After the completion of There's No Business like Show Business, Marilyn began to shoot the film that would generate some of the most iconic images of her career – The Seven Year Itch. Though the majority of filming was to take place in Hollywood, a few scenes were to be shot in New York for promotional purposes. On the 15th of September 1954, Marilyn posed for pictures in a white halterneck dress while standing over a subway vent, her skirt blowing in the breeze. This image of Marilyn as 'The Girl' would become synonymous with her image as a sex symbol, and was witnessed live by hundreds of fans and news reporters who flocked to Lexington and 52nd Street.
Also in the crowd was Joe. And he was not happy.
The morning after, Marilyn left her hotel with bruises on her arms and shoulders. On the 6th of October 1954, Marilyn held a press conference in which she confirmed that she would be divorcing Joe. Though the marriage had be fraught with tension from the get-go, Marilyn was visibly upset during the press conference. She had wanted to make the marriage work, and had tried to make Joe happy, but what she wanted and what Joe wanted were simply too different.
Joe had wanted a housewife who would be his and only his. He had wanted Marilyn to give up acting altogether, but especially the roles that cemented her in the nation's minds as a sex symbol. Marilyn later said :
"He didn't like the women I played…he thought they were sluts. He didn't like my costumes, he didn't like the actors kissing me…I had to dress the way I did…I told him it was my job – he said I should quit my job. Who did he think he was marrying when he married me? To tell the truth, our marriage was a crazy, difficult friendship with sexual privileges. Later, I learned, that's what marriages often were…"
Her relationship with Joe was a highly complex one. Even after their divorce, they remained lifelong friends. He accompanied her to the premiere of The Seven Year Itch, and they would regularly write each other letters or have long telephone conversations. Joe was the one to actively work to get Marilyn out of the psychiatric ward in which she was held again her will in 1961, knowing all too well her fear that she would end up like her mother, too mentally ill to take care of herself. At the 1961 Academy Awards, Bob Hope dedicated the winner for Best Song to Marilyn and Joe – it was titled The Second Time Around.
When Marilyn died in 1962, there were many reasons to believe that she and Joe were to reunite. They were spending an increasing amount of time together, and the beginnings of a letter to him were found in her bedroom after her death. To some extent, Joe was the love of Marilyn's life. He looked after her when no one else would, and was one of the few consistencies throughout her life. After her death, he sent half a dozen roses to her grave every three weeks for twenty years, and upon his death in 1999, his final words were "I'll finally get to see Marilyn."
As undeniably romantic as these actions are, it cannot be forgotten that Joe abused Marilyn, both physically and verbally. Joe was quick to temper, as certainly saw Marilyn as his property, so much so that he was unwilling for her to have a life that wasn't focused on him. Joe wanted a wife and nothing more, and despised the characters Marilyn played, fearing that the public would be 'sharing' his wife with him. As much as Marilyn loved Joe, she loved her career more. She was not willing to stay with a husband who did not support her, and definitely not one who beat her, no matter how much she loved him – and she did truly love him.
After her divorce from Joe, Marilyn made a major move not only for her career, but for Hollywood history – she began Marilyn Monroe Productions, the first production company in history to be owned and run by a woman. Though she was heartbroken over her second failed marriage, she used this time as a place from which to rebuild herself as something she wanted to be: a serious actress. She moved from Hollywood to New York, began dressing down and wearing less make up, and started lessons at The Actor's Studio. The first few years of the 50's had shown Marilyn what she didn't want, and 1955 was to be her year to turn it all around. Although Joe would always be a part of Marilyn's life, she had freed herself from the "mental torment" that was being his wife, leaving her free to simply be her own person.