Liam Tries to Outwit Thomas on 'The Bold and the Beautiful'
The battle of the minds begins but which man will remain standing?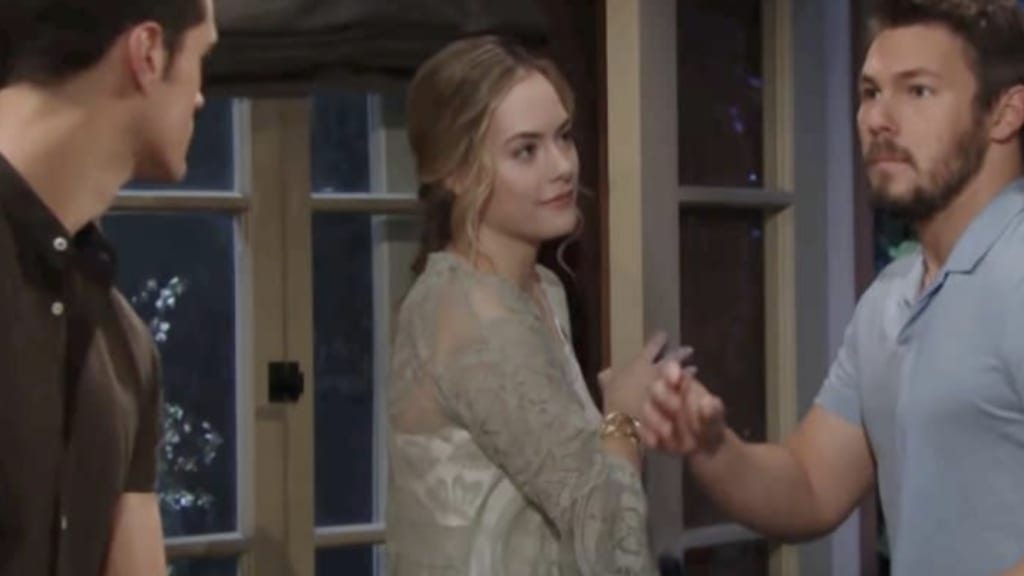 Thomas and Liam battle for Hope
The Bold and the Beautiful spoiler alerts say that a battle of the minds is about to take place with Thomas and Liam. Hope's baby daddy will decide that he can outsmart the man whose son she just adopted. Thomas is slick and crafty but Liam believes he's got his number. Bill Spencer and Ridge Forrester's sons will be trying to outwit each other according to Celeb Dirty Laundry, but which man will get the girl and remain standing in the end?
Thomas is going to rehire Zoe as a Forrester model which will throw Hope off guard. She is still troubled that Ms. Buckingham withheld the fact that her baby was not dead. Thomas is also going to set up a dinner date that Hope will assume is for her. She will soon realize the meal is for a different woman. This will really cause her some confusion, because she believes Thomas only has eyes for her. Soaps She Knows reveals that the Forrester heir is also going to have a fashion show competition where Steffy and Hope's clothing lines will be on display. He will also give the impression that he is moving on and has decided to play nice. Liam, however sees this as another form of manipulation.
Hope will be confused with all that is coming at her and maybe even a little jealous. Liam however will play along because he does not trust Thomas. He will allow the father of Douglas to believe he is buying his good guy act but Thomas may realize all along that Liam is pretending. "Steam" will seek out Zoe to get some answers but it's not clear whose side she is truly on. When Ms, Buckingham first began showing up after the baby switch fallout, she made a play for her former boss.
Viewers have not figured out yet if Zoe truly has feelings for Thomas or if she is just trying to get her job back. She might even be the woman he sets up the date with. Soaps She Knows says Liam and Steffy will run into Dr. Buckingham's daughter when they search for Vinny. The three of them are supposed to try to figure out what Thomas is really up to. Thus far, Tom the terrible has remained one step ahead of everyone so it will be interesting to see how long he keeps it up before slipping up.
How far will Steffy go with Liam's plan because after all, Thomas is her brother? It's possible they could find Vinny and learn that Liam was drugged the night they ended up in bed. If this comes to light Steffy will probably be done with her sibling, at least for a while. In the meantime, Liam will do his best to outsmart his rival, while Thomas continues to think fast on his feet. Who will be the last man standing and who will get the girl in the end?
By the time all the manipulations are over and every secret comes to light, Hope may have fallen in love with Thomas and decided to be a real family with Douglas and his dad. With the help of Zoe, Steffy, and possibly Vinny, Liam might be able to expose every wicked deed that Thomas is guilty of, but could it come too late? Stay tuned to The Bold and the Beautiful weekday afternoons on CBS at 1:30 PM EST to find out what happens next. Will Thomas be exposed or will he turn the tables on Liam? Will Zoe really betray the man who is trying to advance her career or will she be working with Thomas all along? The answers will be revealed in coming episodes but remember there may be delays due to the impeachment proceedings.
tv
About the author
Cheryl is a poet, freelance writer, published author and former Newspaper columnist. She has degrees in Psycology and Biblical studies. She enjoys sharing natural cures, and Nostalgia related info. Tips are greatly appreciated.
Reader insights
Be the first to share your insights about this piece.
Add your insights