Laura, Carly, and Ava form an alliance on 'Genera Hospital'
This unlikely trio teams up to take down Cyrus and things are going to get worse before they get better.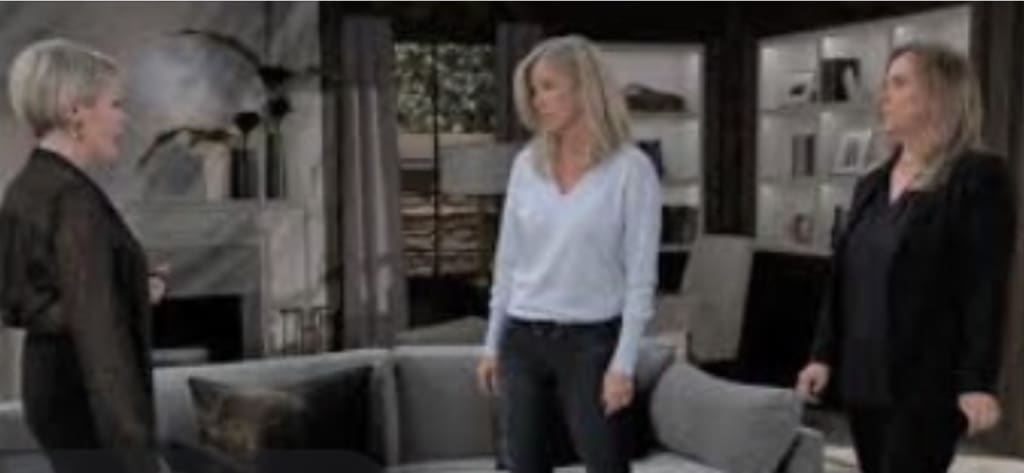 General Hospital viewers are enjoying the pact that has brought Laura, Carly, and Ava together. On Thursday the unlikely trio decided to work with each other in order to keep Cyrus Renault in check. Carly had been asking the mayor to assist her by warming up to her devious half brother, but Laura at first balked at the idea. She was skeptical until Ava announced that Cyrus made a veiled threat against Avery. Renault had held a photo of the little girl and mentioned how she looked so much like her dad Sonny.
This is what sent Ava to Carly's where she and Madame mayor were inside talking. After hearing her daughter in law's story Laura decided that Cyrus must be stopped and Carly said working together was the only way. Ava will now be hosting a dinner at Wyndemere with Nikolas, Cyrus, Laura, and Martin in attendance. Spoilers have already revealed that things will go terribly wrong during this get together so this will be a night to remember. Carly is going to break Jason out of General Hospital and needs Cyrus to be distracted.
She told Laura to try her best to be nice to her new half brother and Mrs. Collins could barely contain herself. Ava quickly called Cyrus to invite him to dinner and let him know that Laura would also be in attendance. Ava added that it would be a true family affair. Fans of Genie Francis are excited that she is receiving more air time as she is a legacy character in Port Charles. The dynamic between the 3 women is quite fascinating as they have multiple connections. Ava marrying Nikolas makes Laura her mother in law.
Carly is married to Sonny who is the father of Avery so she is stepmom to Ava's daughter, Ava had a long term affair with Carly and Sonny's son Morgan and is partially responsible for his death. Sonny shot and killed Julian Jerome who was Ava's brother and Avery's uncle. Carly's uncle Luke was married to Laura whose grandson Spencer is the son of Nikolas and Sonny's late sister Courtney. This makes Carly an aunt through marriage to Nikolas and Spencer. Little Avery is the daughter of Ava and Sonny so Carloy is her stepmother and Laura her step-grandmother. Spencer is the little girl's blood cousin through Sonny and her stepbrother because of Ava marrying Nikolas.
Now Cyrus and Martin are a part of this dysfunctional group and he will no doubt be the icing on the cake. Laura, Carly, and Ava loathe this man and when he realizes he has been played things will get ugly. Cyrus can't help himself and will probably say something that will anger Laura and or Ava. Nicholas and Martin will most likely be putting out fires at Wyndemere all night. The one thing that would make the evening complete is if Spencer decided to show up.
Spoilers have teased that Nicholas Bechtel might be replaced and an older more Cassadine Spencer could emerge. There have been no credible reports on Bechtel's return or a recast but fans are watching and waiting. Meanwhile, as this clan is trying, (or not ) to get along, Carly and Brit should be making sure that Jason escapes General Hospital. Liz is already suspicious of the new janitor and said so to Britt who is clueless. Somehow he and any other minions of Cyrus will have to be dealt with. May sweeps is beginning with a bang in Port Charles so make sure you don't miss any of the action.
entertainment
About the author
Cheryl is a poet, freelance writer, published author and former Newspaper columnist. She has degrees in Psycology and Biblical studies. She enjoys sharing natural cures, and Nostalgia related info. Tips are greatly appreciated.
Reader insights
Be the first to share your insights about this piece.
Add your insights